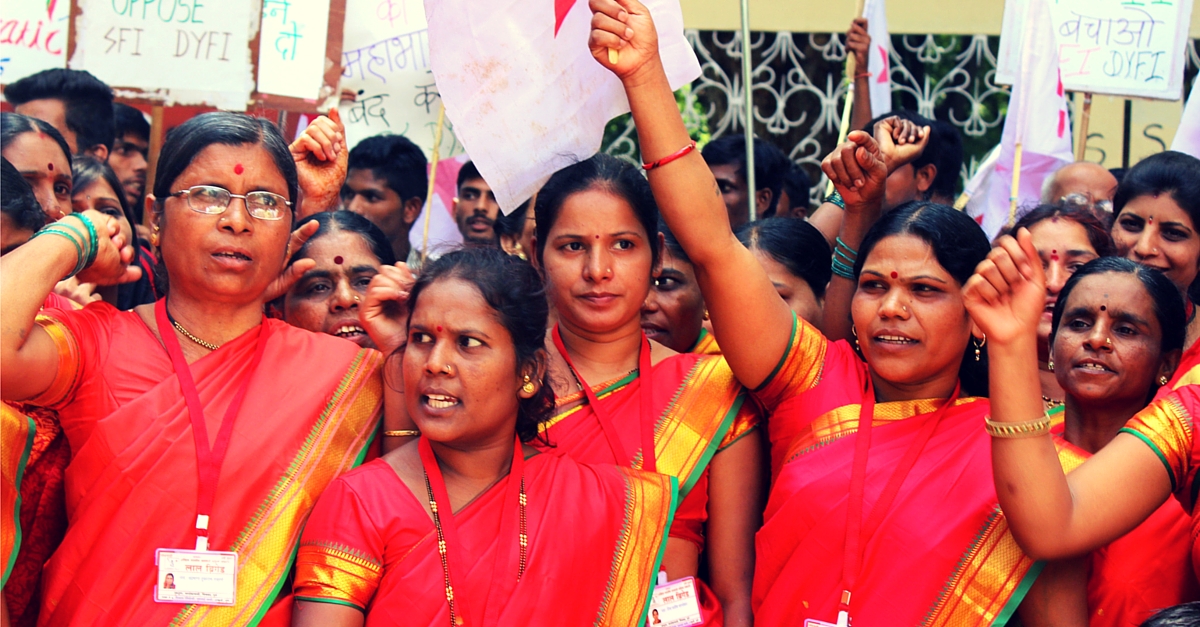 Aparna's father was an alcoholic and she had seen its ill-effects personally. When she saw many women from her neighbourhood being abused by their alcoholic husbands, she started a Red Brigade group which fights domestic violence in an interesting way.
Aparna's father was an alcoholic and she had seen its ill-effects personally. When she saw many women from her neighbourhood being abused by their alcoholic husbands, she started a Red Brigade group which fights domestic violence in an interesting way.
Aparna Darade says she would see women in her Pune neighbourhood work all day and then be abused by their drunken husbands at night. "I wanted to stop this. So on January 3, 2012, I formed the Red Brigade," she says.
Ahilyatai Rangnekar Brigade, named after a female leader in Maharashtra's Communist Party of India, has solved 124 cases of corruption and domestic abuse in Pune district since its founding three years ago, and claims a membership that is several-thousand-women strong.
The organization is known in Pune for its relentless determination to bring cases to justice, and for the bright red sarees members wear when they protest, which is the reason for it being nicknamed the 'Red Brigade.'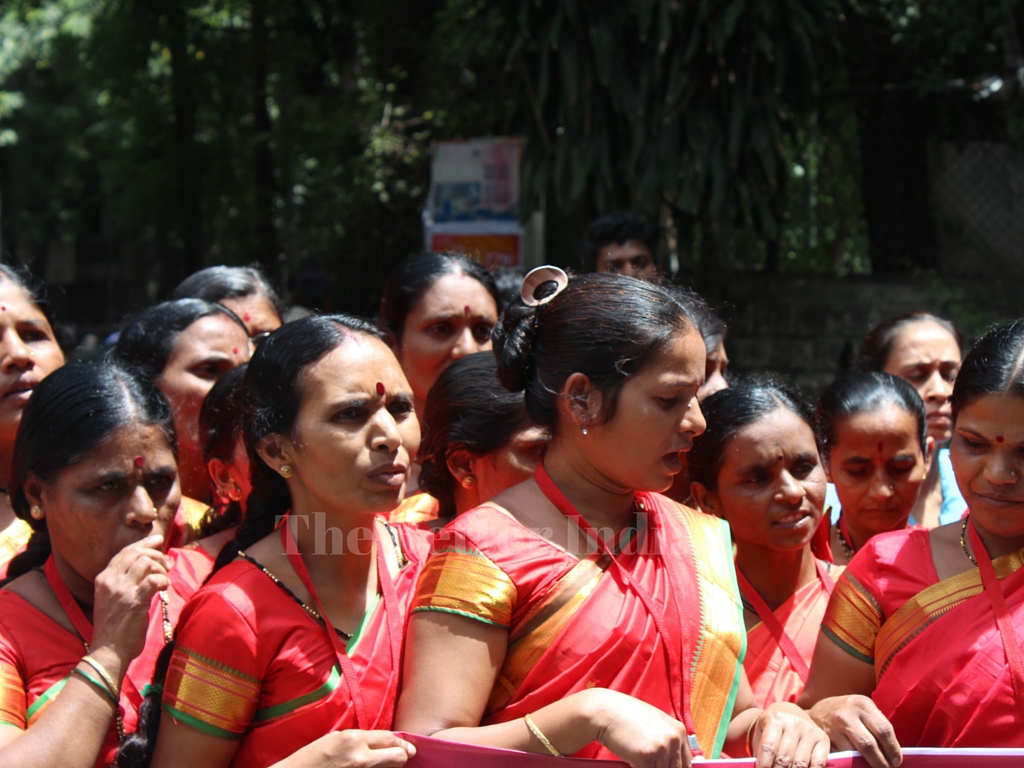 Its founder, 35-year-old Aparna Ganesh Darade, says she was inspired to establish the organization after seeing flagrant violations of the law in her district, which were going unprosecuted. At protests, you will find Aparna holding one fist defiantly in the air and the other holding the hand of her young son, his small body partially hidden in the folds of her bright red saree.
The Red Brigade has a committee that determines cases on which to focus. Some cases are chosen from submissions by community members, and others are the outcome of committee research.
The first step the Red Brigade takes in its mission to address the situation brought to their attention is to send a warning letter to the offending party, in which he or she is directed to come to a meeting to discuss the problem. These meetings, which are an attempt to ameliorate the situation, are led by Aparna and attended by a lawyer and several other members of the organization.
Following this, if the situation does not improve, Aparna takes the second step, which is to contact authorities at the courthouse and at the police station and ask them to intervene. However, due to the often drawn-out process of Pune's legal system, these interventions are frequently ineffective in curbing the abuse and further action is required.
This is the point at which the Red Brigade swings into action and a protest is launched. Anywhere from thirty to two hundred Ahilyatai Rangnekar Brigade members — numbers vary depending on the situation — all clothed in red, appear at the site where the transgressor resides or enacts his illegal business.
Members chant, drum and march until the accused agrees to reform. This method has proven to be so effective that when perpetrators are sent the initial warning letter by the Red Brigade, they are invariably pressured by family, friends and police to comply in order to avoid being shamed by further action.
Ahilyatai Rangnekar Brigade always follows a case through to completion.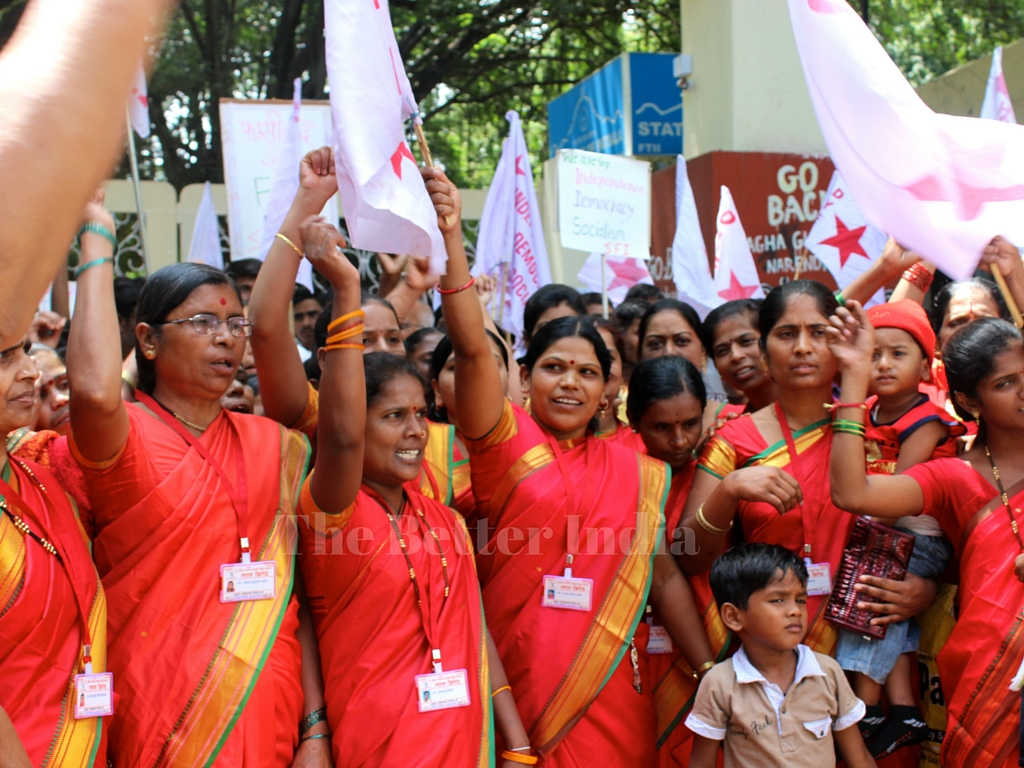 Aparna Ganesh Darade was born in a village called Tambua in Maharashtra. She says that in her early childhood her parents owned a number of farms and were relatively affluent. However, Aparna's father was an alcoholic.
Due to this addiction and the mismanagement of the family's finances, Aparna's family was forced to sell their properties, and they quickly descended into poverty. To make ends meet, Aparna learned how to sew and was able to earn enough money in this way to pay for her education.
Aparna feels that her background makes her feel especially sympathetic to cases involving alcohol abuse. "Whenever I hear of a case of alcoholism, I jump in to help immediately," she says. In college, Aparna discovered that she had natural leadership abilities and felt an affinity for activism.
Her village was located 10 kms from her college and while travelling to class, she and her fellow female classmates faced constant harassment by men. Consequently, one of Aparna's first projects was to work with the principal of her college to increase the safety for women en route to the institution. Aparna graduated in the top tier of her college class. Subsequently, she went on to graduate school to be awarded a Master's degree in computer science, and received top honours there as well.
While in graduate school, in 2001, Aparna married a man who would one day have a significant impact on her activism. Prior to this, on several occasions, her family had made arrangements for her to meet various eligible men in her village. Each time, however, the potential groom had insisted upon receiving a dowry, which her family could not afford to pay.
Then, her future husband, who had been brought to her area to marry another woman, had his engagement fall through. At the time that he was introduced to Aparna, he was an active member of the Democratic Youth Federation of India (a communist organization), had an undergraduate degree in journalism, and was working for Airtel.
Of special significance to Aparna, he was firmly against the practice of dowry, and had even refused a previous marriage proposal in which he had been offered Rs. 5 lakhs. He and Aparna were married soon after they were introduced to each other. Aparna says she is continually inspired by her husband's beliefs about the tradition of giving dowry.
In 2010, Aparna and her husband received information regarding a scam related to slum redevelopment near their home outside of Pune, which was not being addressed by the appropriate authorities. Together, they organized a protest in which 2,000 people participated.
This was the point at which Aparna decided to focus on problems in her district, especially those most oppressive towards women, which were being overlooked by the police.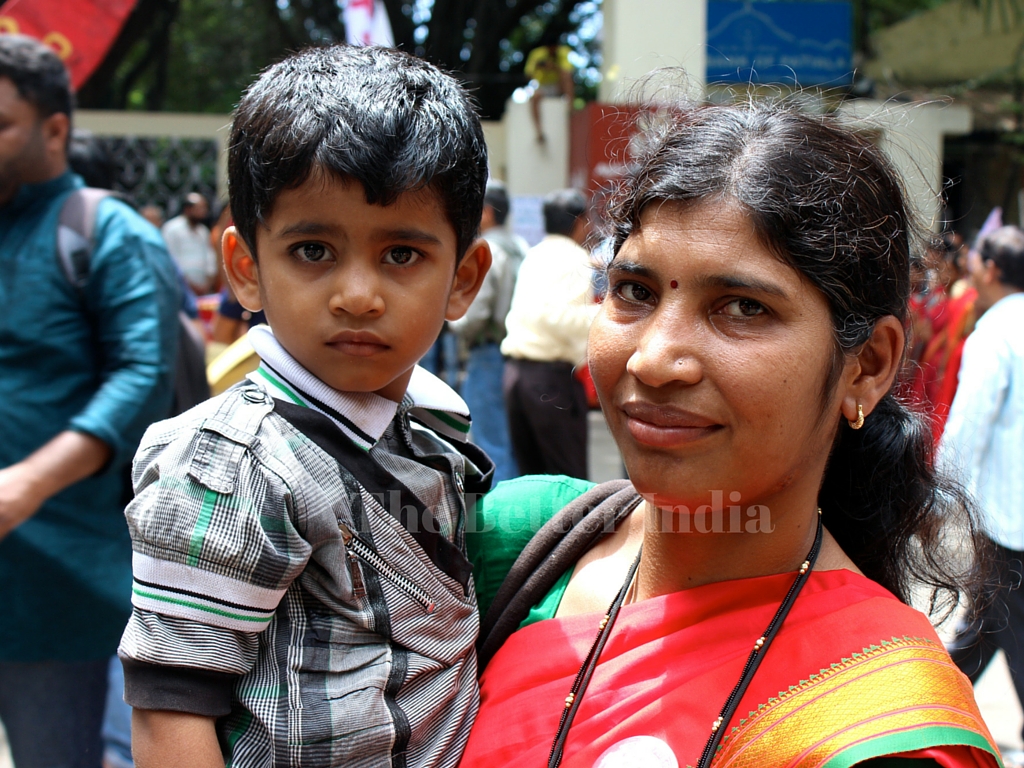 Though her flat is very spare, in the corner of the room, on a shelf, sits a large purple binder filled with newspaper cuttings that describe the many achievements of Ahilyatai Rangnekar Brigade. Flipping through them, one sees that the organization has solved many diverse cases.
In one of the clippings, Aparna and other members are being celebrated for closing down a blackmarket ration operation. In this case, families who were to receive government rations were given rice that had been mixed with cement. Aparna led those affected by this to work with the police and law enforcement to revoke the rice distributor's licence, and the operation was closed down. In another newspaper article, members of the Red Brigade are acknowledged for bringing to prosecution several black market alcohol operations, which had been responsible for the deaths of over 100 people, as a result of toxic ingredients that they had used in their products. At the time the article was written, two of these operations had been shut down, thanks to the Red Brigade, and a third would be presently.
Aparna describes dozens of cases her organization has worked on since its founding. She remembers each detail as precisely as though it had happened that morning. She says, "In our first case, the husband of a member of the Red Brigade used to beat her and the police refused to help because they said it was an 'internal matter.' One day, we were supposed to go to a rally in Mumbai, but this member could not go because her husband was beating her. She called me and I went to her house, along with several other members. Even when we went inside her house, her husband would not stop beating her, so we called the police. While we were waiting, the man said a bad word to me, so I slapped him in the face. Then we dragged him outside to take him to the police. He said that we were hurting his prestige in the area. I said, 'If you want prestige, don't beat your wife.' Everyone around knew what was happening because he was known for abusing his wife. After that incident, he stopped beating her. I told the wife that if he beats her again to just call me anytime, and I'll be there. Now he treats his wife in a good way and he does not drink anymore. He is employed as a rickshaw driver and they have two children. He does not object to his wife being in the organization, and he even attends some meetings himself."
Aparna speaks of another case in which a professor at a university in Pune had been sexually assaulting students and concealing this through blackmail. "These girls were helpless. Two girls came across the Red Brigade in the newspaper and contacted us. We made the whole college know about it, and forced the college to suspend him. The man was arrested and put in jail for three years," Aparna says.
In addition to addressing the cases submitted to them, Ahilyatai Rangnekar Brigade also runs an emergency clinic out of their office in an area of Pune called Akurdi, to offer legal and medical assistance to victims of domestic violence.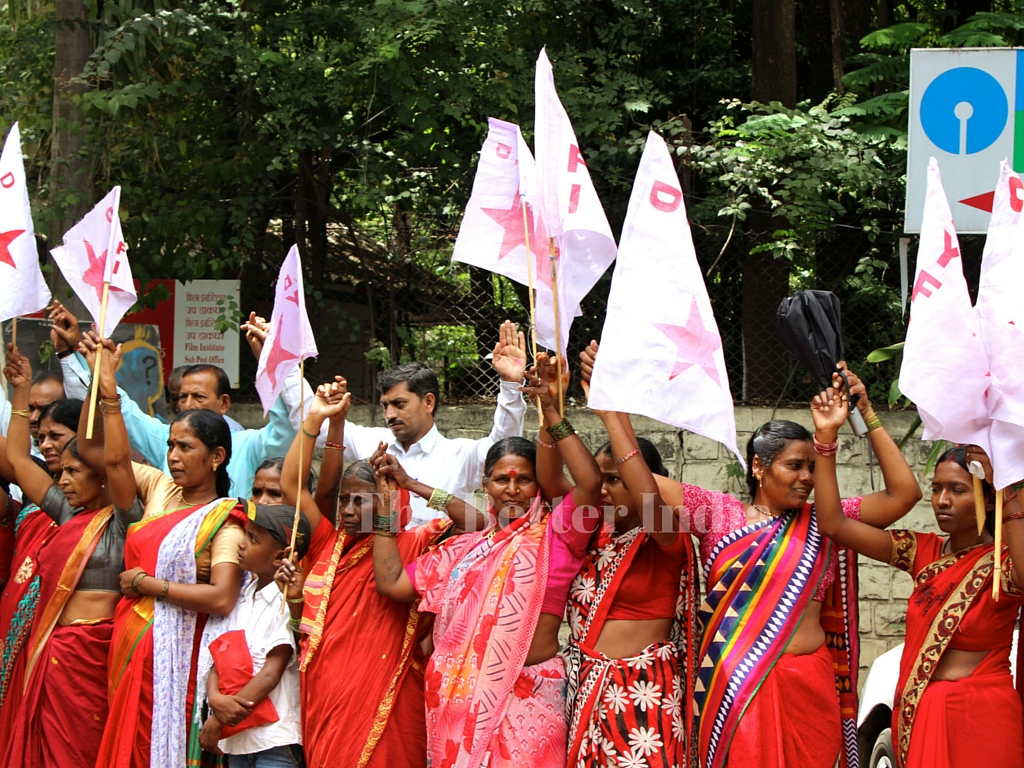 They are also planning to open an office in another region of Pune that is known to have a high frequency of domestic abuse. Aparna says that Ahilyatai Rangnekar Brigade's vision is to "give every girl, from village to university, the message that whenever they feel unsafe they can call the Red Brigade and they will receive help."
---
As part of our video series #BetterDays, we will be doing a docu-film on Red Brigade along with Lara & Patrick from Bem-Te-Vi Producoes. This is our first ever crowd-funded video project and if you wish to make a contribution towards it, click here
Unable to view the above button? Click here
---
Thank you to translators Mangusha Pandharpure, Nachiket Pandharpure and Darshana Kulkarni, and photographer Radhika Pandharpure.
Like this story? Or have something to share? Write to us: contact@thebetterindia.com, or connect with us on Facebook and Twitter (@thebetterindia).

We bring stories straight from the heart of India, to inspire millions and create a wave of impact. Our positive movement is growing bigger everyday, and we would love for you to join it.
Please contribute whatever you can, every little penny helps our team in bringing you more stories that support dreams and spread hope.