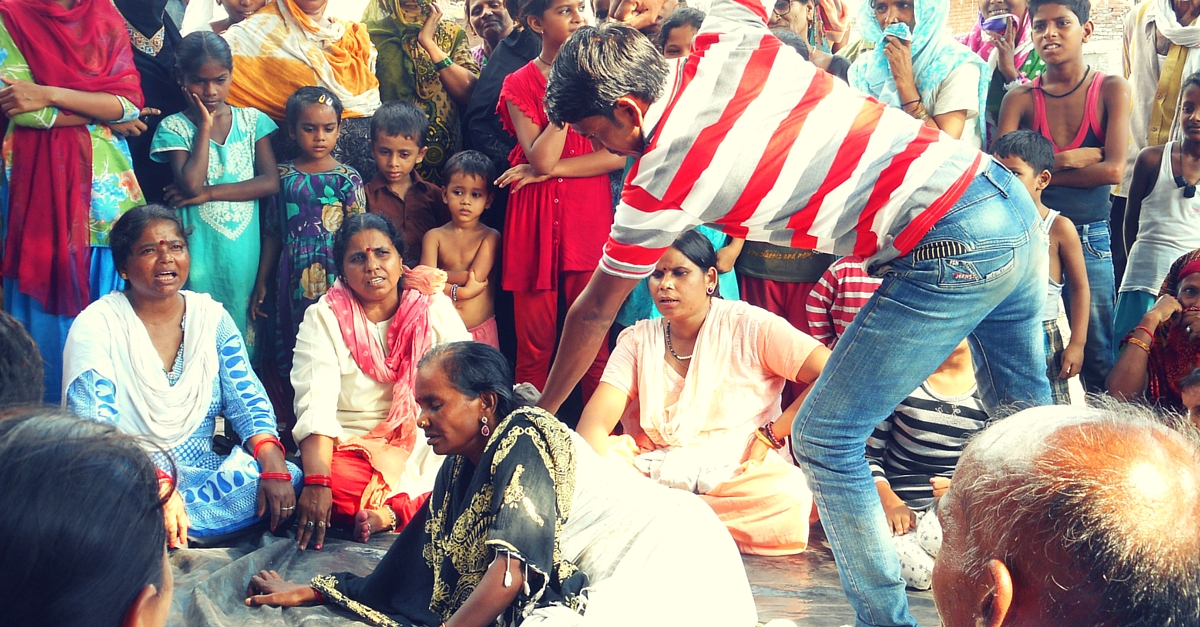 Domestic violence, sexual harassment and dowry cases are not really news in the rural areas of Uttar Pradesh. But a few compassionate activists and organizations are taking on the issues with the help of theatre.
Domestic violence, sexual harassment and dowry cases are not really news in the rural areas of Uttar Pradesh. But a few compassionate activists and organizations are taking on the issues with the help of theatre.
When Mustafa Ali, 28, heard that Kahkashan, 24, had been murdered by her husband in a fit of rage he dropped everything he was doing, packed his bags and travelled all the way from Chitrakoot district in Uttar Pradesh to the state capital Lucknow to add his voice to the campaign mounted to ensure she got justice.
The social activist, who is a member of the theatre team of Vanangana, a Chitrakoot-based non government organisation that works on securing women's rights, did not know Kahkashan personally but he is one of those few men who vociferously oppose domestic violence, dowry and sexual harassment.
"There was no justice for Kahkashan during her lifetime. The least we can do after her death is to question why everyone was deaf to her pain and left her to die," remarks Ali, who has taken to the streets of Lucknow these days along with his Vanangana group to perform the play, 'Mujhe Jawab Do', which is based on the heartrending experiences of women like Kahkashan, and hopes to evoke strong feelings against gender violence among the audience.
Of course, Ali was not always the gender champion he has transformed into today. In fact, he admits that he became aware of the problems women have to bear on an everyday basis only after he joined Vanangana nearly a decade ago.
Set up by social activist, Madhavi Kuckreja in 2004, Vanangana brings together a team of local women and men that focuses on tackling violence against women and enabling Dalit women to assert their rights.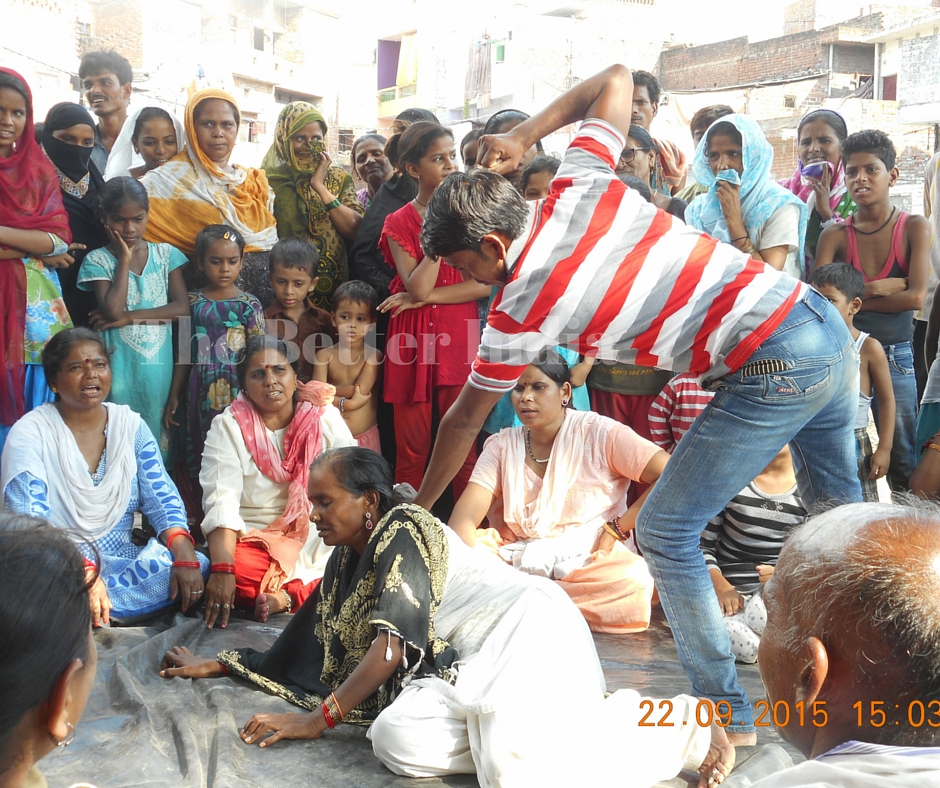 The organisation has since then been successfully organising campaigns to address domestic and patriarchal violence through street plays and theatre all over UP, the country's most populous state, where abuses against women are rooted to the region's age old feudal social structure. After she founded Vanangana, Kuckreja set up Sanatkada in 2008, a cultural hub that supports women's empowerment and growth in Lucknow.
It was Sanatkada's help that Kahkashan had sought over a year back in order to break free from the constant, crippling violence she was enduring.
"In July 2014, Kahkashan had come to Sanatkada to seek assistance. We counselled her and her parental family to let her stay in with them and start life afresh. But she was forcibly sent back to her marital home after a compromise settlement was struck at the Senior Superintendent of Police's (SSP) office. There was no follow up to ensure her safety, security and the right to life," shares Kuckreja.
In September 2015, Kahkashan, the mother of a three year old, died after having suffered through two years of constant abuse and violence. When her brother went to the police station to file an FIR he was allegedly slapped by the men in uniform and sent away. It was the support of rights activists, like Kuckreja, Ali and others, that finally landed her culprits behind bars.
"After she passed away, we pursued the case and her husband and mother-in-law have finally been arrested," Kuckreja adds.
Indeed, on the heels of this gruesome incident, Sanatkada has mounted a widespread campaign to break the silence on domestic violence and has roped in Ali and Vanangana to perform, 'Mujhe Jawab Do' in various public areas in the city.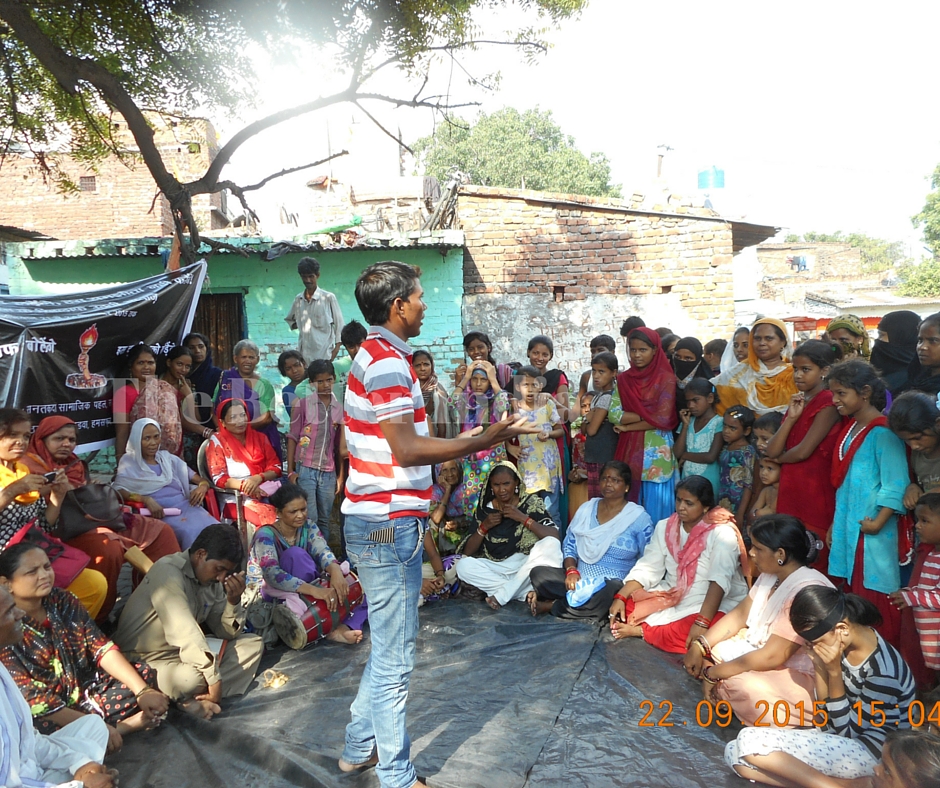 Ali is one of three male actors of the play that has emerged out of the real experiences of countless women living around the Chitrakoot and Banda region where caste-based feuds are routine and intense violence and lawlessness is the order of the day. One of the most backward stretches of UP, only 35 per cent of the area is electrified, has telephone connectivity and paved roads.
Consequently, less than five per cent of people here are literate enough to even read a newspaper and the main occupation is rain-fed agriculture, which is highly erratic. Ali himself belongs to a family of small farmers and struggled hard to earn a university degree.
Indeed, it was education that enabled him to clearly see the gross inequality and abuse that the impoverished lower classes and minorities are subjected to in the name of patriarchy and tradition. And once he became part of Vanangana he quickly realised how the violence and exploitation – whether it is public, domestic, social or economic – becomes all the more acute and intense for women, particularly those from the lower castes and tribals, who occupy the bottom rung of all the three hierarchies of class, caste and gender.
It's the violence against women that usually manifests itself through rape, public humiliation, or honour killings that form the dominant themes of street plays by Vanangana that are penned and performed by local people who have lived through the pain they play out before audiences.
Ali, who is also a teacher by profession, essays the role of a policeman in 'Mujhe Jawab Do'. His character is shown to be completely helpless in the face of routine gender violence that is basically treated as a marginal issue by law enforcement agencies, something that was evident in the way Kahkashan's case was handled as well.
Often, police and local officials are themselves driven by caste biases and the lack of awareness about legal safeguards available for the protection of women. Segregation on the basis of caste and religion is deeply entrenched and violence often takes extreme forms, including the lynching of women labelled as 'dayan' or witch.
Crime statistics reveal that while, on an average, three Dalit women are raped every day, domestic violence cuts through religious, caste and class boundaries even as dowry related deaths caused by "accidental" burning of women are more common among the higher castes.
Moreover, once women gain property rights, especially after they are widowed, their vulnerability increases and they often become targets of their own family or community members.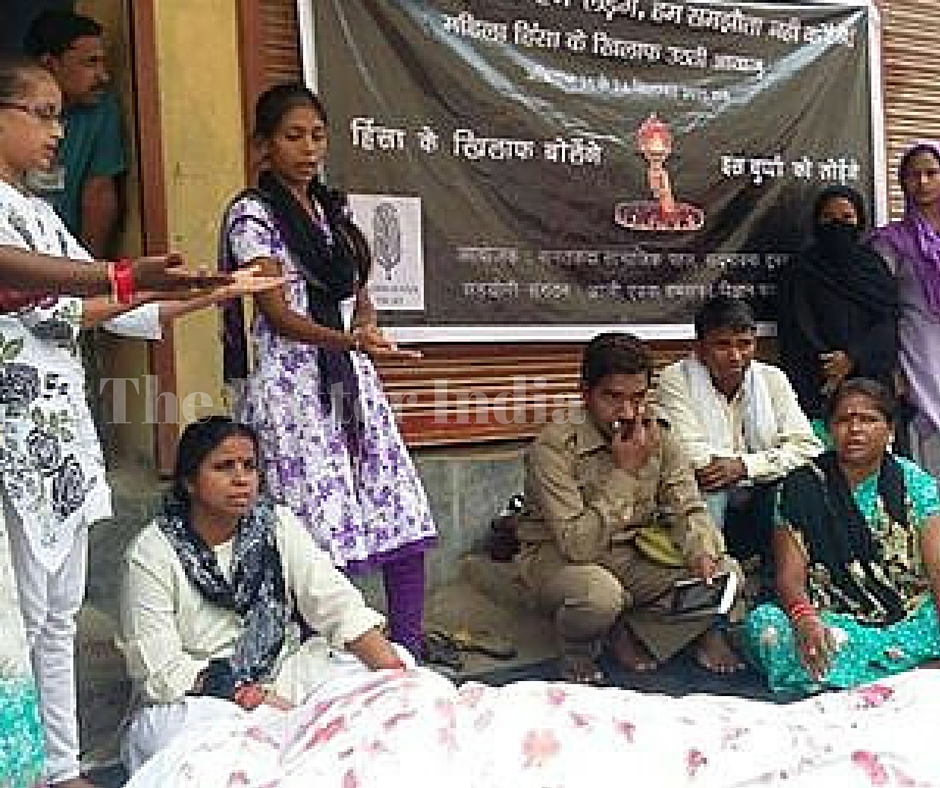 Instead of economically empowering them, property actually becomes a deadly reason for more violence to be unleashed at them. The reality is that the very process of women's empowerment leads to more violence as most men react in anger in the face of opposition to the existing social structures. The same patriarchal set up tries to ensure that incidences of violence are not brought to light. In rare instances when the women try and muster the courage to speak up, they are intimidated or forcefully hushed up.
Fortunately, today there are platforms like Vanangana and Sanatkada that are lending a helping hand to those innumerable women who don't know where to turn to in times of grave crisis. As they get the opportunity to interact with each other, apart from the few good men like Ali, Narendrapal, 52, and Kushal Varma, 28, who want to positively contribute to combating gender violence, they are not just able to identify their common problems but also build collective strength to confront them through creative action.
What Ali, Narendrapal and Varma, the three stars of 'Mujhe Jawab Do', have in common is their agricultural background and a newly created awareness towards gender justice. Whereas Narendrapal, a farmer and daily wage labourer, plays the father of the protagonist who is a victim of domestic violence and is killed by an abusive husband, Varma personifies the face of cruelty in the play that is reaching out to curious crowds in every nook and cranny of a state that desperately needs many more men like them to respect and value women.
Like this story? Or have something to share? Write to us: contact@thebetterindia.com, or connect with us on Facebook and Twitter (@thebetterindia).
We bring stories straight from the heart of India, to inspire millions and create a wave of impact. Our positive movement is growing bigger everyday, and we would love for you to join it.
Please contribute whatever you can, every little penny helps our team in bringing you more stories that support dreams and spread hope.