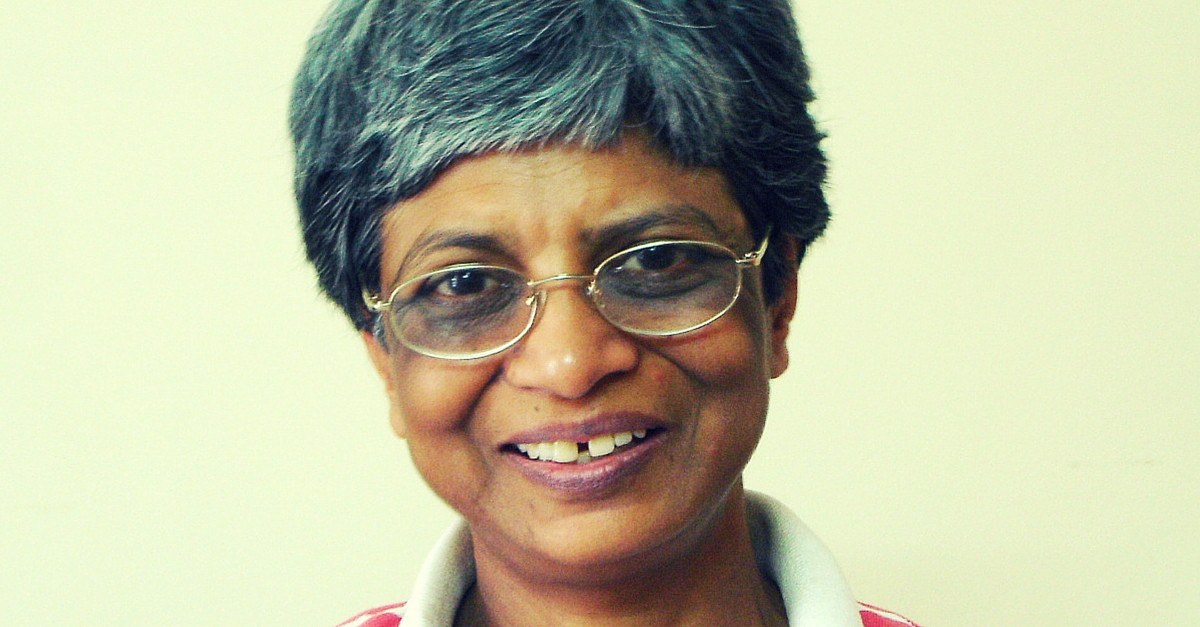 When Swapna's mother was diagnosed with dementia and she became her primary caregiver, she realized that there is not enough information available on the subject. That's when she decided to start a YouTube channel to bridge this gap.
When Swapna's mother was diagnosed with dementia and she became her primary caregiver, she realized that there is not enough information available on the subject. That's when she decided to start a YouTube channel to bridge this gap.
Long before uploading videos was fashionable in India, Swapna Kishore had YouTube channels on dementia care and awareness.
Her videos in English and Hindi are not glitzy or glamorous. Rather, they are gritty and genuine attempts to fill gaping holes in our public and private health database. And they are vital.
Because India is today estimated to have the third largest population of people with dementia – 4.1 million as per the World Alzheimer's Report 2015 put out by Alzheimer's Disease International.
Because dementia does not just affect those in the 60-plus age group, it is also being diagnosed in younger people.
And because, even today, most people in our country don't know what dementia is, or what it means for families, when a loved one is diagnosed.
So, what is dementia?
Dementia is a term for a group of symptoms associated with the progressive and gradual loss of brain function. The sufferer has memory problems, difficulty in forming words and making judgements, there will be changes in attitude and behaviour, so on. Alzheimer's Disease is the most common cause of dementia. Other causes include vascular dementia (that occurs because of a stroke, for instance), fronto-temporal dementia, and so on.
Dementia, in most cases, cannot be cured and stays lifelong. As dementia progresses, families need to provide 24×7 care. Memory loss becomes acute, daily living activities (bathing, using the toilet, etc) are affected. The sufferer can become easily disoriented, and wander or go missing from home. In late stages, he or she ends up bedridden, prone to other infections and multiple-organ failure.
Love and loss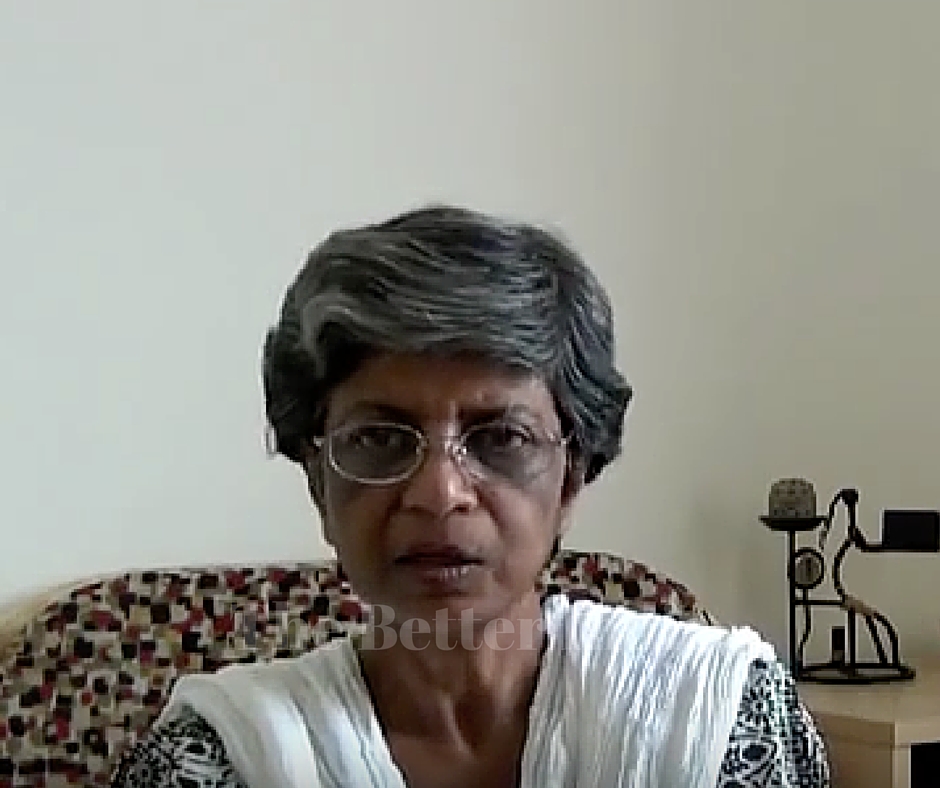 Swapna Kishore was her mother's caregiver for over a decade, till her mother passed away in 2012.
As a caregiver, she struggled to gather information on the mysterious disease that was stripping her mother of her abilities and memories. "My mother was a triple-MA, but she ended up not knowing how to read. I had to fashion reading games to help her enjoy childrens' books. She would become disoriented, not remember important people and things from her past. She would fumble for words and feel frustrated that she could not explain her needs. She would forget my name often but knew I was someone close to her," recalled Swapna, a slight-built woman in her late-50s.
When Swapna realised there was no information available to help people like her, she started a blog in 2008, to set down her personal experiences, anguish, anger and frustration. "Initially, it was an outlet," she said. But when she got queries from people who read her blog, she set out to create a larger resource-based site on dementia care and support in India — dementiacarenotes.in. This, in turn, led to a Hindi-language site, dementiahindi.com.
Uploading videos on YouTube even before it became trendy
Later, she also decided to create YouTube videos on dementia care. "Because, even people who speak Hindi fluently, are not comfortable reading material in Hindi. They are more comfortable watching a video explaining what dementia is," she pointed out.
In 2011, she starting making videos using a Sony Handycam (set up on a tripod) recording her personal care stories. She also created videos to explain caregiving, with suggestions on how to communicate with dementia sufferers, how to prevent wandering, so on.
To date, her home-made videos are practically the only existing Indian videos on dementia care and support in India.
Singular achievement
Amazingly, Swapna Kishore has done everything herself—from writing content on all the sites, to translating English portions into Hindi, collating information on dementia care services and keeping the information up to date, reading dementia research, listing books and DVDs on dementia and creating her own videos. "I taught myself website-creation, video editing, splicing, creating graphics, etc. using, as far as possible, free tools available on the Internet," she said.
Her work is also entirely self-funded, done out of choice, at her own pace. "Sometimes people suggest that I partner with them and get some resources or funding. But I know this would mean that I will lose my independence, others may think I am driven by business reasons. I do not want to trade in my credibility for commercial gains," she stressed.
Hidden heartaches
People mail her seeking support and reassurance, wondering how to juggle careers with caring (Swapna – an alumnus of an IIT and IIM – had to give up her career when she became her mother's caregiver). Vivekananda Ponnaiyan, a US-based entrepreneur, often turns to Swapna for advice on how to care for his father who lives in Bengaluru. "She is very compassionate and goes out of her way to help when it's needed the most," he told me via email.
In fact, Swapna's work has helped my family too. In 2011, my father (now 85), who has dementia, went missing. The incident led me to research dementia deeply. And a doctor in Bangalore directed me to Swapna's website, which is how my family learnt about the "wandering behaviour" that people with dementia exhibit. And through the services listed on her site, I also got in touch with the Alzheimer's and Related Disorders Society of India (ARDSI) Kerala branch (as my parents live in Kozhikode, a town in Kerala). ARDSI is a non-profilt voluntary organisation that works to create awareness and support on dementia. Now a male nurse from ARDSI Kozhikode comes home thrice a week to bathe, clean and shave my father.
Swapna has also published caregivers' stories on her site—providing invaluable insight into caregiving and it's associated problems (such as conflicts on who will be the main carer, the financial burden of care, so on). The project led her to correspond with almost a hundred caregivers across India. "Even though I kept the participants anonymous (as per their request), changing identifying details to ensure anonymity, only 25 interviews were finally published. The others dropped out citing multiple reasons. Dementia brings many personal situations and conflicts out into the open. People don't feel comfortable talking about these," she said, matter-of-fact.
Will her work survive?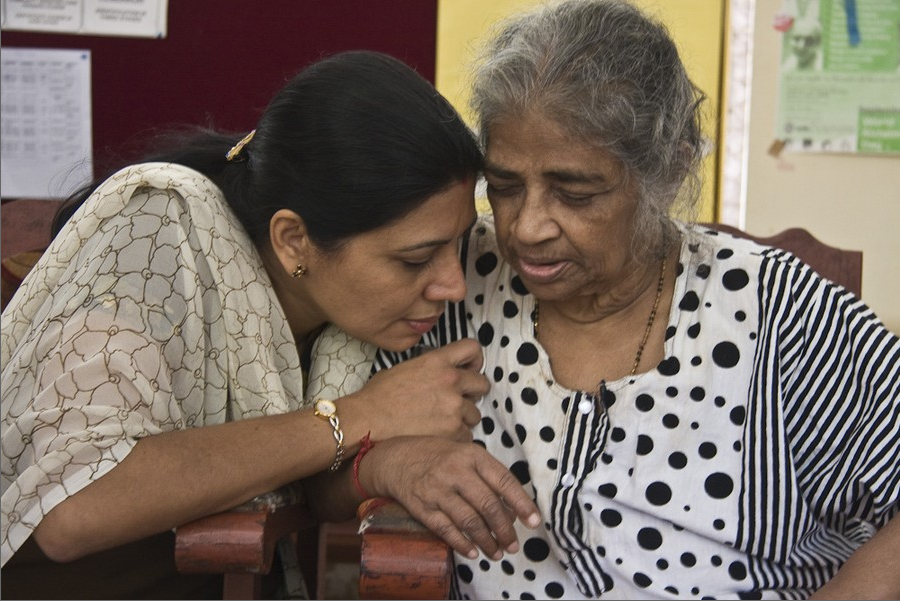 Photo for representational purpose only. Source: http://www.alzheimer.org.in/
Driven and dedicated she may be, but Swapna is also pragmatic and practical. "I may not be there tomorrow, but I want to make sure that the resources I have created will remain available," she said. She is organising her work and exploring ways to make sure this happens.
"My sole motivation is a sense that I have no justification to waste my knowledge and skills. I cannot face myself if I know I could have tried to do something and I let my self-doubt hamper me," she added.
A tremendous achievement:
"Swapna's work is absolutely remarkable," said Dr Ratnavalli Ellajosyula, Consultant Neurologist and specialist in Cognitive Neurology, Manipal Hospital, Bengaluru. Dr Ellajosyula believes it is high time corporates, communities and the larger society worked together to create awareness and support for dementia care. "Support and resources will become even more challenging in future as the number of nuclear families increases and old people are left to cope on their own," Dr Ellajosyula stressed.
Here are the links to her writings and videos:
https://swapnawrites.wordpress.com/ , http://dementiacarenotes.in/ , http://dementiahindi.com/ , https://www.youtube.com/user/dementiacarenotes , https://www.youtube.com/user/swapnawrites , https://www.youtube.com/watch?v=g-JUaI-lLLs
For additional information on Alzheimer's, you can also check: http://ardsi.org/
Like this story? Or have something to share? Write to us: contact@thebetterindia.com, or connect with us on Facebook and Twitter (@thebetterindia).
About the author:
Divya Sreedharan is a Bangalore-based journalist who writes on social media, lifestyle, ageing, gender and womens' issues for various publications and websites. She is Visiting Faculty at the
National School of Journalism
, Jakkur. She also writes
this blog
.
We bring stories straight from the heart of India, to inspire millions and create a wave of impact. Our positive movement is growing bigger everyday, and we would love for you to join it.
Please contribute whatever you can, every little penny helps our team in bringing you more stories that support dreams and spread hope.