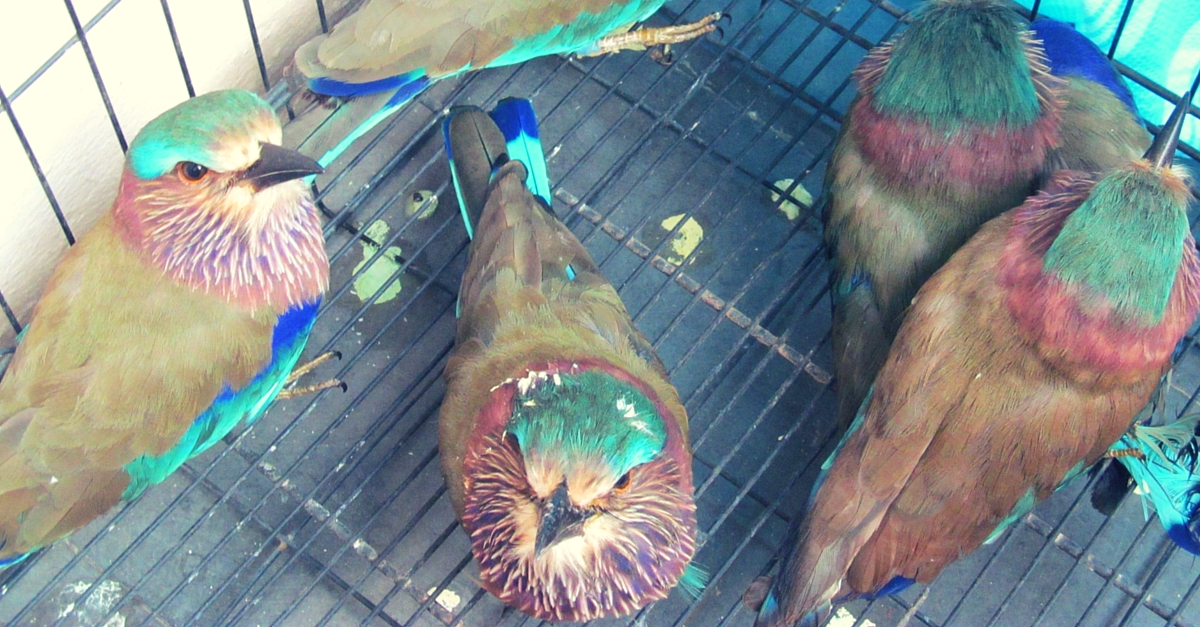 Every year, thousands of Indian Roller birds (neelkanth) are captured and tortured during Dussehra – all because of a superstition that sighting this bird during the festival will absolve the viewer of his or her sins. It's time to end this inhuman practice, and some people are showing us how.
Every year, thousands of Indian Roller birds (neelkanth) are captured and tortured during Dussehra – all because of a superstition that sighting this bird during the festival will absolve the viewer of his or her sins. It's time to end this inhuman practice, and these people are showing us how.
The Indian Roller bird or Indian Blue Jay, coracias benghalensis, is commonly known in the country as Palapitta or Neelkanth, and is a protected species. This beautiful bird is easily spotted in southern and western India as well as in the foothills of the Himalayas.
Indian Rollers live around open grounds, cultivated fields and in local parks in cities. They usually do not migrate, although they do make seasonal movements in search of food. They are also popularly known as 'friends of farmers,' as these birds are known to help in pest control by feeding on insects, arachnids, small reptiles, and amphibians.
Every year, Dussehra ends up being the most harrowing time of the year for the Indian Roller. This state bird of five Indian states – namely Telangana, Andhra, Karnataka, Odisha, and Bihar – remains undisturbed all through the year but around a month before Dussehra, the torture begins.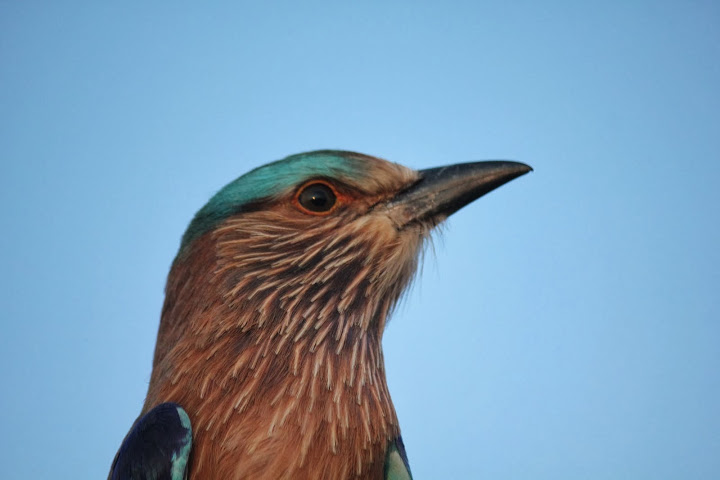 Photo: Shreya Paropkari
There is a very popular superstition that sighting a Neelkanth on Dussehra day will help absolve people of their sins. It is also believed that if a person sees a Neelkanth and makes a wish, the bird will take the wish to the similarly blue-throated Lord Shiva on Mt Kailash who will fulfil the wish.
To cater to these superstitious beliefs, bird catchers start trapping these vivid birds almost a month before the festival. The birds are caged, their legs tied, their wings trimmed and even glued, so that they cannot fly (because many people like to hold the birds on Dussehra day).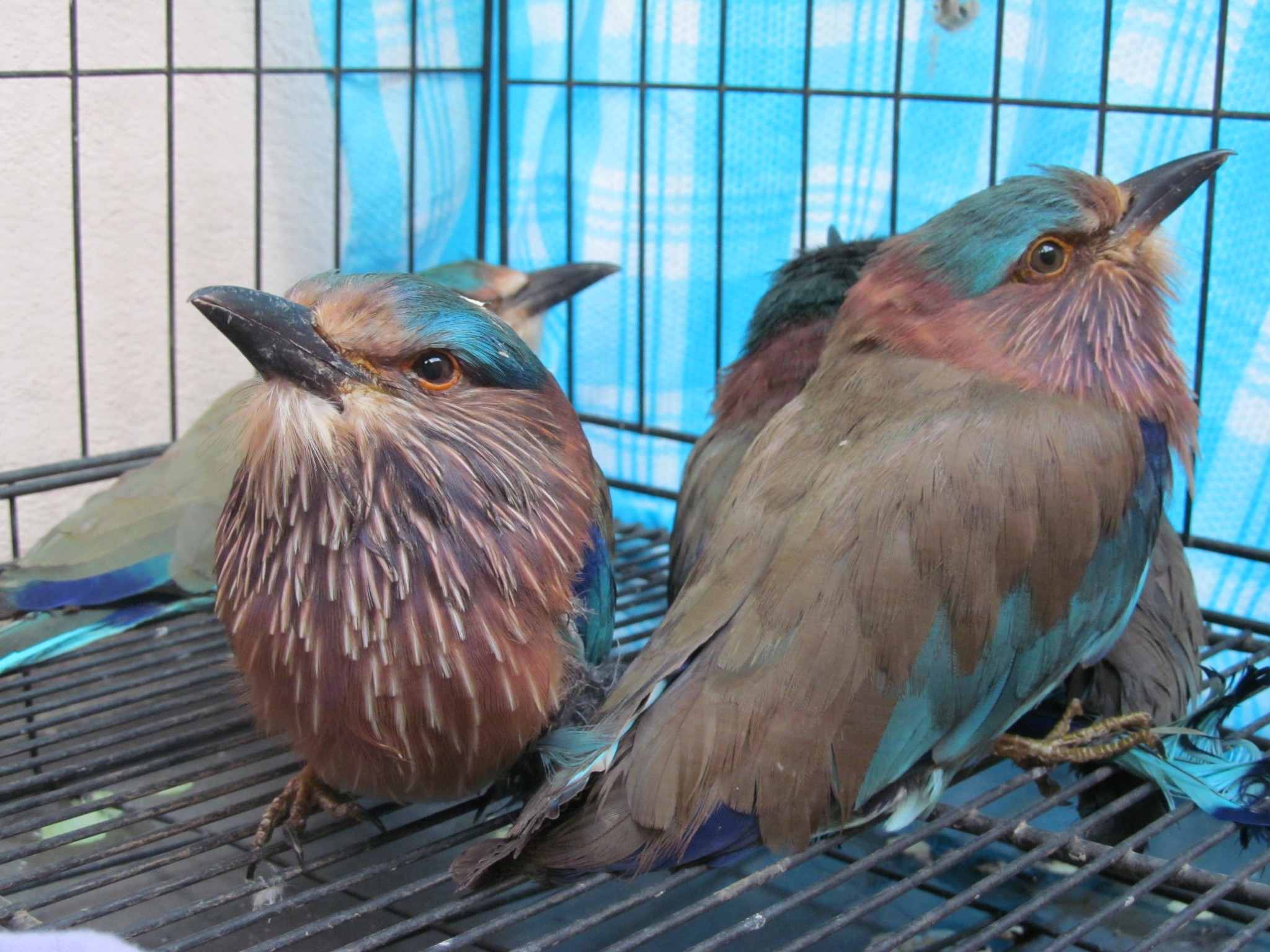 Photo: Shreya Paropkari
Many people buy these birds from the bird market, like the Murgi bazar in Hyderabad, and let them free after making a wish. The less well-to-do get to take a peek at a bird in a cage or under a towel in the hands of a 'bird charmer.'
Usually, these 'charmers' sit outside temples late in the evening on Dussehra day and let people take a peek at the bird or hold it for a small fee. Once the festival is over, the unfortunate bird usually dies, as it would have been starved for almost a month (Indian Rollers are hard to feed in captivity).
One of the many NGOs working towards protecting these birds during the Dussehra season is the Humane Society International (HSI) in Hyderabad. As part of its many campaigns for conservation of wild animals, the NGO recently conducted a school awareness campaign to save Indian Rollers.
To sensitise the children, it conducted an awareness session highlighting the beauty and ecological importance of this bird, and explained how religious superstition leads to cruelty towards this protected species.
Another superstition attached to this bird is that adding its chopped feathers to grass and feeding them to cows will increase the latter's milk yield.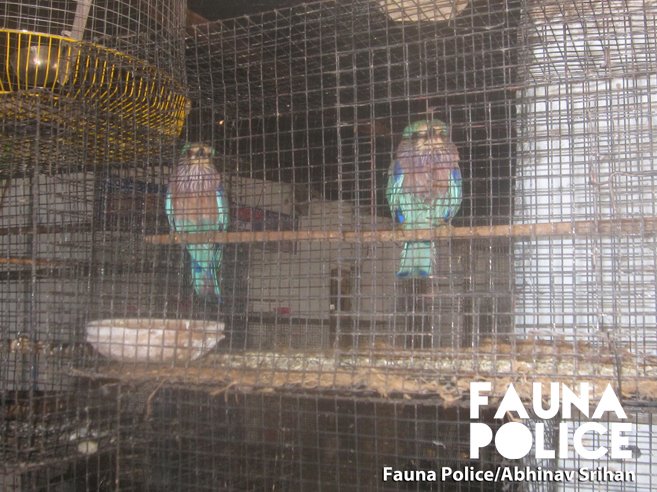 Ms. C. Samyukta, Campaign Manager – Wildlife, Humane Society International/India, says, "Children are naturally compassionate towards animal and birds and we hope to develop them as ambassadors for the protection of nature. As harbingers of change, we hope that these children will help put an end to an age-old belief that results in the illegal trade and tremendous suffering of these birds."
The superstition also says that the bird has to be set free to ensure the wish comes true. However, "thanks to the miserable manner in which these birds are treated after their capture, it is very rare that a bird survives. They are not grain-eating birds and hence feeding them is not an easy task at all. They can only drink a little water whenever it is offered to them. They are usually in tremendous pain and misery and extremely traumatised by the flow of events," says Ms. Samyukta.
Photo: Shreya Paropkari
Once released from their cages, they hop off as fast as they can and disappear into the bushes, hiding from humans so well that most people believe they have flown away. If they are released in open farmlands, away from city limits, where they can get enough of their natural food, they have some chance of survival. This is what most wildlife conservation organisations do to the birds seized and freed from the 'charmers' during the festival.
To stop the violence towards this bird, the Principal Chief Conservator of Forests (PCCF) of Telangana, Mr. P K Sharma, has requested all NGOs in the state working for wildlife to help the Forest Department in seizing these birds from the charmers and bringing them to book.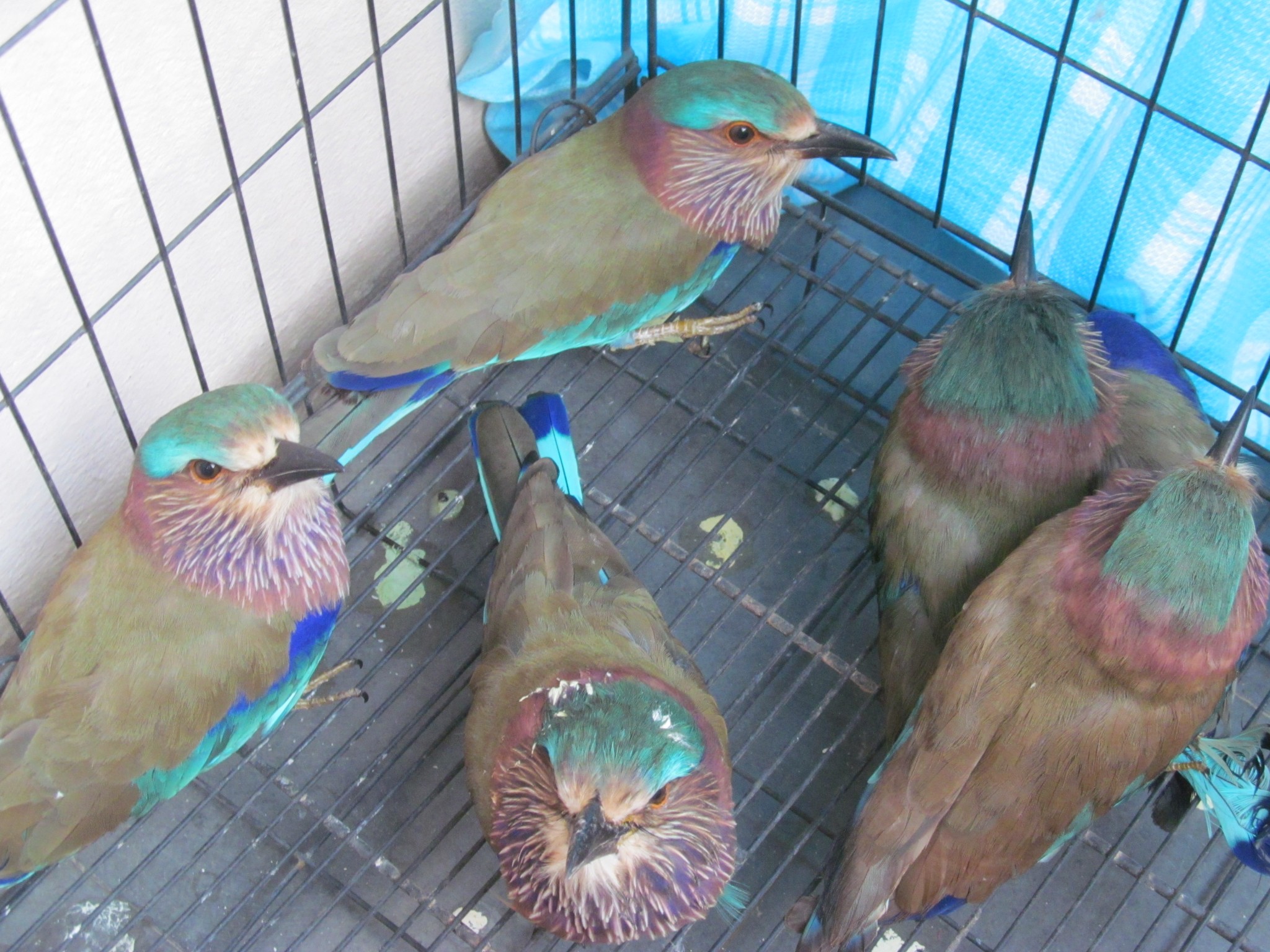 Photo: Shreya Paropkari
The PCCF has also called for a press conference before Dussehra to sensitize people through print as well as social media about this issue.
Letters to all districts and taluks have been sent out by Mr. Sharma to help nab as many bird charmers as possible. "The main plan is to put an end to this inhuman activity. On a social level, we have made plans to help these uneducated bird catchers and charmers by suggesting alternate means of occupation to help them earn a living in the long run," says the PCCF, Telangana.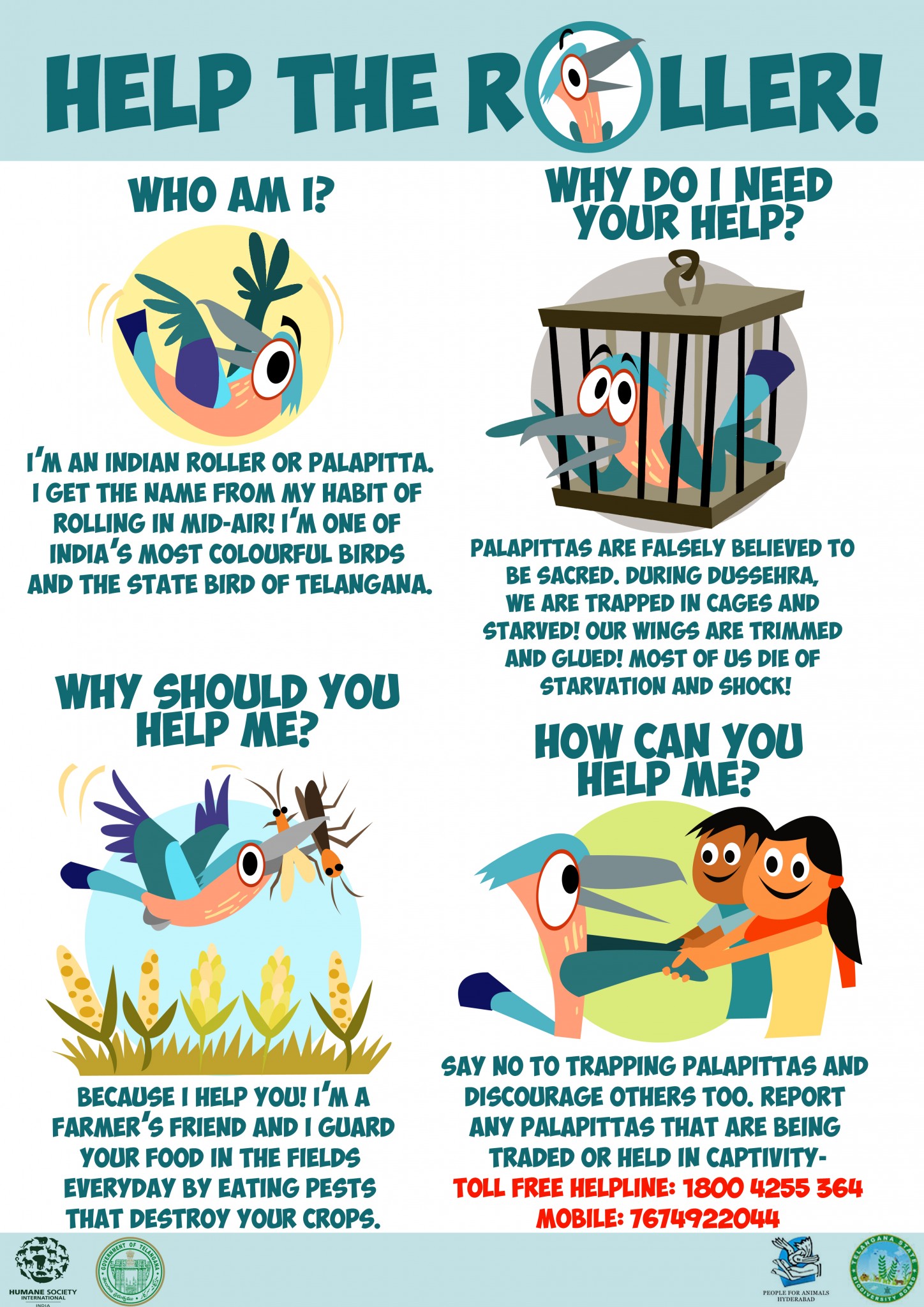 Tackling this issue just during the festival is not the answer to the problem. It is important to eradicate superstitions among the general public – not only with respect to the Indian Roller but towards other living creatures as well.
Capturing and displaying Indian Rollers is an illegal activity. The birds are protected by Schedule IV of the Wildlife (Protection) Act, 1972. The penalty for violating this Act is a fine of Rs. 25,000 or imprisonment. If you see anyone being cruel to Indian Rollers or holding them in captivity, please report the incident to Humane Society International/India's tip line: 7674922044.
Like this story? Or have something to share? Write to us: contact@thebetterindia.com, or connect with us on Facebook and Twitter (@thebetterindia).
About the author: Aparna Menon is a freelance writer, writing for various newspapers for the past 10 years. Her main fields of interest are wildlife, heritage and history. A keen traveler, she loves to read and write and does a lot of art work too.
We bring stories straight from the heart of India, to inspire millions and create a wave of impact. Our positive movement is growing bigger everyday, and we would love for you to join it.
Please contribute whatever you can, every little penny helps our team in bringing you more stories that support dreams and spread hope.