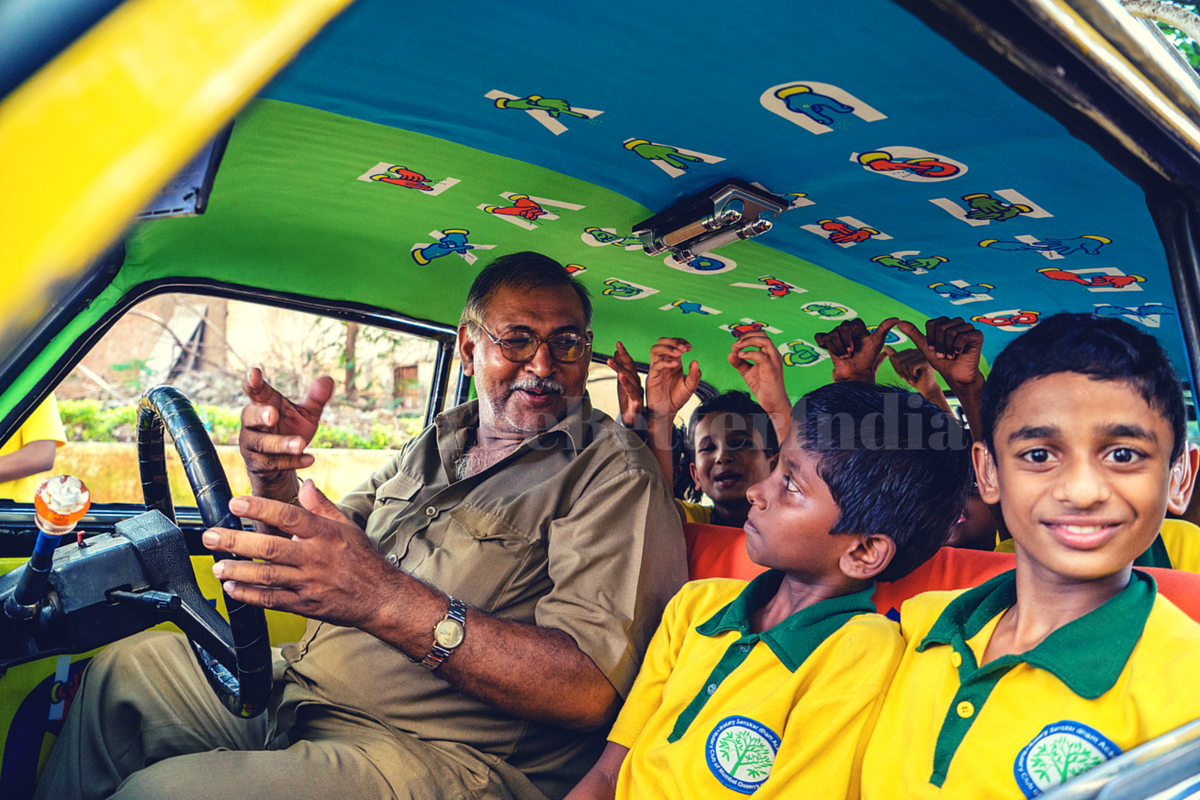 It's fun, it's creative and it's colourful – the interior of one taxi in Mumbai that is upholstered in fabric printed with the Indian sign language. Meet the designer who wants to not only popularise the language but also instil a desire in people to learn it.
It's fun, it's creative and it's colourful – the interior of one taxi in Mumbai that is upholstered in fabric printed with the Indian sign language. Meet the designer who wants to not only popularise the language but also instil a desire in people to learn it.
"Sign language is a pretty cool language and all of us should learn it. There are so many deaf and mute people in India. If you don't know their language you are missing out on the chance of having a conversation with them," says Harshit Vishwakarma, a 23-year-old visual communication design graduate from Delhi, who wants to popularise sign language.
And with this in mind, he recently designed the interior of a taxi in Mumbai in a very creative way, which will not only help people become aware about the language but also learn some of the hand gestures that are used by deaf and mute people.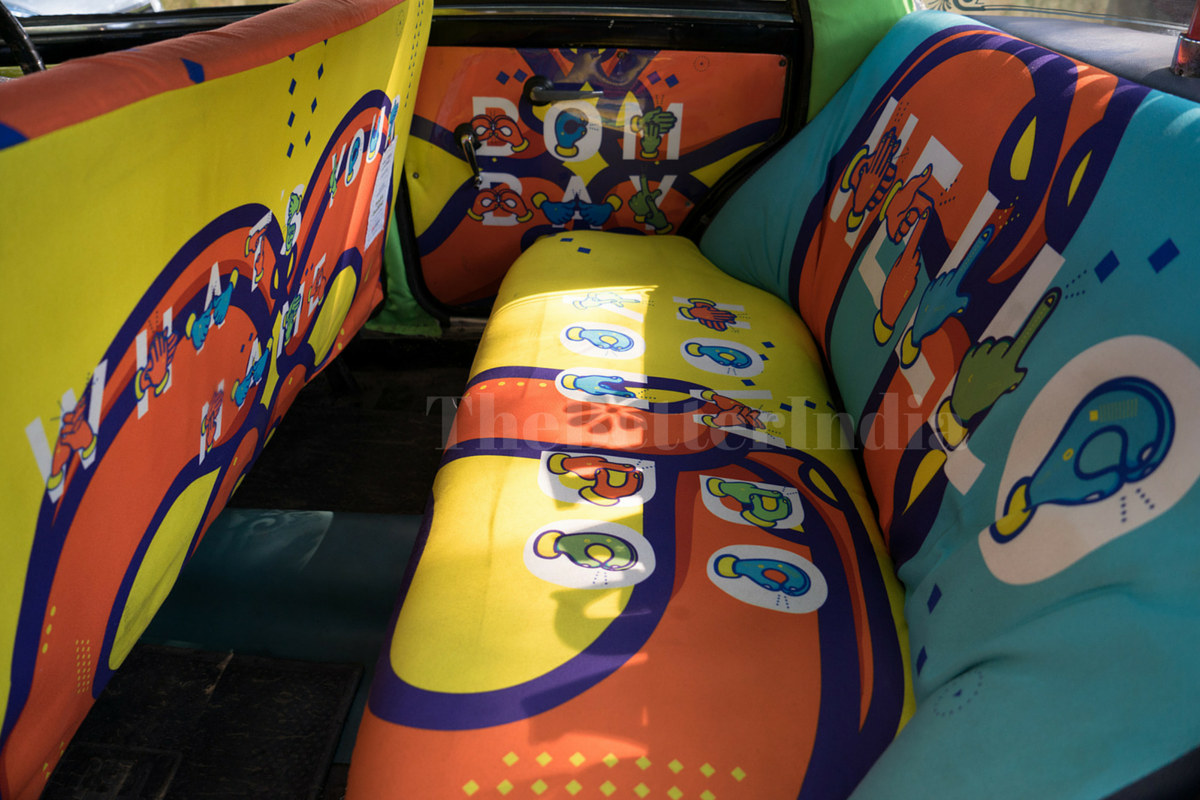 Harshit got together with the team of Taxi Fabric – an organization that enables designers and taxi drivers to come together and create beautiful art with a social purpose in Mumbai taxis – and upholstered a taxi with colourful fabric that has the alphabets A-Z in sign language printed on it.
Harshit was inspired to select this design theme by an incident from his college days.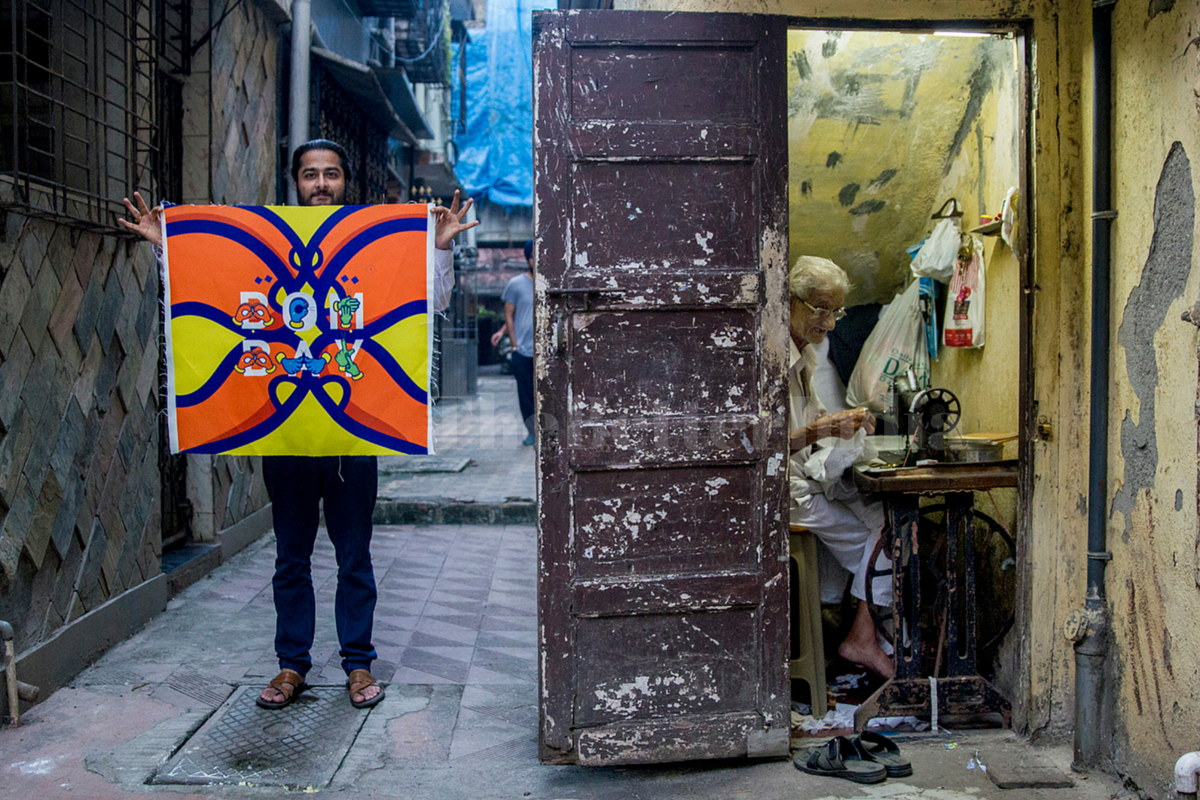 "My college in Delhi conducted a program for deaf and mute students, along with hearing people, in the same classroom. We wanted to talk to those students but had no idea how. There was a language barrier, which led to the formation of two communities in college. The deaf and mute students would hang out with each other and I never really got a chance to interact with them," he recalls.
Harshit's fascination with the sign language did not leave him after college either. He arranged to meet a lady who works as a sign language interpreter with Doordarshan. It was in this meeting that he got to learn more about the Indian sign language, which is, apparently, very different from other sign languages across the globe.
"While the American sign language utilises one hand, the Indian sign language, which has been inspired by the British sign language, utilises two hands. It has about 5,000 words," he says.
Harshit's background in visual communication got him very interested in the details of the sign language because it is all about visuals, gestures, and expressions.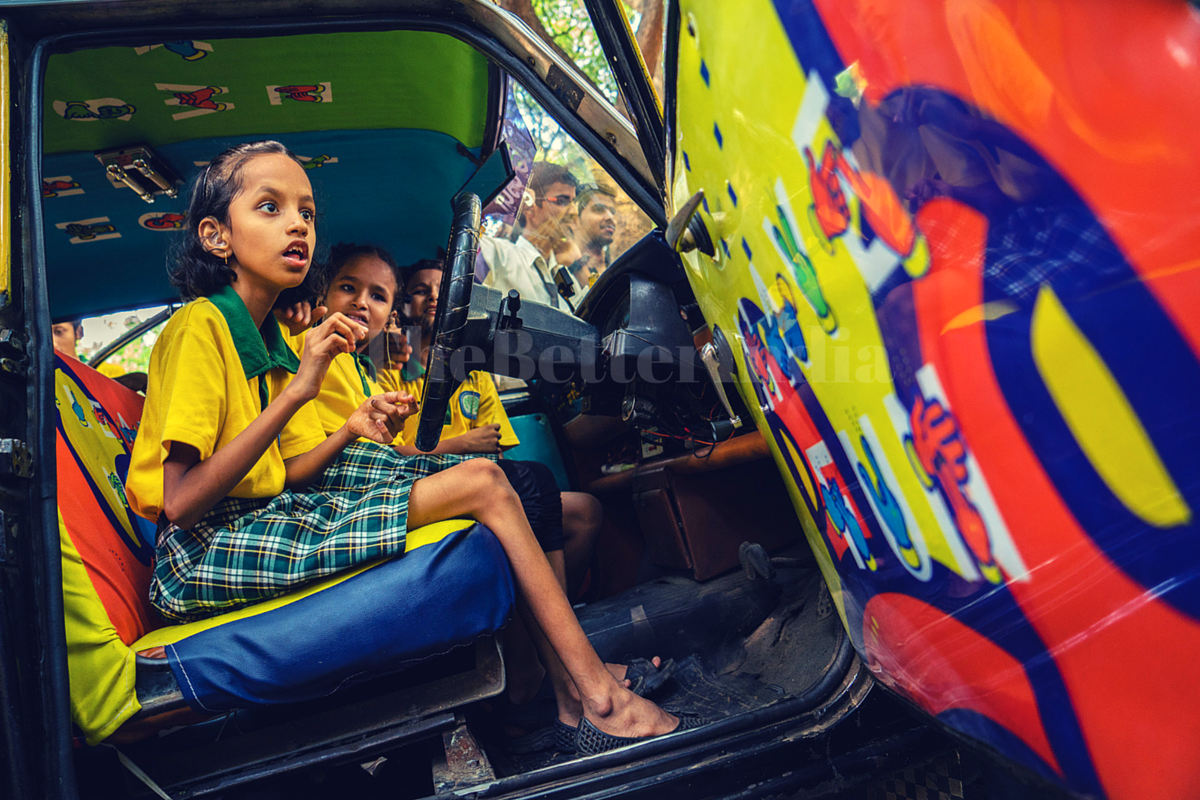 The fact that India has one of the largest populations of deaf people in the world (approximately six percent of the population lives with some kind of hearing impairment), and not many hearing individuals are aware of the language used by them, bothered him a lot.
"I started learning the language, and found it to be so much fun. I felt that people would love to learn it…some even told me that they would be very interested. Other than talking to people with hearing impairments, it can also be used as a secret language among friends, or to communicate in places where you need to be silent – like libraries, or under water, or in places with loud music, and a lot more," says Harshit, who strongly believes that if there is a good resource bank for people to learn the language, they will definitely try to learn it.
Harshit did not want to just create a visual resource, like a booklet of the sign language, which people would have to purchase.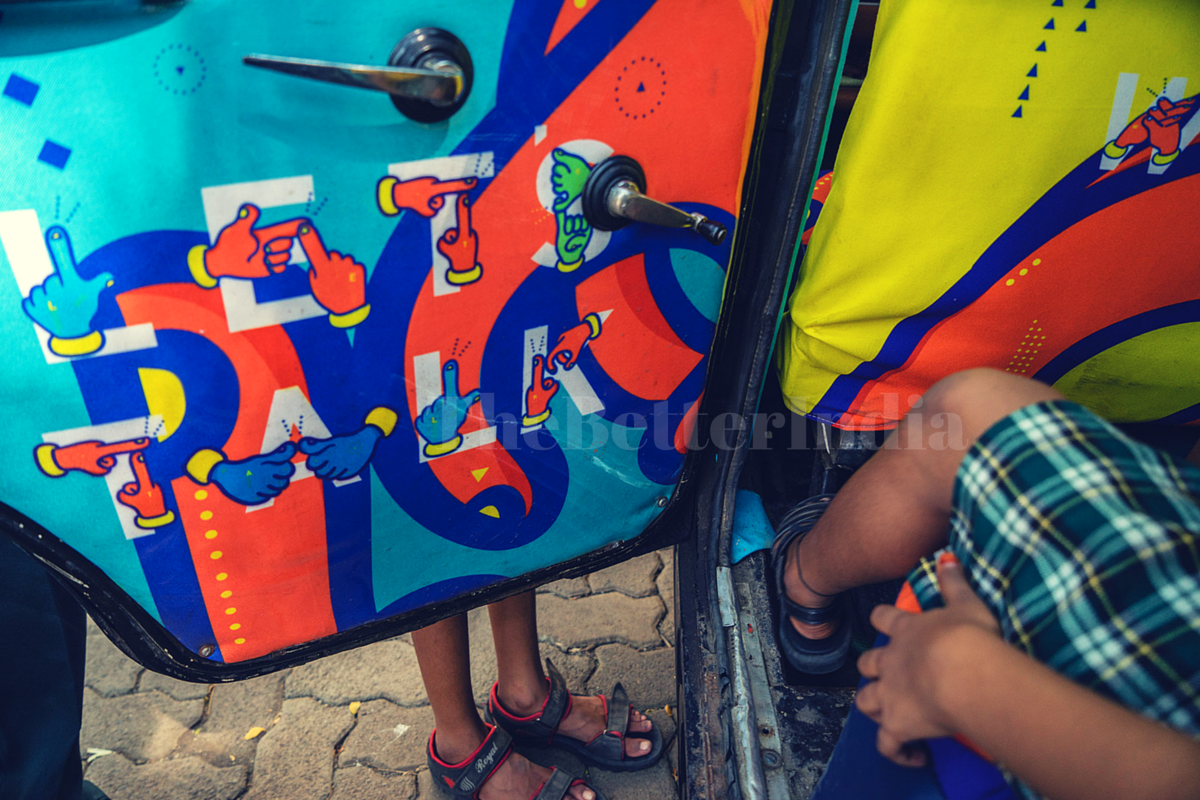 He wanted to think of a better idea of how to embed sign language in the daily lives of people and make them realise the importance of learning it.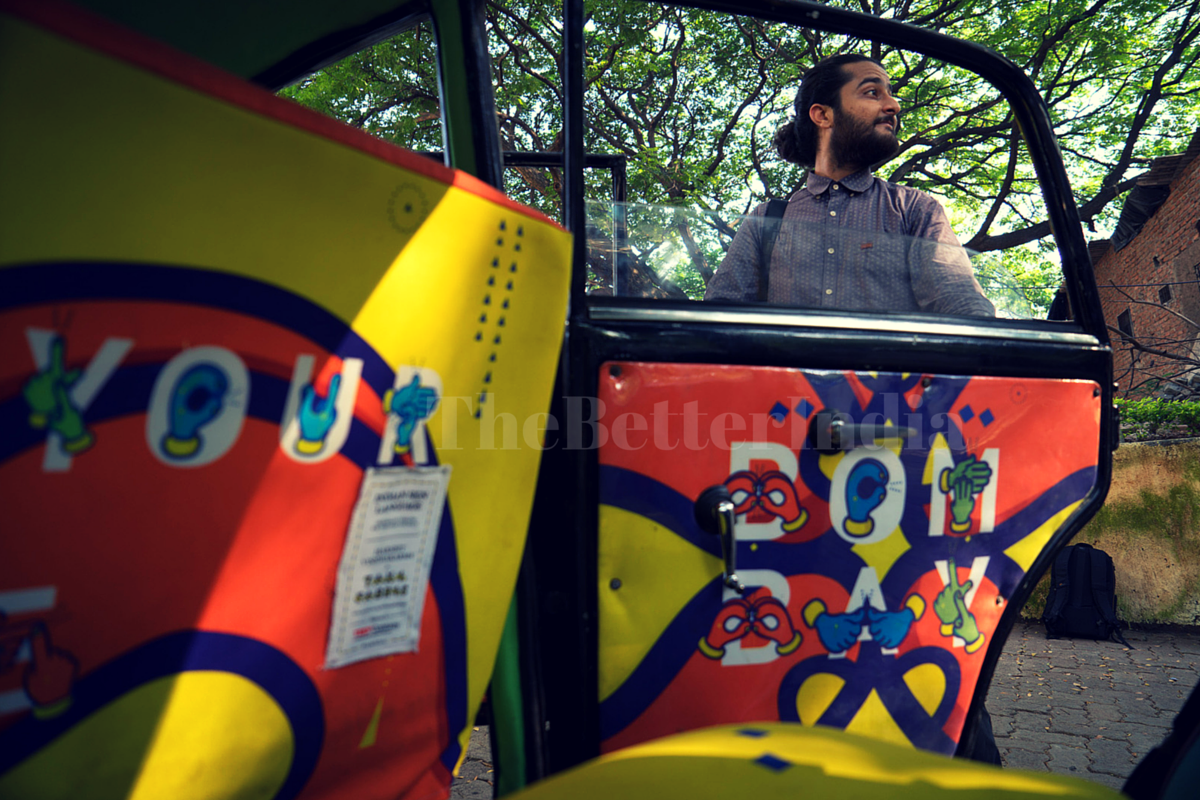 "The basic idea was to make sign language cool. I did not want people to learn it out of sympathy but to learn it because they don't want to miss a conversation with people who cannot hear or speak," he explains.
This was when the idea of contacting Taxi Fabric struck Harshit.
Taxi Fabric is a project that was initiated by Mumbai-based designer Sanket Avlani in 2013. The idea behind this project is three fold:
• To convert the fabric used inside taxis into a canvas for designers to showcase their talent.
• To transform the unaccounted time that people spend in Mumbai taxis into a visually appealing experience.
• To communicate a social message, like Harshit's for instance, in the process.
The way the project works is that designers think of the design they want to implement inside a taxi, prepare it, and get it printed on polyester-based canvas.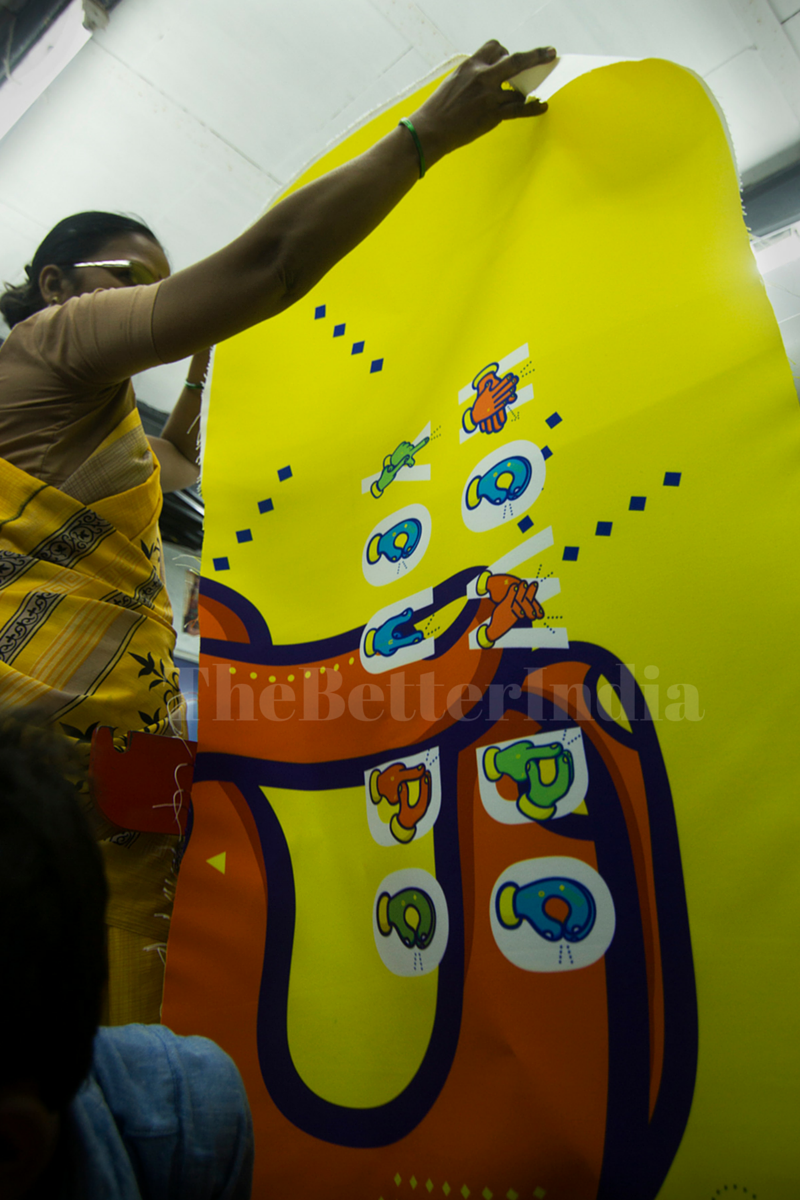 After this, the taxi goes to a workshop in Mumbai where the new fabric is fitted. Taxi Fabric funds the entire exercise with the help of crowd funding.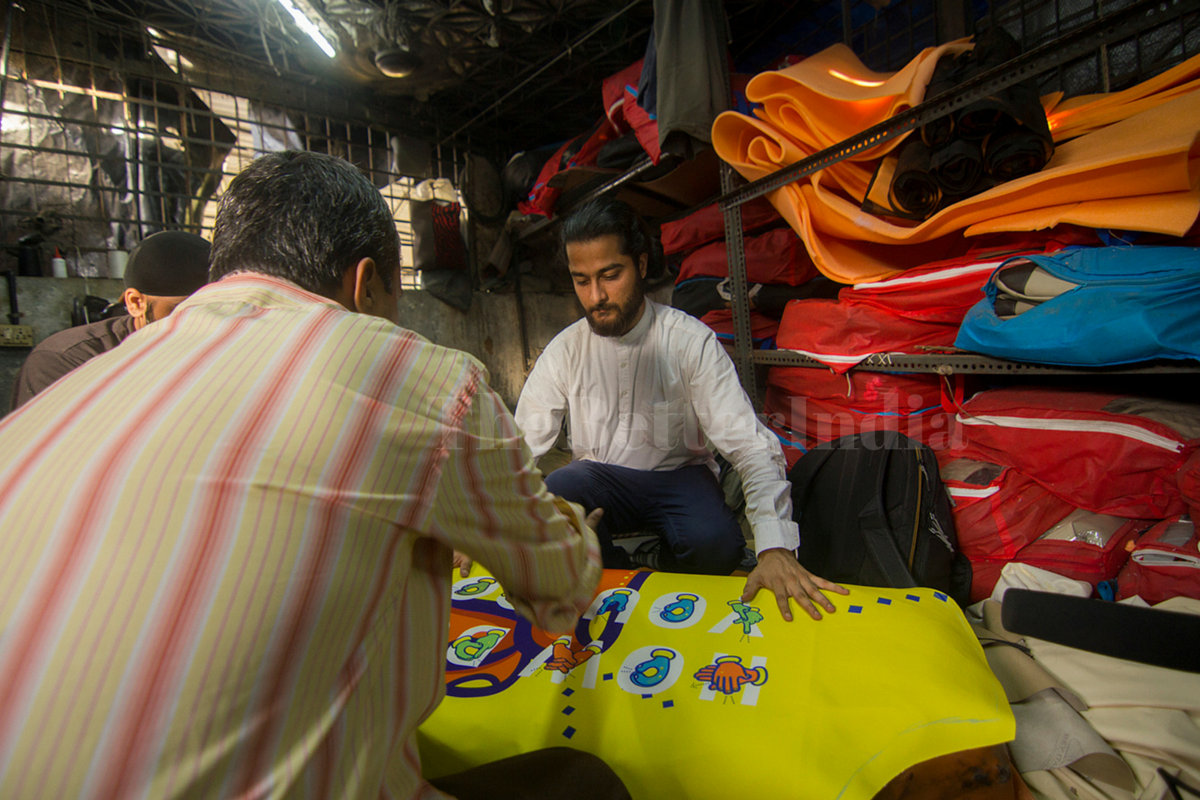 "Design, as a profession, is not well understood in India. For people here, something designer means something expensive. But that's not true. People don't realise how design can contribute to the social and cultural development of a city. How problems can be solved with design. Designers like me face the problem of explaining to people what we do for a living. Thus, Taxi Fabric is a great way of using a taxi, which is a very democratic mode of transportation, to take designers out of the galleries and put them inside the city," says Harshit
His own sign language project, says Harshit, is a reflection of the mission of Taxi Fabric – it showcases his talent, uses the unaccounted time of people travelling in taxis, and communicates a social message to both deaf people and those who can hear.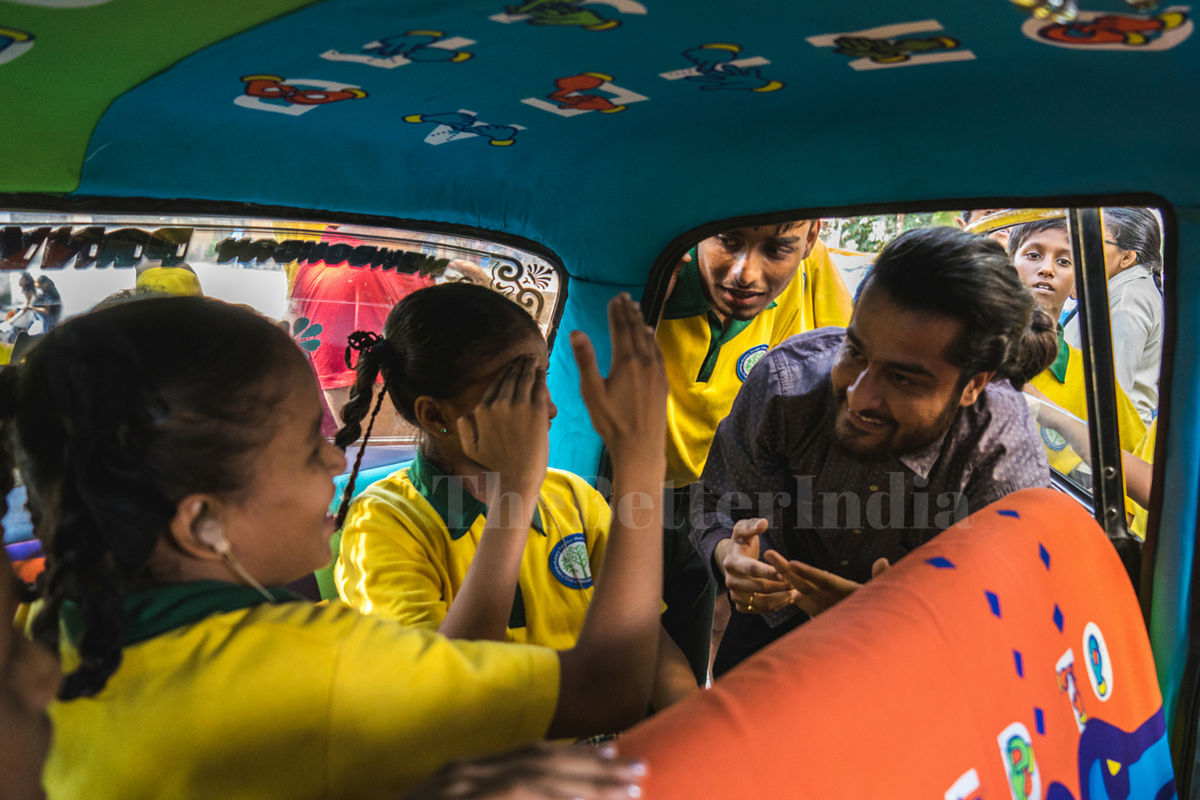 "People usually have about 10 minutes to spare in a taxi. I wanted to design the taxi in a way that those 10 minutes would be enough for them to be introduced to a new language. And I tried to do this in the most colourful manner so that the language could be presented in a fun way."
After several sleepless nights, Harshit finished his project – from design to execution – in just 10 days. He wanted to get the taxi ready and take it to a school for deaf and mute children on Sept. 25, World Deaf Day. And he did.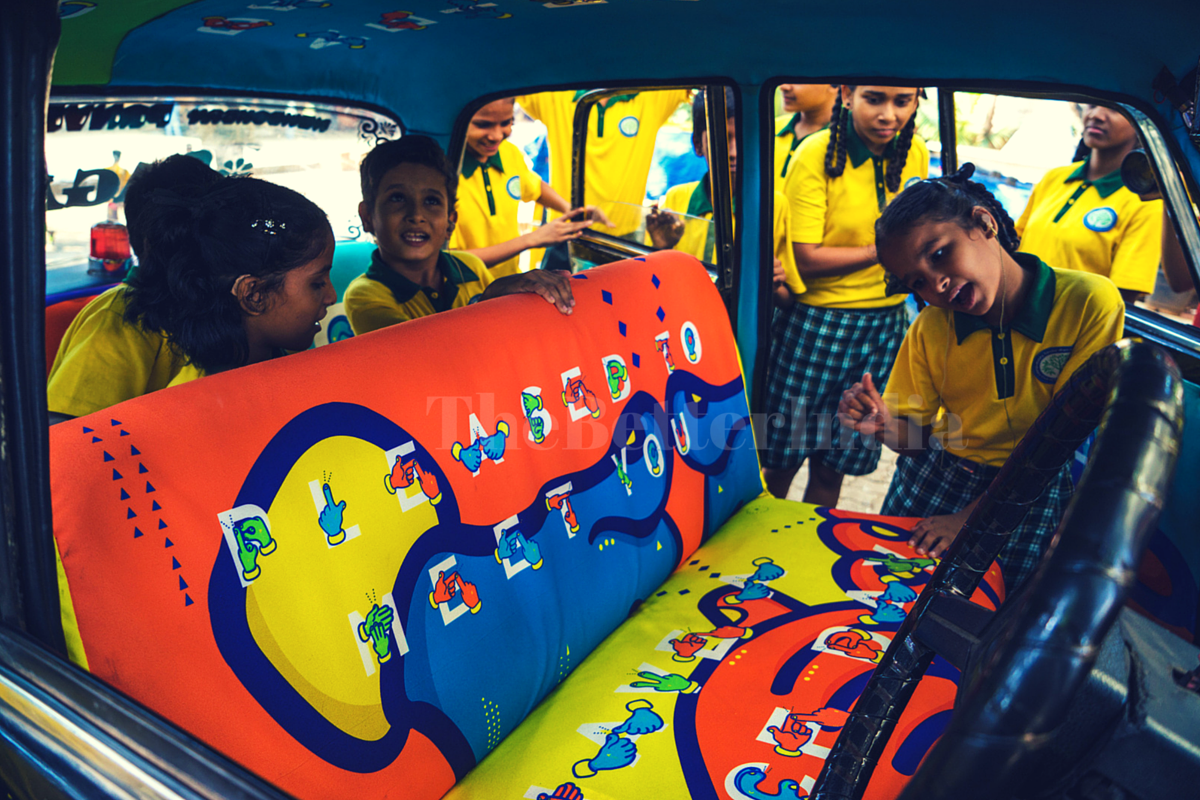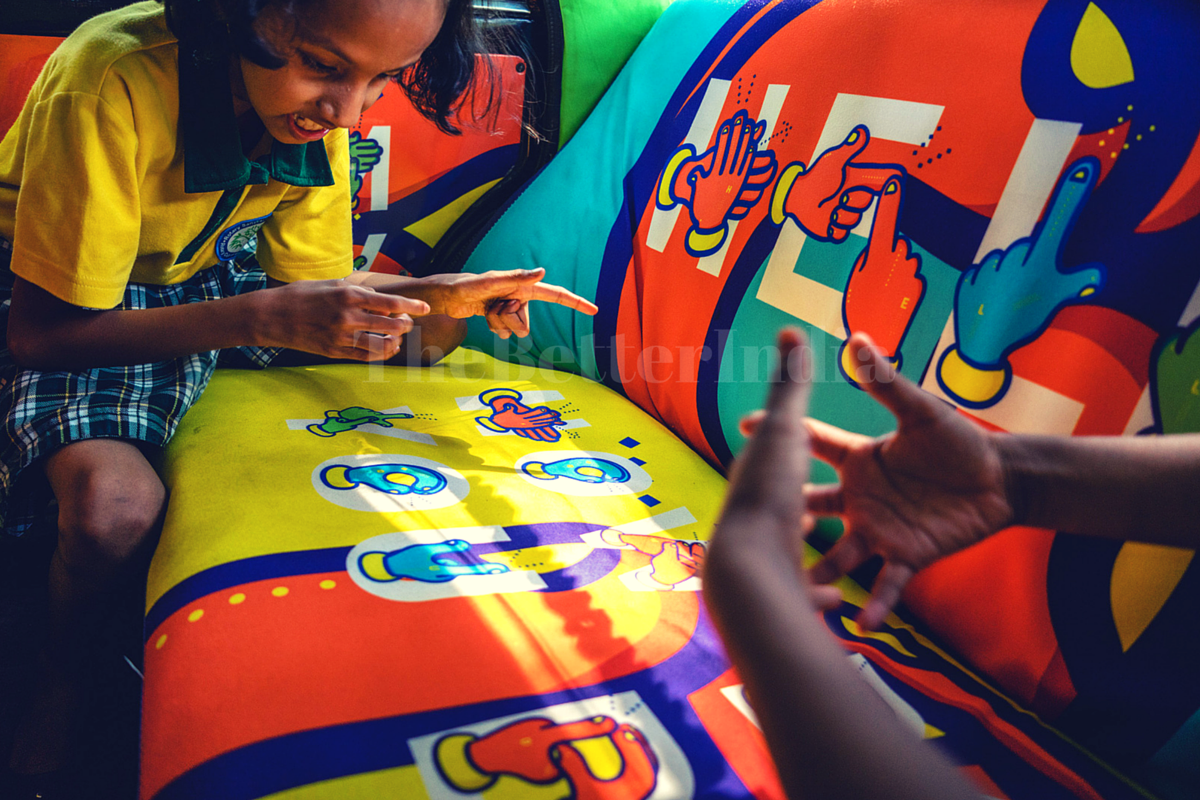 The school children were exhilarated to see a taxi that highlighted their language in such a beautiful way.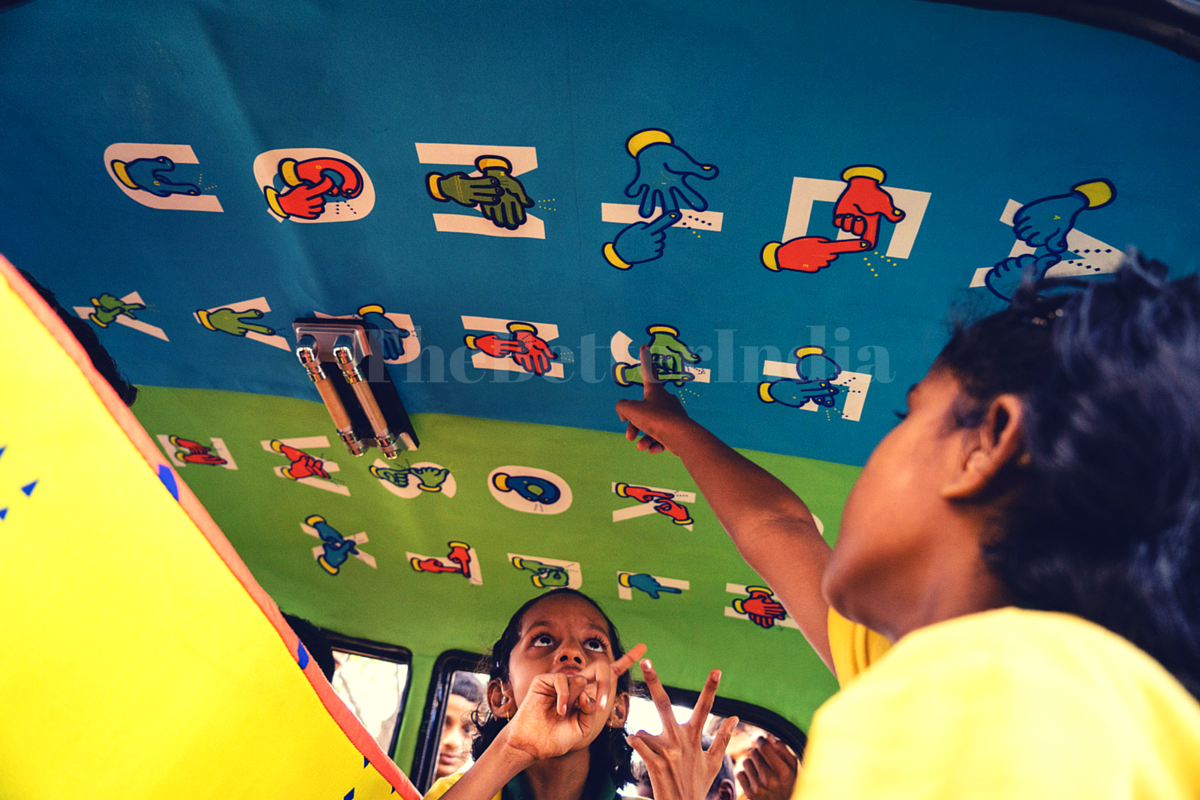 They had ideas of their own – some wanted the same thing to be done inside aeroplanes and others took the phone number of the taxi driver asking if they could call him the next time they wanted to go out.
"It was an overwhelming moment for us. The driver too was overjoyed," says Harshit.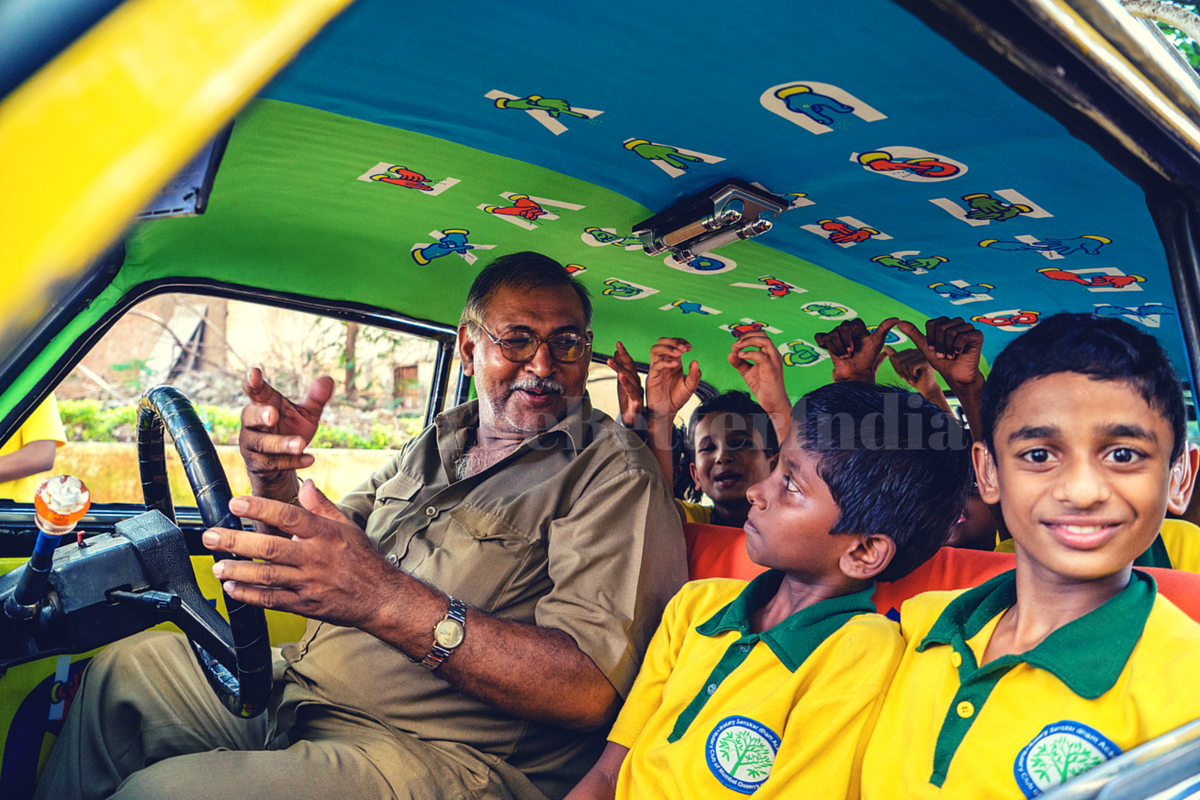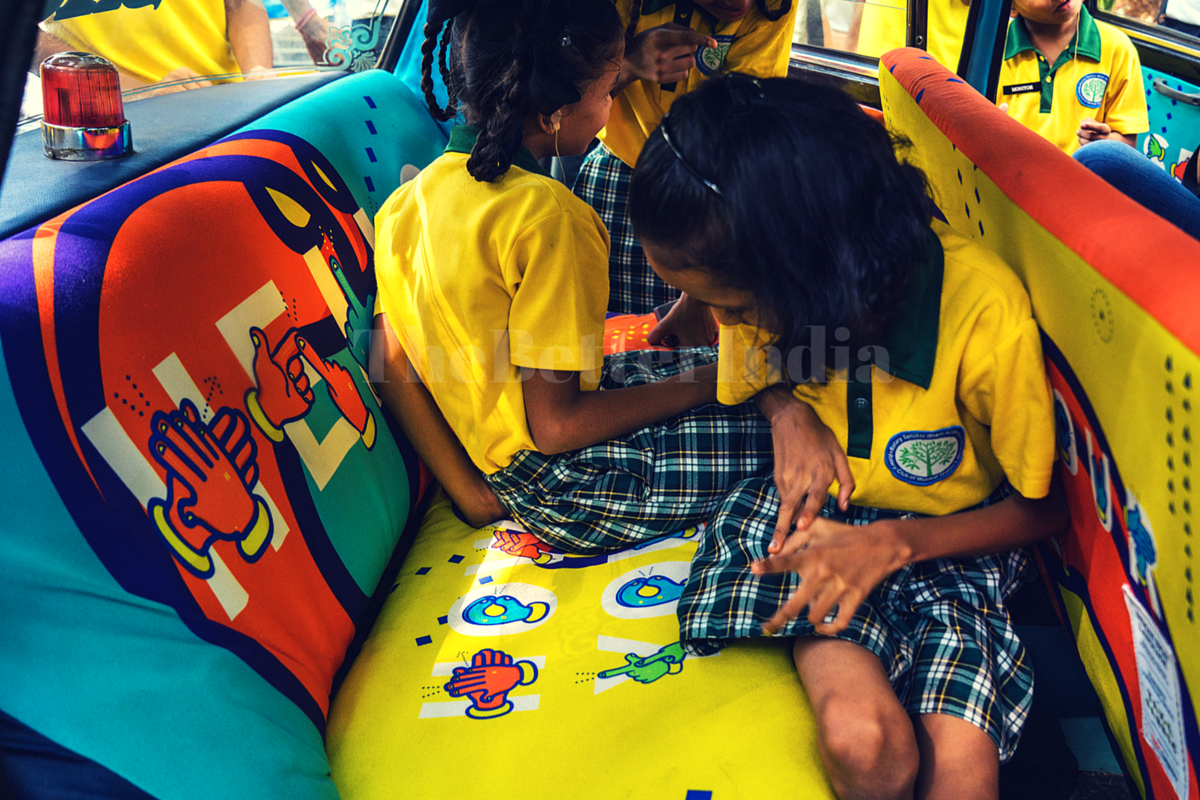 "It is very important for people to learn the basic set of signs of this language; then they can derive more signs from them. I am exploring other ways of popularising the Indian sign language now," concludes Harshit.
You can find get details about Taxi Fabric here, and contact Harshit at harshit.vishwakarma@gmail.com.
Know more in a video here:
Like this story? Or have something to share? Write to us: contact@thebetterindia.com, or connect with us on Facebook and Twitter (@thebetterindia).
Tell Us More
We bring stories straight from the heart of India, to inspire millions and create a wave of impact. Our positive movement is growing bigger everyday, and we would love for you to join it.
Please contribute whatever you can, every little penny helps our team in bringing you more stories that support dreams and spread hope.