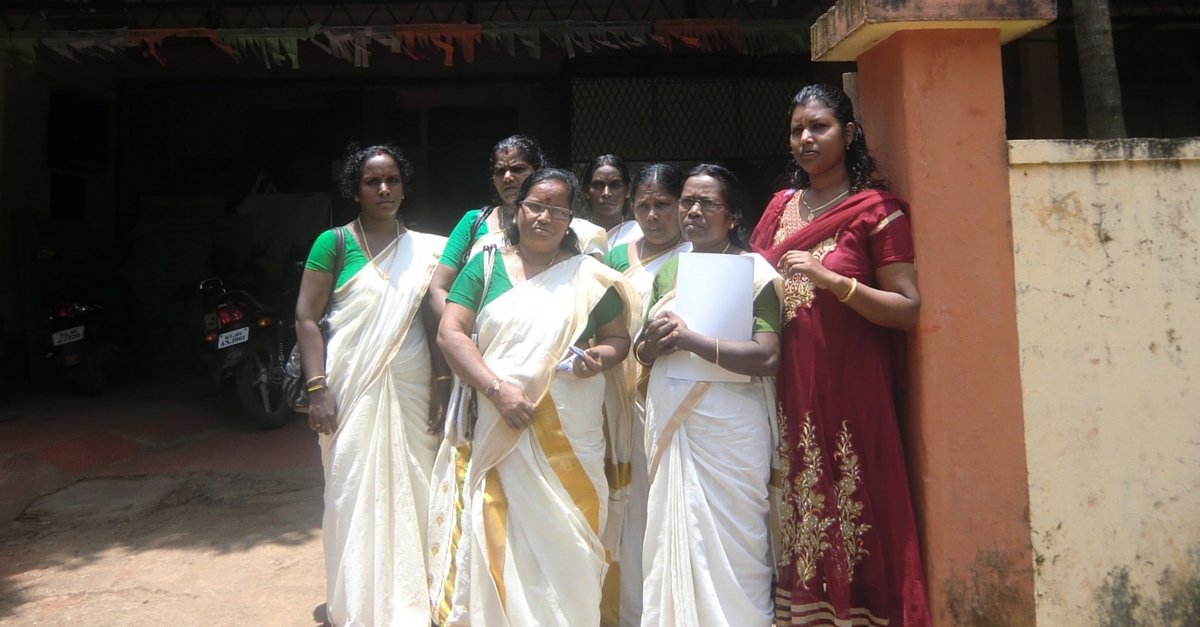 The feisty women members of grassroots groups in Kerala, who would earlier not even dare to talk within the hearing of the upper caste employees, are now successfully setting the community development agenda for their local self government bodies.
The feisty women members of grassroots groups in Kerala, who would earlier not even dare to talk within the hearing of the upper caste employees, are now successfully setting the community development agenda for their local self government bodies. 
Caste equations in Kerala have always been a powerful socio-economic and political force. Over the years, the schedule castes (SCs) and other backward castes (OBCs), reeling from suppression and oppression at different levels, have organised themselves into cohesive bodies to enforce their rights and seize their entitlements.
Today, the feisty women members of grassroots groups, like the Kerala Pulayar Maha Sabha (KPMS) or the OBC Ezahva organisation and the Sree Narayana Dharma Paripalana (SNDP), in the state have not just managed to overcome the constant discrimination and exploitation but they are now successfully setting the community development agenda for their local self government bodies.
Apart from having found a unified, confident voice and platform to talk about their views on equality and rights, they are holding regular meetings with officials at the panchayat and district levels to push economic empowerment and secure people's access to government schemes.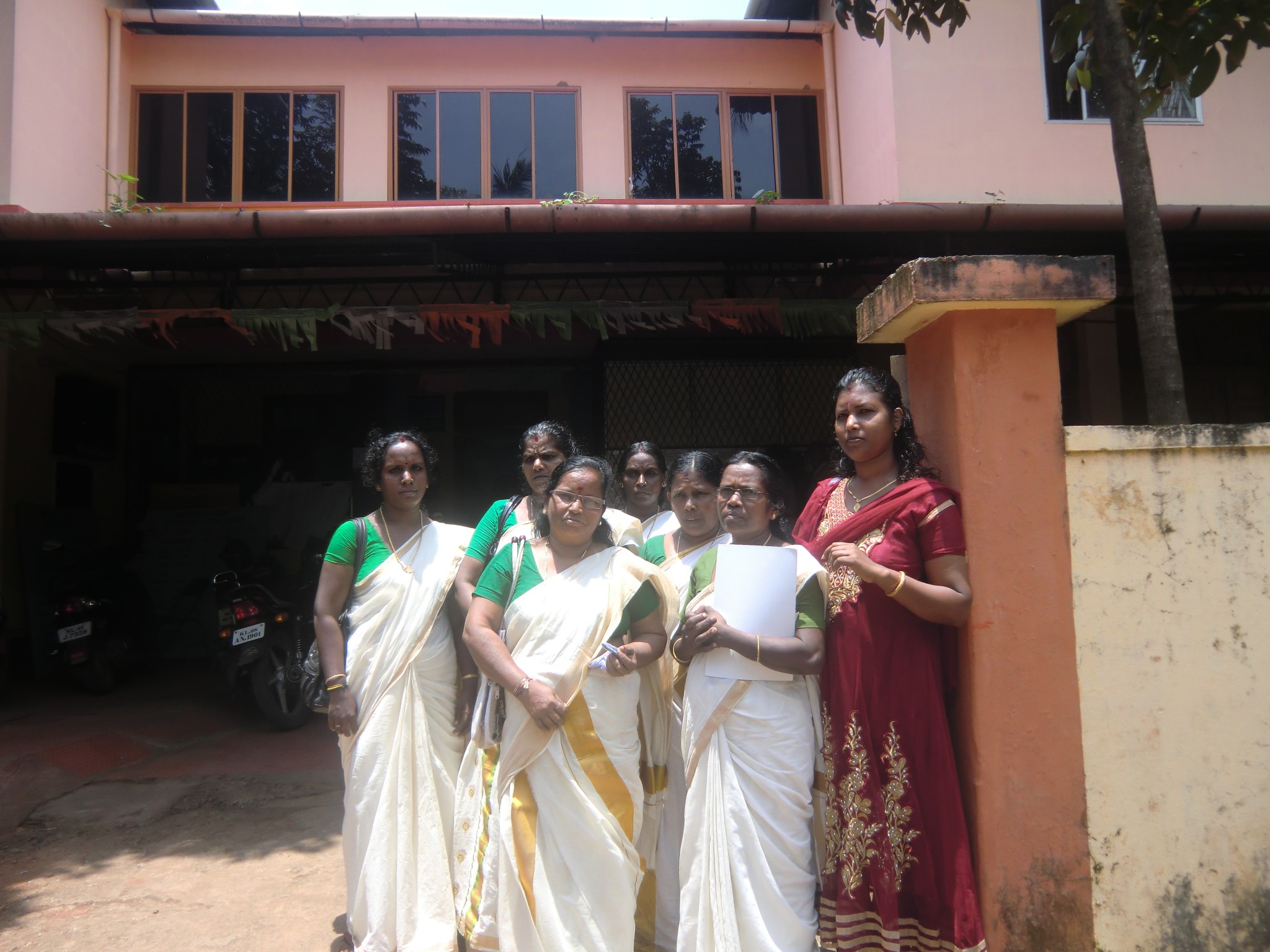 Ravindranathan K., the Panchayat President of Vallachira panchayat in Thrissur district, takes his duties quite seriously and likes to hold panchayat committee meetings on a regular basis. However, there is something quite unusual about these meetings – those in attendance are not elected representatives like him. Rather, they are the women and men from the schedule caste organisation, Kerala Pulayar Maha Sabha (KPMS).
Surabhi Shivam, 34, a farmer from Aazatpuzha village, which falls under Vallachira panchayat, is an active member of the KPMS's local women's wing. Not only does she speak up about people's concerns during KPMS meetings she also makes sure that the critical concerns reach Ravindranathan's desk.
"The KPMS routinely conducts meetings with the panchayat president to discuss the particular problems being faced by our community members, be it related to lack of awareness about welfare schemes or problems of access to the entitlements," she says.
From creating jobs under the Mahatma Gandhi National Rural Employment Guarantee Act (MGNREGA) for building roads and constructing bunds to maintaining proper sanitation and providing housing for the SCs, KPMS members like Surabhi discuss everything in detail with the panchayat leaders.
"As the elected representatives know that we are fully aware of the government provisions and schemes and are familiar with the processes, etc., they have no choice but to cooperate and deliver. We use our knowledge to train others and facilitate their access to the entitlements," says Surabhi.
Adds Ravindranathan K., "Whether it's pursuing the matter of the distribution of pension for widows, unmarried women or the elderly, looking after the needs of farmers, especially funds, seeds and fertiliser subsidies, the KPMS members take keen interest. The best part is that they have an inclusive approach. The Mahila Federation members are, in fact, very proactive and committed to reaching out to their peers."
As per the 2011 Census, SCs make up 9.1 per cent of the total population in the state. Of this, the Pulayas comprise 50 per cent, making the KPMS the most prominent SC organisation in the state.
According to T.V. Babu, General Secretary, KPMS, "We have a democratic organisational structure, with 3,147 branches from Thrissur to Trivandrum. A minimum of seven branches make up a Union and we have a federal structure of 'sakhas' in place at the panchayat, block, revenue 'taluk' levels and then the 'zilla' committees. We elect our state general council from the zilla committees. Our women's wing, or Mahila Federation, members are equal participants in this set up."
At every level, the KPMS committees interact with the elected panchayat, block, district representatives and administrators.
Adds Babu, "The KPMS has its own 'panchayat committees', comprising representatives from the unions. Our committee members have frequent dealings with the elected panchayat members and officials of different panchayats across the state to build consensus on how to work better towards knowing and availing the entitlements for the SCs."
Sobha Cherapadath, 50, of Cherissery village in Thrissur, and her three sisters are unmarried and they all work either as farm labour or domestic help. "Between us we have an average primary level education so this was the only employment we could find. These, in fact, have been the traditional employment avenues for the Pulayas. We had no idea of the government schemes or the subsidies and loans that we could avail of to better our situation. And earlier we couldn't dare to even talk within the hearing of our upper caste employees," she says.
Nonetheless, life has changed a lot ever since Cherapadath joined the KPMS. "I had joined the KPMS nearly two decades ago and have gradually risen through the ranks to become the Thrissur District Secretary of the KPMS Mahila Federation. Over the years, the experience of being in an organisation, talking to women in similar situations and thinking of solutions has been a tremendous confidence booster," she says. Her father was an alcoholic so they could never ever make enough money.
"We worked hard and barely managed to survive. However, now I am a respected member of the community. I can address a rally of 10,000 people and talk about land rights and government sops, teach others how to open a bank account or get their Aadhaar or PAN card made. And to think there was a time when I had not even heard of the EMS Housing Scheme. My family used to live in a mud hut and the straw roof would fly off during the thunderstorm. It was during one Mahila Federation meeting that I first heard of the scheme. Eventually, I was able to build proper house with a concrete roof with the money that was disbursed through the panchayat in instalments," says Cherapadath.
Indeed, the KPMS and other similar organisations are working diligently to ensure people's participation in self-governance by insisting on attendance during the gram sabha meetings.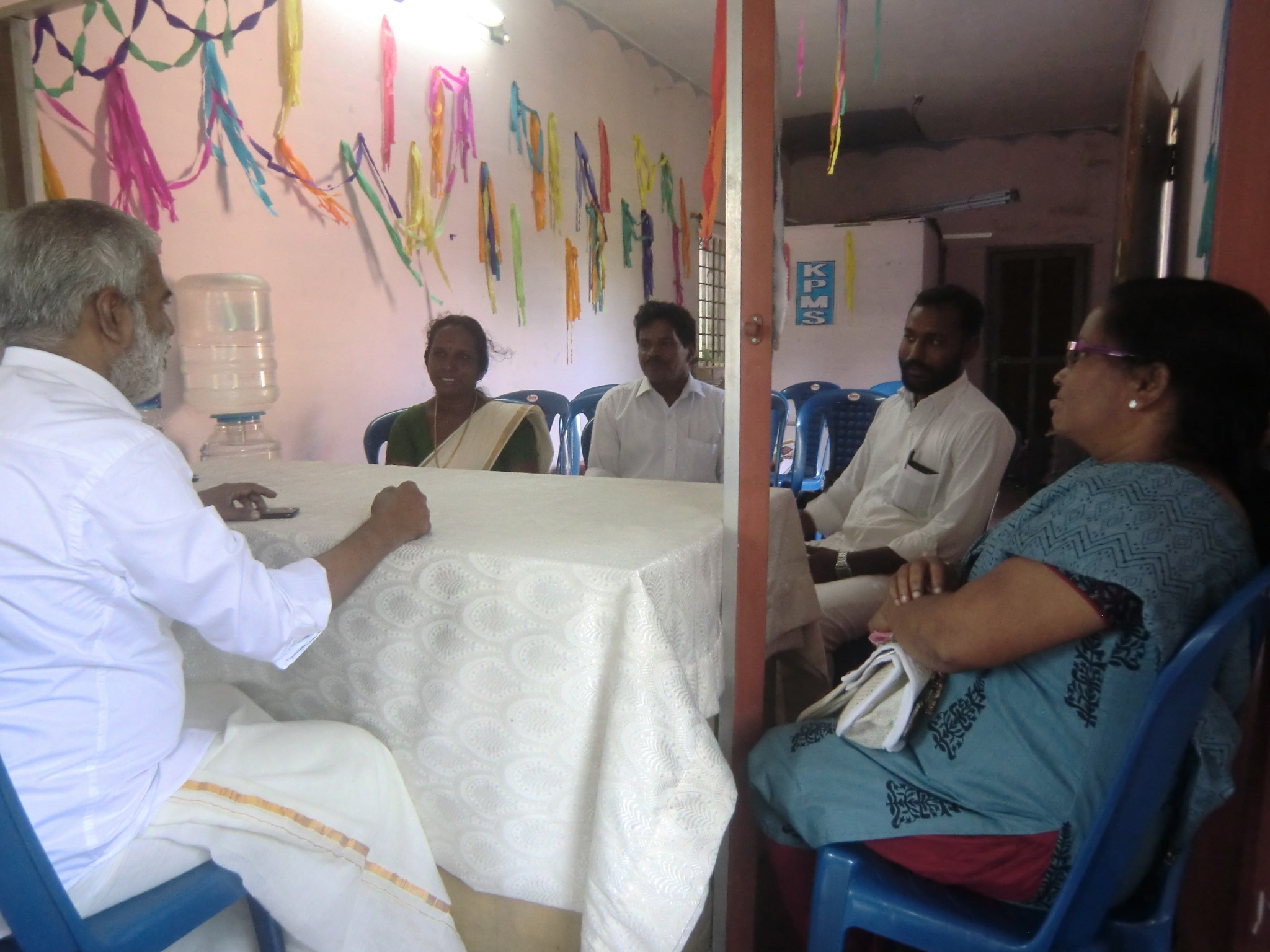 "It is in these meetings that the welfare schemes are announced. By being there and questioning the elected representatives and administrative officials one can get up-to-date with the happenings in the area and know about the schematic provisions properly so that the odds of being duped or denied are minimised. Often beneficiaries are turned away by officials citing some obscure requirements as reasons for refusing what is rightfully theirs. The gram sabha meetings are a platform where any deviation can be immediately challenged," says Omana P.K., 56, of Aalapad village under Chazhur panchayat.
Along with Omana, who is the president of the KPMS Mahila Federation of Thrissur Taluk, Yamuna Radhakrishnan, 37, the secretary, has made it her personal duty to get every member of their group to attend the gram sabha meetings without fail.
The duo is also committed to assisting every member to secure the right documentation needed to access schemes. Radhakrishnan, who hails from Kurumpilavu village, recalls an incident where the Mahila Federation stood by her as she tried to get made a new set of her property papers. "I had taken a loan from the State Scheduled Caste Development Corporation by mortgaging my property. After paying back the interest and principal amount, when I asked for my original papers, I was handed a set of tattered sheets. I brought the matter to the Mahila Federation because the officials told me that making a new set would cost me money. When I shared my difficulty I learnt that the Corporation has a dedicated fund for such accidents which it should use to replace my original papers. When I went back with this information the surprised officials had no option but to do the needful without harassing me any further," she shares.
Undoubtedly, being part of groups like the KPMS has enabled once-marginalised women like Cherapadath, Omana and Radhakrishnan to play a significant role in pulling their communities out of extreme poverty and rejecting absolute discrimination by taking ownership of their panchayat.
Like this story? Or have something to share? Write to us: contact@thebetterindia.com, or connect with us on Facebook and Twitter (@thebetterindia).
Tell Us More
We bring stories straight from the heart of India, to inspire millions and create a wave of impact. Our positive movement is growing bigger everyday, and we would love for you to join it.
Please contribute whatever you can, every little penny helps our team in bringing you more stories that support dreams and spread hope.