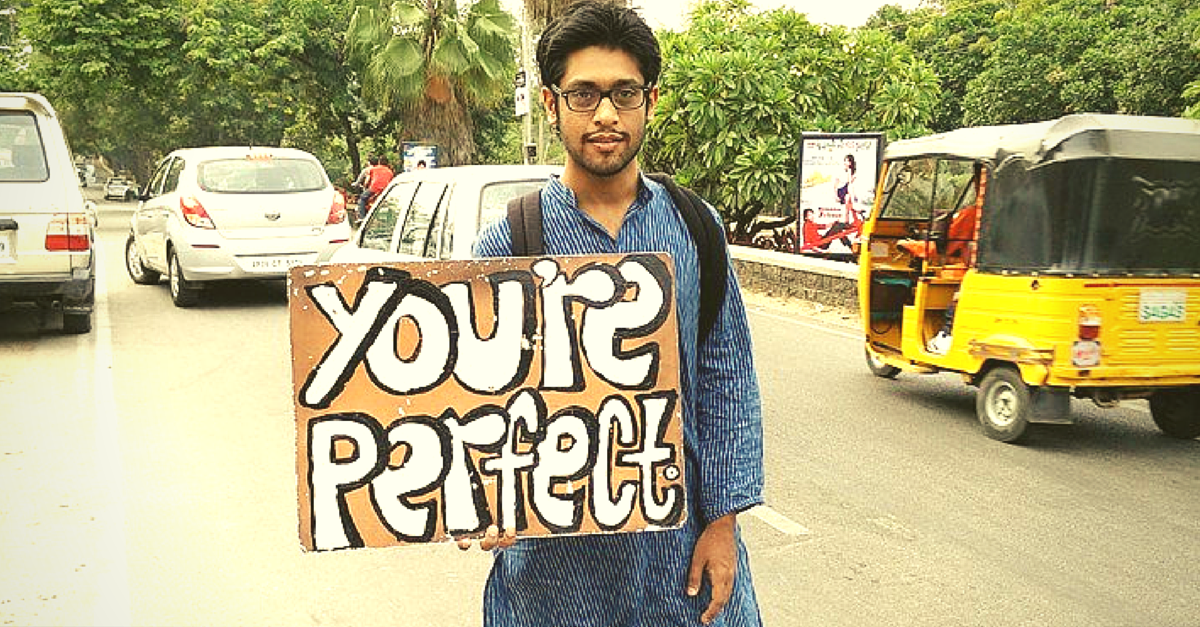 From being given food by students who saw him standing hungry and tired at a street corner, to being threatened with being beaten up if he was ever seen again, Tarun Gidwani has seen people at their best and worst. His message to all, however, is: "You're perfect."
From being given food by students who saw him standing hungry and tired at a street corner, to being threatened with a beating if he was ever seen again, Tarun Gidwani has seen people at their best and worst. His message to all, however, is: "You're perfect."
Sometimes, you don't need a lot of resources and grand plans to spread goodness and positivity in the world. Sometimes, all you need are good intentions and a sign that says "You're perfect," held up at a streetcorner to remind people that they are indeed, without judgment or bias, the best just the way they are.
A 28-year-old named Tarun Gidwani has been spreading this message of hope and positivity wherever he goes. Some of you may have heard of him – the man who holds up a simple placard that says 'You're Perfect.'
In Pune, in Hyderabad and in Bangalore, he has been seen on street corners, at bus stops, near cafes…an object of curiousity and, possibly, even ridicule…serenely and steadfastly holding on to a message that he feels people need to hear.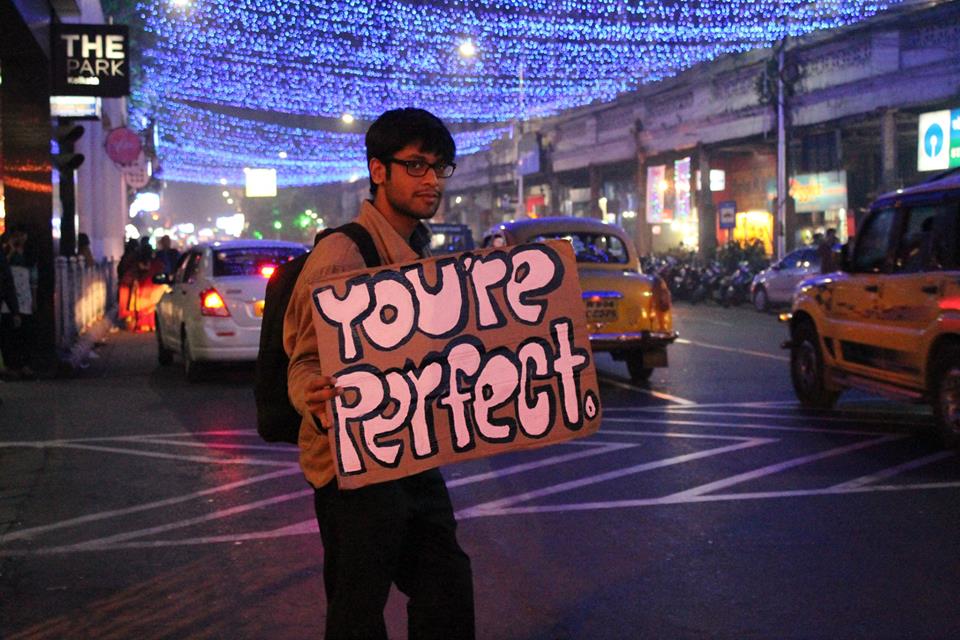 Pic source: Saurav Bhattacharjee on Facebook
The first day Tarun held up the sign in Koregaon Park in Pune, about five years ago, some people stopped and smiled, some passed by, and some thanked him. Then, a middle-aged woman came up to him and wept. She said she had "needed" to see those words that day. Tarun, who had been feeling diffident and shy holding up the sign, then realized, "This thing is really powerful!"
There was no looking back after that – he knew his message was making a difference — so he continued to go out, sometimes for hours on end, to hold up the sign.
What do these two words, "You're perfect," mean to him? "Three!" he is quick to correct me, "The connective 'are' is as important as the other words! The words, to me, sum up the insight that led me to quit the spiritual search. The simple physical acceptance of whatever-this-is, as it is, without any hope or judgement! On a level of person, it also means how each one is a unique unprecedented individual that is only occurring here and at this moment, and hasn't ever occurred before."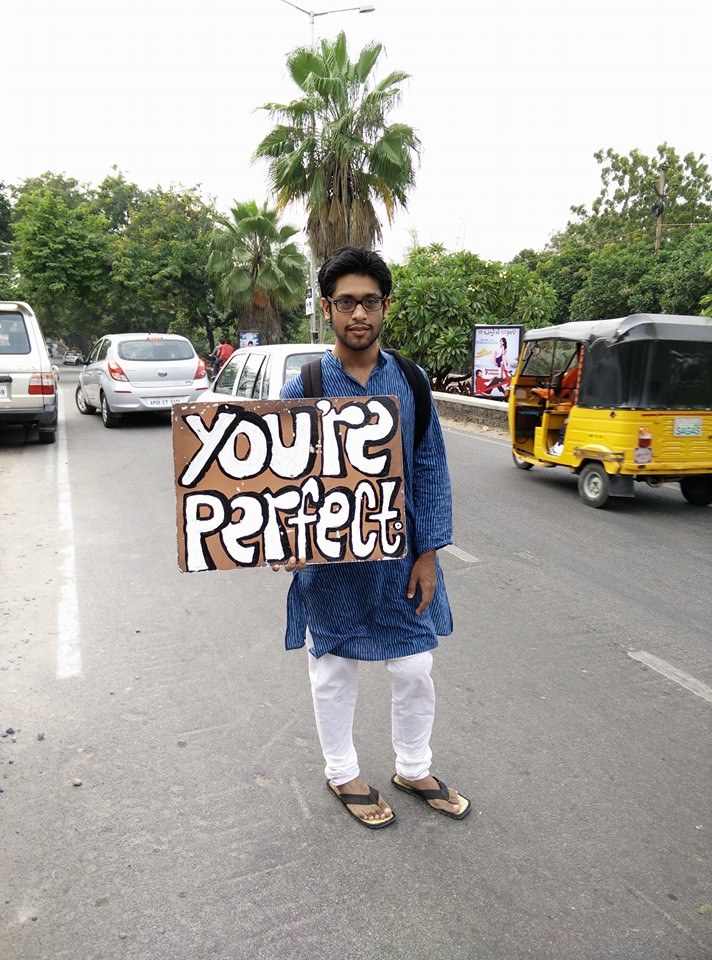 Pic source: Lohit Veda Vyas on Facebook
Once, outside the Osho ashram, Tarun recalls that he met an old British man who has been visiting India for over 30 years in search of "enlightenment". He broke down on seeing the sign and told him how tired he was about the whole search!
On another occasion, a woman came and told him that her son, who had thought of harming himself after an argument at home, changed his mind after seeing him with the sign at the corner of the German Bakery in Pune.
Tarun holds up the sign, he says, "partly because I enjoy this view of perfection flowing before me…the experience of watching people who have never been here before and may never be here again." And partly, "to remind people that any pursuit is secondary, what beats it is the primary experience of being here."
"So Tarun Gidwani let me hold his famous 'You're Perfect' signboard today. While a lot of things disappoint in this city, its people like him & the little things that they do that make the living worthwhile. As I held the board at the bus stop and people passed by, It felt a lot like screening a film to an audience. Some stopped and smiled, some passed by while some thanked me for it. Tarun has even had people who've confessed their personal stories and have shared their moments of joy and hardships alike. Strange how just two words manage to be so simple yet profound at the same time. Thanks Tarun. For being there for everybody," says Suyash Kamat.
Tarun grew up in a loving family in Hyderabad and studied agro sciences. He then went to the UK to pursue higher education and returned to India to work with a couple of NGOs and later with a law firm.
Even as Tarun moved for work from Hyderabad to Bangalore to Pune, the sign went everywhere with him.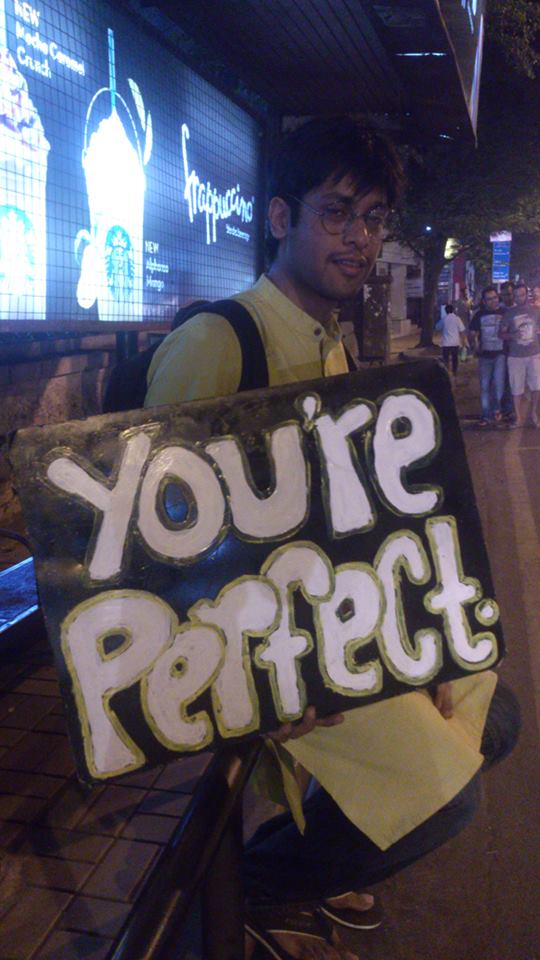 Pic source: Suyash Kamat on Facebook
Was his family supportive? "My family and friends, and my sweet girlfriend, have been the kindest people I could ever ask for! They are always waiting to hear more stories each time I go with the sign," he says.
Were there any experiences with the sign that were not very positive? "A group of boys in Pune got very angry with me once for holding up the sign," he recalls. "They used to stand at the street corner and make catcalls at girls and my sign was proving to be distracting." But the conversation that Tarun struck up with these boys eventually helped him connect with them at a different level. "Our first reaction would be to call them loafers and look down on them," he says. "But I talked to them and it made me reflect on our unequal society and the toll it takes on people."
Another time, "I had the cops rag me for three hours in Pune! And in the end they were finally convinced that I wasn't holding the sign to pick up girls; then they patrolled the street announcing "you're perfect" on their loudspeakers for a minute," he chuckles.
Pic source: Manoj Verulkar on Facebook
Tarun recently quit his job to study philosophy in a small town called Tartu, in Estonia. "I've always been interested in uncovering human suffering. That led me to a lot of teachers, books, places – and now to philosophy."
But holding up the sign, be it in English or any other language, is very much a part of his everyday life now. He spoke to The Better India from his university in Estonia and described an incident that happened to him just recently.
"Yesterday, while holding the sign in Estonia (and in Estonian language), a homeless guy came up to me, hugged my shoulder and wept for a few minutes. He then told me how he has had a very difficult life with his family and how that made him an aggressive person. I asked him if he wanted food, and he said it was enough that his story was heard."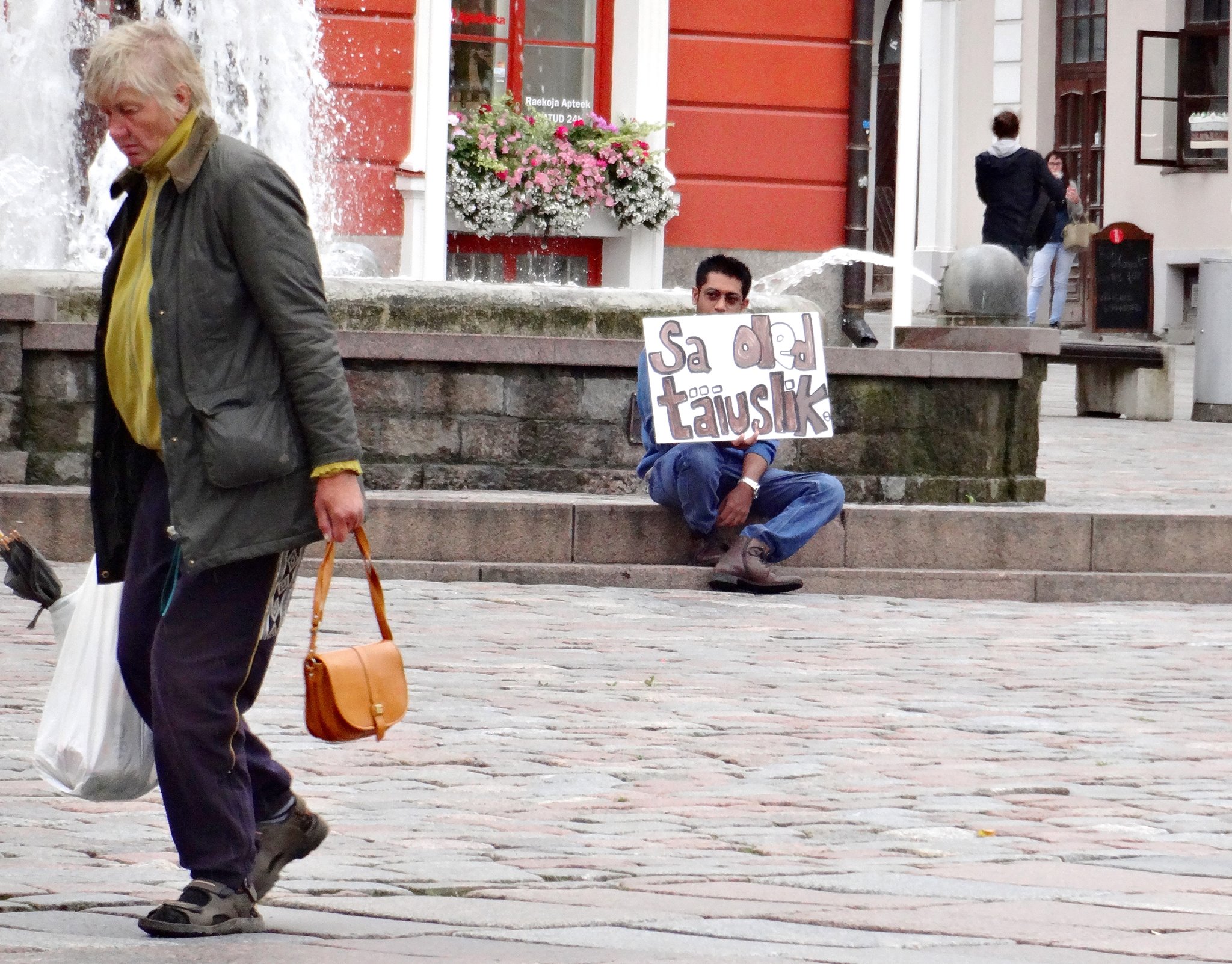 Pic credit: George Linos
What does the future hold for him? "I want to travel around the world holding the sign in different languages! It's a living magic. It creates a beautiful space wherever you take it. Hopefully I'll manage to find the right resources to do that!" he says.
Tarun has also written a lot many notes inspired from the hundreds of conversations he's had with people while holding the sign. He's been compiling them into a sort of manuscript and hopes to find some way of bringing it to people.
If you'd like to get in touch with Tarun, you can write to him at: tarun.gidwani@gmail.com
Like this story? Or have something to share? Write to us: contact@thebetterindia.com, or connect with us on Facebook and Twitter (@thebetterindia).
Tell Us More
We bring stories straight from the heart of India, to inspire millions and create a wave of impact. Our positive movement is growing bigger everyday, and we would love for you to join it.
Please contribute whatever you can, every little penny helps our team in bringing you more stories that support dreams and spread hope.