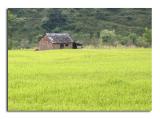 Bahadur Singh Verma of Saproon Valley is a farmer with a difference. Having chosen agriculture as a career after completing high school education in 1960, Verma and his progressive methods of farming have become role models not only in Himachal Pradesh but across the country. Keeping abreast of the latest technologies in agriculture and being at the forefront of innovation has helped this off-season cultivator to carve a niche for himself. Arvind Kashyap of Indian Express reports how:
With a Rs 500 loan from his father and after getting permission from the government, Verma started by digging out stones from his wasteland. After growing cauliflower in the early sixties, he first returned the money his father gave him. He standardised production technology of off-season vegetables by adopting hybrid cultivation.

After cultivating beans and peas with bamboo support as an inter-crop, he used bamboo poles as support for hybrid tomatoes soon. After this, he introduced co-operative farm packaging and marketing systems for vegetable crops and stone fruits in the valley. He succeeded in isolating three late flowering groups of cauliflower for seed production by producing 117 kg of cauliflower seed in 0.08 hectares. He also introduced strawberry as an inter-crop. The Lata, Poonam and Parkash varieties have not only become popular among the farmers of Himachal but are also being adopted by farmers of neighbouring states.
Not only this, Verma is well conversant with energy conservation and has introduced several such mechanisms on his farmland:
Not content with his success with vegetables, Verma also developed a new method of "hand pollination" in his small Kiwi fruit orchard and grew 1.6 quintal of Kiwi fruit from a single plant. With a biogas plant, a wind power plant and solar power panels on his farm, Verma says he is saving more than Rs 50,000 annually on power.
And the results?
Over the years, Saproon valley, situated on the northern side of Solan town, has become known for the cultivation of off-season vegetables, stone fruits and production of temperate fruits and cash crops, with an annual turnover of more than Rs 20 crore.
Farming can hardly be called an unprofitable profession in the case of Bahadur Singh Verma. In our country, we frequently hear of farmer suicides and rural folk moving to the cities in search of manual labour and hazardous jobs because of loss-making farms. While a significant portion of these migrations and deaths are due to natural calamities and poverty-ridden debt, I do believe that lack of specialized skills and know-how also plays a pivotal role in the low returns for most farmers. If only Verma's knowledge and methods could percolate to the other agricultural belts of the nation, the need for farmers to leave their age-old occupation and look to the cities for survival could be stemmed.
Read the complete article here.
Image Courtesy: Pbase.com