A 16-year-old girl walking alone in the evening looked like an easy target to two drunk men. But she taught them a lesson they'll never forget – they were beaten, punched and kicked until they finally fled the site.
A 16-year-old girl from Madhyamgram, Kolkata wanted to learn karate, but her parents were not very happy with her decision. After a year of training, the teenager had done something that would have surely changed their minds.
Thanks to the martial arts training, she managed to fight with two drunken men who tried to molest her. She single-handedly fought against them, leaving them wounded and hurt in the end.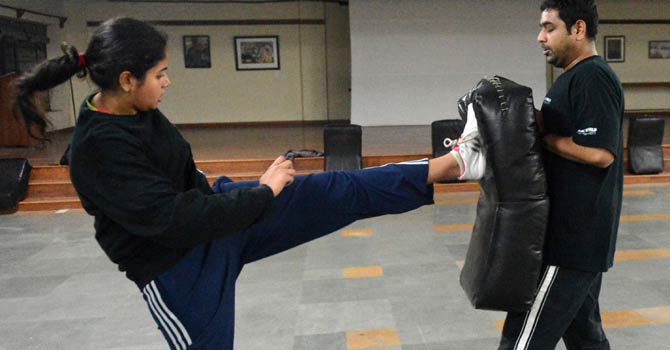 Photo for representation purpose only. Source: blackispink.com
The teenager was coming back from her karate class on Monday evening, when two drunk men on a bicycle sped towards her, pushed her and made her fall down. They then started hurling abuses at her, and when she protested, they grabbed her hand and tried to drag her away.
But this girl had been preparing for a situation like this for over a year, and it was just the right time to prove her ability to tackle such cases. She punched both of them. While one man was shocked, the other one fell down with a bleeding face.
The first man then tried to punch her back, but she blocked his attack with a front kick. The sudden defence made him fall down.
At the same time, the second man came back to her, but she was successful in landing  several punches on his face and temples. Both of the men were on the ground – wounded and tired.
The duo then somehow managed to get up, grabbed their bicycle and ran away from the site. They also threatened to teach her a lesson. All this while, when this young girl was bravely fighting against these molesters, many people saw the event but no one jumped in to support her.
Thankfully, she didn't need anyone's help and managed to teach them a lesson they'll never forget. She then went straight up to the police station and filed an FIR. One of the accused has been identified and there is an ongoing search to arrest them. After her brave act, we are sure her parents will never stop her from practicing martial arts.
Like this story? Or have something to share? Write to us: contact@thebetterindia.com, or connect with us on Facebook and Twitter (@thebetterindia).