Chandrakumar, an auto driver from Coimbatore, writes novels when he is stuck in traffic jams and while waiting for his passengers. He will soon be a part of the Venice Film Festival for the screening of a film that is based on his first novel. This is his journey. 
Did you think that film festivals are meant only for the elite and graduates from high end film schools? Well, think again! M Chandrakumar, an auto driver from Coimbatore will soon be a part of the Venice Film Festival. He has been invited there for the screening of a Tamil feature film based on a novel written by him.
Popularly known as Auto Chandran, the 51-year-old man is a class 10 drop out. And he has always loved writing as a way to express his views and to record his life experiences.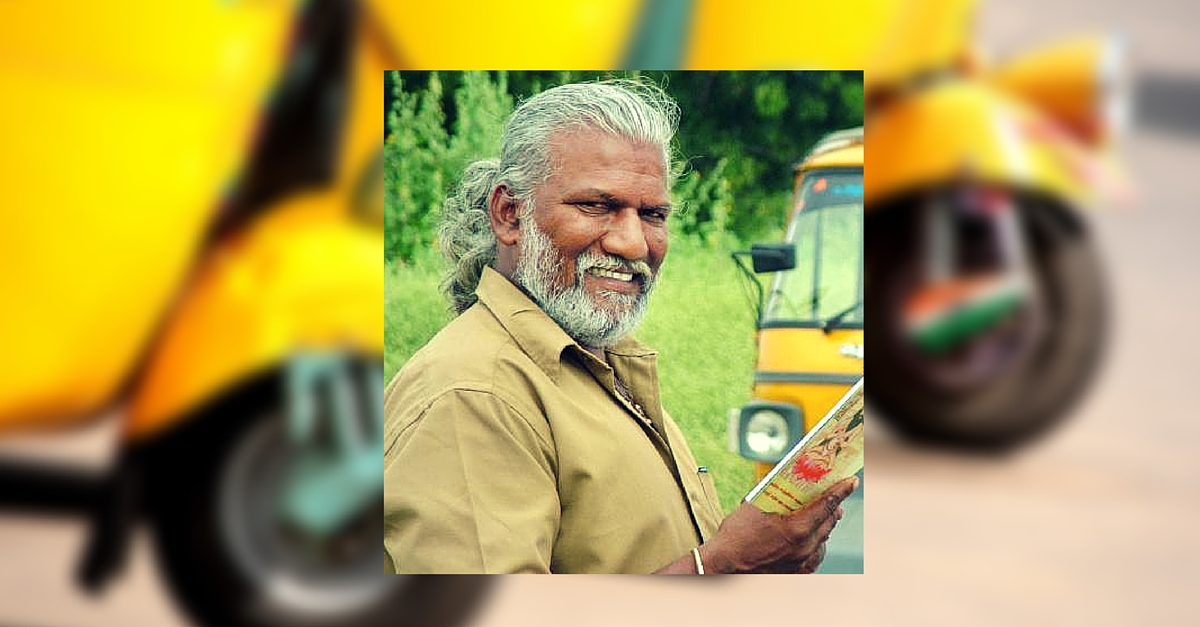 Chandran ran away from his house at a young age and travelled wherever life took him. He did odd jobs to sustain himself and to earn his daily bread and butter.
His novel – "Lock Up", which was published in 2006, inspired director Vetrimaaran to make a Tamil movie "Visaranai". This movie will be premiered at the 72nd Venice International Film Festival.
His book had also received the 'Best document of human rights' award in June 2006 by a human rights body.
Chandran often utilizes the time when he waits for passengers or at traffic jams, to write. The strong-willed man considers life to be his teacher. When he was young, he once faced immense brutality and abuse at the hands of the police in Andhra Pradesh's Guntur district. According to Chandran, he and two of his friends were arrested and tortured by the police, and brutally beaten for 13 days without any reason.
These bad experiences influenced his first novel in which he wrote about the helplessness of the poor and how there is no protection for people like him.
Despite being a school dropout, Chandran kept his love for words alive and shared his experiences in an articulate manner in his book. After he finished writing the novel, one of his close friends who was working in the film industry shared it with Vetrimaaran. The director was impressed by the unique story and quickly agreed to make a film based on the novel.
Vetrimaaran promised to give credit to Chandran and fulfilled it by not just giving him the credit, but also inviting him to the prestigious film festival. The ongoing festival began on September 2 and is scheduled to take place till September 12. Chandran will fly to Venice from Chennai on September 8.
The film, which is an experimental Indian Tamil thriller, is yet to be released in the country. Produced by actor Dhanush, the movie stars Attakathi Dinesh, Anandhi and Aadukalam Murugadoss in the leading roles. It has also become the first Tamil film to be featured in the competition.
Chandran has written over six books so far and some of his best works include Boomiyai kolaikalam aakkum America, a collection of essays on the history of terrorism and Kovaiyil Jeeva, a book on Communist leader P. Jeevanandam.
Like this story? Or have something to share? Write to us: contact@thebetterindia.com, or connect with us on Facebook and Twitter (@thebetterindia).