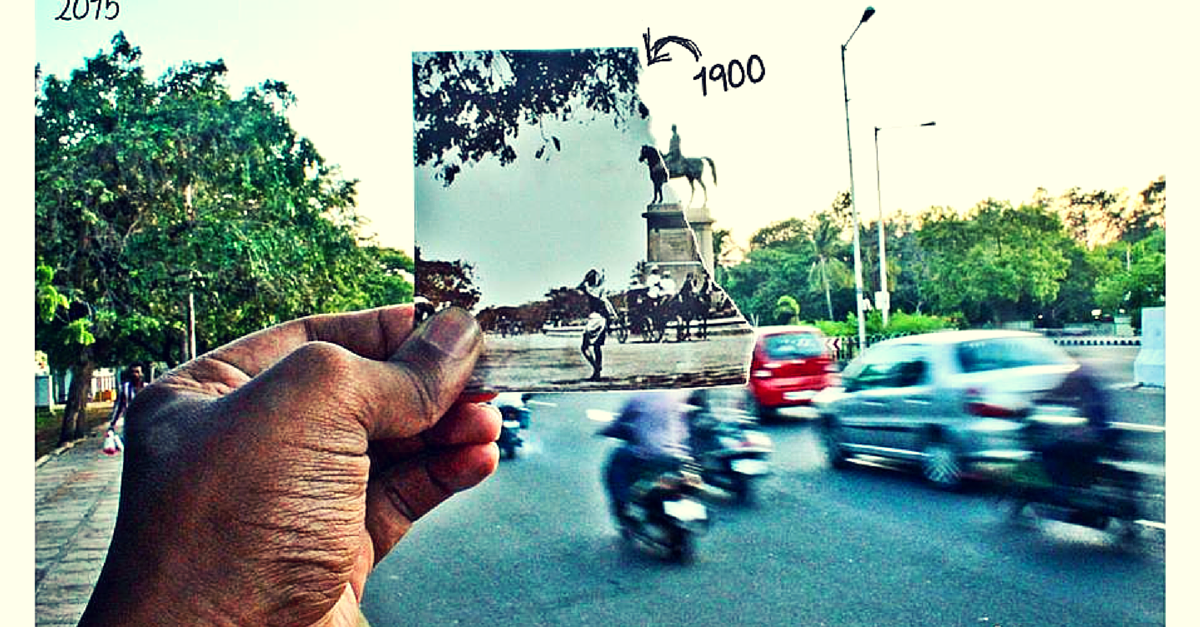 A man from Chennai found a unique and beautiful way to visualise the vivid contrast between the Madras of the past and the Chennai of today. Here is a glimpse of his spectacular work.
This man from Chennai found a unique and beautiful way to visualise the vivid contrast between the Madras of the past and the Chennai of today. Here is a glimpse of his spectacular work.
"While the rest of the city tries to do something 'different' to commemorate their love for Madras, here's a little something that (hopefully) no one has seen anything like," Raunaq Mangottil wrote in a Facebook post recently.
He was talking about the 375th birthday celebration of Chennai, which was founded on 22nd August, 1639 – as the then Madras.
Every year since 2004, residents of Chennai dedicate a week to honour the first city of modern India by celebrating its foundation in their own ways. Paying tribute to the history and culture of the city – some go for nature walks, some organize exhibitions; then there are film screenings and food trials, contests and heritage tours, poetry recitations and many such activities.
But for entrepreneur Raunaq Mangottil, celebration meant taking a trip down memory lane, and bringing out the vivid contrast between the Madras of the past and the Chennai of the present. And he did it with the help of some really unique and attractive photographs.
Raunaq looked all over the internet and collected some very old pictures of Madras from various sources. These included the most iconic landmarks of the city, such as Chennai Central, Casino theatre and Ripon Building, among others. Then he went out with his camera capturing those very same places in their present avatar. What makes these pictures unique is the fact that each one of them is placed side by side in the same frame with a torn portion of the old picture. It almost looks like completing the torn portion of the old city with a piece of the brand new city, which is still somewhat the same (if you look closely, that is!). The results, which he shared with everyone on the Facebook page 'I am Madras', look spectacular.
"All I wanted to do was to establish how this glorious city has changed over the years, and how a few things haven't changed at all. I wanted to capture the old and the new and give you a feeling of travelling in time…in a single image," he wrote while sharing the images.
In 2014, Raunaq started the Facebook page 'I am Madras', with the aim of capturing and documenting the life and times of Madras with the help of photographs. He shares some beautiful and inspiring portraits of people along with their stories of happiness, struggles, success, failures and more.
For this, Raunaq was inspired by the French photographer Julien Knez, who had done similar work by comparing present day France with the France of 1940s. In the form of an album named #ChennaitoMadras, he shared his brilliant work with the world, and we welcomed it with smiles and gasps. Here is a look at the nostalgia that Raunaq has successfully evoked with his camera:
1. Statue of Thomas Munro, Park Town

"Then: Thomas Munro was an official of the East India Company who arrived in Madras in 1789 and served the firm for close to 50 years. But why would we still have a statue of an East India Company official? Well, Munro wasn't any ordinary imperialist like his colleagues…he was a man the peasants loved, and was responsible for the favourable 'ryotwari system' of land settlement. 12 years after he died in 1827, this statue was unveiled on October 23, 1839.
Now: This is one of the very few areas in Mount Road that is free from traffic, and still feels like bliss to take an evening walk. Thanks to the area being controlled by the Military, no vehicle is allowed to park here. Mr. Munro rests gracefully on his horse in a well-maintained garden, as well as in the hearts of those who know his story.
2. Chennai Central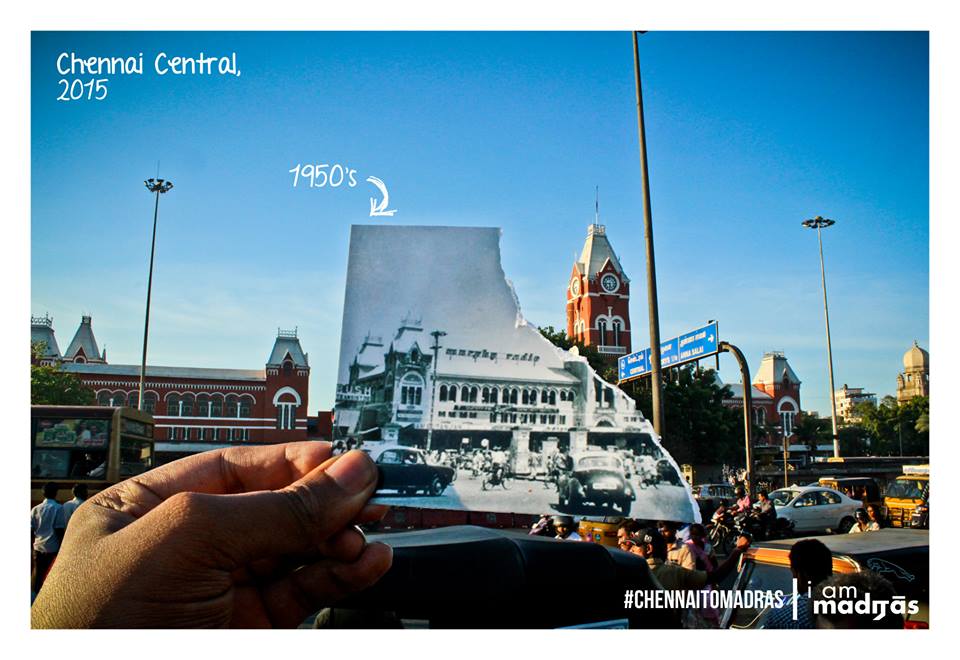 "Then: Old ambassador taxis plying in and out, while the rest of the commuters preferring to take a cycle. Before its expansion in the 80's, Madras Central station was a relatively calmer, charming alighting point.
Now: A symbolic landmark of the city, Chennai Central looks as majestic as it ever was, but terribly buzzing with thousands of people who visit it every day. And unfortunately, the Central signal has become a nightmare for those who've visited it (pretty much every Chennai-ite)"
3. Egmore Station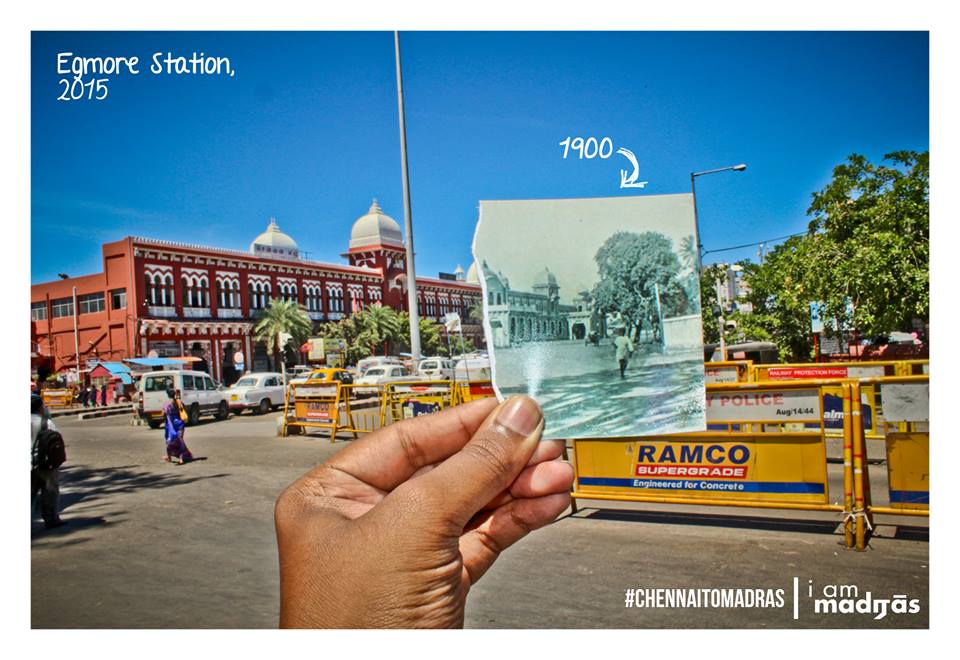 "Then: History says that, 'Madras Egmore' was previously a fort called the Egmore Redoubt, a place used to store ammunition for the British.
Now: Even with CCTV cameras and round-the-clock security, Egmore Station still retains its old-world charm and calm (relatively) in the otherwise buzzing Egmore area.
Old image: Wikipedia"
4. Casino Theater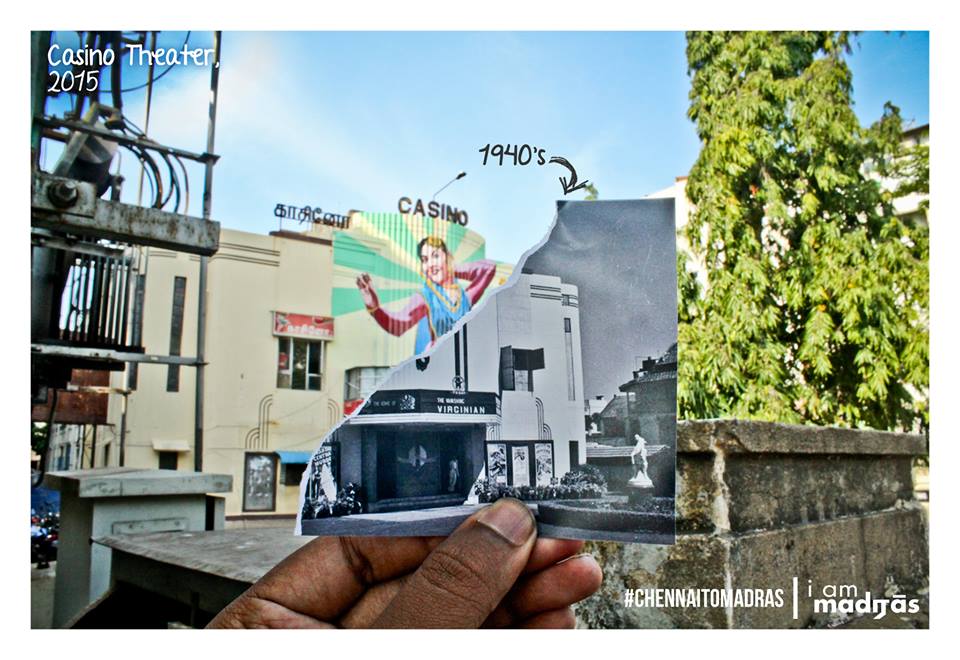 "Then: It was a time when Mount Road was a cart track leading from Fort St. George to St. Thomas Town, as well as functioning as a haven for film buffs. Casino was one of the first few theatres of Madras, and screened only English films for a long time. It was a sophisticated work of art than just a movie theatre. In the old image you can see 'The Virginian' playing at the theatre.
Now: After several attempts to revive it, Casino is now unfortunately a terribly-managed lost landmark. However, thanks to Street Art Chennai, the theatre now sports a striking portrait of Madhubala, and a bit of its old-world charm.
Old image courtesy: The Hindu"
5. Higginbothams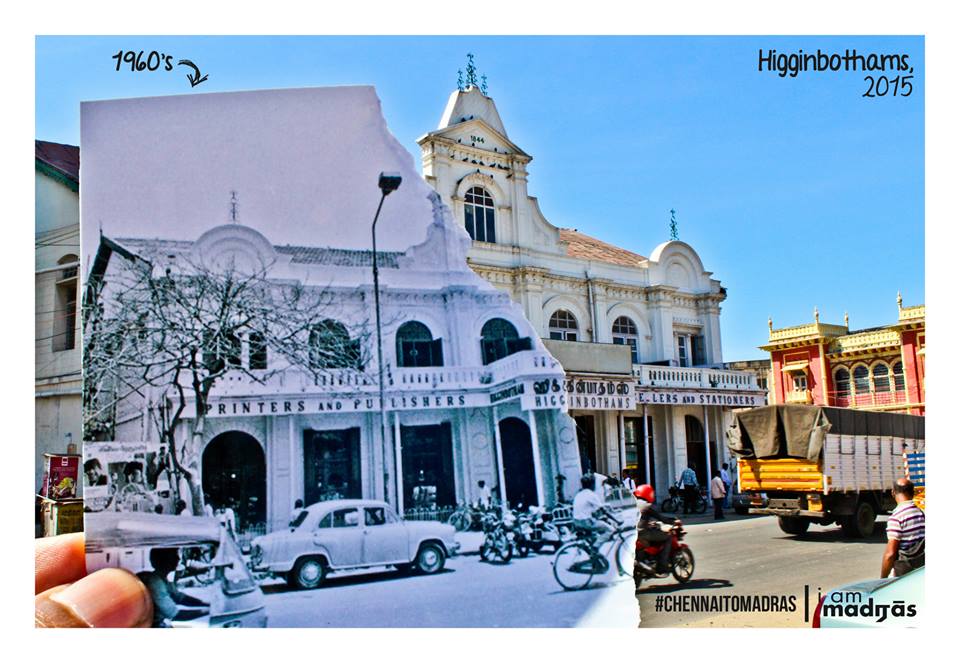 "Then: Started by an English librarian named Abel Joshua Higginbotham, Higginbotham's, arguably India's oldest bookstore opened its doors around 1844. By the middle of the 20th century, Higginbothams expanded to almost all of the railway stations. Higginbotham's remained the largest bookstore until the 1990's.
Now: A visit to Higginbotham's is like stepping into a whole other world, going back in time, with the arterial Mount Road / Anna Salai outside constantly buzzing with traffic and the Metro Rail construction. What's amazing is how they managed to maintain the building so well, even if it's lost most of its customers to its competition.
Old image: thealternative.in"
6. Higginbothams and Poompuhar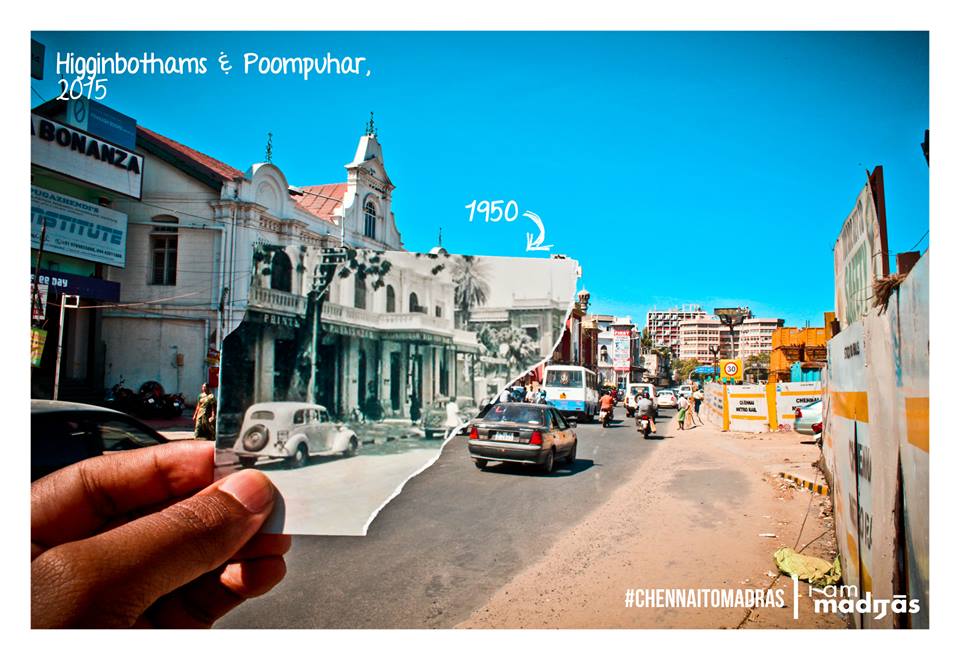 "Then: Another shot of India's then-largest bookstore as vintage cars park comfortably, and its occupants to grab their favourite literary classics. The building next to Higginbothams is Poompuhar, the popular textile shop.
Now: If you park outside Higginbotham's today, you're probably gonna be pulled over by the cops for obstruction of traffic, thanks to the Metro Rail work going on right opposite.
7. The Hindu Office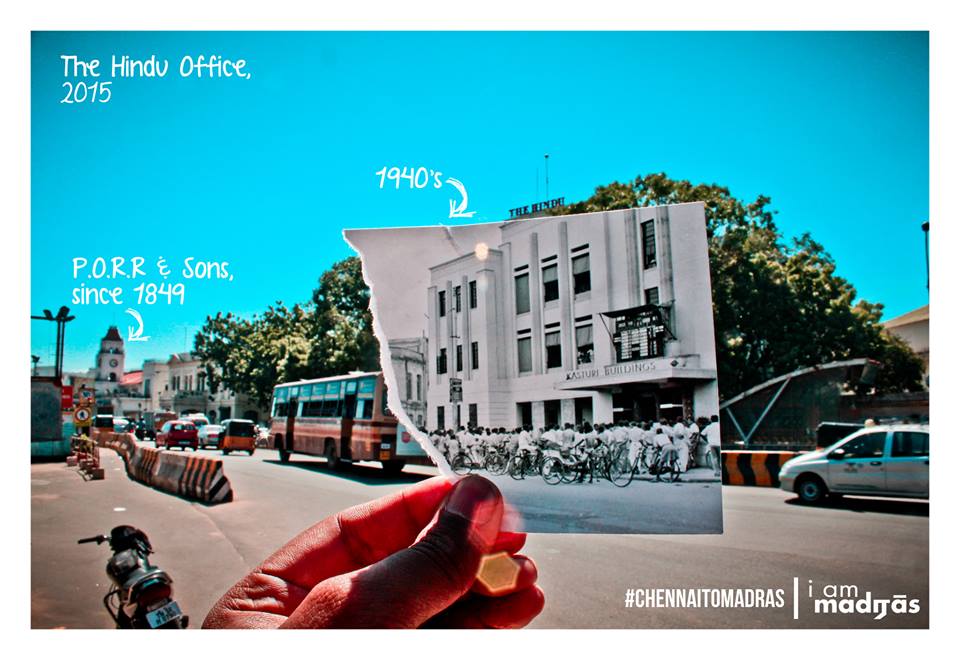 "Then: Commuters stop by to check ongoing Test Match scores on the manually-operated scoreboard on the balcony of The Hindu office.
Now: You can hardly stop for more than a minute outside the Hindu office today, thanks to the wonderful, constantly moving traffic. The traffic is such that it even warranted a subway to cross the road to the side that hosts the defunct Secretariat.
Old image: The Hindu"
8. Spencer Plaza Signal, Mount Road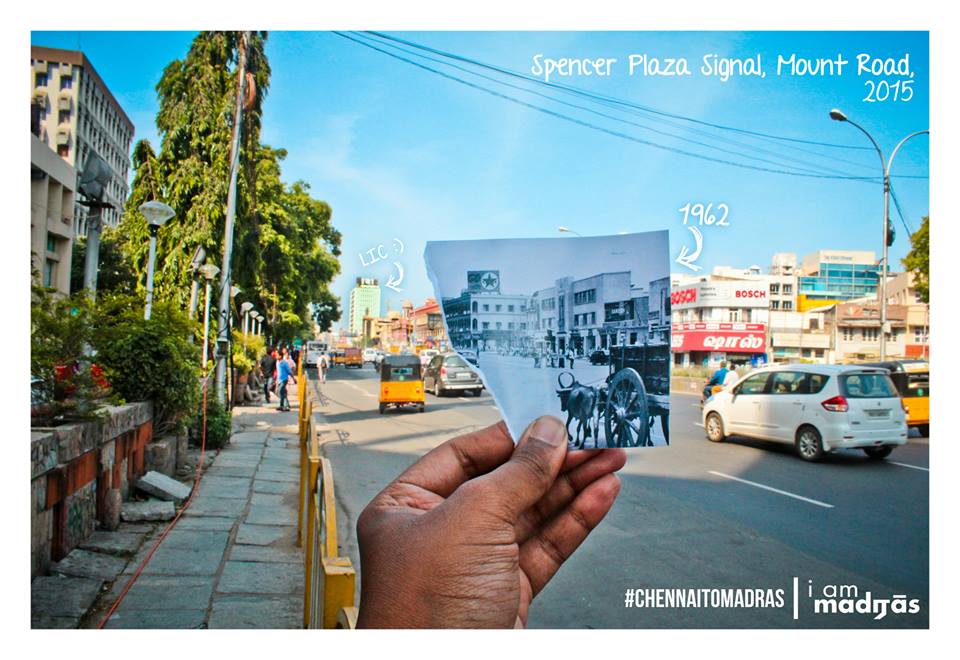 "Then: Even in the 60's, apart from Ambassadors, bullock carts frequented Mount Road. There's no median, and you can see the Kashmir Art Palace, the Old Curiosity Shop and Agurchand Mansion leading to the LIC Building.
Now: Do we really need to talk about the frustrating one-ways?
Old image: The Hindu"
9. Ripon Building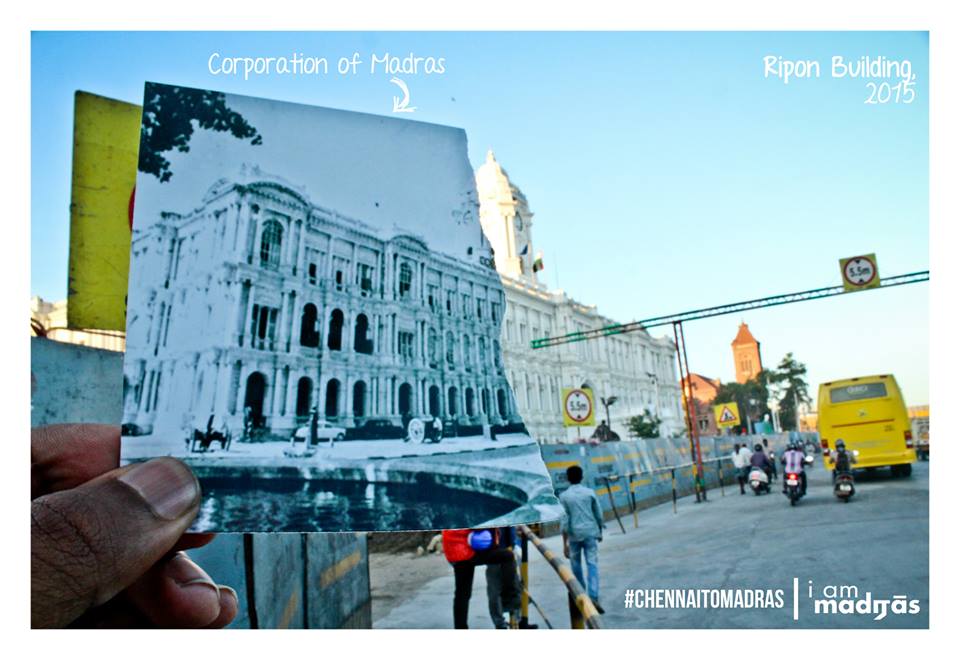 "Then: Constructed in a neoclassical style, the all-white Madras Corporation building was one of the finest structures in Madras, with its own pond that you can see.
Now: Off-limits to passers-by, it is now impossible to even stop and stare at the Ripon Building which is now shielded by the Metro Construction blue sheets. Which made this one of the toughest shots to catch!
10. Rajaji Salai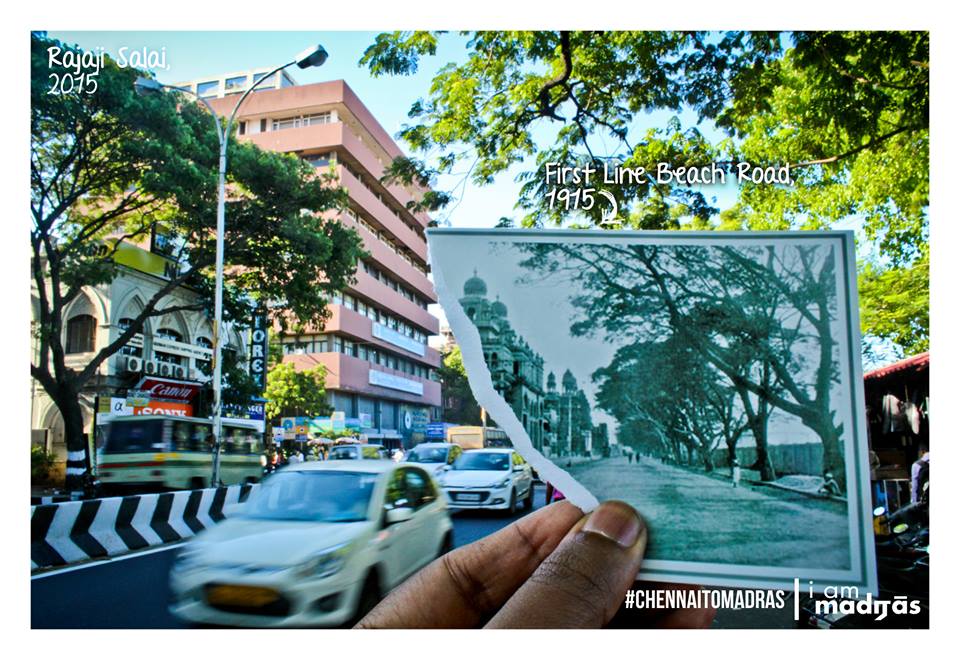 "Then: There was no Burma Bazaar back in the day, yet, First Line Beach Road was one of the main commercial centres of Madras. And right opposite the line of buildings, the road would open up to the Beach Station and then harbour. Imagine walking on those roads with absolutely no traffic!
Now: Traffic speeds by between the iconic SBI Buildings and Burma Bazaar, the haven for smuggled goods."
Inspired by this, Srinivasan Rengaswami, a follower of the Facebook page, also took similar pictures. And Raunaq has shared them on the page as a part of this album.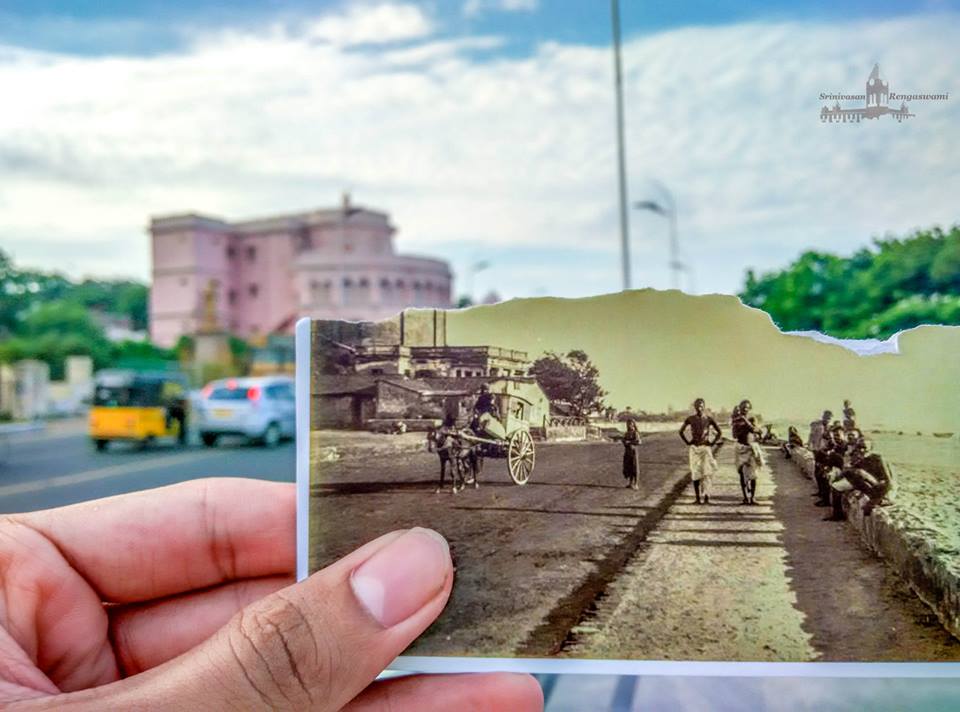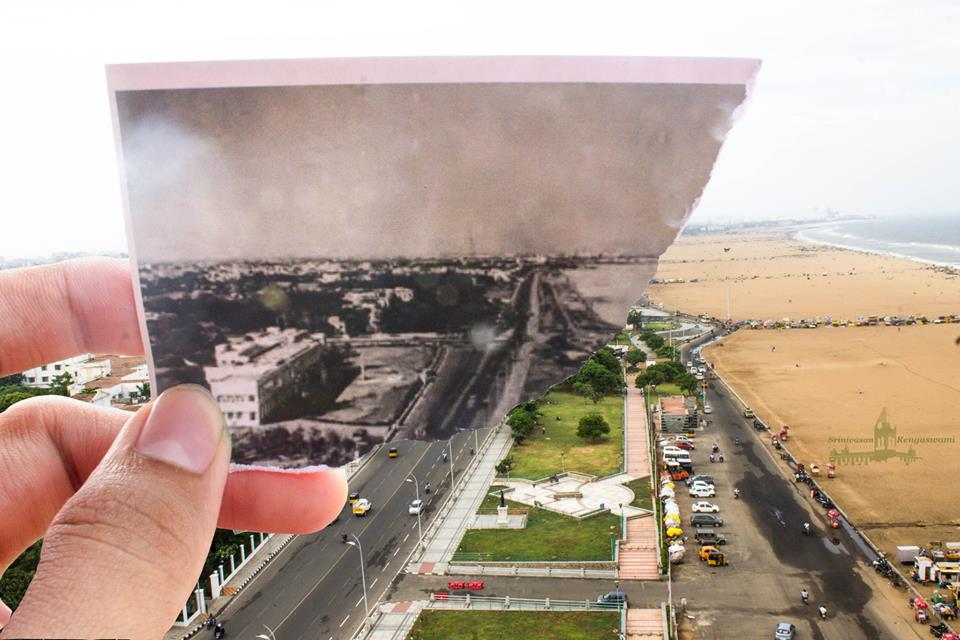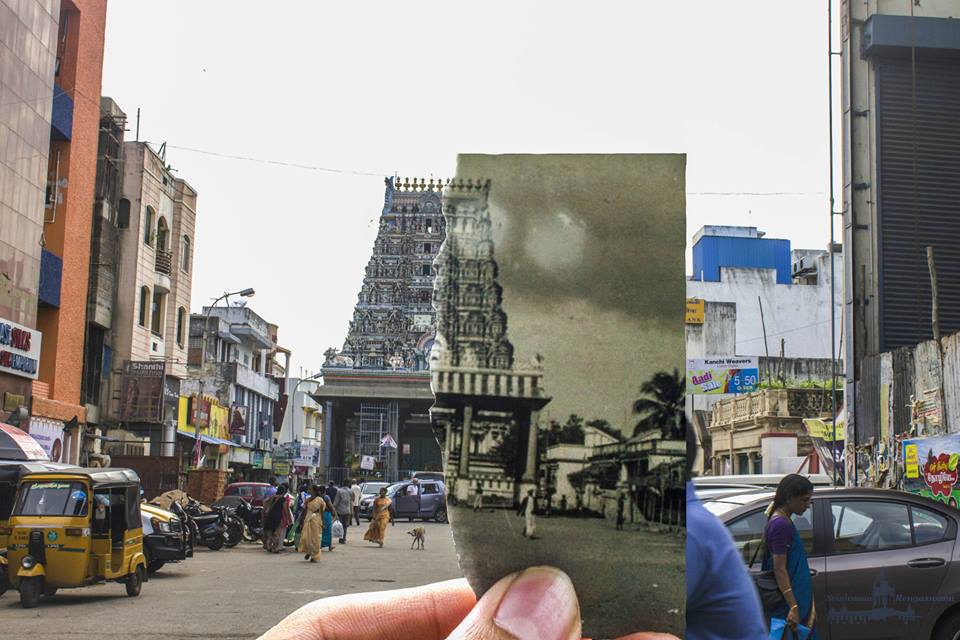 Like this story? Or have something to share? Write to us: contact@thebetterindia.com, or connect with us on Facebook and Twitter (@thebetterindia).
Tell Us More
We bring stories straight from the heart of India, to inspire millions and create a wave of impact. Our positive movement is growing bigger everyday, and we would love for you to join it.
Please contribute whatever you can, every little penny helps our team in bringing you more stories that support dreams and spread hope.