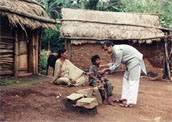 Vivekananda Girijana Kalyana Kendra (VGKK) was founded in 1981 by the highly acclaimed Dr. H. Sudarshan for the welfare of the Soliga tribes of BR Hills in Karnataka. It has achieved much more than what it set out for in its 27 years of existence.
"All the wealth of the world cannot help one little Indian village if the people are not taught to help themselves"
These are some of the words of Swami Vivekananda that inspired a young Dr. Hanumappa Sudarshan to venture into the B R Hills region near Mysore and devote his life to the development of the native Soliga tribe.
The Beginnings:
As a student of Bangalore Medical College, Dr. Sudarshan spent his free time helping the tribals of the Nilgiris with Dr.Narasimhan. And after graduation, he was clear in his mind about the purpose of his life. One day in 1979, he took a solitary bus to the forlorn and perilous B R Hills, and his life changed forever.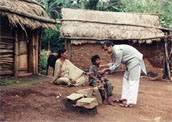 With the humble beginnings of a small hut on a rock, Dr. Sudarshan started operating his clinic with two staff members. The initial challenge was to find patients, as the sight of new people, especially people with needles and pills, was enough to frighten away the forest dwellers. However, as the doctor and his assistants became a common sight, and did not show any signs of going away, the tribals slowly gave in to their curiosity and began approaching them. It took several 'miracle' cures for them to start trusting the medicine man.
The Purpose:
Thus was founded Vivekananda Girijana Kalyana Kendra (VGKK) in 1981 for the improvement of these tribal lives. Once the treatments of Dr. Sudarshan found acceptance among the Soligas of B.R.Hills, tribals from neighbouring villages also started pouring in. Dr. Sudarshan and his team would conduct information sessions in all these small hamlets to educate the local population about their work. The tiny hospital began treating a number of ailments and VGKK's pioneering work began to show results.
While the medical facility took off and became a huge success, Dr. Sudarshan found from living among the Soligas that only health care did not bring about lasting changes in the lives of these people. They lived in abject poverty and unawareness, and while curative treatment was a necessity, it was not the only one. These people needed a lot more.
Thus VGKK started adapting to the needs of the community and evolving into ways not envisioned in the beginning. It came to focus on 3 more aspects of tribal development – education, empowerment and livelihood support – in order to provide more sustained benefits.
Health Care:
The 'hut on the rock' is now a 20-bedded hospital with all necessary infrastructures – laboratory, x-ray facility, operation theatre and a well-stocked pharmacy. This hospital caters to a large population of tribals in the region, including some from neighbouring Tamil Nadu as well, and offers them free treatment. The hospital maintains detailed case records of the tribals, and computerization of these records is ongoing.

The Soligas and other tribals are indigenous forest people and have extensive knowledge of nature cures and medicinal herbs. Dr. Sudarshan decided to nurture this aspect of traditional herbal cure, and incorporate it in his treatments. The medicinal plants have been identified and documented, and are grown separately for therapeutic purposes.
There are several communities of tribals living in very far flung and inaccessible forest areas which cannot be serviced by the BR Hills facility due to the immobility of these people. In the beginning they were served by Dr. Sudarshan with his medicine bags, traveling on foot to reach them. However, now a special mobile health unit comprising of a doctor, a pharmacist/health worker and a driver has been dispatched to visit these areas.
Education:
Looking at the needs of the community, the small hospital hut also started serving as a school at nights.

Starting with a first batch of 6 students, the school has grown to a strength of 500 students, and now offers primary, secondary, high school, college and vocational training.
Dr. Sudarshan realized very early on that it was essential to help these Soliga children learn about their tribal traditions and keep them alive, in order to remain connected to their roots. So, along with studies, the school imparts knowledge on the several plant and animal species that abound in the nearby forests and the children are taught to cultivate vegetables, medicinal herbs, poultry, bees and silkworms.
Care has been taken to ensure that the children who are educated at this school are not left without means of livelihood, and have ample choices in life, which were perhaps not available to their parents.
Three among the first batch of students have completed their post-graduation, with one of them holding a PhD, a remarkable feat indeed. Most of the children who graduate from this school return to the community to help further education and other causes that VGKK stands for.
Vocational Training and Livelihood:
It became evident that primary and secondary education is not sufficient to guarantee a means of livelihood. In order to bridge this gap, the students and other members of the community were taught other skills like tailoring, knitting, spinning, silk, cotton and jute weaving, cane and bamboo works, baking, carpentry,

smithy, agarbathi-making, bee-keeping, handmade paper making and food processing.
The vocational trainings were selected based on the easy availability of indigenous raw materials and to cover all sections of society, whether literate or illiterate. Care has also been taken to divert the Soligas from being completely dependent on the forest and its produce, so as to better conserve their habitat. In order to enable these tribals to generate income with their acquired skills, VGKK set up manufacturing and processing units and employed them. More skilled training programs like welding, motor rewinding and household appliances were started to offer the youth a range of opportunities.
The Vocational Training Centre (VTC) was set up in 1982, and since then has trained more than 700 girls and boys. Most of the trainees have then gone back to their villages and set up their micro-enterprises with the availability of loans.
Community Development:
The Soligas, like other tribes across the country, have been largely exploited by the government and local forest authorities. With no clear land titles and no formal education, it was easy for them to fall prey to scheming outsiders. It was essential to unite all the Soligas across the region, and give them a common voice for their petitions and struggle to be heard. This was accomplished with the organization of Sanghas in every village, which was a group of Soliga representatives, to fight for their rights. Most of their alienated land has been restored to them and Soliga candidates have done well in local elections as well.
The Person:
Dr. Sudarshan is a study in commitment and humility. The recipient of the Right Livelihood Award (1994) and the Padma Shri (2000) among many others, he brushes aside all his achievements with a sweep of a hand and a shy smile, and continues talking about the tasks he still needs to accomplish.
Dr. Sudarshan has been Vice-President of the Voluntary Health Association of India, and a member of the Independent Commission on Health in India, the National Commission on Population, the National Nutrition Mission, the National Human Rights Commission, and the Indian Planning Commission's Steering Group for the development of Scheduled Tribes. As Chairman of the Task Force on Health & Family Welfare he has brought out a comprehensive report to reform the health system of Karnataka. As Ombudsman for Health, Education & Social Welfare, Karnataka Lokayuktha, he is fighting against corruption and promoting good governance to make the public services reach the poor including the tribal people.
Having pioneered the role of public private partnership in the social sector, Dr. Sudarshan manages more than 40 public health centres in Karnataka and Arunachal Pradesh and now Orissa, in conjunction with the Government. This is part of a related organization founded by him called the Karuna Trust which focuses on rural development. The largest community health insurance program in India is also run under its aegis, which offers incredible benefits to the poor like insurance at ultra-low premiums of Rs. 30 per annum for wage loss compensation of Rs.50 per day. Such initiatives are what make Dr. Sudarshan the person he is. Greatly inspired by the teachings of Mahatma Gandhi, Swami Vivekananda and Albert Shweitzer, Dr. Sudarshan emanates urgency of purpose and tranquility of inner peace, both at once.
Contact VGKK and Karuna Trust at:
#686, 16th Main, 4th T – Block Jayanagar
Bangalore – 560011 , Karnataka
Phone : 91-80-22447612
Email :ktrust@vsnl.net
Website: http://www.karunatrust.org/
Read More:
Wikipedia, Right Livelihood Award, The Hindu, Karuna Trust
We bring stories straight from the heart of India, to inspire millions and create a wave of impact. Our positive movement is growing bigger everyday, and we would love for you to join it.
Please contribute whatever you can, every little penny helps our team in bringing you more stories that support dreams and spread hope.