She grew up watching her mother being beaten every day and later got married to a man who would not allow her to leave the house without permission. Today, Mumtaz has been awarded the title of 'Daughter of Maharashtra'. She is actively fighting many issues concerning women, which includes domestic violence, and is also heading the Right to Pee campaign for the women in Mumbai. This is her remarkable journey.
Mumtaz Shaikh's eyes blaze as she speaks passionately about a campaign which is the mission of her life. "I want the right to pee," she shouts out her message for the municipal commissioner of the metropolis of Mumbai.
She demands free public facilities for women, so they can urinate safely.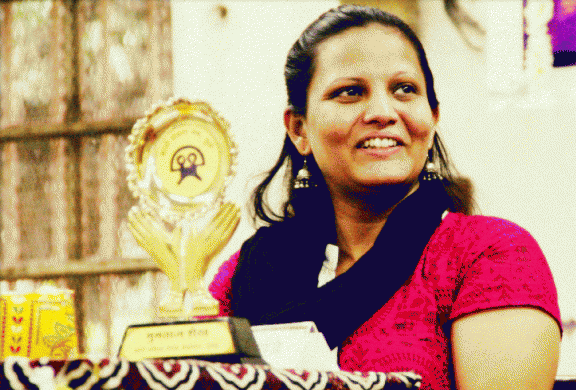 "Men in the city have 3000 free public urinals and women do not have a single one! Do planners of towns think we are less human?" she asks. "I want the basic dignity for all my sisters in the city who go out in fear every day, wondering how they will relieve themselves if the need arises."
Mumtaz's journey has been as unique as her campaign. She grew up in a house with her 'father figure', who was actually a goon from the area and had coerced her estranged mother to co-habit with him. He used to beat her mother every day, while she silently watched from behind the curtain fervently hoping for the violence to stop. It did stop one day, when he started hitting Mumtaz instead.
In desperation, her mother sent Mumtaz to live in a ghetto with her distant uncle, hoping that it would give her the much needed respite. But the relief was soon overcome by immense poverty. Mumtaz's uncle already had seven mouths to feed and hers was an unwanted addition.
She worked hard and helped in household chores to pay back for the shelter offered to her, but often went to bed without even one square meal.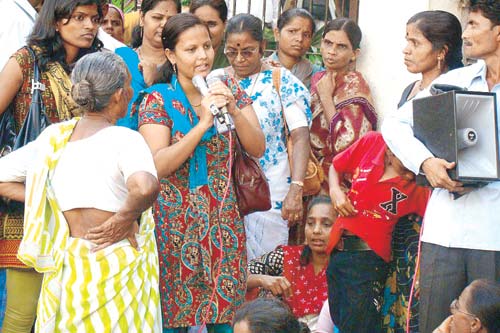 The troubled childhood gave way to an early youth. Her uncle married her off to a man from within the community. He turned out to be every bit as difficult as her 'father figure' had been. He was extremely possessive and made her wear a burqa, disallowing her to even look out of an open window without his consent. After giving birth to a daughter at the age of 16, Mumtaz realised that if she did not take any steps to alter her situation, her child's destiny might very likely mirror hers. She had to empower herself; but she did not know how, just yet.
The answer came in the form of a Non-Government Organization called CORO (Committee of Resource Organizations), which used to hold afternoon meetings in Mumtaz's slum community. They came in after the men went to work, and began speaking to women on the issue of domestic violence. While her husband did not let her leave the house without permission, Mumtaz used to go out quietly and join the group of women huddled together to listen to the social workers. Very soon, she found herself participating actively in designing small interventions to prevent episodes of violence in her immediate environment.
She strongly believed that all issues of sanitation, violence and illiteracy plaguing her community could only be resolved by the people living there. 'It is our mess and we have to clean it'. As her belief in the organization grew, her voice became louder and she signed up as a volunteer for CORO. This did not go down well with her husband and there were fights in her house every day. But with the strength that she gained from her group, Mumtaz fought for a divorce and was able to walk out of her marriage. She also reclaimed the accommodation that her mother had bequeathed her, and put a firm roof over her head. There were no chains binding her feet after this.
She helped in setting up over 75 self-help groups within her community to fight domestic violence and spread awareness about the issue in the area.

Picture for representation only. Credit: Flickr
Most of these women came from very low-income families and the support from their peers went a long way in providing solutions to their troubled lives. By now, Mumtaz had become a role-model and a leader in the cluster she lived in. She was selected for a fellowship by the international organization, Leaders Quest, for her advocacy of women's rights and her crusade against domestic violence. She also joined the permanent staff of CORO to actively mentor other grass root leaders.
Her constant search for means to improve the lives of fellow women led her to advocate the Right to Pee campaign, which was a very big success. She spoke fearlessly from many platforms and approached the municipality with petitions to address the very basic needs of women in Mumbai. In 2013, the government finally introduced a policy which mandated the construction of a women's toilet block at every 20 kilometres in the city. The government has also allocated Rs. 5 crore for the construction of 147 toilets which will be specially designed for women. A model toilet is soon to be inaugurated in the Chembur area of Mumbai. Her efforts were widely recognized and Mumtaz was awarded the title of 'Daughter of Maharashtra' by her state.
The very community that pointed fingers at Mumtaz for her activism, now deeply respects her for standing up for women's rights and gender equality. She is a true leader who is setting up models and local solutions that can be replicated to solve similar problems globally. Mumtaz has further made up her mind to contest the local elections in 2017 to take her work forward.
Such is the remarkable story of a little lost girl who has gone on to become a pathfinder for millions of women.
Like this story? Or have something to share? Write to us: contact@thebetterindia.com, or connect with us on Facebook and Twitter (@thebetterindia).
17-year old Ashita Surohi is a Class 12 student of Welham Girls School, Dehradun. An avid reader and enthusiastic debater, she wishes to empower those who have achieved great feats and overcome innumerable hurdles, but have not received the deserved recognition or support. Her
100 Heroes Hunt Project
is a step in this direction.
We at The Better India want to showcase everything that is working in this country. By using the power of constructive journalism, we want to change India – one story at a time. If you read us, like us and want this positive movement to grow, then do consider supporting us via the following buttons.
Please read these FAQs before contributing.