The latest excavation project by The Archaeological Survey of India (ASI) has led to one of the largest human settlements being unearthed in Tamil Nadu. The settlement reveals some very important and exciting aspects of life in the region 2,500 years ago. 
The Archaeological Survey of India (ASI) is digging up a very interesting and crucial part of Tamil history in Sivaganga district of Tamil Nadu. Following their excavation work in the area, archaeologists claim that they have found one of the biggest human habitations of Sangam Age known so far.
The Bengaluru-based Excavation Branch VI of the ASI began excavating at Keezhadi village, which is located 12 km south east of Madurai, in February this year, and they have been unearthing some new aspect of history every day since then. Based on their findings, the settlement could have been 2,500 years old, belonging to the Pandya era.
As of now, the age of the settlement has only been determined with the help of comparative dating. The exact figure will be obtained after measuring it with the help of carbon dating.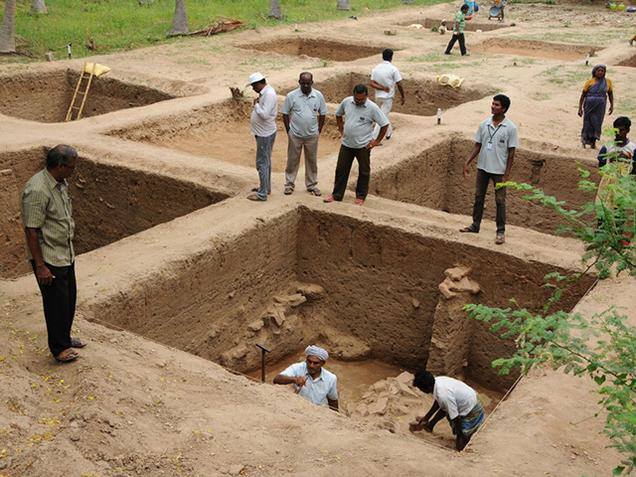 The Sangam age is an ancient period in South Indian history which spans between 3rd century BC and 4th century AD. It has been named after Sangam academies of poets and scholars from the city of Madurai. Numerous things have been found which help us get a glimpse of the lives of people from that age.
Parts of houses like brick walls, wells, pottery, shells, and glasses have been found from inside layers of soil collected over the years.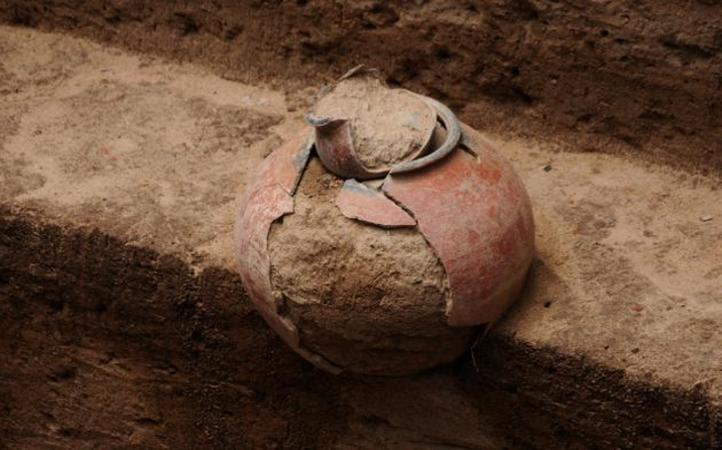 "This project is a huge success. It's astounding how this place has so much to offer. It must have been a big human settlement area," said K. Amarnath Ramakrishna, the superintending archaeologist, to The Hindu.
Antiquities like glass, pearl, terracotta beads and early historic pottery has also been found. With this discovery, historians feel that the past of Madurai can be redrawn. The excavation is being conducted in a private coconut farm at Keezhadi, in two different localities and the excavation area is called 'Pallichandai Thidal'. It has a circumference of 3.5 meters and covers 80 acres.
The findings from both the places have revealed different things and stories.

Archaeologists are classifying the two based on an assumption of social hierarchy. The bigger of the two is symbolic of a settlement belonging to rich and educated people as more jewellery, semi-precious stones and Tamil Brahmi inscriptions have been found from there.
The inscriptions also have typical Sangam Age Tamil names like Thisan, Aadhan and Udhiran. The second place has revealed more of pottery, iron weapons and tools.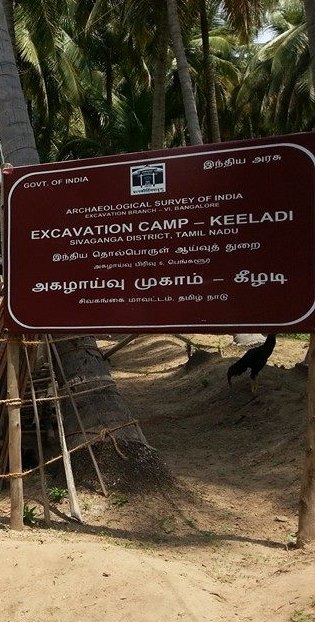 Things like beads of agate, arretine pot shreds, and quartz found from this region also highlights that the people had trade links with western countries.
The project is expected to be completed by September end, after which the site will be handed over to the owners. Till the, it is open for the public and students to visit.
Like this story? Or have something to share? Write to us: contact@thebetterindia.com, or connect with us on Facebook and Twitter (@thebetterindia).