He is the epitome of the oft cited Bihari fortitude. A brilliant scholar- moulded and strengthened by a childhood spent in depravation; igniting in him a burning ambition to succeed
He is the epitome of the oft cited Bihari fortitude. A brilliant scholar- moulded and strengthened by a childhood spent in depravation; igniting in him a burning ambition to succeed and make good on all the faith people had in him. Chandrakant Singh hails from Chamanpura village of Gopalganj district, a place you probably couldn't find on a map unless you're actually from there. But this audacious Bihari has put this nondescript village on the world map.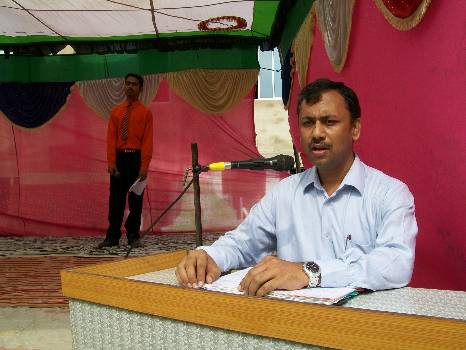 In two short years, Chandrakant Singh has established a world class school that will enrol it's 500th student in the new academic year of 2011-12. He chose this village as the ideal location for such a school not because it's his ancestral home, but because the landscape here is still devoid of a single electricity pole. This shrine to learning and nurturing talent is run entirely on generators.
The Chaitanya Gurukul Trust was set up with the vision to "Educate, Enlighten, Empower & Emit'. A vision that inspired a hundred villagers to give their land (which the Trust purchased at 30% more than market price) to set up the establishment.
Chandrakant Singh tapped in to all his networks to raise funds for this school. As an IIT alumnus, a former TATA steel employee and a researcher at GM at the time, he urged 3000 people to join in. The request was not a casual email soliciting funds, but a thoroughly researched business plan for a school that would eventually become self sustaining.
While many people shied away, a handful of Singh's former classmates, professors and colleagues knew better than to disregard this determined man's vision. Financial help poured in, as did the expertise and intellect. Chandrakant Singh was just the catalyst people needed to put into action their desire to give back.
"It's important to prove that given the same opportunities, every child is capable of academic excellence". Singh is certain that the school will change the fortune of this remote village with each successful student and soon it's reputation for quality of education and leadership in academic best practices will highlight the plight of the surrounding villages.
The classrooms and other facilities here would be the envy of even the priciest private school in India. Technology is seamlessly woven into every aspect of student life. Sports and extracurricular activities are used to hone leadership skills, for moral guidance and team building. Teachers from many cities in India and abroad teach eager students via Skype! The school's teaching staff underwent weeks of training before they gave their first lesson. The principal, Mr Arvind Saxena was awarded the title of Best Principal in Bihar for the year 2008.
"There is such disparity in our educational system currently. How can a student from a fancy private school in Delhi and another who learnt his lessons sitting on a cement sack in a village in Bihar, be expected to compete at the same level? I want my students to feel free and empowered by their education. They will eventually become model citizens for our country", says Singh.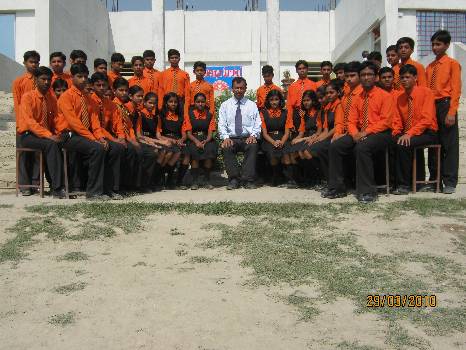 In their identical uniforms, one cannot tell a farmer's son from a doctor's daughter. Students are instructed to bring no extras from home, "not even a packet of kurkure", Singh stresses. The monthly fees starts from Rupees 300 and increases by another 100 with each progressive academic year. The school also houses 180 residential students. Fees are reduced significantly for meritorious students with financial difficulties.
"In a decade I will turn this school into India's leading educational institute. In another ten, perhaps the best in the world".
At 37, his own ambitions are yet to peak. Singh wants to start his own research venture focused on renewable energy with a push for mass adoption in our country. He says that India's greatest natural resources are yet to be tapped productively. "With such abundant sunlight and Bio-mass fuel available, it's illogical for so many villages to still go without electricity in our country", rues Singh.
But Chandrakant Singh's legacy has already been decided. He is the man that gave hundreds of eager young minds a level playing field and a little room to dream big dreams.
Tithiya Sharma is a former journalist turned backpacking blogger who's traveling the world looking for adventure and inspiration. She's using social media for social good as she finds and meets a hundred everyday heroes and discovers a world worth saving. Check out her quest for inspiration: The 100 Heroes Project.
We bring stories straight from the heart of India, to inspire millions and create a wave of impact. Our positive movement is growing bigger everyday, and we would love for you to join it.
Please contribute whatever you can, every little penny helps our team in bringing you more stories that support dreams and spread hope.