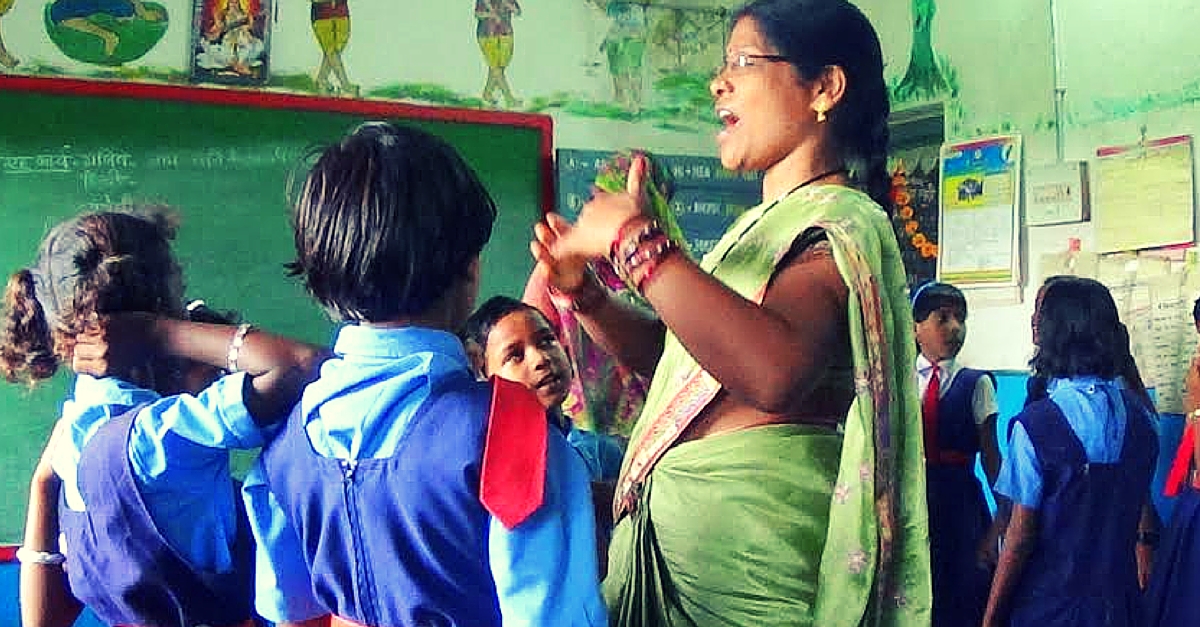 Anusuya Jain, the highly dedicated 51-year old headmistress of Government Primary School in Motwada, Chhattisgarh has introduced some great ideas to ensure higher participation and lower lower drop out rates in the school. Here's more on the success story.
Anusuya Jain, the highly dedicated 51-year old headmistress of Government Primary School in Motwada, Chhattisgarh has introduced some great ideas to ensure higher participation and lower lower drop out rates in the school. Here's more on the success story.
As far as schools go, the Government Primary School in Motwada village in Kanker district, Chhattisgarh, is innovative, unusual, progressive, and inclusive. That's a whole lot of adjectives to describe a learning institution located in the otherwise violence-affected and poverty-ridden North Bastar region but then the amazing work being done here by Headmistress Anusuya Jain, 51, and two other committed women teachers simply cannot go unnoticed.
From the impeccable, landscaped grounds to the neat and clean building to the cheerful classrooms, the school has indeed created a reputation for being a model institution.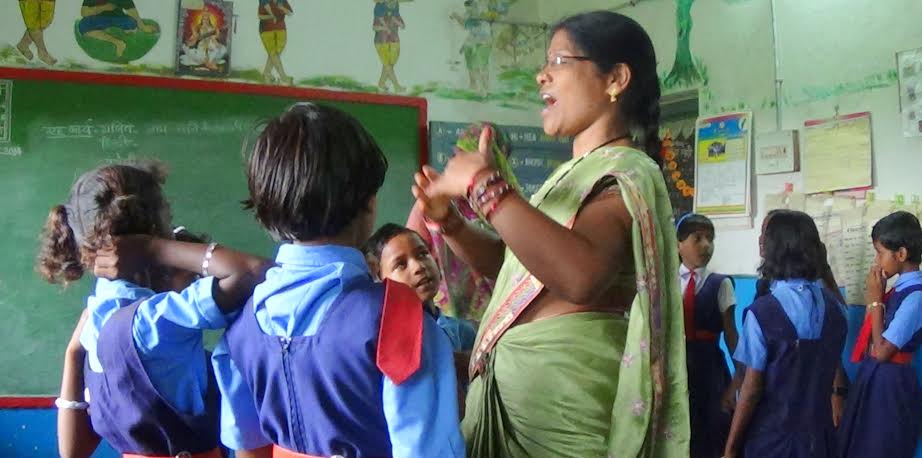 "And not just the facilities, but the informal environment and interactive lessons encourage local children to come to school regularly, which is a definite change from the usual absenteeism and high drop out rates among government run institutions," points out Jain proudly.
At the Government Primary School in Motwada, classroom learning certainly takes on a whole new meaning. Instead of the customary chairs and tables, students and teachers sit together on the floor, interact with each other as equals and there is a concerted effort towards making lessons fun and informative for the young ones.
Besides the classes, the modest campus, too, is lively and filled with creative artwork, alphabets, numbers and stories painted on the walls.
"We apply the Multi Grade Multi Level (MGML) teaching method here, which enables children to enjoy their class work and also develop confidence in their abilities. These are small children from the village and to engage directly with them and make them comfortable we sit with them on the floor like their parents do at home," she explains.
It was in 2007-08 that MGML was introduced on a pilot basis in select government schools in the district with an idea to improve the quality of education and the learning abilities of the children.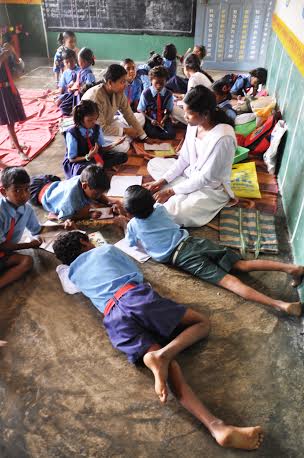 Under the MGML method, student groups are created as per their existing knowledge and learning capacities and then they are promoted once they master a level.
Although, unfortunately, due to the lack of teaching materials and proper training, this programme has now been discontinued, the school in Motwada, which was one of the first ones to be chosen for the experiment, has been able to continue the good work.
When Jain, a mother of two grown-up sons, had come to Motwada five years back, things were being done quite differently. "Whereas children were coming to school, it was not the inviting and stimulating place it should be. Moreover, there was no involvement of the parents in either the running of the school or what was being taught to their children. A School Management Committee (SMC) was in place but it was inactive," she recalls.
For starters, Jain decided to do a small survey of the village to gather data, like the number of families, what they did for a living, the educational qualification of the parents, and so on. With the assistance of her colleagues and a few members of the SMC she embarked upon this mission to better understand the mindset of the parents as well as their living conditions.
Her findings were definitely enlightening – no one in the village had studied beyond Class 10 and most of the teenagers and elders were employed as daily wage farm labourers.
But while their day-to-day life was tough, most harboured dreams of a better life for their children. "That attitude and hope is what has brought about the transformation. Right at the onset, I called a meeting of the parents and told them: 'Do you want your children to become labourers? If not, then you have to pay attention to what your children are doing and play a part in the working of the village school'. The revival of the SMC has given a great boost to our work," shares Jain.
Truly, the 16-member SMC, of which 14 are women, is functioning in tandem with the school authorities. It's not uncommon for Committee President Godavari Yadav and her deputy, Sabita Yadav, to drop by the campus to discuss the progress of the children, get an honest feedback from the teachers and even talk about any pertinent administrative issues that may need to be addressed.
Elaborates Godavari, "We have learnt a lot by interacting with Anusuya didi. We have understood the value of good quality education and also know that as parents we need to be involved in the functioning of the school. After all, our cooperation can facilitate the teachers to give our children a better learning experience."
Apart from that, these days, most mothers, including Godavari and Sabita, are keen on sitting with their children as they do their home assignments.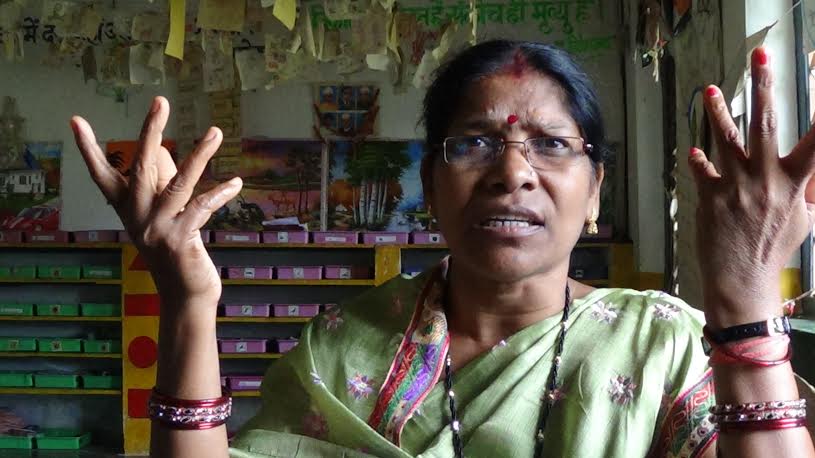 "Anusuya didi has motivated us to sit with our kids while they are reading and doing their studies. Even if we don't really understand what they are saying or writing, our attention eggs them to perform better and we, in turn, learn something new," says Godavari.
Of course, the synergy between the school and the villagers has gone beyond dealing with matters of education. The SMC and the panchayat members seek Jain's opinion and advice on tackling other issues as well.
Ramkumar Kuldeep, who is a member of the SMC, reveals, "Everyone is of the unanimous view that Anusuya madam and the other teachers are our well wishers and can provide sound guidance on a variety of issues. Just recently, when there was a proposal before the panchayat to merge Motwada into the Kanker Municipality, we were not sure what this would mean for our the village, whether it was a beneficial move. After we came together and consulted with her we decided to reject the proposal and went confidently to the District Collector. Anusuya madam is always ready to talk to us and share her personal point of view. We can take our personal problems to her, too."
Be it information on maintaining good health and hygiene or how to support children in their education or learning the right social etiquette, Jain is at hand to show them the way. She vividly recalls how she patiently taught her students the value of cleanliness and the merits of keeping the school grounds neat – something that has had a ripple effect in the entire village.
"Today, our campus is green and we have planted a variety of colourful flowers and plants. No one plucks flowers or litters in the garden. Earlier, this was not the case. Parents used to ask their children to pick flowers to offer in the temple. So I decided to tell students to take saplings and plant them at home. Once they had their own flowers they stopped plucking. One has to think of easy, workable solutions instead of dwelling on the problems," smiles Jain.
The first one to come everyday and the last one to leave, Jain has generously shared her time and tapped into years of experience to ensure that the school delivers on the promise of quality learning and also make Motwada a better place to live.
On their part, villagers like Ramkumar Kuldeep are quick to acknowledge her contribution, "Madam has transformed the school and has even enthused our children to work hard and do well. Her dedicated approach is appreciated by everyone in the village."
It was a decade ago that the National Council of Educational Research and Training (NCERT) had created a revised National Curriculum Framework (NCF) with the express idea of building a schooling system that would reduce children's burden and, at the same time, facilitate learning. The Government Primary School in Motwada is among the few schools that have been able to realise this goal.
Like this story? Or have something to share? Write to us: contact@thebetterindia.com, or connect with us on Facebook and Twitter (@thebetterindia).
We bring stories straight from the heart of India, to inspire millions and create a wave of impact. Our positive movement is growing bigger everyday, and we would love for you to join it.
Please contribute whatever you can, every little penny helps our team in bringing you more stories that support dreams and spread hope.