Aryan Chopra, a 13-year-old chess prodigy from Delhi has become India's second youngest International Master after the Latvian Open where he secured the sixth position. Here are 8 amazing things you should know about him.
Aryan Chopra, a 13-year-old chess prodigy is making headlines by becoming India's second youngest International Master (IM).
The first youngest International Master from India was Parimarjan Negi who got this title at the age of 13 years and 4 months in July 2006. The IM title can be achieved once a player gets an Elo rating (a rating system to calculate the relative skill levels of players) between 2200 and 2500. Along with the rating, he/she should also fulfil some norms which are basically performance benchmarks observed during the competitions. Usually three norms need to be fulfilled to get the title of IM.
Apart from these rating and other benchmarks, a player can be awarded the title for a few specific performances as well. For example, the runner up at the World Junior Championship will be awarded the IM title.
Aryan Chopra, the 56 seed player stood at the sixth position with 6.5 points in nine games in the 'A' section of the Latvian Open. 191 players from 40 countries had participated in the contest. Aryan currently has an Elo rating of 2402 and he is all set to add 28 Elo points to this now.
Here's more about this young chess player –
1. Hailing from Delhi, Aryan is just 13 years and 10 months old and is a student of DPS R. K. Puram.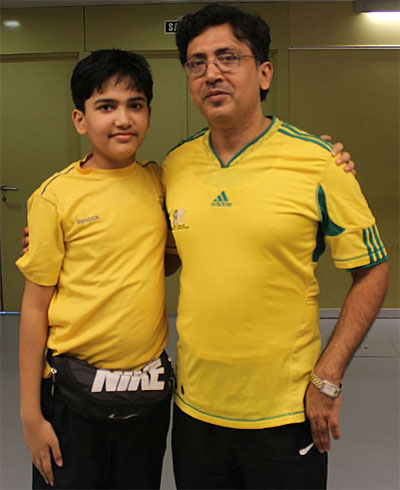 2. Aryan has added about 250 Elo points to his tally through consistent performance in the last 24 months.
3. His spectacular performances include a draw against former Olympiad team gold winner Vladimir Akopian of Armenia in January 2014, and a win over Indian GM Sahaj Grover in June at Golden Sand, Bulgaria.
4. Aryan got his first International Master Norm at the Sants Open at the age of 11 where 650 players from 42 countries had participated.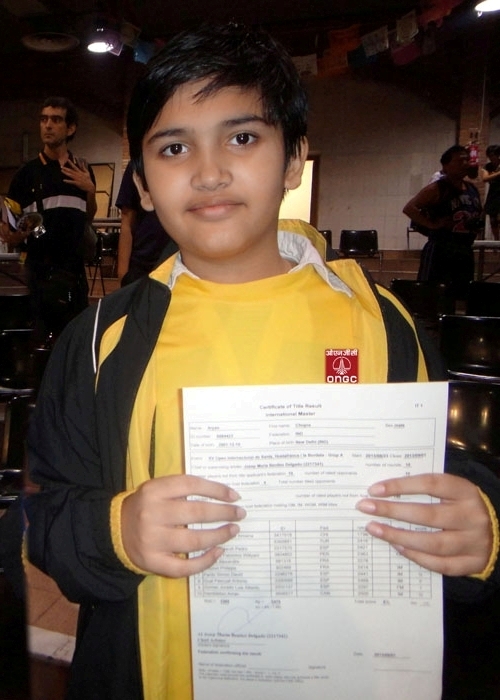 5. Though very young, Aryan has been planning his career very smartly and has only played classical time control in Fide rating events, largely abroad.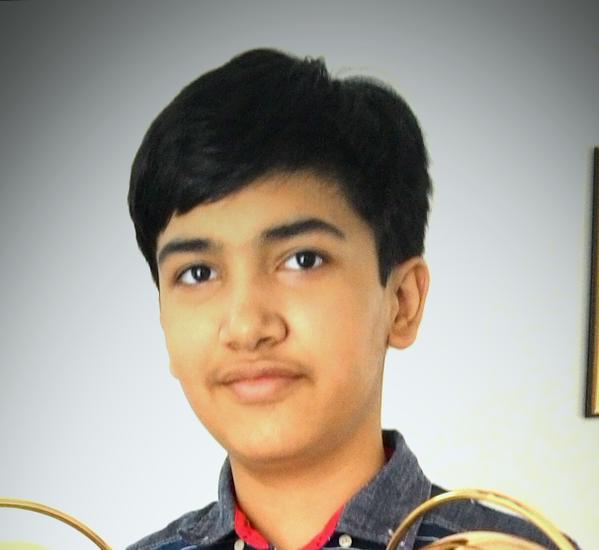 Photo: Twitter
The time control contests have a set time to finish the game. Current rules as per FIDE allow 90 minutes for the first 40 moves followed by 30 minutes for the rest of the game with an addition of 30 seconds per move starting from move one. This way, Aryan can play successive tournaments that suit his strength. This option is not easily available in India.
6. Aryan plays two tournaments and then takes a break of three to four months. Since he has mostly played abroad, not many people in India are aware of this young player.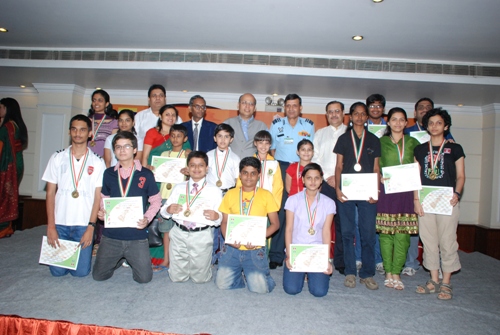 Photo: chessdom.com
7. His mother works with Doordarshan while his father is a CA and an astrologer.
8. The young genius holds 10th World Rank in the U-14 Active category.
Like this story? Or have something to share? Write to us: contact@thebetterindia.com, or connect with us on Facebook and Twitter (@thebetterindia).