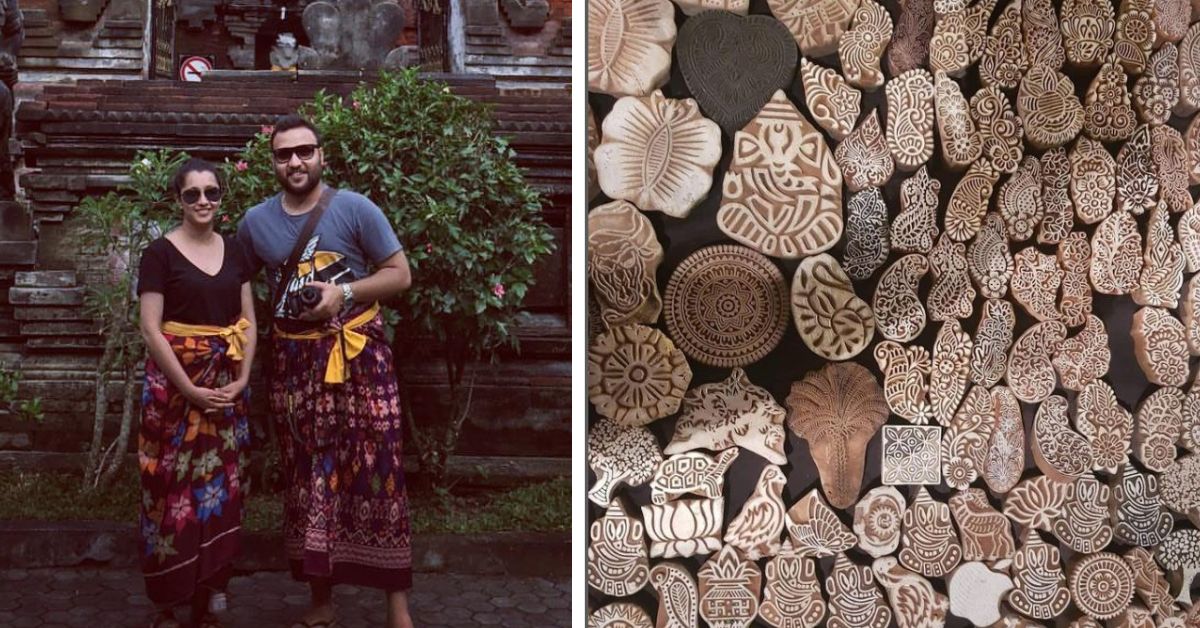 In 2019, Chandigarh couple Mohit Ahluwalia and Jagjyot Kaur quit their decade-long corporate careers to start 'Raamae', which sells hand-block printed products like cushion covers, tote bags, quilts, pouches etc made by skilled artisans.
It was the winter of 2017 when engineers Mohit Ahluwalia and Jagjyot Kaur were looking for a perfect getaway to Bali. Not only did the couple make warm memories there, but they also returned with new aspirations.
"While exploring markets in Bali, we saw how Indian-made fabrics with block printing had more value — not just financial value but also earned respect from consumers. We did not associate this kind of niche with block printing. Although there was a huge demand for them in Bali, the same products were not given much importance in India," Mohit (36) tells The Better India.
"The major difference that we found in the products available in the foreign markets was the transparency with which the sellers were selling the products to consumers. They narrated the process, the techniques, the efforts that went into making the products, and how so many people would be impacted by the purchase. This also helps artisans earn more. We were not aware of those details despite living so close to Jaipur [known for block printing]," adds the Chandigarh resident.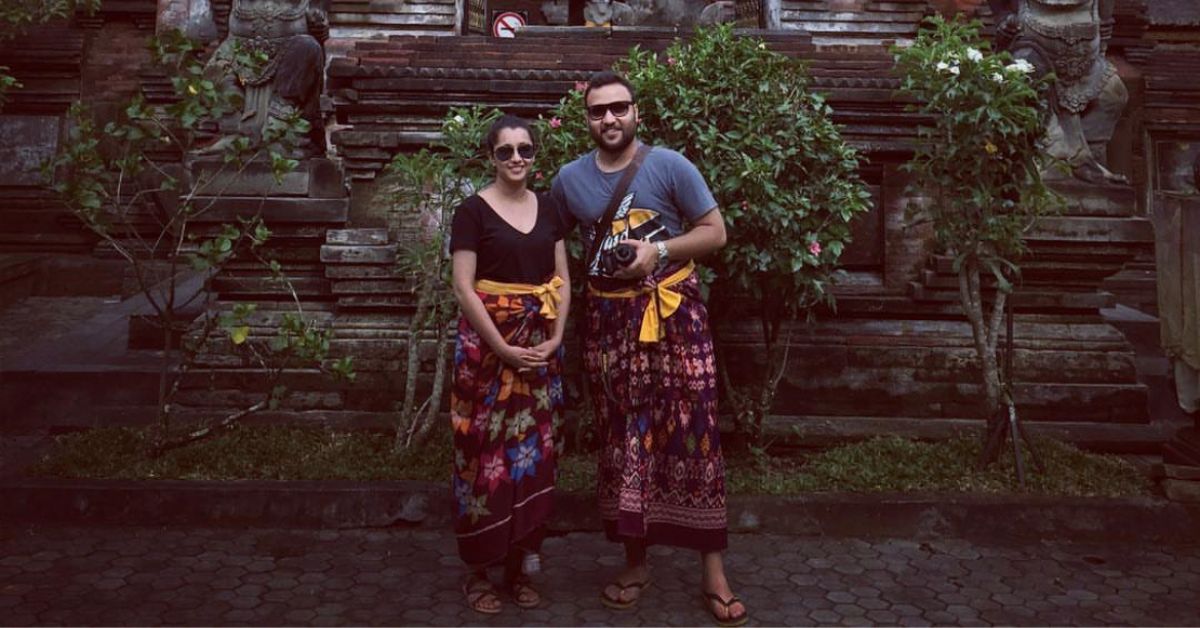 After returning home, the couple decided to promote the ancient craft of block printing and support the livelihood of artisans. In 2019, they quit their more than decade-long corporate career and co-founded Raamae. Currently, they sell around 60 product types such as cushion covers, pouches, bags, swaddles, and quilts in India and abroad.
Finding joy amid chaos
Mohit says that during the trip, they observed how Bali is similar to India in terms of leading a chaotic lifestyle. "Yet people generally lead a joyful life. That is what Raamae means in Balinese — finding joy in the chaos. This word stayed with us when we came back," he adds.
While they went back to their regular jobs post-vacation, the aspiration to explore entrepreneurship in block printing did not diminish. They started exploring textile companies and markets, and understanding various products.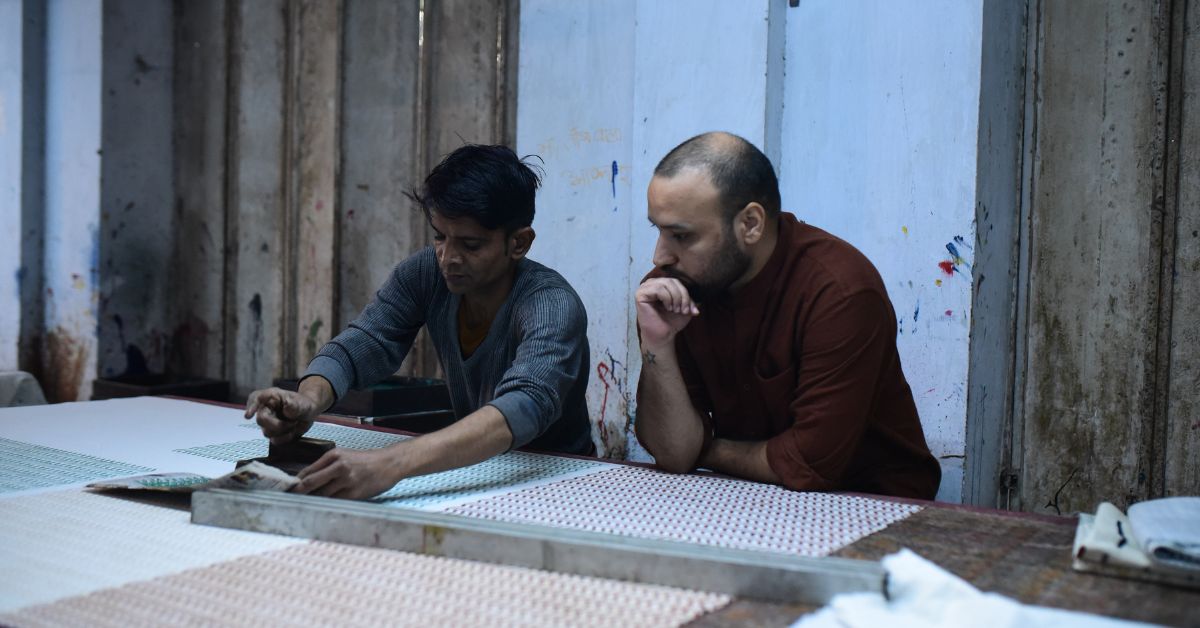 In 2018, they planned a visit to Jaipur for a two-day workshop to understand how block printing works and meet artisans.
Three months later, the duo took part in an exhibition organised in Delhi where they showcased a few quilts and cushion covers. "This was our first step. Surprisingly, we got a good response from people and received some orders as well. This gave us hope for a market opportunity," he shares.
What worked for the couple was the colour choices that went into making products. "We only worked with artisans on the colours and the prints. Generally, the colours that artisans use are a mix of red, yellow, and green. But we saw a demand for monotonous and minimal colour usage in the traditional prints. People wanted to go with traditional yet contemporary products to suit their home decor. So, we kept the design contemporary to reach out to modern buyers," says Mohit.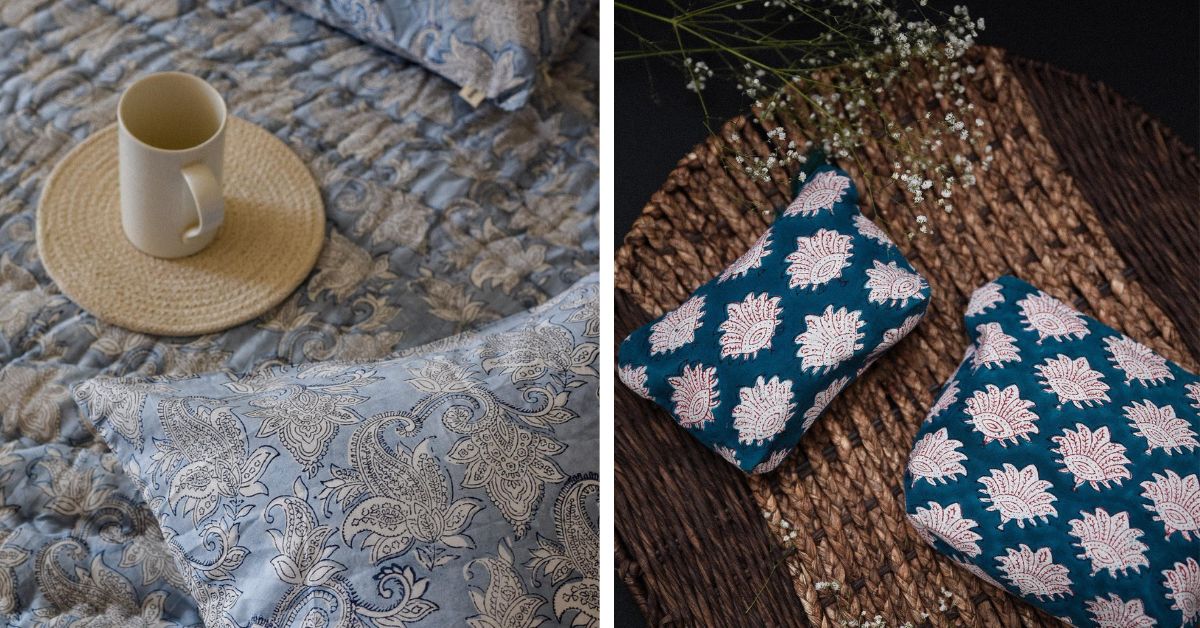 He also points out that the usage of cheap synthetic colours averted buyers since they are harmful to human and environmental health. To avoid that, he uses natural colours made from turmeric, rusted iron, indigo and non-toxic azo-free dyes.
Later in 2019, he decided to quit his job and co-founded Raamae with his wife Jagjyot. From quilts and cushion covers, they expanded the produce range to bedsheets, pillow covers, clothes for infants, accessories, pouches, bags, and tote bags, some of which are made after upcycling leftover fabric.
What started with an investment of Rs 4 lakh, is not a company that clocks a revenue of up to Rs 18 lakh every month.
Mohit says they get most of their orders from Rajasthan, Mumbai, Bengaluru, Chennai, Hyderabad, Mysore, Goa, Kerala, Imphal, Assam, and Mizoram in India. They also cater to customers in United Arab Emirates (UAE) and the United States.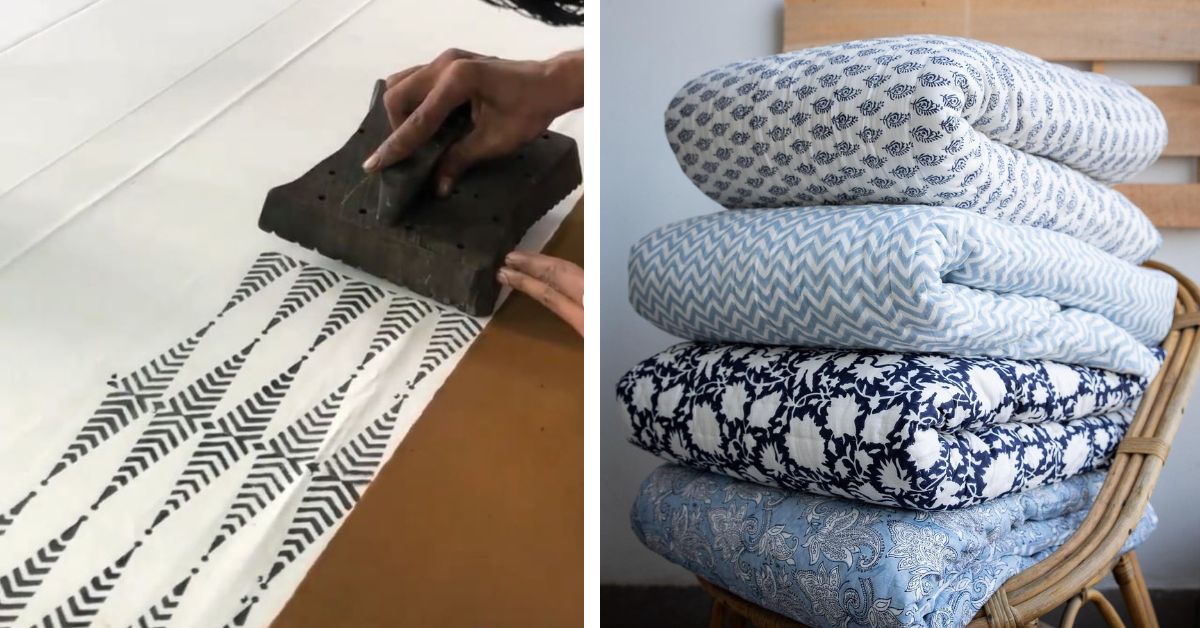 The labour of love
Believed to have its origin in China, block printing — the art and technique of crafting beautiful textiles using wooden blocks — emerged in India about 450 years ago.
In block printing, wooden blocks are carved out to print the outline of the design. Separate blocks are used to fill the colours in the design. Each colour has its own block. For fine detailing of prints on the fabrics, the blocks are hand-stamped more than 1,000 times to create a pattern across the length of the cloth.
The designs used are mostly traditional Indian motifs influenced by the nature, beliefs, and customs of the region. From start to finish, the whole process of hand block printing is a labour of love.
In Rajasthan, the important centres for hand block printing are Jaipur, Bangru, Sanganer, Pali, and Barmer. Sanganer is famous for its calico-printed bed covers, quilts and saris.
"We found that most artisans do not have any formal training to learn the art form. It has been passed through generations. But unfortunately, with declining demand, they are forced to move to cities for several odd but better-paying jobs. This made our goal even stronger," says Mohit.
"The products that these artisans make have little value in Indian markets. Since they get paid less, they would rather leave their generations-acquired skills to work as delivery executives in cities," he adds.
With his startup, Mohit has been able to find work for some artisans in the region. Currently, he works with a dozen artisans in Sanganer and Jaipur.
One such artisan is Rajesh Kumawat (45), who has been practising block printing for the past 15 years. In conversation with The Better India, he says, "Block printing is very arduous work; we have to be careful with balancing the blocks on fabric. Earlier, we would only print bedsheets and sarees. Now with changing times, we have started printing on quilts, garments, bags, and mobile covers — there is nothing we cannot block print on. And because of this, we are getting good money," he says.
"We had been getting fewer orders for traditional art for many years now. But during the pandemic, we lost all work; there was no income. But now we are earning a decent amount again. Previously, we would manage to earn Rs 300 in a day, and now we get Rs 1,000. Our products are worn by foreigners as well; it is such a great feeling. I believe in the coming times, this market will get more recognition," he adds.
Today, Raamae gets up to 400 orders in a month for its diverse range of products. From starting and scaling up the business, the decision to choose a new path was full of risks for Mohit.
"Even though we had good jobs, there was a calling from within to work towards real impact with people. At times, this work gets chaotic because we design and photoshoot our products ourselves, but we find joy in it, just like the meaning of our company," he says.
"Since we do not have any background in designing, it is very overwhelming for us when people buy from us and also when we encounter someone wearing products designed by us. Our growth in numbers can never be fulfilling, but the acceptance we get from the people is overwhelming for us," he adds.
Source:
Edited by Pranita Bhat
We bring stories straight from the heart of India, to inspire millions and create a wave of impact. Our positive movement is growing bigger everyday, and we would love for you to join it.
Please contribute whatever you can, every little penny helps our team in bringing you more stories that support dreams and spread hope.