To make museums accessible to children in rural areas, Mumbai's Chhatrapati Shivaji Maharaj Vastu Sangrahalaya initiated the 'Museum on Wheels' in 2015. To date, it has reached over 14 lakh individuals, covering a distance of over 85,359 km.
India's past is a tapestry of profound cultural legacies. But for many rural children, a world of art and culture remains distant because of limited resources and inaccessible opportunities. As a result, even the doors to museums — where artefacts, artworks, and historical objects are displayed for public viewing and learning — feel out of their reach.
To tackle this, the Chhatrapati Shivaji Maharaj Vastu Sangrahalaya (CSMVS) in Mumbai started the 'Museum on Wheels'. This innovative endeavour aims to break the barrier of geographical location and economic factors, and bring the marvels of history, art and culture to the remote areas of India.
"Even in today's day and time, people from rural backgrounds, especially children, do not see museums as a place that can aid learning. With this initiative, we want to change the narrative and say, 'If you can't visit a museum, we can bring it to you'," says Krutika Mhatre, who spearheads the MOW project at Chhatrapati Shivaji Maharaj Vastu Sangrahalaya.
By bringing the museum directly to the children's doorsteps for free, the Museum on Wheels has become a catalyst for change — sparking wonder, imagination, and knowledge among the eager hearts of rural children.
Starting in 2015, the initiative had travelled more than 700 cities and villages across the country so far.
Wonder on wheels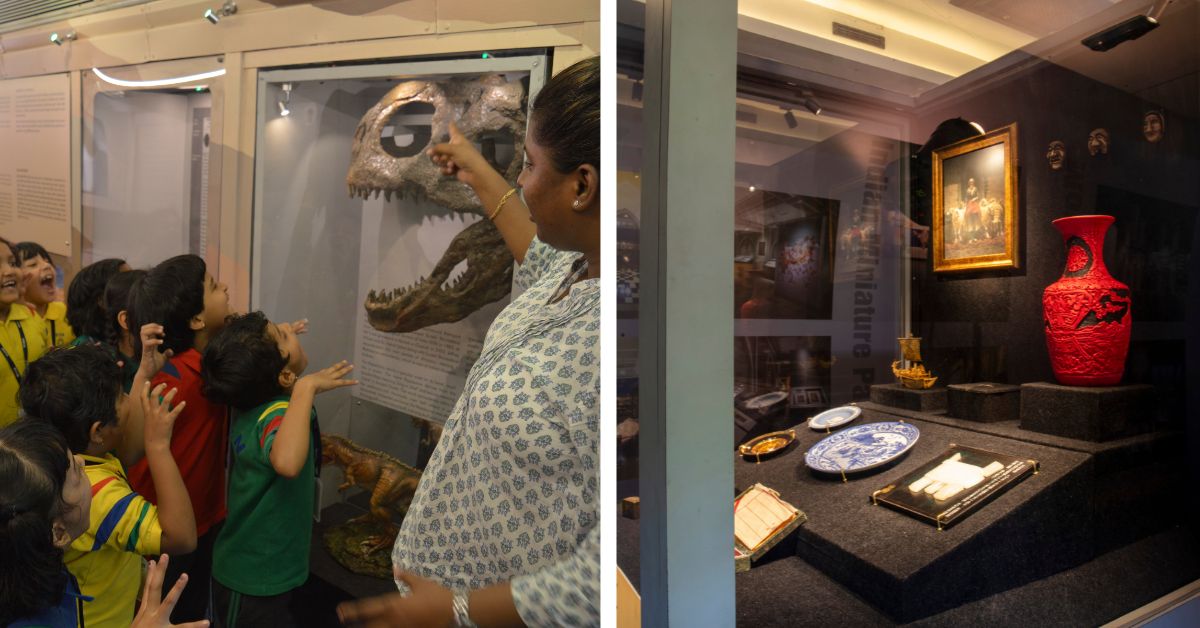 Krutika informs that the idea of the bus stems from a need to make museums a go-to spot for people.
"The museums are not as popular as other public spaces. People are not very familiar with the concept of museums in India. They don't connect with them as a place where they can come, spend time, and enjoy the pieces," she says.
"The concept of museums, with a bricked room and a gallery of displayed objects, is old and outdated. It has evolved so much; for instance, they are now interactive and explore many educational aspects. Most people are not much aware of this," she says.
She mentions that another challenge associated with museums is their location.
"We do not have museums in every city and village in the world. So reaching them is also a task. Especially people who are not from tier 1 and 2 cities, do not even know what a museum is, so how would they ever reach it," says Krutika.
With the intention of mitigating the above issues, the idea of 'Museum on Wheels' was conceived. "For the last seven years, we have managed to bring the concept of a museum closer to people, especially to people living in the rural areas," she says.
Igniting the spark of curiosity in children
The initiative began with one bus in 2015, but due to the overwhelming response from the public, Krutika explains that an additional bus was added to the fleet in 2019.
"The project was supported by the city and the Ministry of Culture, Government of India, as well," she says.
Recalling the first-ever exhibition on wheels that happened in Mumbai, Krutika says, "We wanted to start with a topic that everyone was familiar with. So we based it on Harappan civilisation, and it was a great success," she says, adding that the theme of the exhibition changes every six months.
"Whenever we decide to change the theme, we speak with different school teachers and educators to understand what would intrigue the children more. If they are learning something in the curriculum, and if we can display the same on the bus, it will be an additional aid for them to learn," says Krutika.
She continues, "We had a plethora of exhibitions in the past years including exhibitions on Indian coinage, Indian traditional games, sources of history, fossils in India, various civilisations, etc. We use visual aids to make it more interesting; for instance, we had a life-size skull model of a Rajasaurus that was found in India."
"Kids show a lot of curiosity in such topics; there's a spark in their eyes when they come across these pieces. The first bus was travelling 27 days in a month and was at capacity, and then the second bus was funded by CITI India," she says.
She shares that the buses have travelled across the country and have reached 14 lakh individuals over the past seven years. They have travelled 85,359 km so far in states like Karnataka, Maharashtra, Goa, Gujarat, Haryana and Delhi NCR region.
Additionally, the Museum on Wheels also visits schools and institutions.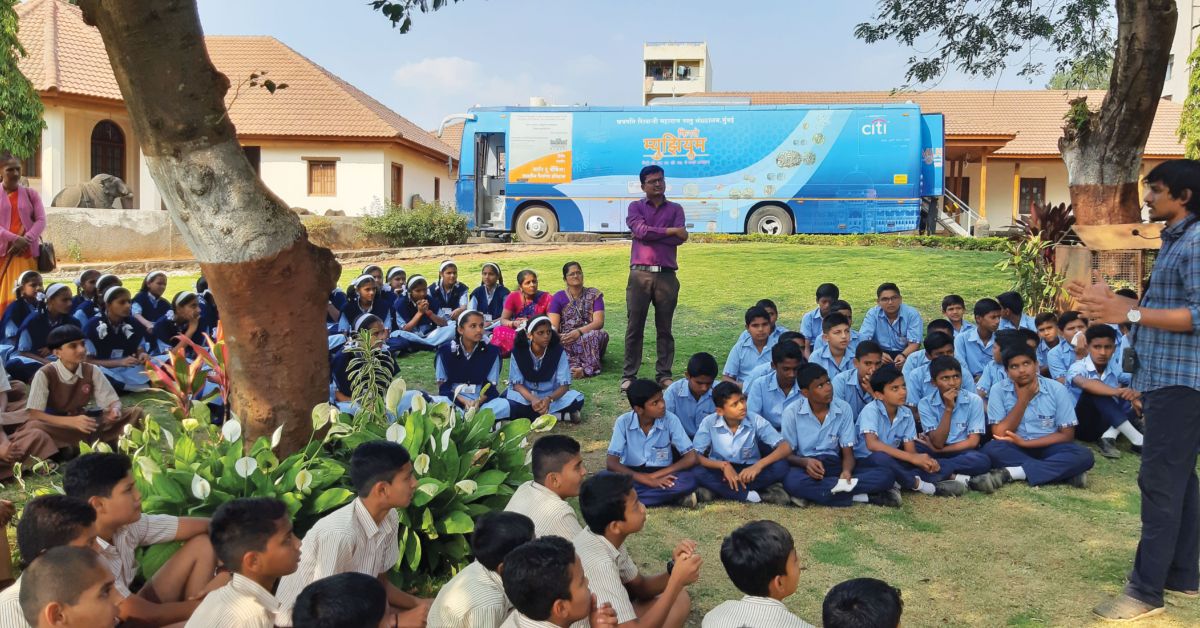 "It is a commendable initiative taken up to develop an interest in students about subjects such as history, geography, archaeology, and science, to name a few. The representatives of the museum personally cater to the needs of the students as per the school curriculum and get the bus to school," says Meenakshi Saxena, the headmistress of St. Xavier's High School.
"When they visited our school, it aroused an interest in the students from lower grades. When questioned about the museum, they are always up on their toes to give everyone their input. That's the impact of the Museum on Wheels on school kids. The students were able to recollect what they have seen when the topics were taught in the class, which in itself is a testimony of good work," she adds.
The museum sources its pieces from the Chhatrapati Shivaji Maharaj Vastu Sangrahalaya and from in-house artists who create appropriate display items.
Reflecting on the journey of seven years, Krutika says, "The target audience for the project was the rural children, and we have been able to achieve that. The children, who were not aware of the existence of museums were able to enjoy a physical museum. We use the outer part of the bus very tactfully by painting interesting imagery to attract these children. It is amazing to see how they react to the pieces."
(Edited by Pranita Bhat)
We bring stories straight from the heart of India, to inspire millions and create a wave of impact. Our positive movement is growing bigger everyday, and we would love for you to join it.
Please contribute whatever you can, every little penny helps our team in bringing you more stories that support dreams and spread hope.