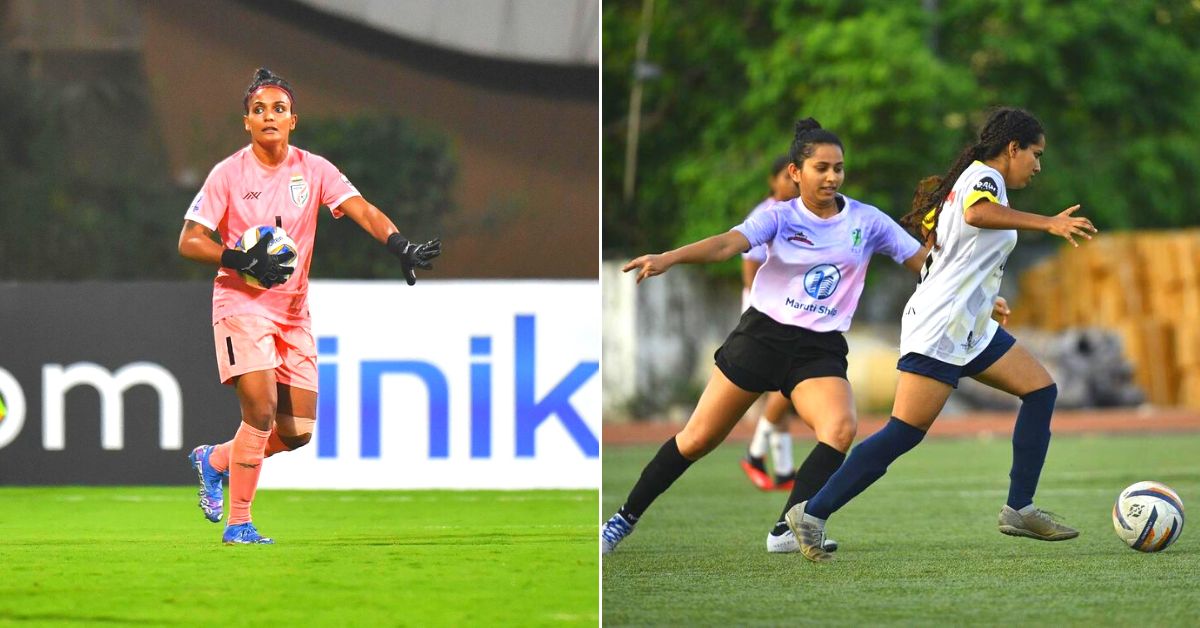 Aditi Chauhan, the first Indian woman to play in the English League and goalkeeper for the women's national team, started the She Kicks Academy to create a professional environment for underprivileged girls in Delhi.
When talking to Aditi Chauhan, a mainstay of the Indian women's football team for more than a decade, it's hard not to feel her calm but fierce competitive drive.
It's that unrelenting drive that took her through the informal mud of women's football in India to becoming the first Indian woman to play in the English League. Despite multiple injuries, including two tears to her anterior cruciate ligament (ACL) in the last seven years, her desire to play for India hasn't diminished.
A pioneer of women's football in India, the 30-year-old is now laying the groundwork for the future of the women's game in India. At her Delhi-based club, She Kicks FC, Aditi is paving the way for 30 skilled girls to pursue a professional football career.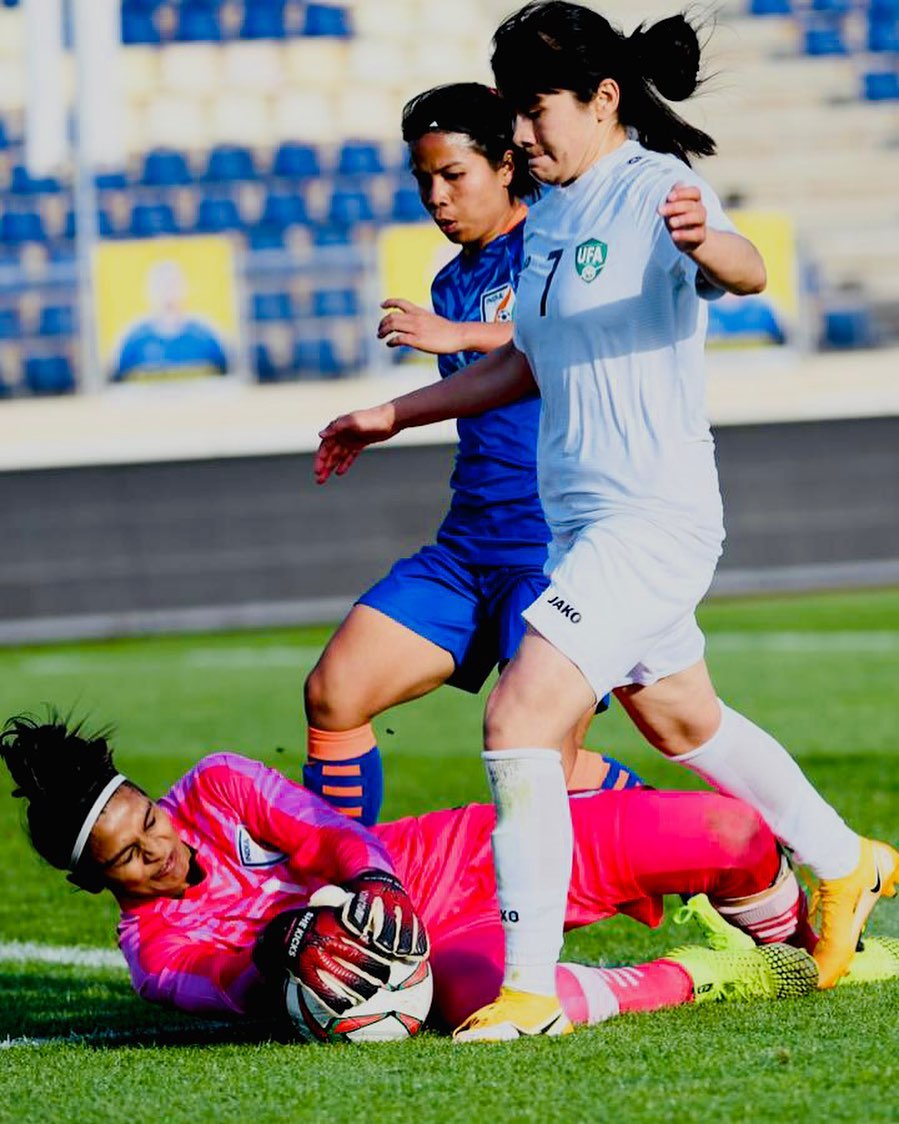 A burning passion for sports
Born in Chennai, Tamil Nadu, Aditi and her family moved to Delhi when she was barely nine. Her earliest memory of playing sports as a child was shadowing her brother Aditya who was learning Taekwondo at the time. Studying at Amity International School in Delhi, she took an interest in multiple sports including karate, athletics and basketball.
"I've always been into sports. I was a black belt in karate, and played athletics and basketball at the district level. Football came into my life much later," recalls Aditi, speaking to The Better India.
She played football informally with boys in the park near her home in Delhi, but never competitively. Her introduction to competitive football was a trial by fire.
"My first taste of competitive football came at the trials for the under-19 Delhi state team. At 15, I attended that trial because my basketball coach at school believed that my skills on the court would translate well as a goalkeeper on the football pitch. He also felt that I had a natural aptitude and ability for sports. I was thrown right into the deep end. In fact, before the trials, he taught me about the rules and what a goalkeeper can do, etc," she recalls with a laugh.
What this coach saw in Aditi was a natural leader with a fierce competitive drive backed by excellent reflexes and hand-eye coordination. She was eventually picked as the third-choice goalkeeper for the under-19 Delhi team.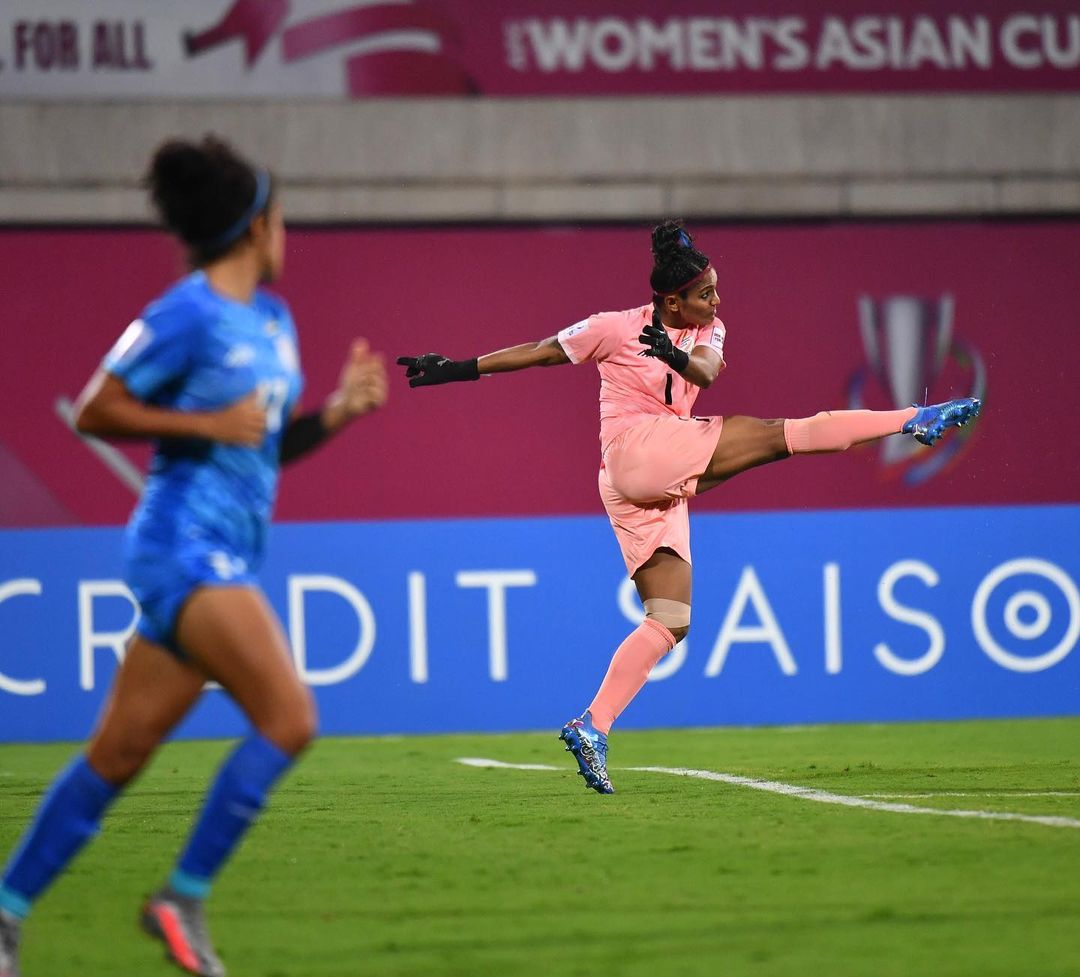 Two years later, she was selected as the first-choice goalkeeper for the under-19 Indian women's team following a three-month trial period. Despite making it to the under-19 national team, she was still unsure whether football was the sport for her.
"My coach asked me a question that changed my life. He asked me, 'Do you want to be average in multiple sports or do you want to excel in one sport?'. The answer was simple. As a natural competitor, I wanted to excel in one sport. I chose football," she says.
She made her debut for the under-19 Indian women's team in 2008, graduated from high school in 2010, and then went on to pursue her Bachelor of Commerce (B.Com) from Jesus and Mary College at Delhi University. After her first year in college, she made her debut for the Indian senior women's team at the 2011 Asian Football Confederation (AFC) Olympic qualifiers.
"When I told my parents that I want to pursue a career in football, my father was a little apprehensive because no one at home had heard of women's football in India. Also, it's an outdoor and contact sport, where the risk of injury is high. What really changed things was when I got my first Indian team jersey. Coming from a military household, they understood the value of representing your country. My selection into the national team really convinced my parents that besides talent, I was really focused on making it in the sport," she recalls.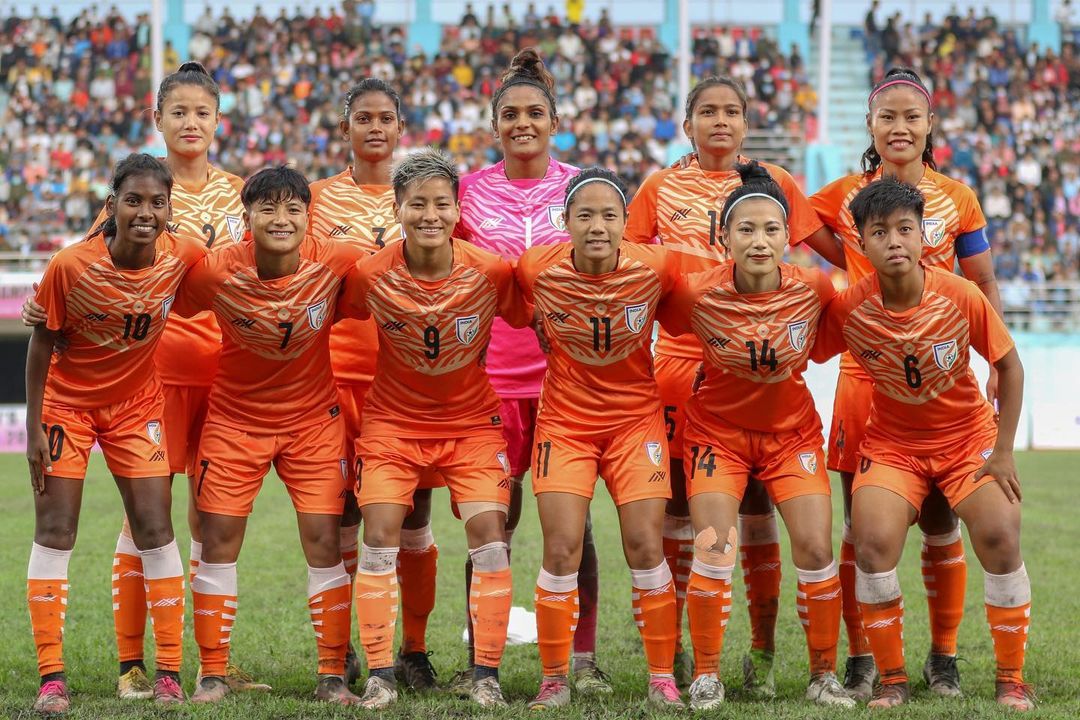 Going to England
In college, she was playing for her college team, Delhi University, and the Indian national team. Sports was her sanctuary, and she was figuring out how to make a long-term career off it. She already knew playing football professionally isn't a long-term career.
"In my third year, the Delhi University team travelled to New Zealand. At the time, our varsity had signed an MoU with a university in New Zealand. Our university football team went to New Zealand for exposure and training. In New Zealand, I was exposed to many courses related to sports including sports management, sports science, sports media, etc. These courses didn't exist in India at that point. When I came back home and told my parents that I wanted to try my hand at studying sports management, they were once again apprehensive," she says.
When Aditi came back to India, she undertook some research, and even roped in her elder brother to convince her parents that she wanted to study sports management abroad. After long conversations and discussions, they finally agreed with her choice.
Following graduation, she went to London to study sports management at Loughborough University. While doing an MSc in Sports Management, she also represented their football team.
"One of the biggest reasons why I chose Loughborough University was because I also had the opportunity to play regular football. After completing my course, I got an internship in London. Once again, I wanted to keep playing, testing and pushing myself to see where I actually stood in the game. Even when I was playing football at the university, the standard was much higher than what I saw in India, even though I had regularly played for the national team," she shares.
She went for trials at Millwall FC, a second-division club. After a three-week trial period, they wanted to register Aditi on their team but realised that she was on a student visa. Since she was on a student visa, she couldn't play for a first or second division English club as per the rules mandated by the Football Association (FA), the football governing body in England.
"But the goalkeeper coach at Millwall really liked my game and told me about a trial for West Ham Ladies, which back then was a third-division club," she recalls. She was selected by West Ham Ladies, became their first-choice keeper and spent three years in two stints with them.
"Throughout this journey, I had no agent or manager to guide me. I had to figure out everything on my own. The whole experience of playing in England and studying sports management changed my life for the better. The exposure I received not only helped me on the field but off it as well. Through this process, I understood the professional environment young girls need to excel in the game from the facilities, how a sporting calendar should look like with regular matches, and how professional players are supposed to behave, etc. Off the field, I learnt how to live in a foreign country on my own trying to manage everything," she says.
"Personally, I would recommend young women who want to make football their career to get that exposure abroad playing in professional leagues. The standard of football, particularly in Europe, is much higher and more competitive. You're playing two matches every week for a full seven-month season. Even while I was studying at university, I was playing competitive matches twice every week. That makes a lot of difference to player development," she adds.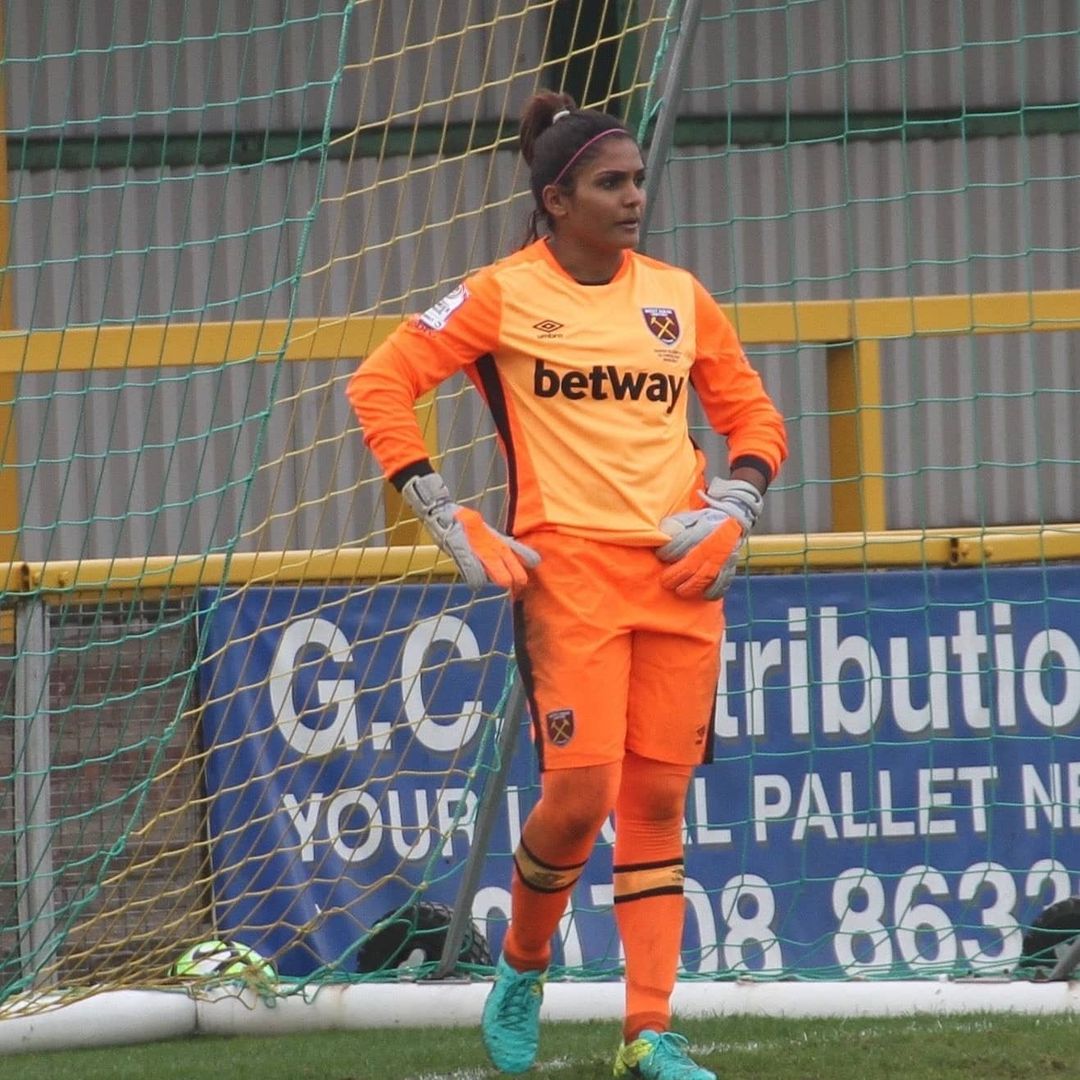 Coming back to India, She Kicks
It was a serious ACL injury which ended her stint with West Ham, and she returned to India in early 2018 to recover and rehabilitate following surgery. Recovering and rehabilitating from an ACL injury takes about nine months, during which the athlete can't do much else.
"When I signed with West Ham, it was covered widely in the Indian and the UK media. My initial hope was that it would really promote Indian women's football. When I came back to India, not much had changed. I didn't see any concrete steps taken for talented girls. That's when I thought of starting an initiative called She Kicks. I wanted to leverage my education and experience to make this professional journey into football easier for other girls," she says.
During her injury lay-off, she started the She Kicks Football Academy. The initial objective was to create a safe training environment for young girls. Growing up, Aditi didn't have a place to train throughout the year. In school, she didn't have a girls' team which would play matches competitively.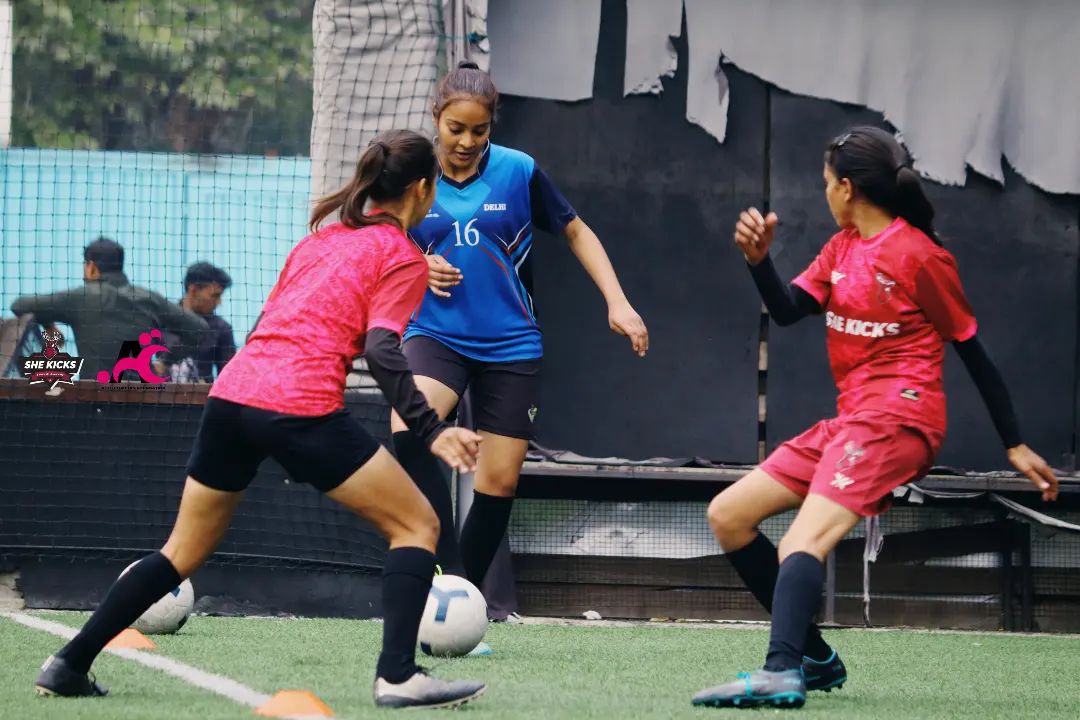 "My desire was to create the right environment for young girls passionate about football and establish a clear player development pathway for them. They need a professional environment with an emphasis on nutrition, strength and conditioning, and psychology, and the opportunity to play competitive matches regularly. Today, women's football in India has state-level leagues. In 2016, the AIFF even established the Indian Women's League (IWL) for club teams," she says.
When she started the She Kicks Academy in 2018, it followed a standard 'pay and play' model with a regular academy for girls. Over time, however, Aditi realised a lot of talented girls came from low-income households, and they needed financial support to just attend the academy.
She then started a free training programme for underprivileged girls in Delhi, and registered her own foundation last year called the Aditi Chauhan Foundation.
"We give them a travel allowance to attend regular training at our academy in Chattarpur. Last year, I also registered our own club She Kicks FC, which plays club football in Delhi. This allows these girls, who are training throughout the year, to have a platform where they also play competitive matches regularly," she says.
She Kicks FC currently plays in the Football Delhi (FD) Women's Championship, a league two divisions below the IWL. The league offers a scouting platform for other clubs, state teams and the national team. Later this year, these girls will be playing their second season. Football Delhi is the registered association for football in Delhi, which comes under the AIFF.
"We've selected 30 girls who are training throughout the year in our training facility in Chattarpur. These are the girls who also play for the club. At the club, I've worked with licensed coaches, physios and medical experts to create a curriculum which takes their age and physical condition into consideration. We've tailor-made training programmes accordingly. We also organise regular workshops with students on their nutrition," she claims.
On the professional front, meanwhile, she currently plays for the Kochi-based club Lord's FA. Although Aditi is currently sidelined following a second ACL surgery, she is hoping to make a comeback early next year for the Indian national team ahead of their Olympic qualifiers.
Recently, her foundation entered into a strategic partnership with UK Elite Sports Group, a leading sports and educational organisation, for grassroots development of the game in India in collaboration with She Kicks Football Academy.
Everything Aditi has done thus far is with her own money, and she says that more investment and funding will help her realise her dreams for these girls.
(Edited by Pranita Bhat; Images courtesy Aditi Chauhan/Instagram, She Kicks/Instagram)
We bring stories straight from the heart of India, to inspire millions and create a wave of impact. Our positive movement is growing bigger everyday, and we would love for you to join it.
Please contribute whatever you can, every little penny helps our team in bringing you more stories that support dreams and spread hope.
Tell Us More