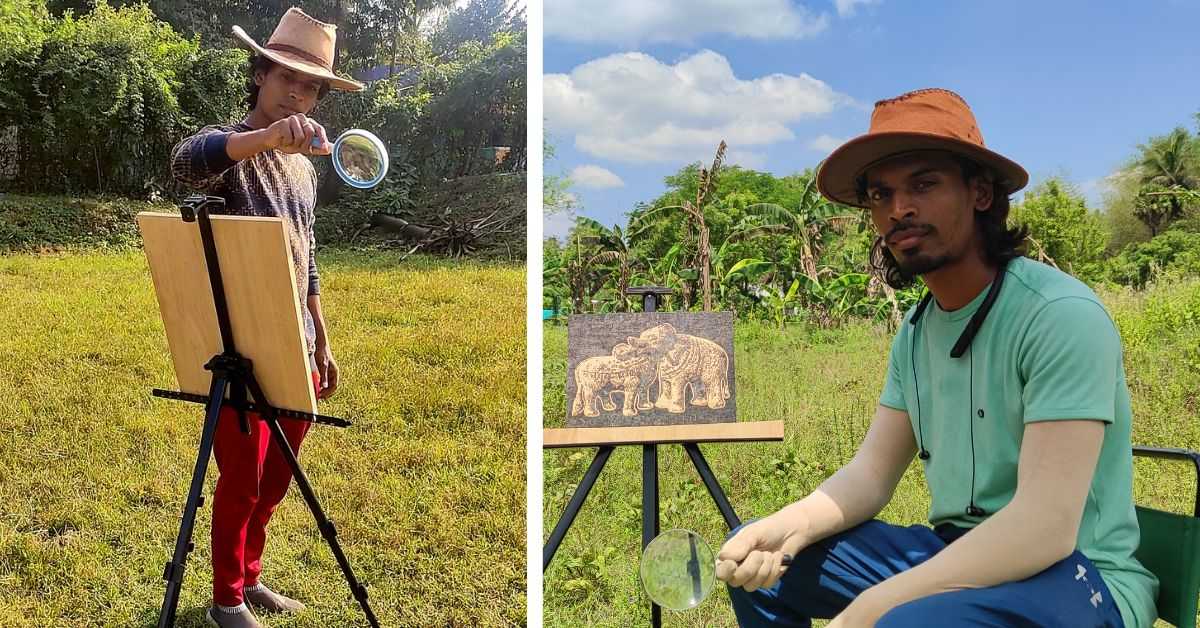 Tamil Nadu engineer-turned-artist Vignesh uses not paint, not colours, but sunlight to craft beautiful artwork. He narrates how art gave him a new lease of life, and the hard work that goes into each piece.
It's not just Vignesh's tools and techniques that set him apart as an artist. It's also the medium that makes this Tamil Nadu resident's art so unique.
The Mayiladuthurai-born artist's work employs something remarkable to create stunning artwork — sunlight. In fact, the 32-year-old is being touted as 'Asia's First Sunlight Artist', a feat he says he never saw coming.
Vignesh's art — intricate sketches of personalities like Virat Kohli to detailed portraits of families — is as intriguing as the journey that led him towards it. "I didn't turn to art for money," he notes as we sit down for our conversation. "I just turned to it to get rid of my negative thoughts, my depression."
'I reached an all-time low'
In 2010, Vignesh completed his degree in electronics engineering and began working with a broadband company. For a while, things seemed well, but when he began developing a back pain in 2016, things began taking a turn for the worse. To add to his woes, he lost his mother in the months that followed.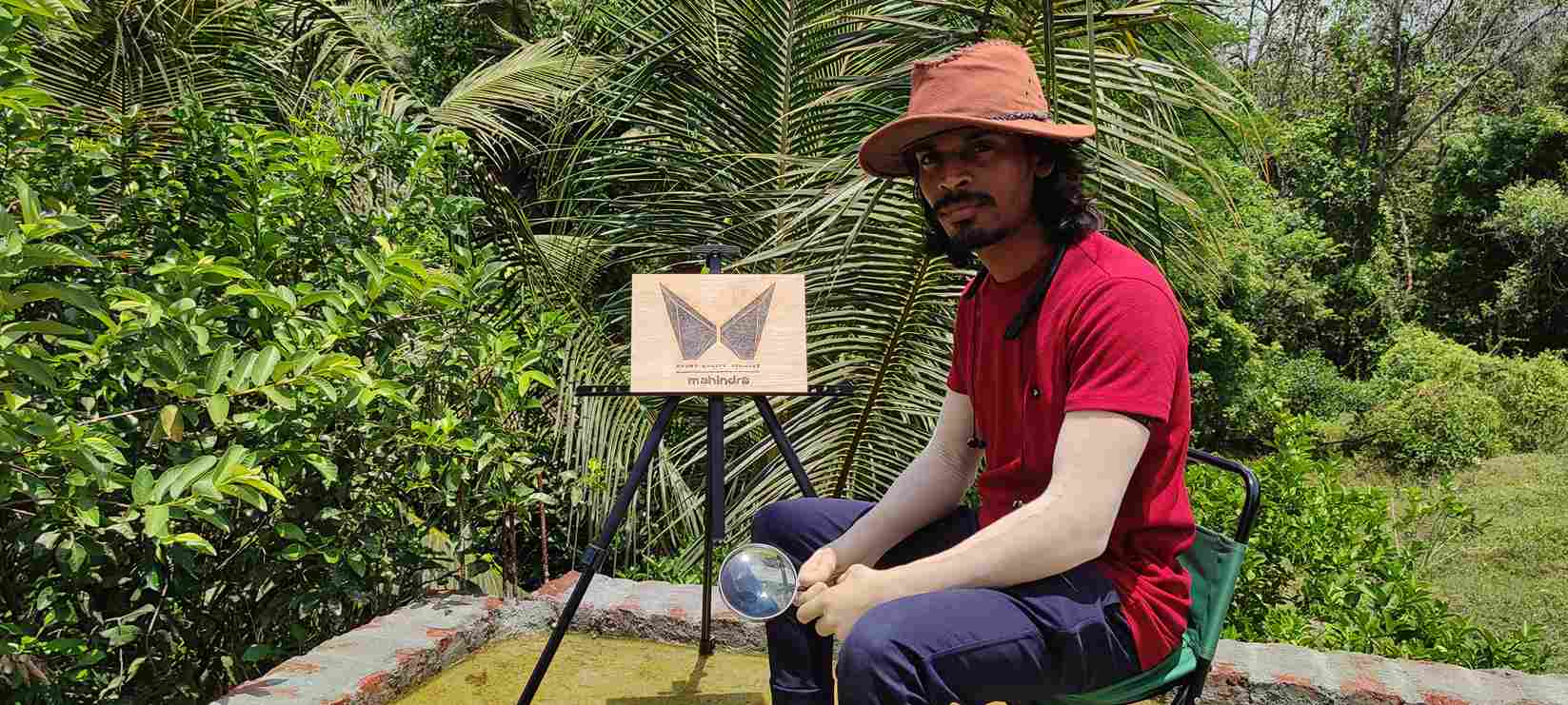 "I was at a very low point in my life. I headed back to my native place in Tamil Nadu at the time to live with my mother's sister, thinking it would be a change for me. While I did not think the back pain was major, I should have paid more attention to it, as it got worse with time. Over time, it became so bad that I couldn't walk more than a few steps. I was devastated, as my job kept me on my toes and with the pain, it was difficult to work."
"In 2017, I was told by my doctor that I would have to lie on the bed until my back had got a chance to recuperate," adds Vignesh, adding that this meant he had to take a sabbatical from work.
This was a time of distress. "I used to keep having negative thoughts — having to live in someone else's house, not having a job anymore…After a few weeks of dealing with these thoughts, I decided I needed to divert my mind. I started drawing."
Etching sunlight into wood
With this newfound passion, Vignesh began exploring the purview of art and all it held. YouTube was his main source of learning, and he would spend hours on end perfecting his pencil sketches, miniature drawings, 3D paintings, realistic drawings, and more.
"I wanted to learn every art form there was."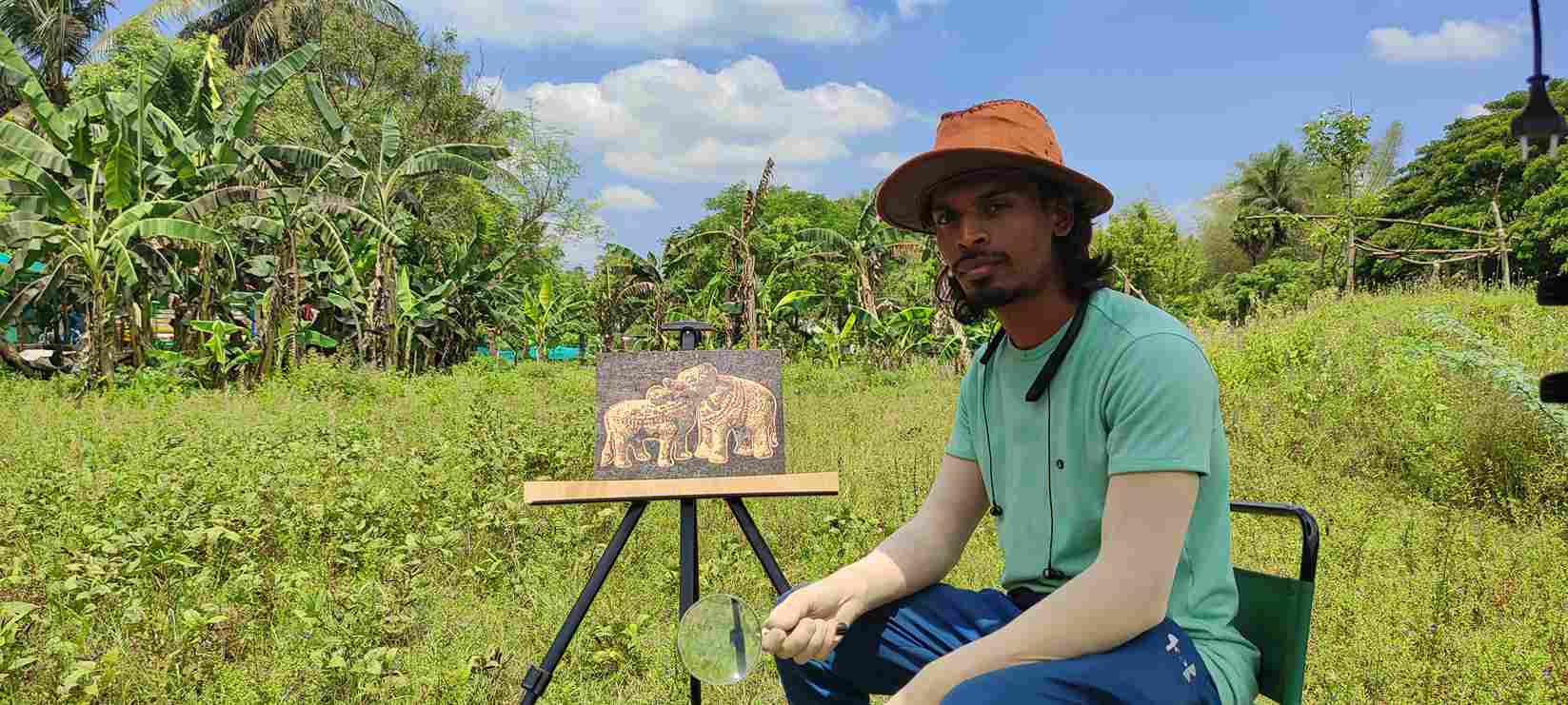 He says this "addiction" helped him out of his spiral, and eventually, he decided to try his hand at portraits. This was when he stumbled upon the profile of Michael Papadakis, a celebrated sunlight artist who etches sunlight onto wood. The celebrated international artist's works had become a viral sensation, garnering him worldwide attention. And one of his admirers was Vignesh, who wanted to try this form of art.
"The first ever painting of this style that I made was my own signature," he says, adding that whilst it was a challenge completing the art, he had gained a "never say 'die'" attitude in the last few months, which made him headstrong.
He adds that sometimes he'd watch the video of Michael's art 10 times just to understand how he got the angles right.
It was during the peak of the COVID pandemic that Vignesh's art went viral, eventually paving way for orders from admirers across India. Among the highlights of his career, he says, was the moment that the Tesla logo that he etched onto wood using sunlight was shared on the platform's Twitter.
"It felt surreal."
"When you draw using a pencil, you know the points where the pencil is scratching the paper. You feel it. But in the case of sunlight art, it is all instinct. You need to be careful about the position and distance of the lens."
He adds that while he found it tough in the initial stages, he has now perfected his craft, and has more than 50 of these artworks to his credit. While Vignesh's health had picked up during these months, he says he doesn't want to turn his back on what he has built for himself.
So, he decided to make art his full-time career.
A mirror, some wood, and a story
"First, I take a wooden board and a magnifying glass, and look at the weather," says Vignesh.
He says the third is the most important criterion, as everything about this art form is dependent on the sunlight. "I draw the outline on the wood and then begin focusing the sun's rays on the wood using the magnifying glass. I need to change my position every few minutes to get the angles right. The scientific method is very similar to how we'd use a glass to burn paper in the sunlight when we were kids. Except here the material is wood."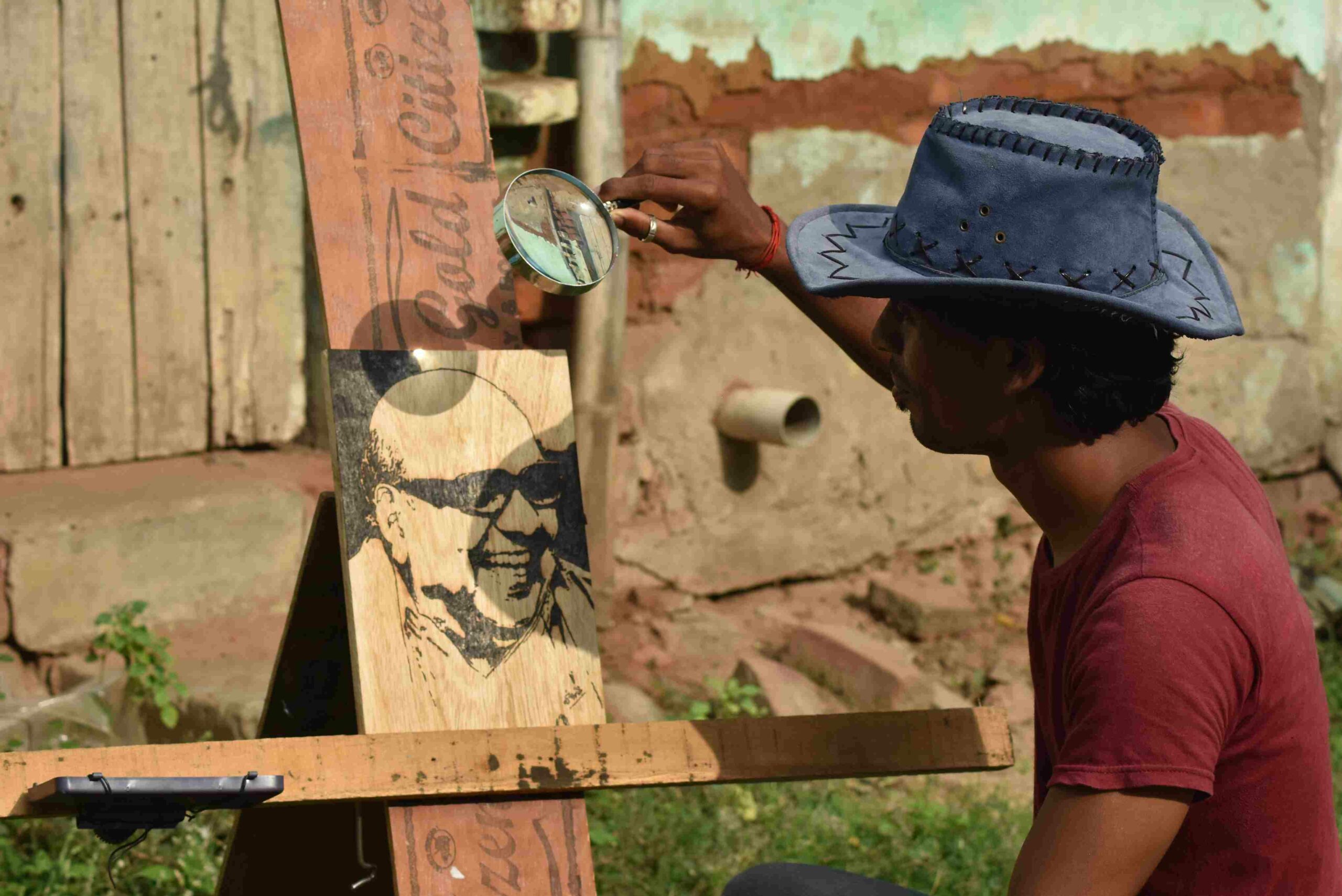 Depending on the portrait, the design, and the meaning he wants to render to the picture, Vignesh then continually goes back and forth shifting the lens further from the wood or bringing it nearer.
"All you need to ensure is that the beam of sunlight is strong enough for the wood to start burning."
He adds that while an A4 size canvas takes three days to complete in sunny weather, it takes a week in cloudy skies. More intricate paintings require more time. "I recently completed an artwork of an elephant and a bull, which took me a month to finish. However, I can't only blame the intricacy of the drawing for this long duration. It was also rainy in Tamil Nadu at the time, and I would hardly get a few hours of sun in the day."
One little mistake, one wrong angle, and the artwork needs to be discarded — nothing can revise the burned wood. Vignesh charges anywhere between Rs 65,000 and Rs 1,00,000 for a portrait and ships his work to Canada, and Singapore, among other countries.
Vignesh asserts that what makes him happiest is that the same relatives who would once ask him why he's wasting his time now talk about him to their friends and say he's making the family proud. "I absolutely love it."
Edited by Divya Sethu
We bring stories straight from the heart of India, to inspire millions and create a wave of impact. Our positive movement is growing bigger everyday, and we would love for you to join it.
Please contribute whatever you can, every little penny helps our team in bringing you more stories that support dreams and spread hope.
Tell Us More