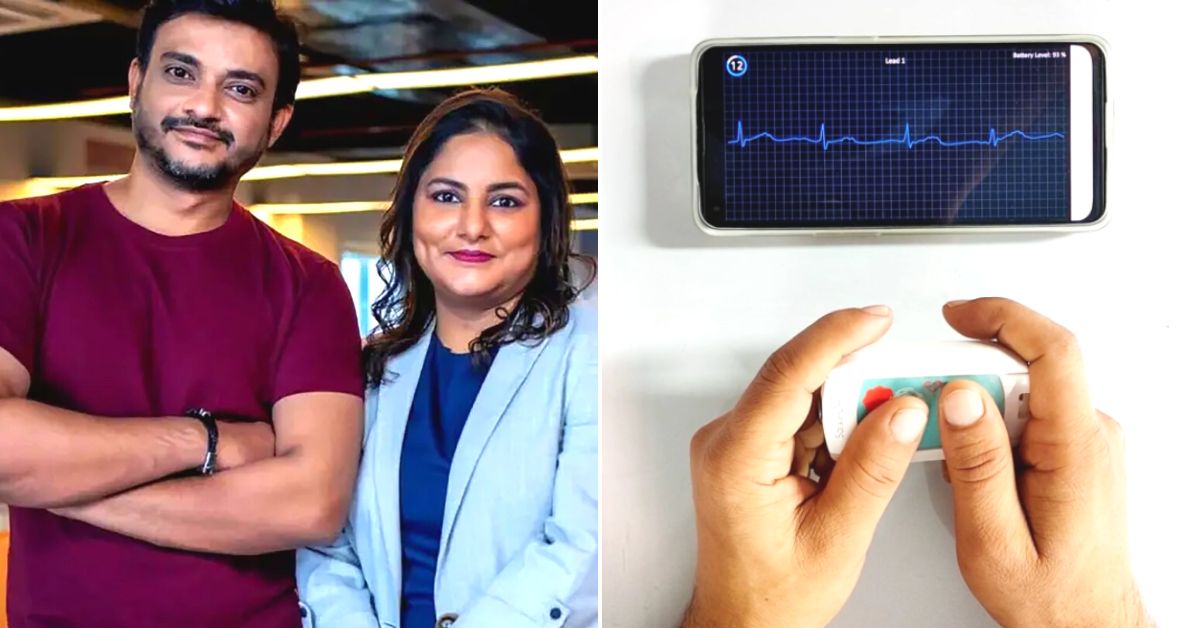 Noida-based Rahul and Neha Rastogi founded Agatsa Software and developed a pocket-sized portable ECG machine called SanketLife 2.0. It can detect cardiac symptoms in just one ECG, and the information can be easily shared with doctors or healthcare providers in real-time.
In 2013, Rahul Rastogi was leading a team of more than 250 engineers at Samsung's research and development laboratory in Noida, while his wife Neha worked as a module lead at a software giant. They were young working professionals climbing up the corporate ladder.
However, their lives dramatically changed when Rahul's father, Arun Kumar, suffered a heart attack. A seemingly fit man, he was saved by doctors in the nick of time.
"After this episode, we were worried about what if something suddenly happens to him in their absence which is not detected on time," recalls Rahul, speaking to The Better India.
They looked for devices that could detect Arun's heart problem early. Moreover, it had to be a device for a layman who isn't very tech-savvy, like Rahul's father, to monitor his heart condition regularly and can instantly connect with a doctor in the event of a problem.
"When we did not find anything, we decided to design a device on our own. Since both of us are electronics and telecommunications engineers and had experience in designing hardware and software products respectively, we set up a lab at home and started working on a prototype. That's how SanketLife was born. Unfortunately, Rahul lost his father in 2021 to cancer, but till he was alive, he was effectively monitoring his heart through Sanketlife," recalls Neha.
By 2015, they formally established their venture Agatsa Software Private Limited to build this device. It took them nearly three years to launch the beta version of the device in 2016. Eventually, the device was launched on Amazon in April 2017. In 2018, however, they launched a newer version of the device, SanketLife 2.0, a 100% 'Made in India' product.
"It is the world's smallest wireless 12-lead portable ECG monitoring device used by medical professionals, doctors, and individuals. The device records ECG and displays the results on Android/IOS smartphones via the SanketLife Application. With SanketLife 2.0, cardiac symptoms can be detected in just one ECG. Information from the captured ECGs can be easily shared with doctors or healthcare providers in real-time, enabling them to assist with cardiac health instantly," says Rahul.
"The device has registered more than ten million ECGs so far and has been highly renowned among cardiologists in premier institutions like Sri Jayadeva Institute of Cardiovascular Sciences and Research and Narayana Hrudayalaya Bangalore, amongst others. Moreover, SanketLife is accredited by CDSCO (Central Drug Standard Control Organisation)," he adds.
Essentially, the SanketLife 2.0 is a pocket-sized device with three sensors, of which "any two need to be touched at different parts of the body to capture full ECG, the gold standard to detect any problems in the heart," explains Rahul.
The device is coupled with a mobile app, which generates a digital PDF report which can be shared with a doctor.
Currently, there are two variations of this product in the market. Agatsa also has the H360 device — a multiple health parameter monitoring device — in the market.
"All our products are a result of innovation making vital measurements possible with just a touch. These devices are helping doctors and heart patients. Anyone can carry it in their pockets and can use it with their smartphone if they feel any symptoms like palpitations, chest pain, shortness of breath, etc. The device is so easy to use and needs no training. The complex process of getting an ECG from huge machines with wires and leads is simplified to a touch-based marvel of engineering, which is instrumental in saving lives at the right time," he says.
Dr Satish, the head of the cardiology department at Bokaro General Hospital says, "You'll be surprised [to know] that I was able to diagnose a patient with a complete heart block and do emergency pacing with the help of this device when there was no ECG monitor available."
"Also, this device sometimes helps us when working remotely. Our patients would send us their ECG whenever they feel like and in doubt, particularly those having arrhythmias like atrial fibrillation and ventricular tachycardia," he adds.
Meanwhile, according to this March-April 2020 paper published in the Indian Pacing and Electrophysiology Journal, "The analysis showed a high degree of agreement and accuracy of SanketLife in detecting major cardiovascular conditions (Major Minnesota codes) such as left and right bundle branch block, ST-segment elevation and ST-segment depression, AV conduction block. SanketLife showed high sensitivity (98.15%) and specificity (100%) in diagnosing major cardiovascular conditions."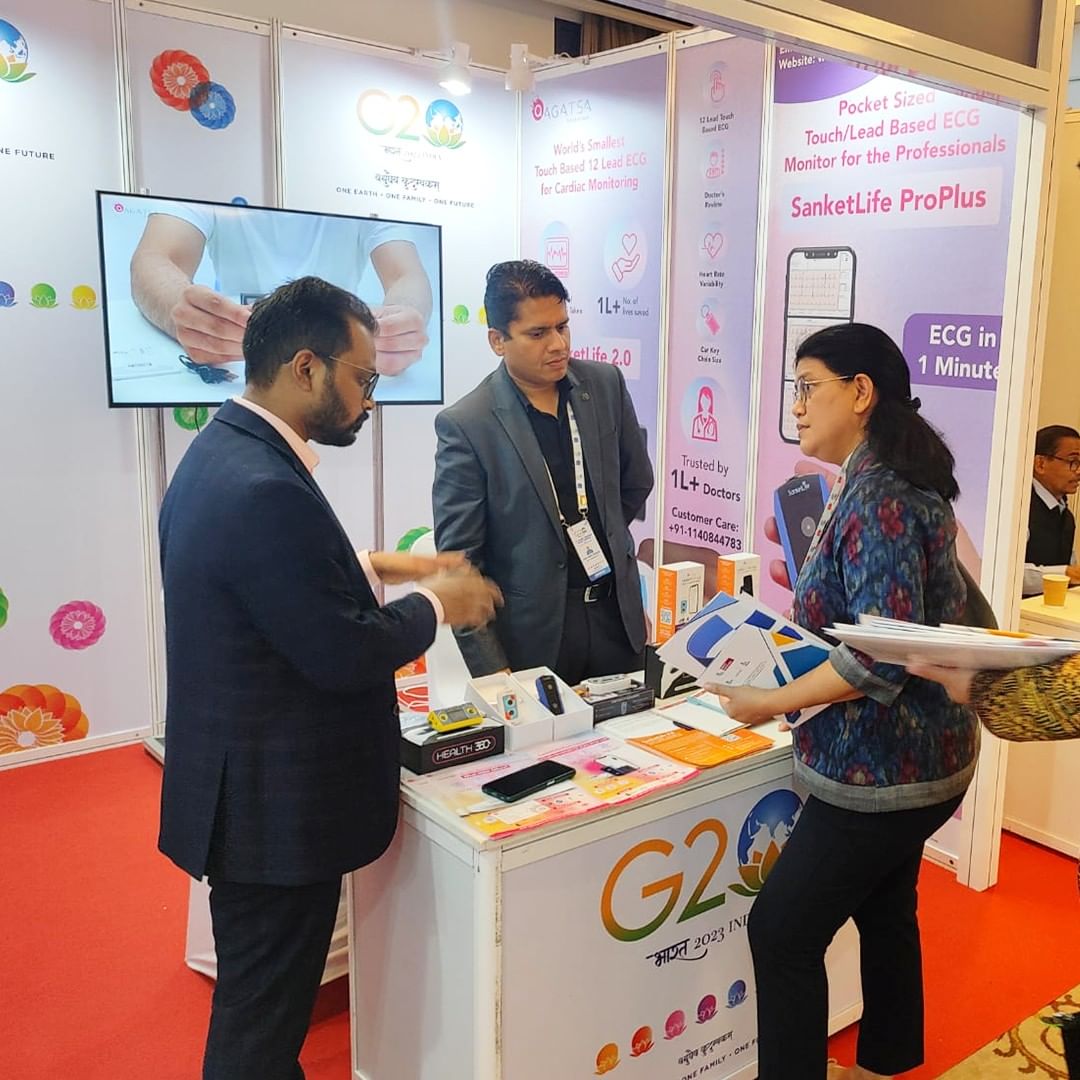 Health innovators
Neha explains, "In India, electronics manufacturing and prototyping is a challenge. Although things have improved quite a bit, when we started about seven years back, it was a huge challenge to design a microcircuit and do repetitive iterations to make it correct. We had innumerable failures initially."
"The worst part was that since it was difficult to manufacture PCB (printed circuit board) in India, we had to send it to China, a costly and time-consuming affair. Also, funding research and development was a huge challenge. Most investors wanted to invest in running businesses only. We were innovating a product with an idea that one day, it would save lives," she adds.
Meanwhile, as Rahul notes, "We had to get the product right and accurate since this was going to be a medical device that people need to use in critical situations. At the time, there was no Indian regulatory framework which could validate our device. Initially, we had no choice but to go for international certifications like US FDA, which was very costly for a startup like ours. These challenges have been solved now, but in the initial days, they were really challenging."
Since the launch of the beta version, SanketLife has undergone a variety of changes. Back in 2016, he notes that it was "not a very good-looking and accurate device".
"We have worked hard since then to make a commercially viable product, which not only looks good and sleek but is also accurate. Since ECG is typically taken in a particular setting in hospitals, we had to make sure an accurate signal is produced when a person is taking ECG at home, office, basement, near machinery, electronic items, etc. We have worked hard on our noise-removing algorithms to make this happen," explains Rahul.
In a 2016 video Agatsa did in collaboration with The Better India, Neha talks about how they aspire to add other parameters like SpO2, blood pressure, temperature etc in the same device to provide quality and affordable healthcare at home.
But it was not SanketLife, but another device they launched in early 2023 called H360, which is capable of taking blood pressure just by touch (no cuff is required), blood oxygen levels, heart rate and ECG — all in one pocket device.
"We would also like to mention here that all our devices are clinically validated and have been tested in the best hospital and clinical settings in the country, which is why we took our time to bring the devices to market commercially. Also, after we launched our touch-based ECG in the market, we realised there may be some cases where the user might not hold the device himself like an unconscious patient. Hence we came up with another innovation where the same pocket device can be converted into a traditional lead-based device by adding just one more accessory called 'Switchsy'. This device is called SanketLife Pro+ and is being extensively used by hospitals, doctors and care providers to provide ECG service in the remotest areas," she says.
'World's smallest wireless 12-lead portable ECG monitoring device'
In a bold claim, Rahul Notes, "SanketLife is not just the smallest device in terms of size and weight in the world, but it is also the least cumbersome medical grade device since it takes ECG just by touch and does not need wires or leads to be attached to the body to measure ECG."
In a traditional ECG setup, leads and electrodes are attached to various parts of the body and electrical signals are displayed on the monitor in the form of a graph. This gives a 360-degree view of the heart and a problem is detected in any part of the heart.
"There are some devices in the market which take ECG by just the touch of two fingers or wrist like the Apple watch. These are single-lead devices that do not give actionable data to a doctor. Our device takes data from all points like a traditional ECG and is medically viable to help a doctor make an accurate diagnosis. We are the first and the only such device in the world with this form factor," he claims.
These devices are manufactured at two facilities, with one located in Noida and the other in Visakhapatnam. Thus far, they claim to have sold almost 50,000 units of this device.
"We have also secured around $8 million in funding and Sun Pharma is our biggest investor. (They have a 26% stake in the company) Funding has helped us in scaling up our production and team and increasing sales. We are also in talks with the biggest hospitals in India and scaling up our distribution channels there besides employing online channels," he adds.
(Edited by Pranita Bhat; Images courtesy Agatsa Software; Click here to check out their products.)
We bring stories straight from the heart of India, to inspire millions and create a wave of impact. Our positive movement is growing bigger everyday, and we would love for you to join it.
Please contribute whatever you can, every little penny helps our team in bringing you more stories that support dreams and spread hope.
Tell Us More