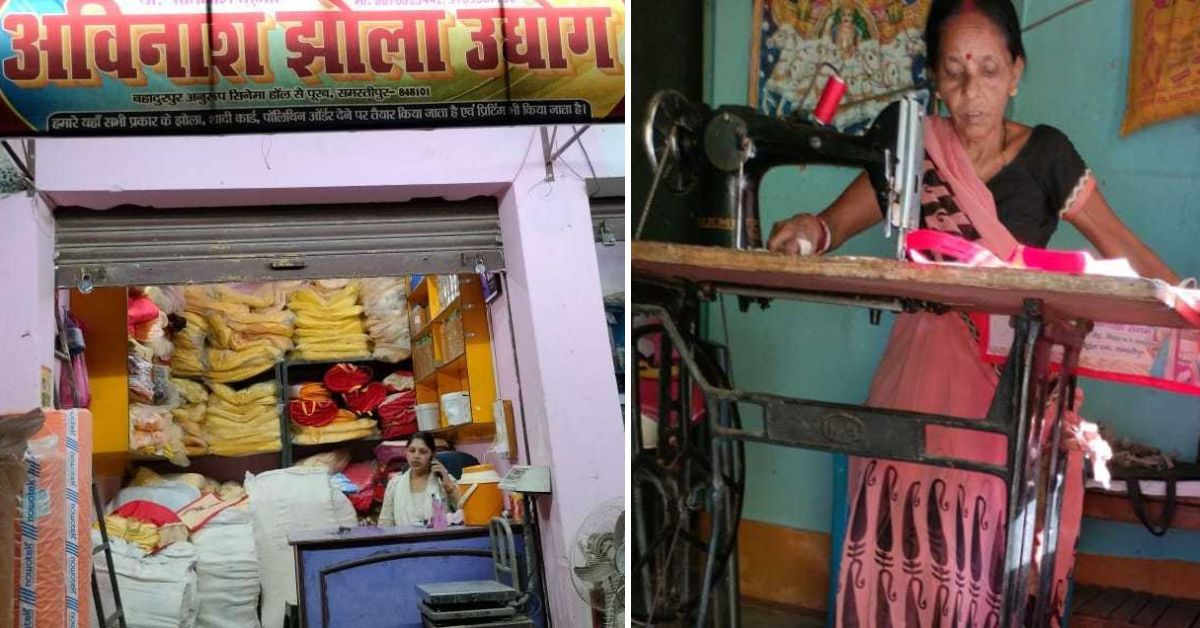 Lalita Devi runs Avinisha Jhola Udyog in Bihar, and supports her family as a successful entrepreneur today. But over a decade ago, she trapped in a marriage with an alcoholic husband This is her story of determination and grit.
The fabric that the women at Avinash Jhola Udyog, a small shop in Bihar's Samastipur, weave into colourful jholas (bags) sell across the state. At the helm of this endeavour is Lalita Devi, a mother of three, whose journey of escaping her alcoholic husband to becoming an entrepreneur is an inspiring one.
In 2004, when Lalita boarded a train, she had only one thought in mind — to get away from her husband. Her children were no older than six years at the time, the youngest being her daughter, who was only a baby. Lalita had no destination in mind when she boarded the train, and decided to figure life out on the way.
An ordeal that lasted years
Recounting the instances that led to this decision, Lalita says it was a play of fate. "I did not have a nice life after marriage. My husband wouldn't work, and we needed money to run our lives. There wasn't any."
Lalita persisted in the hope that her situation would change. But by 2000, they had three children, and her husband's drinking problem had only gotten worse. She decided it was time for change.
"Years went by. My husband's health got so bad that there were days we had no food to eat. I had three little children to look after. Things were at their worst. And this was when I decided to leave the house with my kids."
In 2004, Lalita left home with a bag of essentials, her sons Nitish and Avinash in tow, and her daughter Gunjan in her arms. The group headed to Nazirganj station, alighting at Samastipur, when Gunjan began to cry of hunger. With no food or money, Lalita was at a loss for what to do.
"I was lost, since I hadn't left my house all these years. The city seemed unfamiliar. With no idea of what to do, I sat at the station praying for some hope."
As the day progressed, Lalita watched people come and go at the station, but she never asked for help, as she was sceptical of people taking advantage. Passersby watched as the three children cried while their mother sat helpless at the platform.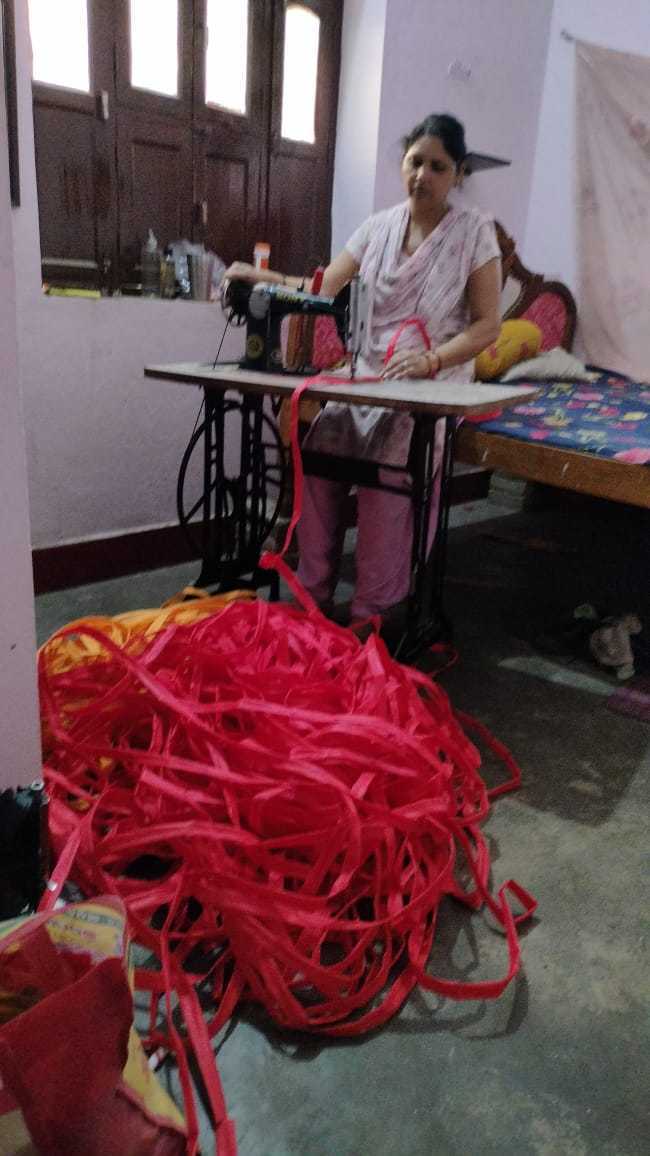 "At around 5 in the evening, a woman came to the platform selling clothes. Observing us for some time, she finally sat down beside me and asked what had happened. Her name was Deena, she said, and asked me mine. Initially, I did not want to recount the ordeal that had brought us to this point, but eventually, I did," says Lalita.
On hearing the story, Deena offered to help the family by taking them home with her, telling Lalita that she would give her some work the next day.
In a matter of a few weeks, the family's fate had changed. Lalita was now in charge of taking care of Deena's home when the latter was out selling clothes at the station. She would sometimes accompany her. In exchange for her services, Deena let Lalita and the kids live in the home until they had somewhere to go.
A change of fate
One day, after stumbling upon a tailor's shop in the vicinity, Lalita enquired if she could join the next day. He agreed. "This was my first step towards earning money for myself and buying food for my children," she says, adding that she needed to look out for another home to move to as Deena's was a long walk from the market where she went to stitch.
"Fortunately, Deena had a relative who ran a hotel that was closer to the tailor's shop. The mother was elderly and lived by herself, while the sons took care of the hotel. They were looking for someone to take care of the home in their absence and help the old lady. She took me to their house and for a few thousand rupees, I would cook, clean the home, and take care of the old woman. In the evenings, I would go to the tailor's shop and stitch."
By 2007, Lalita had made enough money to now start her own little venture. Renting out a small shop in the market, that would double as her home and a warehouse, she decided she would make and sell bags.
When women support one another
The journey of setting up this business was both exciting and daunting, says Lalita. Exciting because it was for the first time that she would be in charge of a project, and daunting because she had now decided to run the family on the back of this venture. She could only pray it would be a success.
"The first few months were all about exploring, finding out from where the material comes, how to stitch the fabric for jholas and from where to buy the resources. I had never imagined having a business of my own. But as I started, I began to get excited," she notes, adding that for the first few months, she did not see any sales. But things began to pick up thereafter.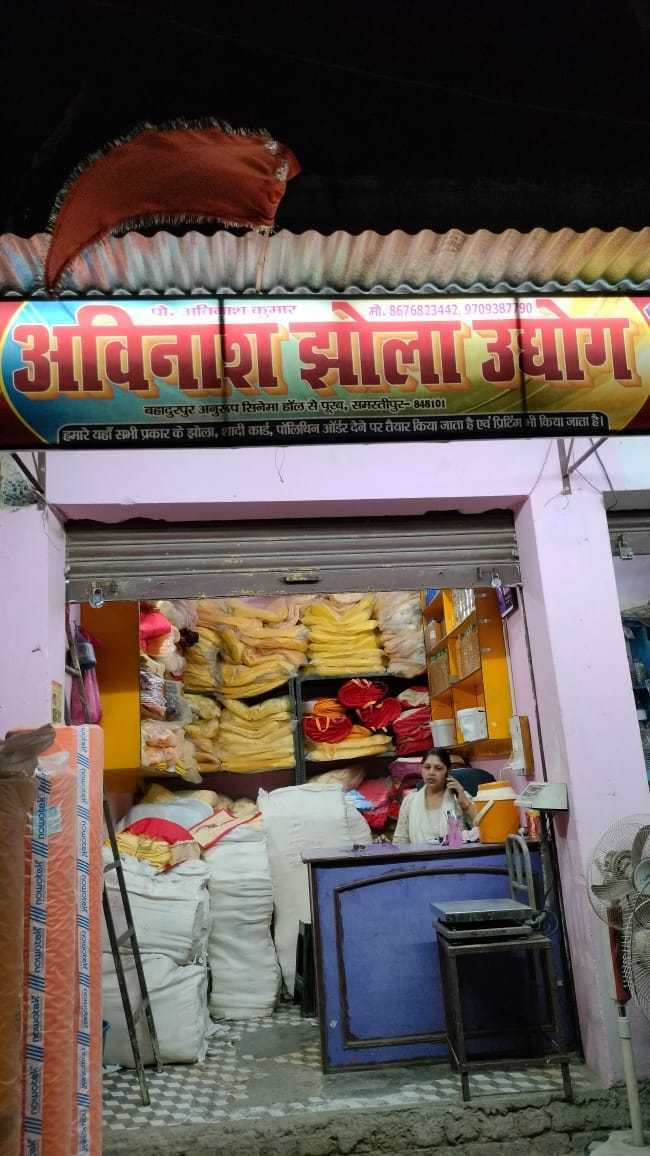 As she gained experience, Lalita began observing what was trending at the time, what new designs people were looking for, the creative patterns she could work with, and more. As she began incorporating them in her work, her jholas became the talk of Bahadurpur market. Avinash Jhola Udyog, christened after her son, was officially set up in 2008.
A few months into running the centre, Lalita decided to use her business to help other women, to give them a chance to stand on their own feet the way Deena had. Thirteen women are part of her collective today, and assist her in making the jholas that find customers in states like Jharkhand, Kolkata, and more. Her earnings today are about Rs 35,000 every month.
Lalita's sons, too, support her in her venture. While Nitish and Avinash lend their hand in the business, Gunjan is preparing for the civil services examination.
And today, the 42-year-old is all smiles. "The same people who taunted me when I left my home, asking, 'What will you do with no job and three children?', now look at me and say that I am lucky with how life turned out. I feel proud that I never gave up. I feel happy that even when things seemed to be the worst, I tried harder."
To reach out or place orders, contact 9709387790.
Edited by Divya Sethu
We bring stories straight from the heart of India, to inspire millions and create a wave of impact. Our positive movement is growing bigger everyday, and we would love for you to join it.
Please contribute whatever you can, every little penny helps our team in bringing you more stories that support dreams and spread hope.
Tell Us More