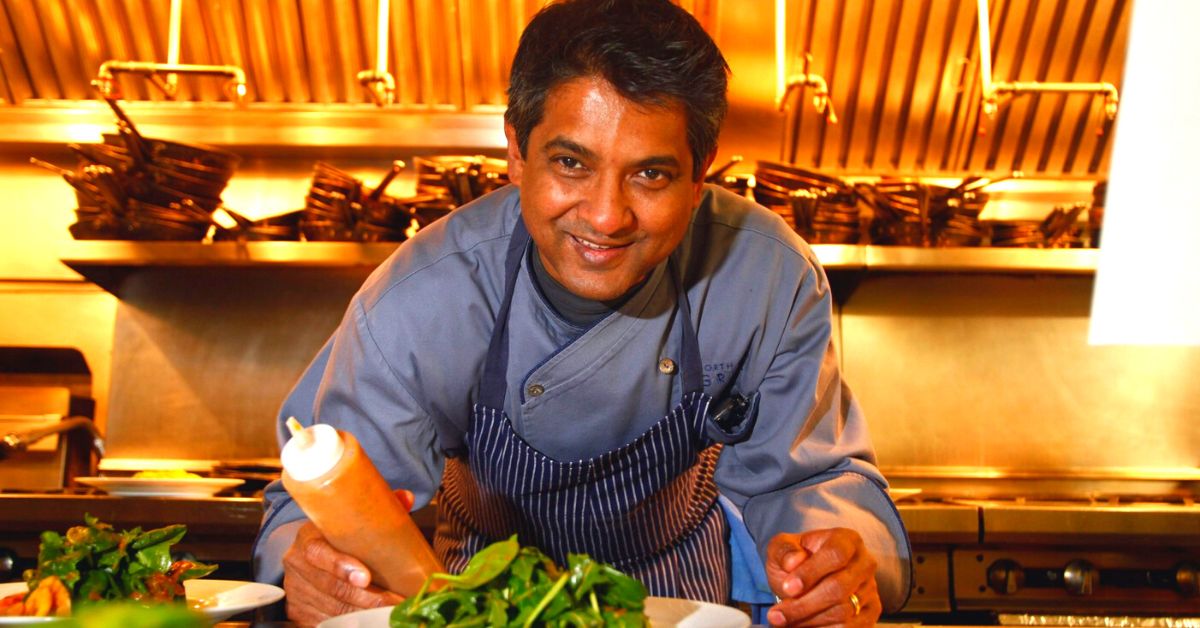 The late Floyd Cardoz, master chef and international restauranter, brought different styles of Indian cooking to the global mainstream, while opening multiple successful restaurants and ventures in New York as well as back home in Mumbai.
On 25 March 2020, we lost the 'godfather of modern Indian cuisine' to COVID-19. Floyd Cardoz, a son of Mumbai, was a master chef and international restaurateur who seamlessly blended different cultures through his food, anchored in the magic of India's regional cuisines.
Tabla, the first restaurant he set up in collaboration with restaurateur Danny Meyer in the Flatiron district of Manhattan, New York, in 1998, was according to food critic Vir Sanghvi, "the first Indian restaurant in America to get food critics to sit up and take Indian food seriously".
Ruth Reichl, a food critic with The New York Times, said this in a February 1999 review. "For me, it was love at first bite. When I tasted seared foie gras with a pear, black pepper and anise compote, I swooned. Foie gras is always magical, but I was experiencing something new, as spice and sweetness went somersaulting through my mouth," she wrote.
"Chills went down my back as I tried port-glazed sweetbreads, little morsels teased by the cool juiciness of pomegranate seeds and the crunch of lacy lotus roots. Each bite of spiced Maine crab cakes, wrapped in papadums, topped with avocado and glazed with tamarind, was a wonderful surprise. Yes, I thought. This is what I have been waiting for," she added.
Dishes ranging from mustard fettuccine with braised veal, baby spinach, and tomato kasundi to duck-and-potato samosa and tandoori quail with black-pepper glaze exhibited a certain refinement associated with fine dining without ever shedding its regional Indian character.
Although the restaurant shut down in 2010, Cardoz's stock as a culinary savant never dipped.
Among the first chefs born and raised in India, who made their mark in the United States, Cardoz was determined to bring the different styles of Indian cooking to the global mainstream. During an appearance on the TV show Ugly Delicious, he expressed a strong desire to break the stereotype that Indian food can't be elevated, high-end and refined.
"Indians have to tell the story that our food is f—-ing amazing. It doesn't have to be thought of as pedestrian or cheap. We want to show you things that we eat here all the time," he said.
Recalling the last time she met Cardoz at a dinner he was hosting, Indian American food writer Priya Krishna spoke of his influence in a column for Vogue India.
"Looking back, I wish that at that dinner, I had told him that even if he never opens another restaurant, that Indian dining in America would not look like what it does today without him…That Indian restaurants get to be high-end and personal and regional and cross-cultural and succeed on a large scale — we can, in large part, thank Floyd Cardoz," she wrote.
Despite earning all his fame in the West, Floyd never really left India. From the much-loved Bombay Canteen to O Pedro, a restaurant steeped in Goa's rich Catholic cuisine, to Bombay Sweet Shop, his final venture, in Mumbai, Cardoz always came back home.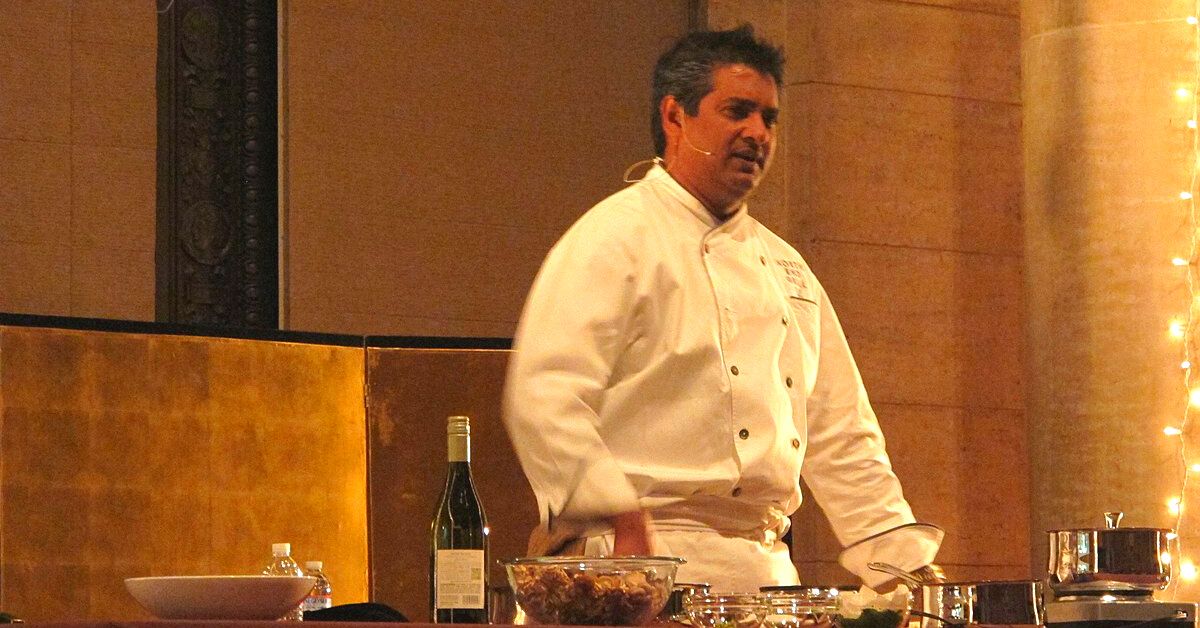 Making a mark
Born on 2 October 1960 in Mumbai, Cardoz was destined to make his mark in food. As he recalls in a foreword to Sonal Ved's book 'Tiffin: 500 Authentic Recipes Celebrating India's Regional Cuisine':
"Growing up and staying in Bombay from the 1960s through the 1980s, good Indian food, as I knew it then, was always regional. Cooked and eaten at home, it was delicious," he wrote.
"As a young boy, I would wait for my friends to invite me over for a meal…especially those who were from different parts/regions of India — from Maharashtra, Kashmir, Karnataka, Bengal, or Rajasthan. Some of these friends were Catholic or Hindu, Muslim, Parsi or Sikh. No matter who they were, or where they came from, there was always amazing food cooked and served at home. My love for food grew from these meals," he added.
Besides regional flavours, he also recalled enjoying the likes of conventional Mughlai, Chinese, and South Indian cuisine and street food like chole bhature. At home, though, it was a flavourful combination of Goan, Kashmiri and Maharashtrian food. But 'restaurant food' in Mumbai and other cities he noted was, "primarily Mughlai with a bit of tandoori or Punjabi food thrown in."
After studying biochemistry in college, Cardoz embarked on his culinary career at a time when most young Indian professionals in the 1980s were looking at conventional careers like engineering, medicine and government service, amongst others.
He enrolled at the Institute of Hotel Management (IHM), Mumbai, where he met his wife, Barkha, before finding work at the Taj group of hotels. Following his stint there, he went on to study at the Les Roches International School of Hotel Management in Switzerland to further hone his culinary skills before immigrating to the United States in 1988.
"When I started to cook, I had no interest in cooking the "Indian food" that restaurants had made popular. Even after I moved to the United States, I did not have much interest in eating or cooking this "Indian cuisine." When I married Barkha, I was introduced to a regional variety, Sindhi cuisine. This was very different from anything I had ever eaten. It excited me as a cook and a food lover to rediscover and celebrate the diversity of our regional cuisine," wrote Cardoz.
In the US, Cardoz's first big break came under Swiss chef Gray Kunz in the early 1990s. Starting out as a line cook (the person in charge of preparing food and setting up other necessary supplies), he rose to the position of executive sous-chef at Kunz's restaurant Lespinasse (now closed), located in the St. Regis New York hotel in Midtown Manhattan.
Everything, however, changed when he opened Tabla.
"Mr Kunz, like many chefs who participated in the revolution in French cooking known as nouvelle cuisine, was already occasionally deploying Asian ingredients like ginger, cardamom and star anise, but at Tabla, Mr Cardoz summoned a fully Indian-American modern cuisine with dishes like halibut in watermelon curry and spice-braised oxtails with tapioca," wrote Julia Moskin, a food reporter with The New York Times, following the passing of the later master chef.
Coming back home
After Tabla, he went on to open other restaurants in the city and other business ventures, earning a series of accolades including a four-time nomination for the prestigious James Beard Award, besides writing two cookbooks — 'One Spice, Two Spice: American Food, Indian Flavors' and 'Flavorwalla: Big Flavor. Bold Spices. A New Way to Cook the Foods You Love'.
He also appeared on the reality TV show Top Chef Masters in 2011. He won Season 3 with the winning dish of "upma cooked in chicken stock with kokum and wild mushrooms". Judges on the show felt that Cardoz stood out for "taking home dishes and making them utterly elegant."
By 2015, however, he came back home to open The Bombay Canteen, followed by O Pedro in 2017. Both restaurants are located in the expensive Bandra-Kurla Complex.
In between, Cardoz also opened Paowalla in New York, which he then closed and converted into the Bombay Bread Bar. Sadly, all his New York-based restaurants have closed shop.
On his personal blog, food critic Vir Sanghvi wrote, "In the early days, such was the mania around The Bombay Canteen that nearly everyone wanted to go there…Individual dishes at the Canteen became the talk of the town. At one stage, more upper-middle-class South Bombay types had heard of Eggs Kejriwal than had heard of Arvind Kejriwal."
Although hype is great for a restaurant, for Cardoz it was much more than that. He wanted to tell stories through the medium of food. In this regard, O Pedro presents a fascinating example.
Paying homage to his Goan roots, there is a version of his mother Beryl's vindaloo on the menu alongside a dish inspired by the last meal his grandmother made — Margao Chorizo and Bacon Pulao topped with a fried egg. During his summer holidays in Goa at his grandmother's home, he recalled learning how to make "perfect omelettes" while the other children played outdoors.
"Floyd wanted it [O Pedro] to be a love letter to Goa. He wanted to capture its sense of fun and the joy that Goans took in their food," wrote Sanghvi.
Leaving behind a legacy
On 5 March 2020, he launched his last venture, Bombay Sweet Shop, which was inspired by his childhood memories. What's particularly unique about this venture was that he took into consideration all the criticisms often levelled against Indian sweets — 'too sweet, heavy or hard' — and worked around them.
"Nothing is sickly sweet. The pedas and ladoos are smaller so you can easily finish them. Some of the kulfi is made in a kind of Softy Machine," noted Sanghvi.
Weeks after opening it, however, he tragically passed away. Nonetheless, his legacy lives on through his wife Barkha Cardoz, who finished the line of Indian spices her husband was working on with a New York-based company. This line of spices was released in October 2021.
His legacy also lives through the many young and talented chefs he helped mentor in not just India, but around the world. One such chef was Meherwan Irani, founder of Chai Pani Restaurant Group.
"I thanked this man I'd never met for changing my life and blazing a trail that I and so many other Indian chefs have followed. The acceptance and legitimacy that we all craved and finally gained was because of him. I called Floyd the godfather of modern Indian cuisine," he wrote.
(Edited by Pranita Bhat; Images courtesy Wikimedia Commons, Twitter/Common Threads and Flickr/Asian Art Museum/Jay Jao)
Sources:
'Floyd Cardoz, 59, Dies; Gave American Fine Dining an Indian Flavor' by Julia Moskin; Published on 17 April 2020 courtesy The New York Times
'RESTAURANTS; American Food, Indian Spices' by Ruth Reichl; Published on 24 February 1999 courtesy The New York Times
'Tiffin: 500 Authentic Recipes Celebrating India's Regional Cuisine' by Sonal Ved (Foreword written by Floyd Cardoz); Published on 15 November 2018
'Great chefs like Floyd can excel at anything they do' by Vir Sanghvi; Published on his personal website
'Chef Floyd Cardoz on reinventing O Pedro's menu, and how visits to Goa influenced his culinary sense' by Mini Ribeiro; Published on 30 April 2018 courtesy Firstpost
'Upma with chicken stock, bacon pulao — Floyd Cardoz was godfather of modern Indian cuisine' by Antara Baruah; Published on 25 March 2023 courtesy The Print
'Floyd Cardoz Was My Competition. But He Was Also My Muse.' by Meherwan Irani; Published on 26 March 2020 courtesy bon appetit
"Indian dining in America would not look like what it does today without Floyd Cardoz" by Priya Krishna; Published on 26 March 2020 courtesy Vogue India
Tell Us More
We bring stories straight from the heart of India, to inspire millions and create a wave of impact. Our positive movement is growing bigger everyday, and we would love for you to join it.
Please contribute whatever you can, every little penny helps our team in bringing you more stories that support dreams and spread hope.