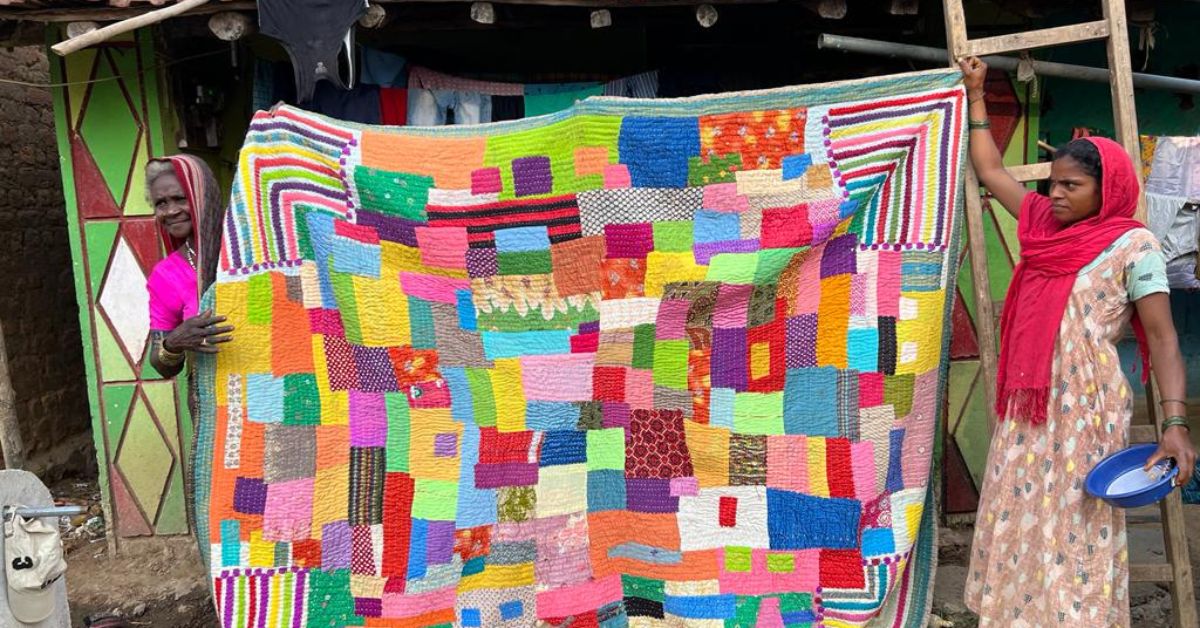 Anitha N runs Siddi Kavandi, a venture that works with a handful of Siddi women in Karnataka's villages to make their traditional quilts, helping them find a source of livelihood and putting their hard work on the world map.
In a small hamlet in Karnataka's Baichwad village, a group of women sit around a breathtaking quilt, working hard to design and sew patterns that are both vibrant and intricate. The art they etch is symbolic to their very identity, and nothing about them, or this quilt, is ordinary, says Anitha N, who has been closely associated with the Siddi community since 2015.
The Siddi community, who live in parts of coastal Karnataka, Gujarat, and Andhra Pradesh, arrived on the subcontinent centuries ago. Brought here by the Arabs, Portuguese, and British — some for slavery, while some arrived as free people to take up occupations like merchants and sailors — they are descendants of East Africa's Bantu community.
Anitha, 50, says it was an interesting play of fate that led her to this community in 2015. The Bengaluru-born art historian recounts her journey to The Better India.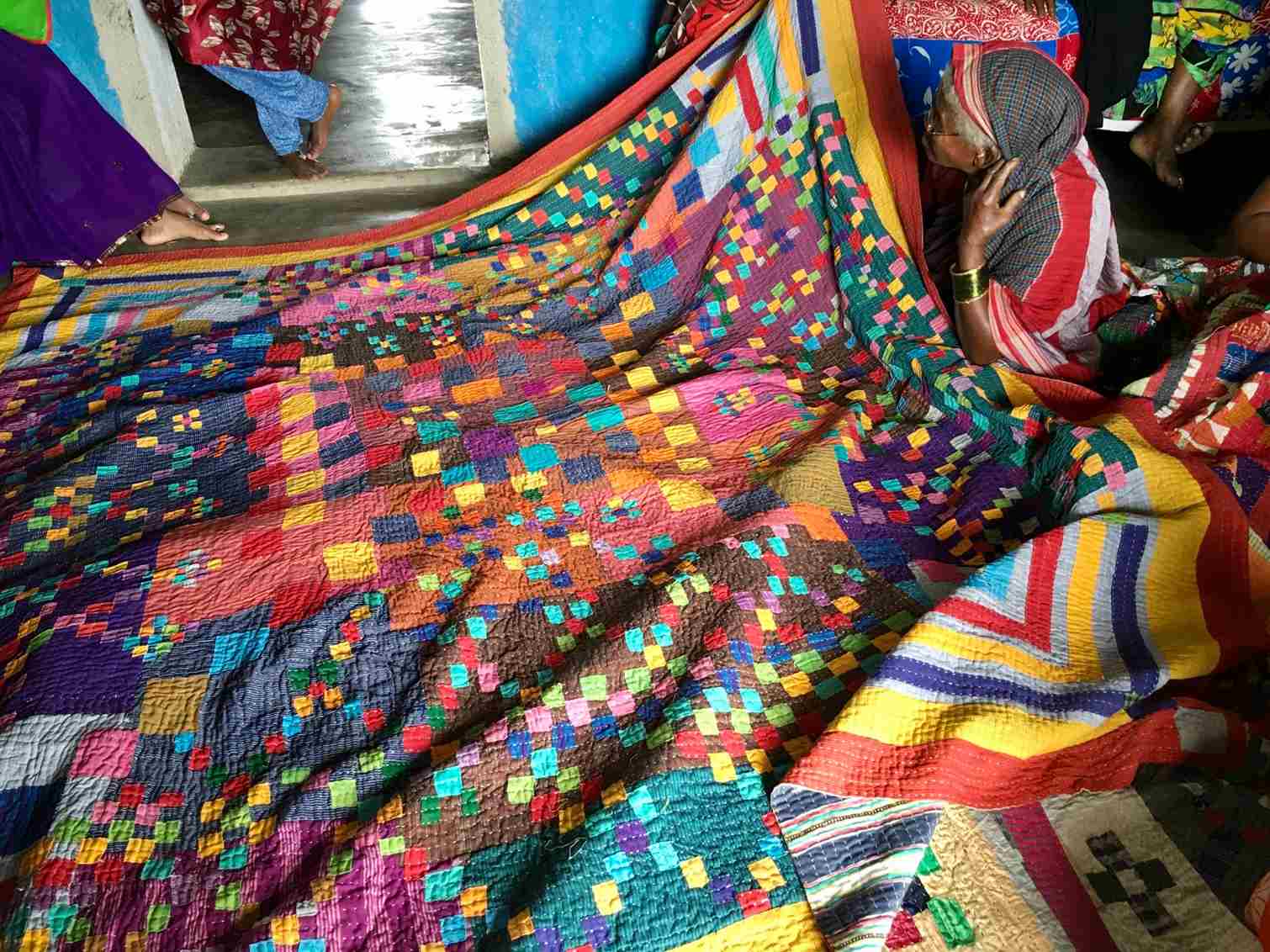 'The day I started my journey'
After completing her Master's degree in Art History in 1999, Anitha found herself drawn to everything that fell under the ambit of heritage and culture. Wanting to delve in deeper, she began paying frequent visits to the Ninasam Theatre Institute in Karnataka's Shimoga district, where a friend of hers was studying.
"I would love going there and clicking pictures of the productions," she shares. Anitha would spend the rest of her time exploring ethnic communities and their crafts to get a better understanding.
Meanwhile, in 2015, her friend sent her an invitation to his wedding with a woman from the Siddi community, asking Anitha to come spend a few days in Analesara village to partake in the festivities. This became her introduction to their lives.
"They got married in the forest, and our group of friends stayed here for three days. We celebrated outdoors and it was a fun experience," she says, adding that this also helped her bond with her friend's family, and with the community as a whole.
"I would meet the family yearly and give them clothes I thought they'd love to put to use. One day, I noticed a piece of clothing that I had given on the quilt that I was offered to sit on. It intrigued me."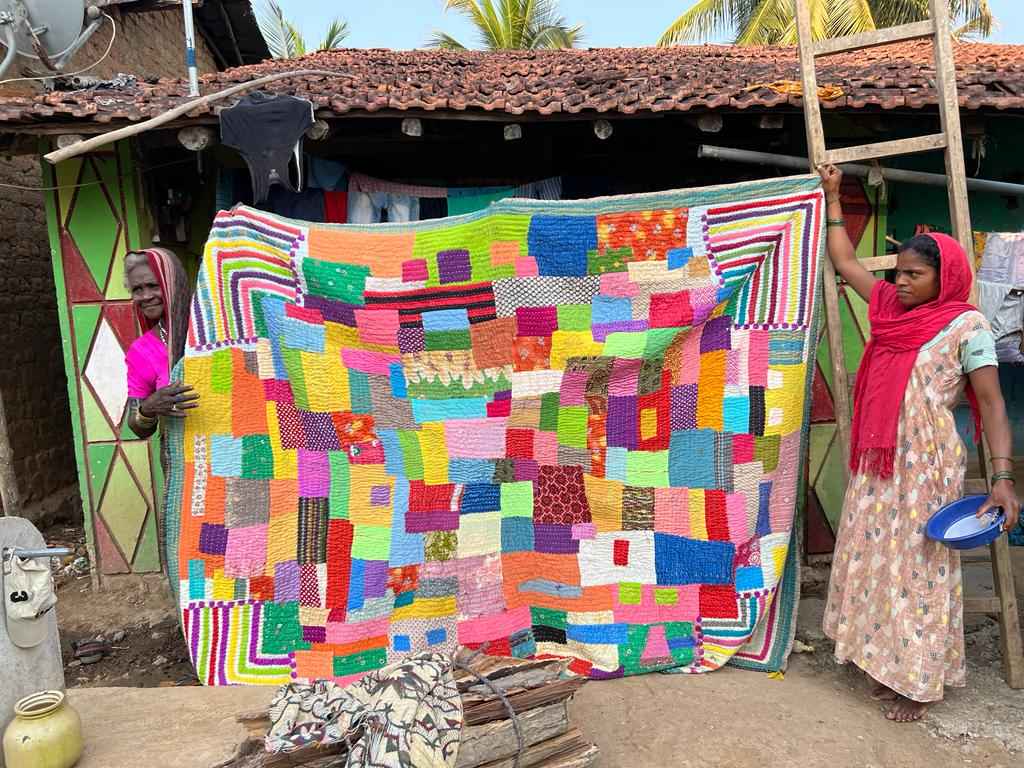 On inquiring, Girija (her friend's wife) told Anitha that the community believed in putting every piece of clothing to the maximum use — nothing was "too old". This quilt was an example of this.
"When I asked her if she had made it, she said a woman from the community had shown her how. I was so enthusiastic with what I saw that my immediate thought was to look for the creator of this quilt."
A sense of community
Thus started a quest. Anitha was intent on finding the person behind this vibrant work of art. She was joined by Girija as they made their way through the forest homes, the winding paths, and the densely covered turns.
"It was a great help having Girija with me, as this community is shy and scared of outside folk. Finally, we were able to locate the woman."
While Anitha thought this would be the day she would uncover the mystery of the Siddi quilts, she was devastated to know that the woman wasn't well and was in no state to be questioned. "But just when I thought the quest had been for nothing, a few of the women in the neighbouring hamlets told us that they, too, made these quilts, and could show me how it was done."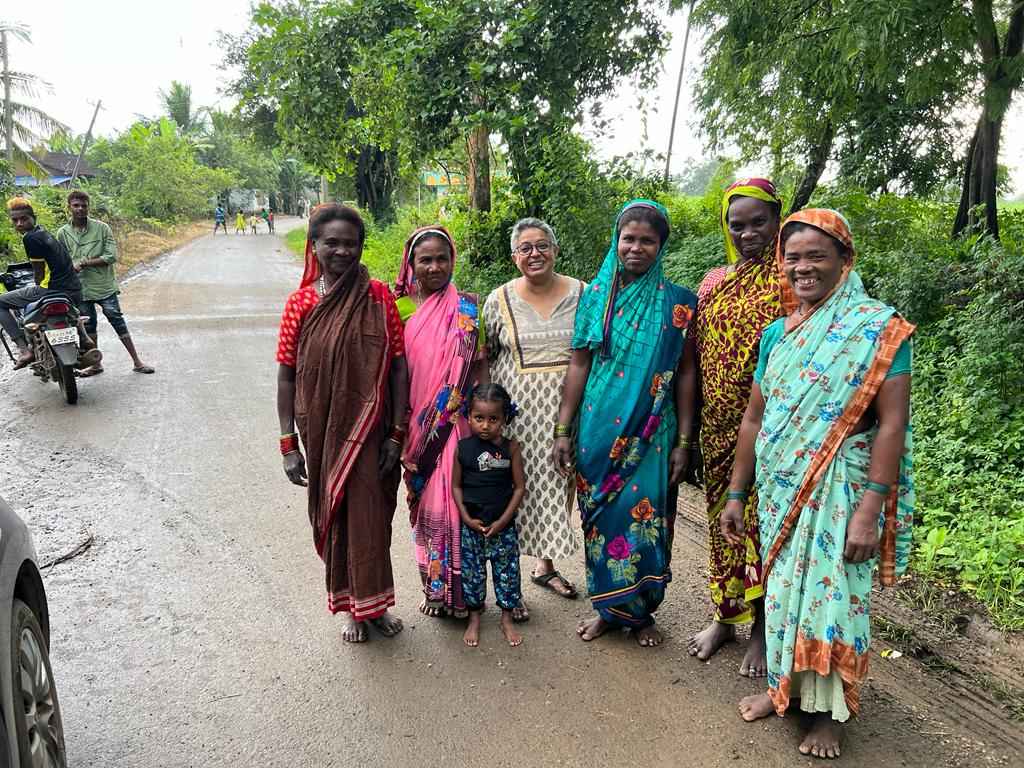 The women Anitha and Girija met seemed puzzled at the former's enthusiasm for the quilts. For them, says Anitha, this was a regular, daily task, albeit not one they did for outsiders.
"Quilt making (kawandi) is a community activity," explains Anitha. "The quilts differ according to the occasion. Home summer quilts are often thinner compared to their winter counterparts. When one of their girls is getting married, the women make these quilts that reflect the celebratory mood. The images will be of people around cradles amidst other abstract designs."
Wondering if organising a workshop would be of interest to the women here, she gathered around 10. Not only was she looking to bring these quilts to the forefront across Indian markets, but also to highlight the Siddi community's story and rich heritage. This was the very first of many workshops that Anitha would go on to conduct, as part of her initiative Siddi Kavand.
"In northern Karnataka, not much is known about this community. But in the southern region, you'll see these quilts hung everywhere — vibrant and colourful. I wanted to revive the craft and create sustainability for the women. They are still classified as scheduled tribes and have no ownership of land. The government can come and take it away at any time," she notes.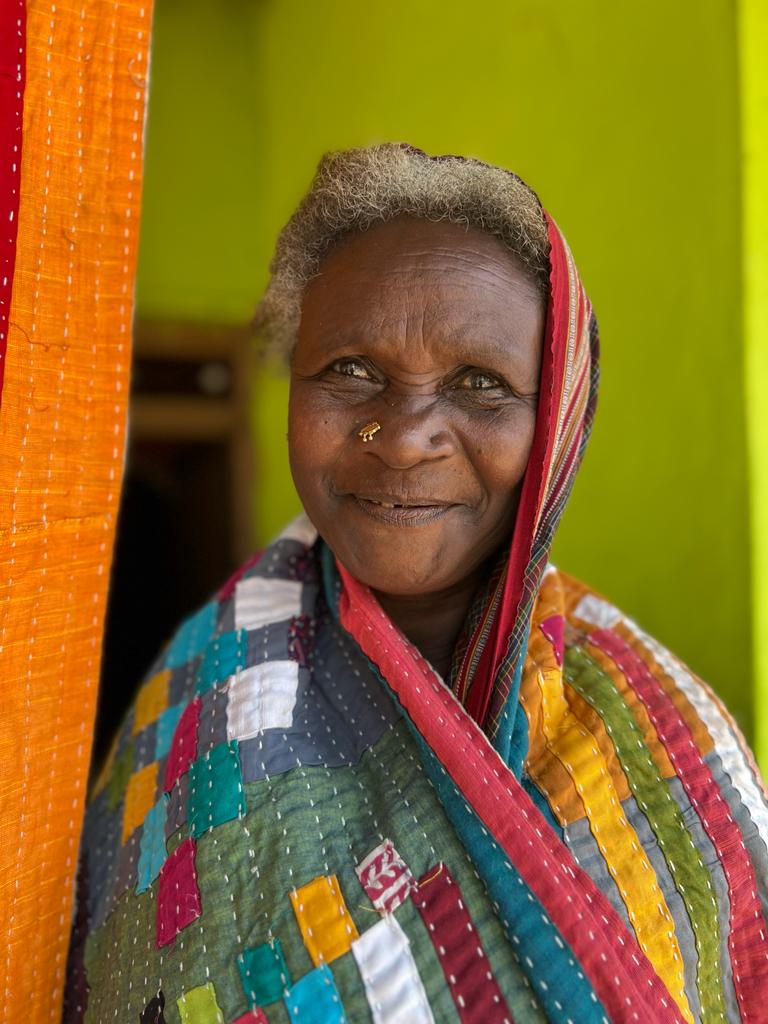 Though they have lived in India for centuries, the Siddi community have long faced racism and discrimination. While writing for BBC, Neelima Vallangi noted, "Stymied by government indifference and ridicule at the hands of fellow citizens, Siddis lead marginalised lives, while aspiring for a fighting chance at better prospects. Largely working as farmers and manual labourers, [they] lack sustainable work opportunities. And due to poverty, education cannot be a top priority either."
Anitha's endeavour was to create a portal through which more people across India could witness the community's artistic prowess, and in the process bring them into the mainstream.
'Novelty in every stitch'
Anitha says that to ensure the women were getting an income, she does not wait until the quilts are sold to pay them. "When people enquire about the quilts, I send them available images. I pay the women according to the number of hours they put in."
Every workshop lasts around 15 days. But throughout the year, Anitha gives them material sourced from various upcycle markets and factories in Bengaluru. "I want to keep the idea behind quilting intact."
Today, Anitha works with around 60 women across the villages of Karnataka, such as Domgoli, Sambrani, Adkehosur and Tattigeri. Her work has mobilised an attitude of leadership in these villages, she says. "More women want to work and I guide them and explain the process, give them material when possible, maintaining their idea of recycling and upcycling." She also notes that repurposing fabric is integral to the community's ideals. Layers of old garments or frayed pieces of fabric are stitched together to come up with a quilt worn by a family member and then passed on from one generation to the next. If a larger size quilt is needed, new material is simply layered onto the existing fabric.
Rajmabi, one of the women associated with Anitha, says, "I am able to respect the domestic knowledge (skill) that I and others in our community took for granted." She adds that after Anitha's intervention, people look up to her.
"I see that quilts are not just made for functional purposes alone — I can stitch and express with colours, patterns, and shapes. I used to make quilts for my family, but now, I am getting enquiries from the other local communities to make quilts to gift to their daughters."
Anitha adds that the process of making a quilt is cumbersome, and in many cases, a woman can make perhaps 12 in her lifetime, owing to the number of years it takes to make just one. She adds that she gives the women the cloth and material and then leaves it to them to complete. The quilts are then shipped pan-India and even abroad to the USA, Canada, Australia and Germany, where Anitha says there is more awareness about them. "I would like to marry this craft with contemporary art. The fabric and material are a medium to express. They paint with the cloth."
Anitha says they manage to make around 40 quilts every month. These are then sold at exhibitions or through her own Instagram account.
I ask her how long a quilt takes to make, and she laughs. "This is the exact question I once asked one of the women as I was rushing to catch a flight to Bengaluru. And she smiled and said 'Join me and you will know when it will be complete'."
"That's when I understood you can't have a number associated with this beautiful craft. It is timeless."
Edited by Divya Sethu
We bring stories straight from the heart of India, to inspire millions and create a wave of impact. Our positive movement is growing bigger everyday, and we would love for you to join it.
Please contribute whatever you can, every little penny helps our team in bringing you more stories that support dreams and spread hope.
Tell Us More