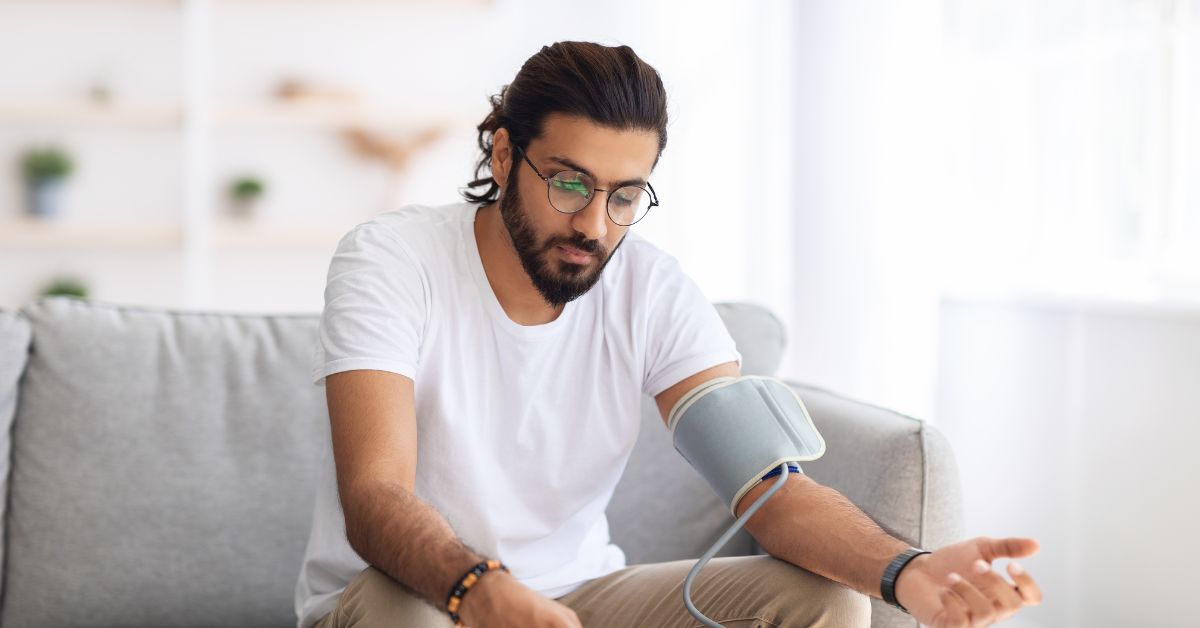 To build an inclusive workplace, we need more awareness around blood disorders, which are counted as invisible disabilities, say members of v-shesh, an enterprise that prepares organisations with disability inclusion. Here are some ways to do it.
Throughout Radha's (name changed) younger life, large bruises, severe nose bleeds, heavy menstrual cycles were her "normal." "I hated physical education classes, because my ankles and knees would swell, I was in constant pain and was labelled as 'lazy', as opposed to my true desire to be very athletic, but without pain." 
Like so many others with an undiagnosed bleeding disorder, Radha and her family didn't realise that her condition had a name — 'Haemophilia'.  
May 8 marks World Thalassemia Day, so let's tread through the maze of blood disorders, and understand what they entail, how they manifest at workplaces, what accommodations can help people navigate the strenuous alleys, and how we can make workplaces more inclusive for those living with these medical conditions.   
What are blood disorders? 
The Rights of Persons with Disabilities Act, 2016, gives disability status to three blood disorders: Thalassemia, Haemophilia, and Sickle Cell Anaemia. However, because these are invisible disabilities, it becomes tricky to navigate reasonable accommodations (provisions or changes required for PwD to perform to their fullest potential), awareness campaigns, and sensitisation attempts.  
Sickle Cell Anaemia, Thalassemia and Haemophilia are all serious blood conditions — chronic, life restricting and makes people more susceptible to several other health complications. However, each one of these can be managed with awareness, proper care, diet, medication, and by guarding against common complications.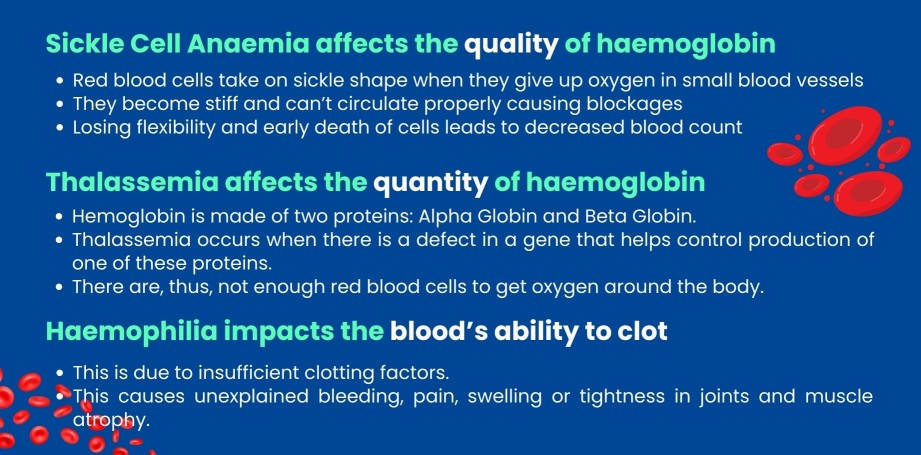 Shaking off a bias 
Although India houses a large population of people living with blood disorders, not much is known about them. It is estimated that 10,000-15,000 children are born with Thalassemia every year in India, who could benefit from timely diagnosis and treatment. However, the awareness of checking for blood disorders and providing appropriate treatment remains poor. Similarly, as per a report by The Financial Express, over 1.36 lakh people live with Haemophilia in India but only 13% cases have proper diagnosis. 
The fact remains that the very term 'blood disorder' evokes a sense of fear. The invisibility of these conditions goes on to create a major gap between those in and outside the community, making it difficult for the former to advocate for their rights, ask for required accommodations, and even explain what a blood disorder entails, to a layperson.
The unconscious biases are the most difficult to shake off. Many people continue to be under the impression that blood disorders are debilitating conditions requiring a high level of care. Often, recruiters and managers question whether a person with a blood disorder will be able to complete their tasks at work, follow a schedule, and be available when required. This creates more anxiety in the mind of job seekers and professionals and impacts their mainstreaming.
Aarti Batra, who lives with Thalassemia, writes in a LinkedIn Post, "I am so tired of explaining that Thalassemia is a disability". When asked about her experiences, she tells us, "Employers often have no idea about blood disorders and the accommodation needs of people with such conditions. This perpetuates a vicious cycle of lack of awareness, lack of willingness and limited opportunities to mainstream jobs."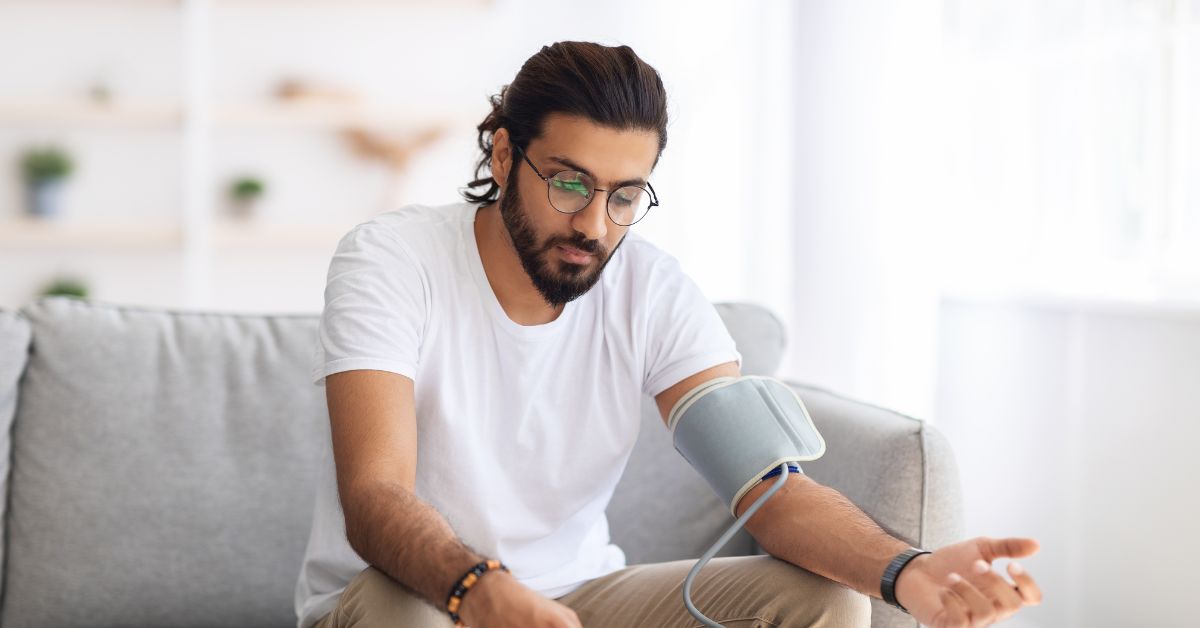 The bottom line 
The reasonable accommodations required to mainstream persons with blood disorders are rather straightforward. The first step towards doing so is building awareness about these conditions and being empathetic to the manner in which it affects the lives of those who live with the condition.
Gagandeep Chandok who is the president of the Thalassaemia and Sickle Cell Society of Bangalore and lives with Thalassaemia, says, "People with Thalassaemia need a blood transfusion every two to three weeks, and the excess iron building up in the body needs to be removed with iron chelation medicines and subcutaneous Iron chelation injections, which is administered for a period of 10 to 12 hours time. These challenges are real and need reasonable accommodations for persons with blood disorders to get their best self to work."
The bottom line remains — empathy is the core ingredient in the concoction of an inclusive environment for someone living with a blood disorder.
"Blood disorder may be a life-threatening condition, but it is not a life sentence. Though you may feel alone, there is a large community of people with blood disorders and their caregivers, medical practitioners, etc, who are there to help, guide, and educate," says Rajasthan-based Piyush, who lives with a rare combination of Polio and Haemophilia. 
"I religiously adhered to my treatment schedule and somewhere during my growing years, Haemophilia began to fade into the background of my life, and I formed an identity outside of my condition."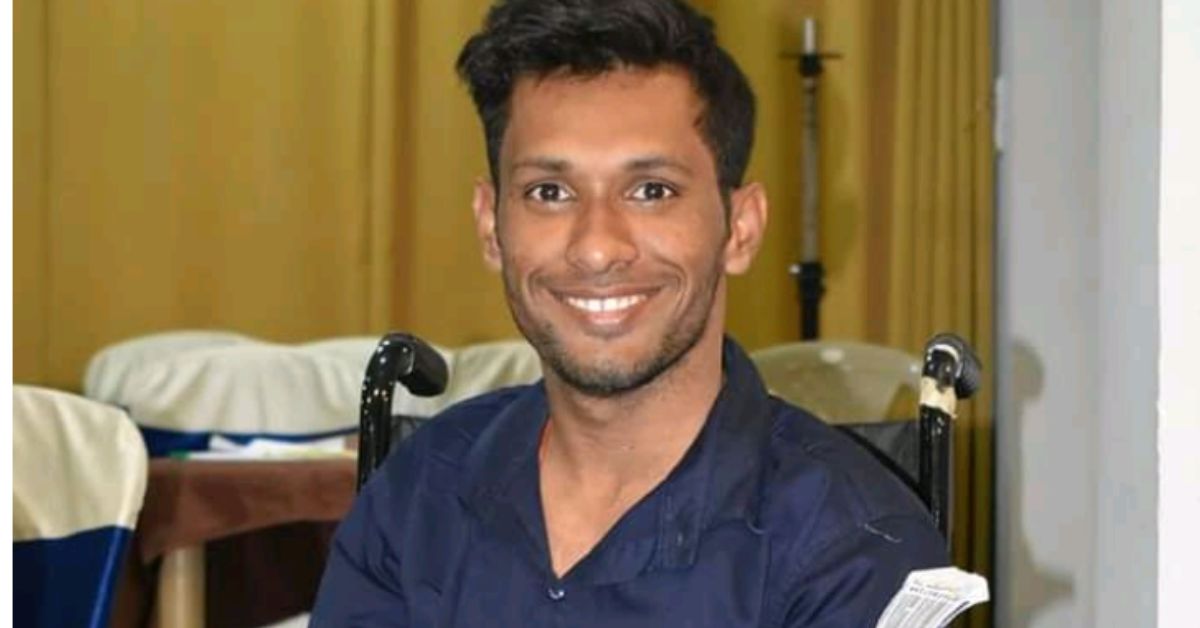 Piyush currently works remotely with an MNC and resides in Bhilwara, Rajasthan. "But I never hid the fact that I have Haemophilia. There have been situations where in the first meeting, people have asked me what my life expectancy would be and would hiring me mean an additional financial commitment to the company," he recalls. "Rather than getting perturbed, I have learnt to take these comments as an opportunity. My myriad experiences have taught me that people are inherently inclusive and empathetic, what is missing is awareness. Self-disclosure and self-advocacy are most important, given that people with conditions such as ours especially, cannot function in silos."
Lack of awareness and an enabling environment can prevent people from disclosing, accessing, or continuing in the workplace. Common best practices for an inclusive workplace include:   
Enabling environment for self-disclosure
Time flexibility/adjustment in work timings, for treatment and related issues; fixed shift and fixed off/no night shift to enable managing treatment better
Extra leaves (over and above what is entitled) for fatigue, pain crisis, infections, hospital visits et al
Financial assistance for the affected person/caregiver to meet the medical expenses; revised insurance schemes
Posting/transfer/work travel for persons with blood disorders and their caregivers in cognisance with the knowledge that optimum treatment/emergency care (if needed) is available in select cities only
Access to assistive devices and technology, basis need
Adjustment to workplace — ergonomic furniture, temperature control, air quality/cleanliness management, etc.
Written by v-shesh; Edited by Divya Sethu
We bring stories straight from the heart of India, to inspire millions and create a wave of impact. Our positive movement is growing bigger everyday, and we would love for you to join it.
Please contribute whatever you can, every little penny helps our team in bringing you more stories that support dreams and spread hope.
Tell Us More