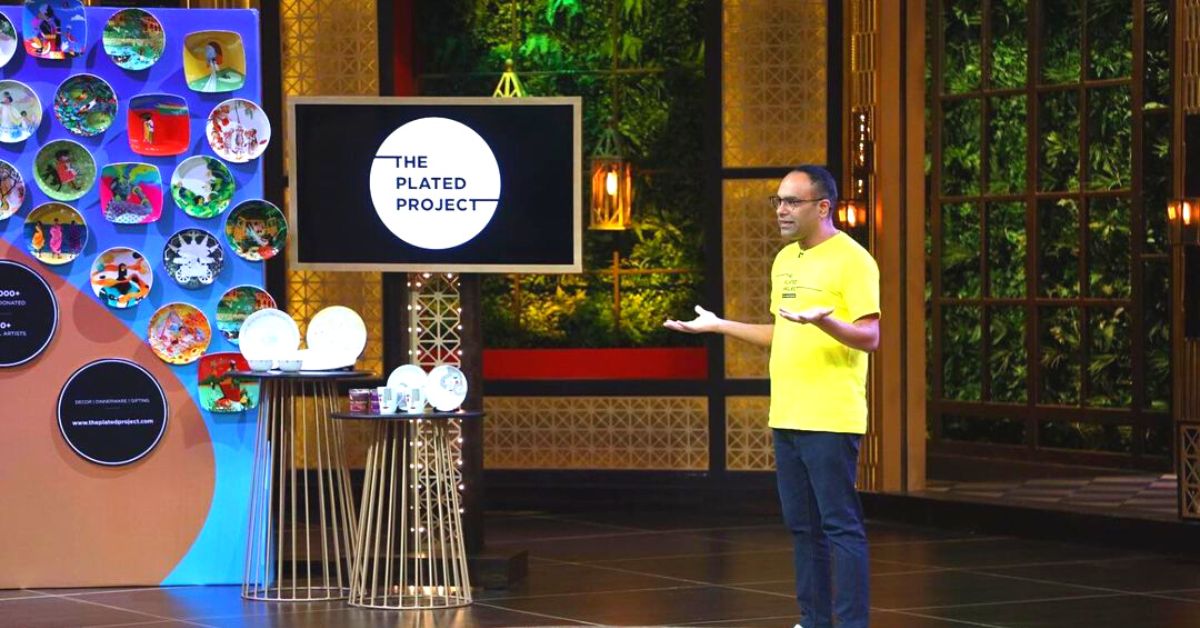 Founded by entrepreneur Chitresh Sinha, The Plated Project strives to solve the hunger crisis in India through decorative and artistic items. It's where art joins hands with commerce and impact to create social innovation.
Can art solve India's hunger problem? Given the scale of the problem, it seems like a ridiculous question. But Chitresh Sinha, the 38-year-old founder of The Plated Project, has found an interesting way to leverage art to address, if not solve, the issue. (Above image of Chitresh Sinha featuring on Shark Tank)
Sinha started The Plated Project in 2019 as a digital, direct-to-consumer business to sell art-led decor and dinnerware objects, after pursuing a degree in engineering and an MBA and working as a brand strategist and consultant at Chlorophyll Brand & Communications Consultancy in Mumbai.
Their standard operating procedure is straightforward. Each month, The Plated Project team comes up with a theme around a specific social issue, based on inputs and advice from people associated with social initiatives. A group of over 100 artists from India, as well as from countries like Norway, Poland and the US, have collaborated with the project.
Each month, they craft artistic plates and other decorative, dining and gifting items to spark conversations around the chosen social issue. These items are then sold on the project's website and via its social media handles. Each sale makes a tangible impact by sponsoring meals for the underprivileged through a charitable organisation engaged in addressing hunger.
On an average, they enter into a partnership with a non-profit for two months, predominantly sponsoring meals, following which they work with another organisation.
"The Plated Project aims to preserve traditional art by making it relevant to contemporary lifestyles through innovative designs. The brand hosts a range of home accessories and offers bespoke interior styling solutions through a fusion of traditional crafts, contemporary aesthetics and modern functionality," says Sinha in conversation with The Better India.
Thus far, The Plated Project claims to have sponsored 650,000 meals around the world.
Changing the conversation 
At Chlorophyll, Sinha was a brand strategist and worked on building brands from scratch, launching them, etc.
After ten years of doing consulting or brand management, he set up Chlorophyll's Innovation Lab. The whole idea was to get for-profit brands to support one of a kind innovations that actually give back to society. During this whole process, however, Chlorophyll is also generating "phenomenal earned media" for the brand, according to Sinha.
"We use brand building and impact together to actually do work that brands benefit from, because it's marketing that they want and we are able to get back to the world in a meaningful way. I ran the Innovation Lab for three and half years before I came up with The Plated Project just before the first lockdown. This was an initiative born at the lab," says Sinha.
This began as a passion project at Sinha's day job. When he and his team were researching which social issue to work with, they saw this advertisement on Instagram about how hunger kills more people than malaria, AIDS and terrorism combined, every year. So, The Plated Project initially reached out to Pooja Dhinga, a chef and social media influencer. She partnered with them for their very first series.
Things, however, changed with the onset of the pandemic. When the first lockdown was announced, the front page of newspapers had stories of migrant workers walking back home and the poor going hungry. Looking at their state, Sinha asked his team whether they can do something for them.
Their initial plans were put on hold, but they found another way to make a real impact. They set a goal of sponsoring 100,000 meals a month with assistance from the non-profit Goonj. The Plated Project team found sponsors and partners to support their endeavour. As a result, in the first month and a half, they ended up sponsoring 150,000 meals.
The Plated Project creates everyday objects, but all of them are infused with art. And each functional piece of art that a consumer picks tells a story about a chosen social issue — from hunger to Down Syndrome and education of rural girls — and contributes to that given cause. For example, they recently did a series called 'Trisomy' built around the idea of chromosome 21, the chromosome responsible for Down syndrome. Moreover, every time somebody makes a purchase, The Plated Project donates 50% of their profits to hunger related charities.
Having said that, the Plated Project is designed as a for profit business, not a charity organisation. You have to make money to give back money, Sinha notes.
Although it was born at Chlorophyll, he set up The Plated Project as a standalone legal entity in April 2021. "I'm still a consultant at Chlorophyll because I don't currently draw a salary from The Plated Project. The objective is to keep the initiative sustainable," he says.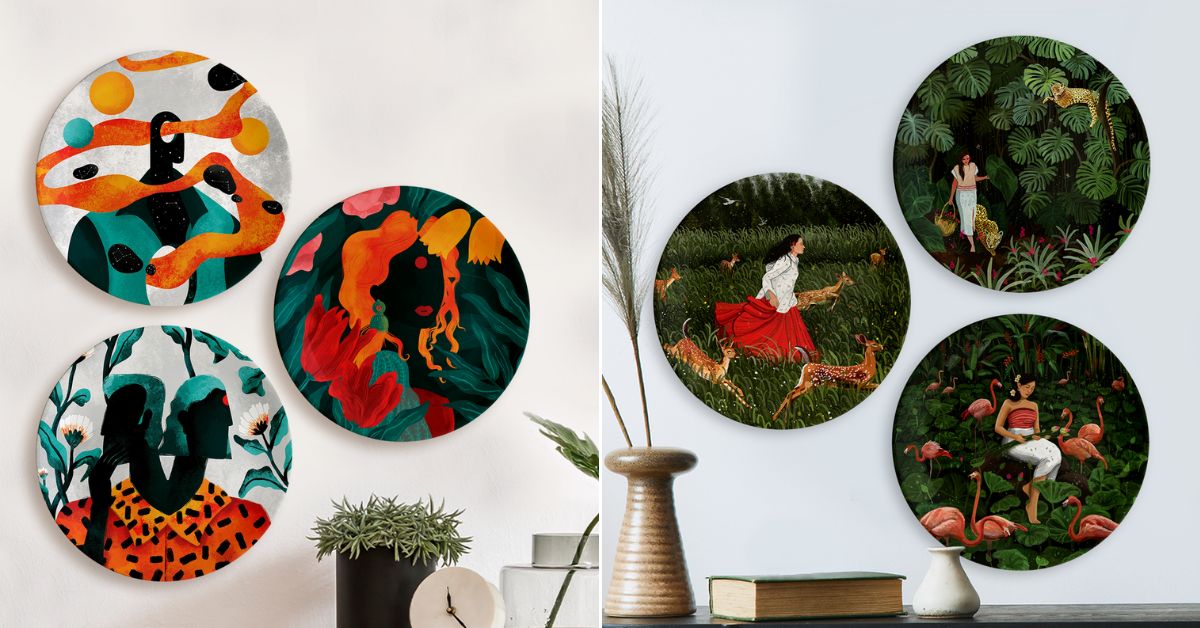 Who are these artists and what do they make?
The Plated Project has a range of products, ranging from decorative plates to mugs, kulhad cups, tapas plates and scented candles, amongst others.
Many are digitally printed and designed, for which they work with several illustrators from around the world. Currently, they have contracts with about 120 artists, who reside in regions including Jakarta, Indonesia, United Kingdom, and Poland. Since the project was born on Instagram, all of their engagement, outreach and curation is borderless.
In the past year, they've also launched a collaboration with Creative Dignity, an organisation which works with traditional Indian artisans. Now, they are trying to merge the aesthetics of a digital illustrator with skills and the detailing of a traditional artisan from India.
"So, we take art forms like Gond, Pichwai and Kalighat, and we created this collaboration model where we take stories from these art styles, get an illustrator, and more or less create a stencil artwork. And then we go to the traditional artisans who can use their skills and fill in plates or ceramic objects that we have with the traditional hand painted form that they know. These are very unique looking pieces, but the elements are still traditional," he adds.
In other words, The Plated Project works with artists to think of the idea and concept, and then hand that over to artisans from different parts of India. The project doesn't get these artisans physically to Mumbai, but they will supply details to them. Following this, the artisans manufacture or hand-paint the objects themselves, and then the project distributes them.
For example, The Plated Project addresses the problem of hunger with its decorative plates and their recent hand-painted series titled Past.Present.Future puts a spotlight on the dying art forms of India. The new series features plates that celebrate the Gond art, DIY art canvases, Madhubani-art-inspired tea-time products, Kalighat — inspired décor plates, bright quirky functional coasters and much more. The series presents the rich cultural heritage of India and makes for a thoughtful gifting choice for any art lover.
Yugdeepak Soni, a Pichwai artist from Udaipur, Rajasthan, says, "I learnt Pichwai painting from my grandfather, the late Shri Badrilal Chitrakar in Bhilwara. I think that this kind of collaboration is a good way for artisans to bring their art to a new platform."
The Plated Project also partners with different charities for different causes. For example, they're working with Feeding India, a non-profit.
"After the non-profit feeds people using the funds we have generated, the receipt and the details of this particular drive are shared on our website," he says.
Building social narratives through art
Every two months, The Plated Project tries to identify one cause that leads to hunger. Then they curate the art and create an engaging narrative around it.
For example, one in four children in cities are malnourished.
"We need people to become aware of this statistic that one in four children in Indian cities are malnourished. What we did is create a series called 'A Quarter of Nostalgia', where we went to seven different artists and told them that we want you to think about the happiest memory you had from your childhood and illustrate that memory for us in whatever style you like on a plate. The only condition is you must leave 1/4 of the plate blank," says Sinha.
"There's an artist who's from rural Assam who created this intricate artwork where it was him and his brother in the open fields behind their house collecting fireflies and bringing them home in jars. However, one-fourth of the plate was left blank," he explains. "Following this, we partnered with an NGO in Mumbai, which ran a school for underprivileged kids and sponsored meals for them for an entire month with the profits that came."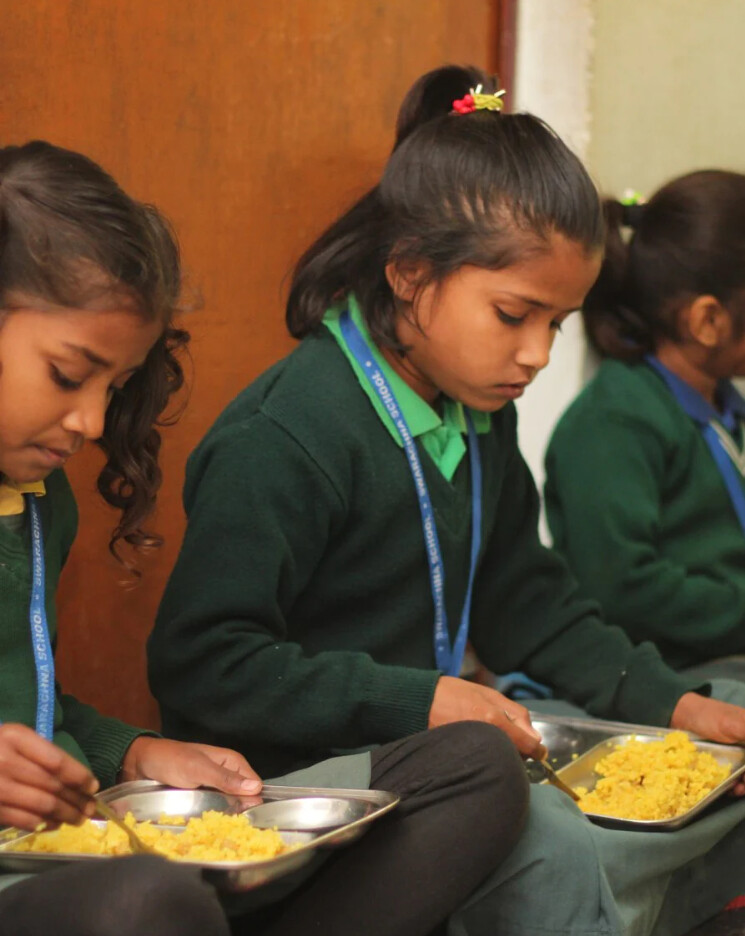 Since the pandemic began, The Plated Project has partnered with a series of non-profits to sponsor meals. For instance, they sponsored more than 36,000 meals over the span of four months in 2022 for students at the Swarachna School and Girls' Hostel in Kaintain village, Uttar Pradesh, which is run by the Milaan Foundation, a non-profit.
Speaking to The Better India, Rati Misra, executive director of the Milaan Foundation, says, "When we started this school, we realised that Class 5 onwards, girls would start dropping out of school. By Class 8, all of them dropped out."
To tackle this, Milaan started the Girl Icon programme in 2015, which looks at creating leadership-based life skills training to girls from the community who have exhibited leadership qualities. Today, this is one of their flagship programmes.
As part of this project, they house 87 girls in their hostel, which they started after realising during COVID that many became more vulnerable after losing either one or both of their parents to the disease. "These girls live in our hostel, which is located in the school premises and they study at the same school," she adds.
The support they get from The Plated Project goes towards feeding these 87 girls who live in this hostel. They are served three meals a day — breakfast, lunch and dinner — besides tea and snacks.
"We are very careful with the kind of meals we provide. They're wholesome and nutritious. Breakfast can include anything from poha to porridge and fruits, lunch includes kadi-chawal, dal, roti, vegetables, etc. We don't compromise on the quality of food. In fact, the food served here is much better in terms of nutrition than the meals cooked at home," says Rati.
"The Plated Project sponsored meals for our girls from 2021 to 2022. We are in talks with them to see how we can continue to partner this year as well. The Plated Project has been supportive of our work. What I find very heartening is the trust and empathy that form the cornerstones of this relationship," she adds.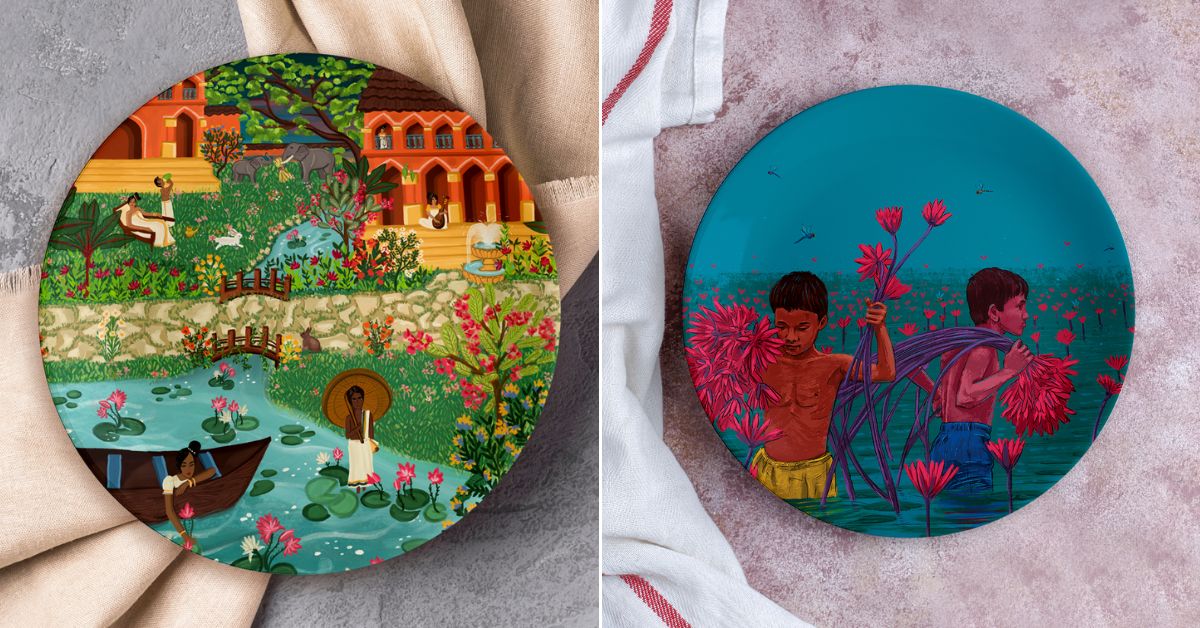 Sharing revenue
In the last two years, The Plated Project worked with about 10 different charities and in total donated about 650,000 meals primarily across India, but also Hong Kong, Dubai, UAE and the UK. "We have global partners and entities that work with us even as customers. For example, the Marriott Bonvoy worked with us on creating a series for Art Basel, Hong Kong. As a part of collaboration, they ensure that meals are donated in Hong Kong," says Sinha.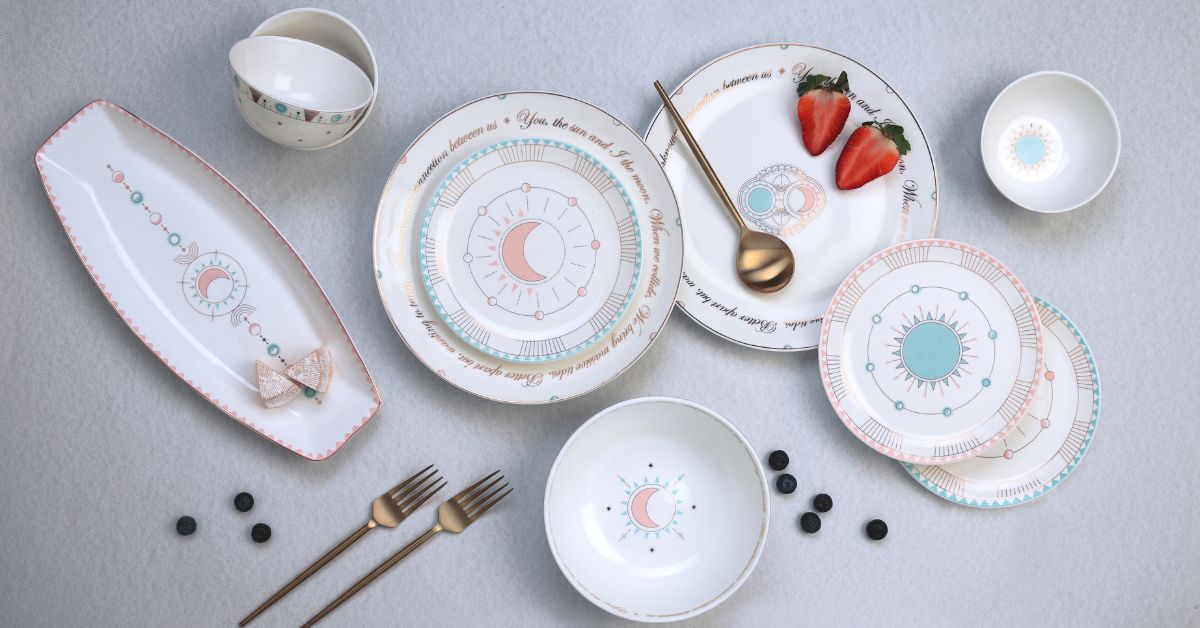 Despite all their contributions to charity, Sinha claims that The Plated Project became profitable in its first year. They've raised no funding so far except for their recent appearance on Shark Tank India (season two). During the programme, three Sharks decided to invest about Rs 75 lakhs for a 3.75% equity in the company, although due diligence is still underway.
"Currently, we've got decor, dining and gifting as our primary product categories. Our plan is to expand these categories. Within decor, we want to go deeper and get more unique objects and want to expand into home products, which will then go into feeding more people," says Sinha.
(Edited by Divya Sethu; Images courtesy: The Plated Project) 
Tell Us More
We bring stories straight from the heart of India, to inspire millions and create a wave of impact. Our positive movement is growing bigger everyday, and we would love for you to join it.
Please contribute whatever you can, every little penny helps our team in bringing you more stories that support dreams and spread hope.