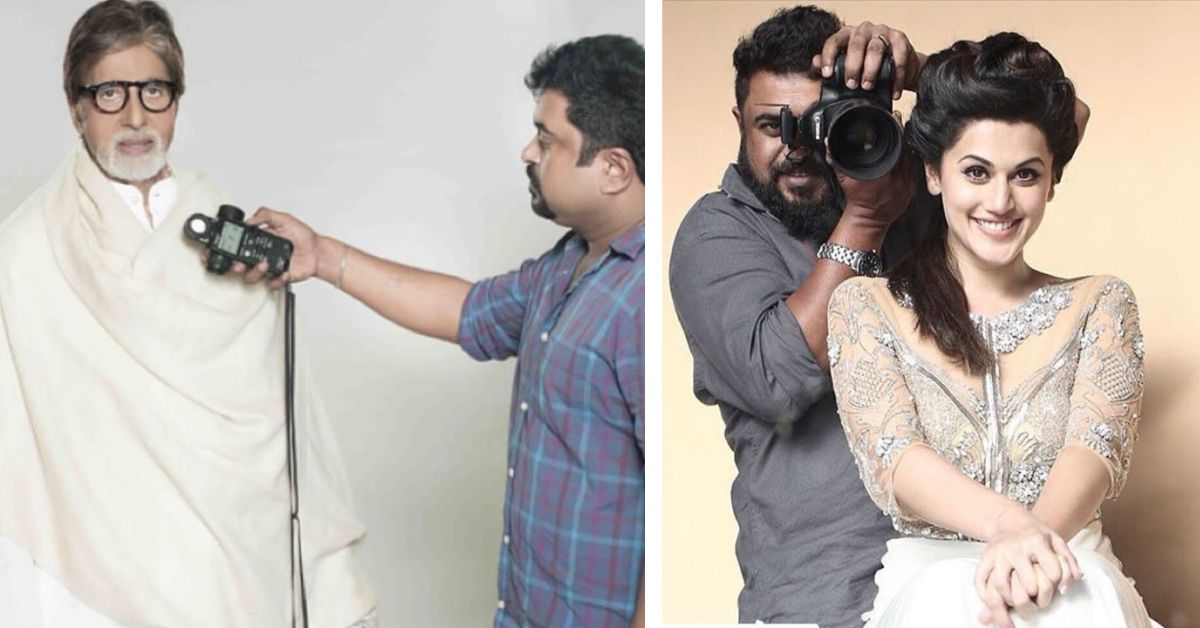 Munna Thaakur is a well-known celebrity photographer today, but had to fight tooth and nail to be able to support his family. He recalls the struggles of chasing his dream, and how he made it to where he is today.
Thousands come to Mumbai to chase big dreams, but Munna Thaakur says that his was simpler — "To simply earn a living and send financial support to my family back home."
Today, the 47-year-old is an established celebrity photographer with a solo practice in the city. Over his 20-year career, he has worked with many Bollywood celebrities, including Amitabh Bachchan, Tapsee Pannu, Salman Khan, and Kriti Sanon. He arrived in the city with just Rs 24, he recalls, but today, earns Rs 25 lakh a year.
The Better India sat down with him to know more about his story.
'Earning money was my only goal'
Born and raised in a humble household in Akola, Maharashtra, Munna was no stranger to hardships. "I was a brother to two siblings. All of us lived in a small home and my father used to work in a cotton mill. Even at a young age, I wanted to help my father out and support the family financially," he says.
"I was the eldest sibling and life hit me the hardest. I felt responsible for my family. While we were a happy family, my father earned just enough to bring food to the table," he adds.
At the young age of 14, Munna started odd jobs in his hometown.
"After finishing Class 7, I decided to give up school and look for work. I would only think about how I could bring money in the house," he recalls. "I did carpentry, painting, daily-wage work, etc, to earn money. I would basically do anything and everything that I could get my hands on."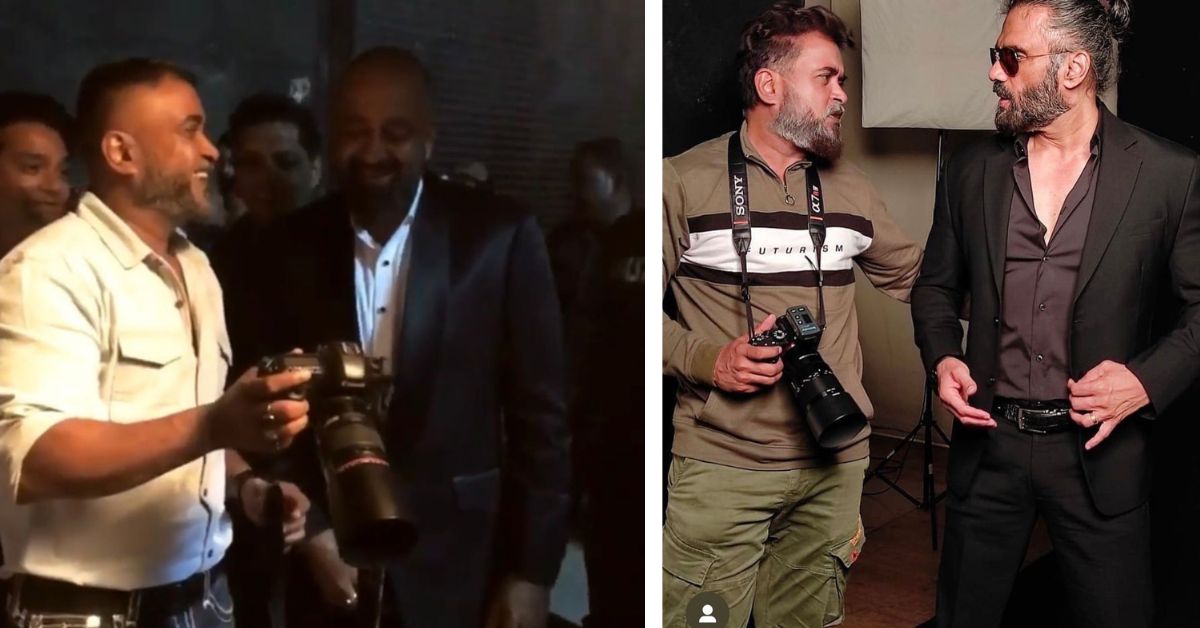 It was during a conversation over tea with his friends that Munna first thought of moving to Mumbai. "I did not think about what I wanted to do exactly. I just wanted to get a good job and send some money home. So in 1991, I packed my stuff and decided to leave home. I was quite young and naive at the time," he shares.
At the age of 15, Munna landed in a strange city with two friends in search of shelter, money and a better life.
From a paper boy to a photographer
"The city of dreams did not open its arms for me as it does to others. For me, it showed the hardships of life."
When Munna reached Mumbai, he had only Rs 24 in his pocket and started looking for work. "I thought finding a job would not be very difficult in a big city like Mumbai. However, I was completely wrong. It was hard to find a job because I was not skilled in anything and had no education," he recalls.
After struggling for a few weeks, he finally landed a job as a newspaper delivery boy. He took the job, he says, not knowing that it would give him his big break almost a decade later.
"I worked hard in the morning and during the later half, I did other jobs to earn more money. I have worked in cardboard shops, welding shops, and as a diamond polisher and cutter. This way, I was able to sustain myself and send money home too occasionally," he says.
He worked these jobs for nearly eight years, before his life took a turn in 1998.
"I started interning in a photography studio in 1997. I loved what the photographers did and wanted to try my hands at it, but they did not let me. The cameras were expensive and they did not let me touch it initially," he recalls.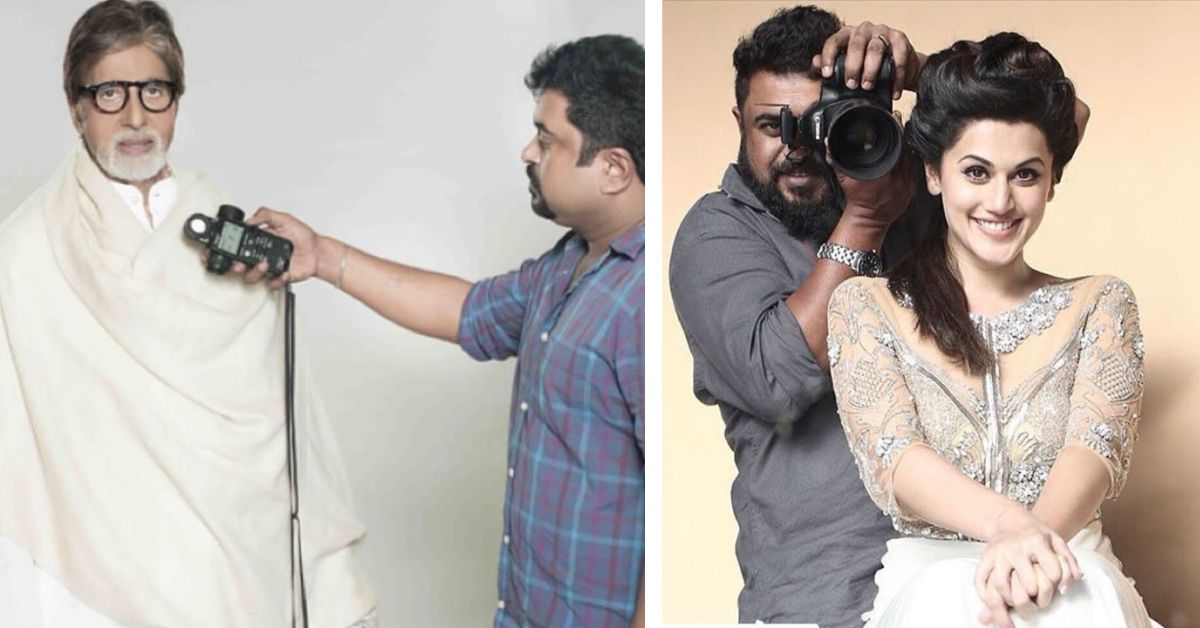 "A year later, I had earned their confidence. Bilal, a friend who worked as a photographer, taught me how to use a camera. I was instantly intrigued and learned the ropes very quickly. Bilal agreed to become my first model so I could build a portfolio."
At the time, Munna was still delivering newspapers as a full-time job. "I used to deliver newspapers at Arjun Rampal's house too. I thought about how wonderful my portfolio would look if I could get him a model for me. But I did not know how to approach him, and I certainly did not have the money to pay him," he says.
One day in 1999, mustering all the courage he could, he approached a domestic worker at Rampal's house to pass on his request. "She agreed to do that and I was able to talk to him myself. I am not sure if it was my sincerity or just his kind heart, he did a photoshoot with me free of cost," he says.
Arjun Rampal became the first ever celebrity that Munna ever photographed. Since then, Munna has worked with Sonu Sood, Shraddha Kapoor, and several others.
"After having Arjun Rampal's shoot in my portfolio, I started to visit different studios to look for work. It was he who got me my first exposure to the Film City. I also moved to Oshiwara with Sonu Sood, who was a struggling artist back then. We would split the rent and cost of everything from food to electricity. He also modeled for me several times. The two helped me quite a bit in my career and I share a special bond with them," he says.
"The journey was gradual, it took me a decade only to find my passion and footing in the city. My dream to support my family is a reality now. I make nearly Rs 25 lakh annually with my photography, and the city does not seem as cruel as it did back when I was 15," he says.
Recalling his journey, he says, "My biggest motivation when I came to Mumbai, was the need to survive. Unlike most, I did not come here to become some big shot. Bas kaam karna tha aur paisa kamana tha (I just needed work to earn money for my family). The scarcity of that made me who I am today. I did not care what work I was given, but I was lucky enough to stumble on my passion in the process."
Edited by Divya Sethu
Tell Us More
We bring stories straight from the heart of India, to inspire millions and create a wave of impact. Our positive movement is growing bigger everyday, and we would love for you to join it.
Please contribute whatever you can, every little penny helps our team in bringing you more stories that support dreams and spread hope.