Bharat Bansal is the co-founder of Nirmalaya, a sustainable business that upcycles floral waste and earns crores. He shares how he set up the business after quitting his law career, and the challenges that came along the way.
What does it take to start afresh in your career? For 34-year-old Bharat Bansal, it was a strong sense of inspiration that he took from his own growing years in Delhi, watching the Yamuna River get increasingly polluted year after year.
Flowers, once offered in religious institutions, become sacrosanct, and since time immemorial, the only way deemed suitable to dispose of them is by throwing them in holy rivers. Bharat, too, recalls throwing flowers into the river as a child. But it was only decades later that he realised how the pesticides and chemical fertilisers used to grow these flowers pollute the river water, making it highly toxic.
A CA dropout and lawyer by profession, Bharat quit his four-year-long career in 2020, and the same year co-founded Nirmalaya with his wife Surbhi and friend Rajiv. This Delhi-based social enterprise works with over 300 temples in the city to recycle floral waste into organic incense sticks and cones, and havan cups among others.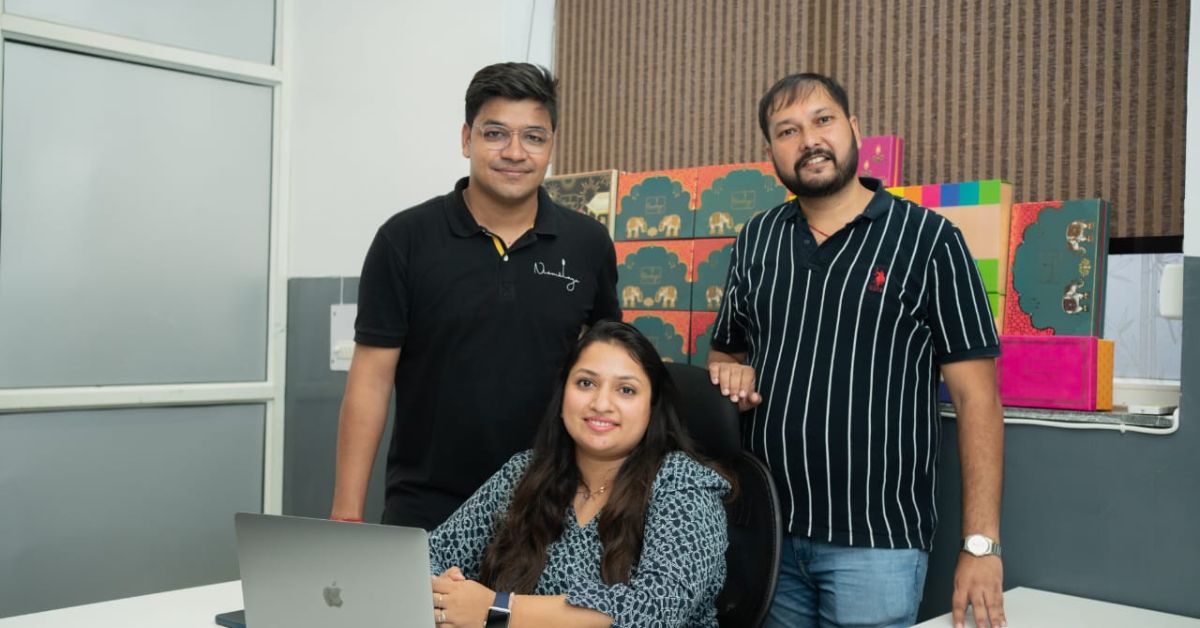 The trio kicked the business off with their collective savings of Rs 1.25 crore. Just last year, they clocked a revenue of Rs 2.6 crore. So far this year, they have earned Rs 7.5 crore, and project an annual revenue of Rs 20 crore by March 2024. With their startup, they recycle up to 500 tonnes of floral waste annually.
We sat down with Bharat, the CEO, and Rajiv, the chief operations officer, to understand what it takes to start a business of your own.
How we started
The story begins in 2019 when former real estate developer Rajiv visited the famous Sai Baba temple in Shirdi, where he saw the process of converting flower waste into incense products.
"A few women were segregating flowers offered to Sai Baba. I got curious. They told me how flowers are being used to make agarbattis (incense sticks). I went to their plant to understand the process and I learned about a pulverizer machine, which converts dry flowers into powder," says Rajiv.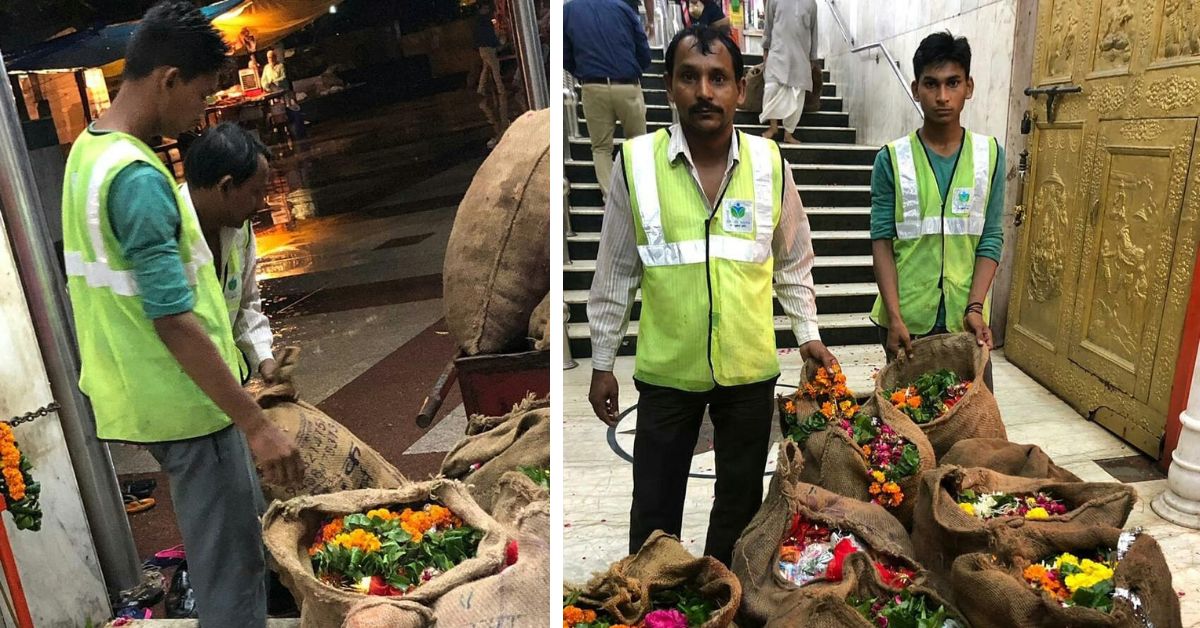 After coming back to Delhi, he discussed the idea with Bharat and Surbhi. Together, they started researching and contacting trustees of temples. At the time, Bharat was working in a consultancy firm as a company director. "My area of expertise has always been business development. It was a transition from a profit-making entity to building a startup which might involve losses in the beginning. I knew how to strategise things," he says. "Setting up a business where we would ensure floral waste does not end up in rivers was a great opportunity for me to contribute towards the environment."
He adds that when Rajiv returned with what he had seen, the trio were "inspired by the idea of recycling floral waste and set up a business that catered to the environment. Floral waste [reportedly] accounts for 16 percent of the total river pollutant."
Building on an idea
With Bharat's experience, Surbhi's creative mind in designing and product development, and Rajiv's research, they went ahead with the idea, using trial and error to build the multi-crore business.
Bharat explains, "Initially, we made many errors in using our investment. We would focus on selling affordable products to compete with big players in the market, but that proved to be a mistake for us as we burned Rs 60-70 lakh in the process. When you make a premium quality product and sell it at a lower price, the cost of manufacturing becomes big. We would not get any margin, so we stopped making an affordable product range." He adds that now, however, the company has switched to premium products.
"You have to have the right mix between spending on marketing and spending on sales. Our spending on sales would be more because, for us, survival was a priority over brand name. But our brand name was established as soon as we started selling largely," he adds.
Among other challenges, Bharat mentions that he did not consider the sorting and collection costs of floral waste earlier. "Although our raw material [floral waste] is free, its collection and sorting cost is more. Say we collect 600 kg of floral waste, and if we employ four or five labour workers who would take one or two days to sort it, then it would cost us up to Rs 4,000 a day," he says.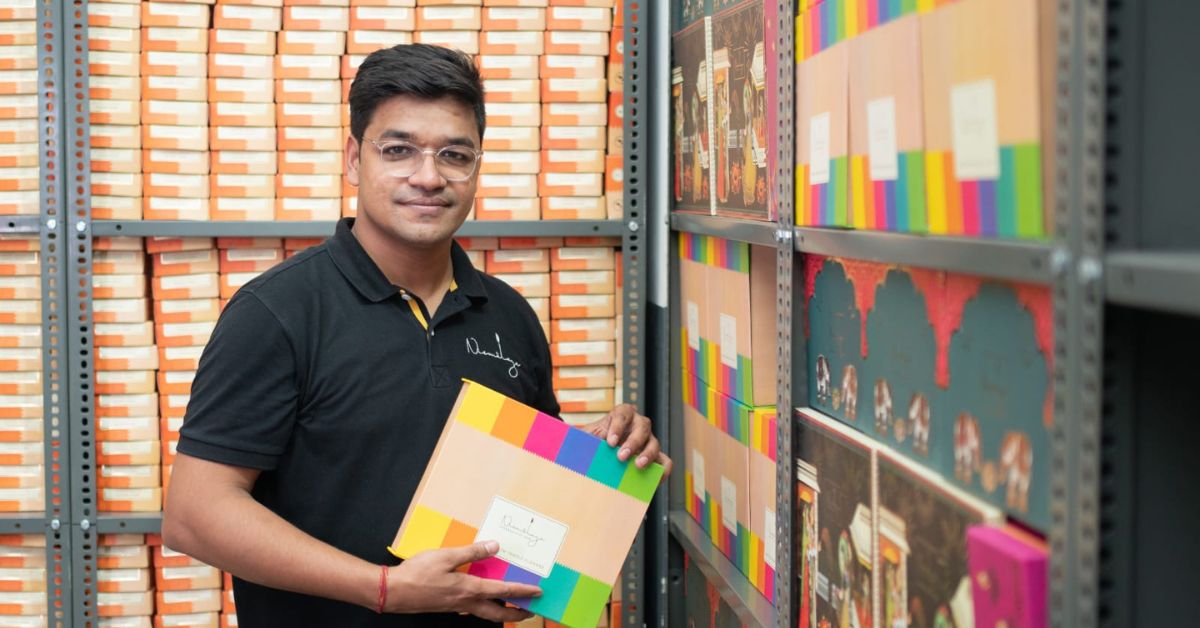 Besides, "when we started the business, we thought of picking more and more floral waste and recycling more. In excitement, we would collect floral waste from everywhere we could. At that time, we also did not know what we would do with so much raw material. Along with floral waste, we would also get religious books, idol statues, and clothes. It was of no use. So we optimised our ways of collecting waste to reduce the cost of collection and sorting."
To overcome this, Bharat planned to be selective in what they picked. He also considered picking flowers in bulk from a particular temple on a particular day. For instance, his team picks flowers from Hanuman temples only on Tuesdays and Saturdays, and from Sai temples on Thursdays. "We have e-rickshaws that go to collect floral waste from designated areas. After coming to our unit, our workers sort flowers from plastic waste, fruits, milk packets, and clothes," he says.
Other than that, packaging was a challenge. "Since our packaging was soft, product boxes would get damaged before reaching the customers. We started buying similar products from other brands to learn about packaging. Although we did not want to use bubble wrap, we had to use it for a better customer experience. Today, we use our own brown-coloured corrugated boxes which do not require bubble wrap," he adds.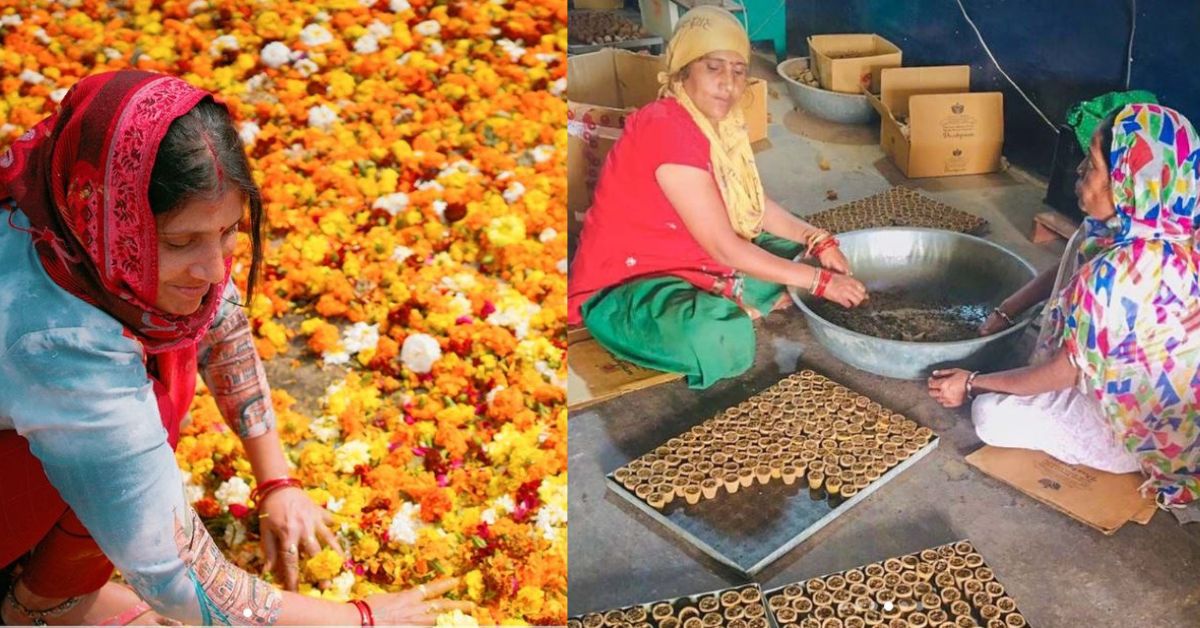 Making wealth from waste
After collection and segregation, the flowers are dried and ground into a fine powder using a pulverizer machine. They use a pulverizer that can grind up to 2-3 tonnes of flower waste daily. The powder is mixed with a premix of josh powder (binding agent) and wood powder to make incense products. After grinding, fragrances are added and products are packaged. His team of 70 manufactures the products in their two manufacturing and recycling facilities in Delhi.
Bharat also notes that weather plays an important role in his business. "We need to dry flowers before grinding them. For that, the temperature matters. In the summer, if flowers become too dry, they absorb more oil. So where we would only need 400 ml oil, we would instead use 600 ml. Then, our cost increases by 1.5 times. In the rainy season, if we leave flowers outside, they'll gain too much moisture and be attacked by fungus. Our work remains balanced in winter, where we use solar dryers to dry the stock. Also, to maintain supply, we keep a backup of flower powder for rainy seasons," he says.
When a flower is burnt, it produces a peculiar smell, and to control that, the team had to change the proportions of ingredients, which took them about six months of research and development. "We kept making changes with respect to the ratios of powders. The product has to be good for a repeat purchase," he says.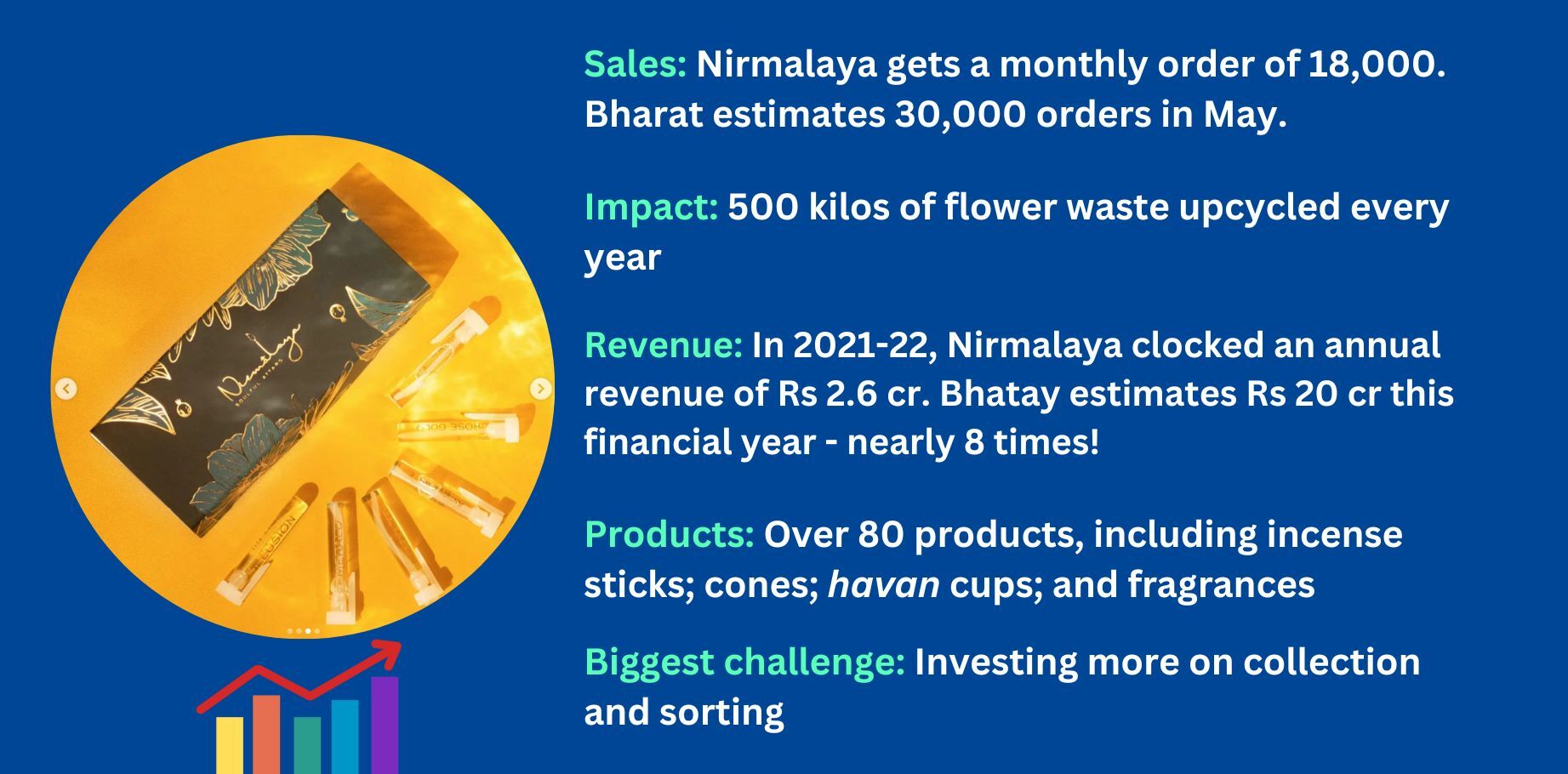 Bharat says the startup gets around 45% repeat customers, with monthly orders of 18,000. He estimates getting 30,000 orders next month in May.
Nirmalaya sells over 80 products, including 18 kinds of incense sticks made using sandalwood, serene (Kashmiri rose), jasmine, and basil; 12 kinds of incense cones; two variants of Havan cups made using healing herbs, cow dung, and floral waste; and fragrances from across India like MP's belpatra (leaves of wood apple tree), UP's kewra (screw pine), Odisha's vetiver oil.
Bharat says their incense sticks are zero-waste, biodegradable, and charcoal-free, and have less than 3% carbon emissions as compared to normal incense sticks, which "release around 80 percent carbon emissions".
What should budding entrepreneurs keep in mind?
While starting the business, Bharat understood the importance of investors and the help they bring. "You can launch a startup without a big investment, but you need time and support to establish it. I focussed on getting the support of investors because they help build good networking and bring ample opportunities to expand the business. I always suggest people to make minimum viable products and raise fewer funds, which will convince investors to join hands with you," he says.
Bharat also suggests having co-founders in order to successfully run a business instead of starting a business alone. When roles are divided, you do not have to multi-task, he adds.
Based on his experience, Bharat shares 5 key takeaways of setting up the business.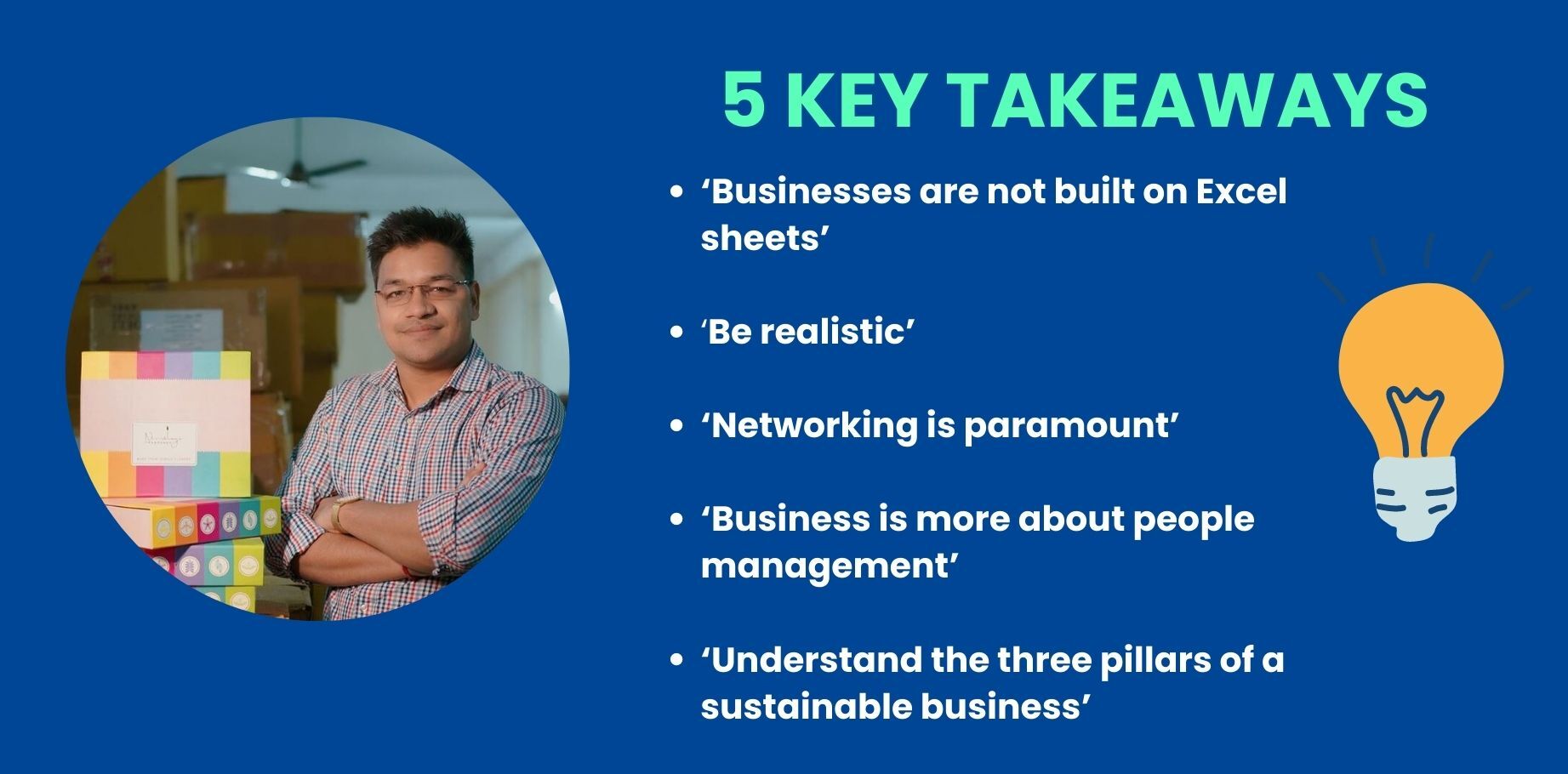 1) Businesses are not built on Excel sheets: "Such sheets are good only on paper. You need to do thorough research on the field, and only then can you set up a business. After six months, you will get to know the nitty-gritty of the industry. It is more about building the business rather than the product, which eventually gets better with feedback," he says.
2) Be realistic: "Make your projections in a conservative manner. Analyse your costs, as there would be many hidden expenses that you could be forced to bear many times," he adds.
3) Networking is paramount: Bharat says: "One should always have good mentors and pioneers of the industry to help them with cost analysis and marketing in the long run. When we started Nirmalaya, investors and their networking helped us in designing products and marketing."
4) Business is more about people management: "Entrepreneurs should focus more on managing people, including yourself, than anything else. At one point, you have to focus on leadership over clerical and managerial work," he says.
5) Understand the three pillars of a sustainable business: Environment, society, and economics (sales). "If you focus less on any of them, you won't be able to survive the business. Everything has to be calculated as per sales, because viability comes from there," suggests Bharat.
Source:
(Edited by Divya Sethu)
We bring stories straight from the heart of India, to inspire millions and create a wave of impact. Our positive movement is growing bigger everyday, and we would love for you to join it.
Please contribute whatever you can, every little penny helps our team in bringing you more stories that support dreams and spread hope.
Tell Us More