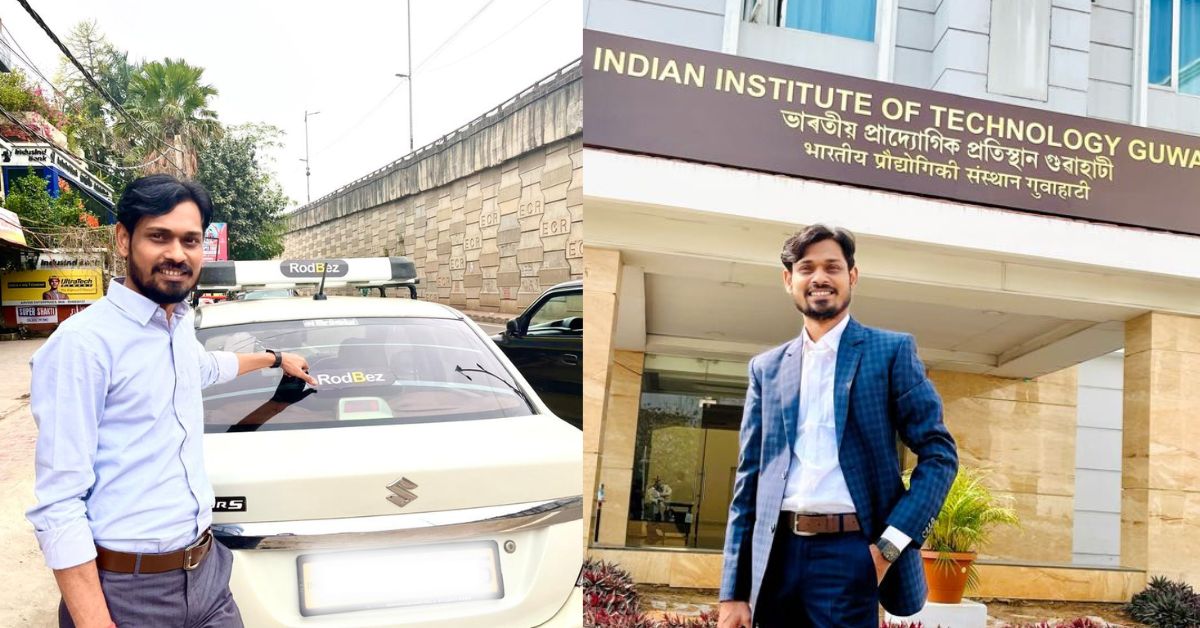 Meet Dilkhush Kumar, a young entrepreneur from Bihar who wants to provide affordable cab rides across every corner of Bihar with his mobile app RodBez.
Ravi Kishan Singh works in West Bengal, but travels every month to his hometown in Bihar. The flight from Kolkata to Patna would cost him nearly Rs 4,000 — the same amount as the cab from Patna airport to his hometown of Chapra, Saran district, he says.
But for the past few months, Ravi has been using a mobile application RodBez, which he says has reduced his cab expenses drastically. "A one-way trip now costs me Rs 1,400. RodBez is a user and pocket-friendly app," the 29-year-old software engineer tells The Better India.
Launched last June, RodBez is the brainchild of Bihar native Dilkhush Kumar. This app provides affordable outstation one-way taxi, taxipool, and carpool services. Passengers, he explains, do not need to pay two-way or return fares while travelling one-way, and his startup connects customers with taxi drivers for outstation travel of more than 50 km.
Dilkhush launched RodBez with the aim to "connect every village in Bihar with a taxi".
'Badh' and 'Berozgaari'
The 29-year-old recalls that in Class 12, he had to put his education on hold to take care of his family's finances. Soon, he was married, but without a job to care for his family. "We come from a very backward area, which is infamous for badh (floods) and berojgaari (joblessness). I was labelled 'nikamma' (useless) as I was dependent on my father's income," Dilkhush, who hails from Bangaon village of Saharsa district, tells The Better India.
After a few months of marriage, he applied for the job of an office worker at a Patna school, but was rejected during the interview stage. He then requested his father, who worked as a bus driver, to teach him how to drive one. Dilkhush started the driving job in his village, but unable to receive decent pay, he relocated to Delhi in 2010 to earn a better income.
"Driving in Delhi seemed difficult. I did not know about U-turns, one-ways, and many other traffic rules. I bought a rickshaw so that I could learn basic rules as I move around," the entrepreneur recalls, adding that within a month, he fell sick and had to return to his hometown, where the taunts from his relatives resumed.
A few months later in 2011, he moved to Patna to begin working as a driver. A lack of pay pushed him to move to electrical wiring work, which he says fetched him decent income. But here, too, he had to leave eventually, as the payments never came on time. For a while, Dilkhush tried his hands at selling vegetables online, but could not receive enough orders to make ends meet.
"If I bought 10 kg in a day, I would only be able to sell 2. In the evenings, I would go to the market, and sit alongside vegetable vendors on the sack to sell the remaining vegetables at zero profit. This continued for 2-3 months, and I had to quit this idea too."
Continuous failure in his endeavours made Dilkhush want to go back to his old driving job. With his savings, he bought a second-hand car and started driving in Patna.
Around this time, he observed the popularity and demand for cab services like Ola and Uber. "I saw a good opportunity to start a similar job."
And so, in 2016, he borrowed around Rs 2 lakh from his friends and launched AryaGo Cabs in a bid to provide cab connectivity across Bihar's major districts. This helped him understand a gap in the tours and travel industry, he says.
Two birds, one stone
"In Bihar, cab drivers charge two-way fares from passengers. Since there is no big corporate sector in the state, this is not a thriving industry. People here use cab services in emergency cases, for example to go to an airport or hospital. The demand was less as the cost was more, and the cost was more because the demand is less," he explains.
"A flight from Delhi to Patna costs Rs 3,000, but if the person has to travel around 150 km to Darbhanga, cabs charge Rs 4,000. Besides passengers, drivers were also not happy with outstation services, since they would return without any passengers wasting their fuel. I wanted to optimise the cost and come up with a solution so that problems of both parties are addressed and this industry thrives in Bihar," he adds.
Dilkhush started researching availability of taxi drivers in a particular area and the demand for one-way cab services in a given area. "People want to avail services which are cheaper and convenient. And drivers want more passengers. We found routes that have more demand for cab services and availability of taxi drivers at a particular time. We designed an algorithm to match realtime cabs and riders going on the same route. With a simple search, it shows better cab availability," he informs.
"First, I thought of implementing this gap in ArgyaGo itself, but I failed to set up a strong team for a work like that. I wanted a big investment and a big team for a new startup. I only had two options, either to drop the idea, or continue AryaGo's work. But I took the risk," he adds.
After coming up with an algorithm, he handed over his previous company AryaGo to the team in early 2022 and launched RodBez last June.
"Through our app, taxi drivers inform us from where and when they are travelling to a particular route. For instance, they say they are travelling from Patna to Darbhanga without passengers, then our team finds passengers on that route and shows cab availability. Getting passengers is also not a difficult task. We have 10 times more demand than our supply. Generally, passengers need to book three hours in advance for outstation cab services which can be availed 24*7," he says.
"We have connected taxi drivers, vehicle aggregators, and passengers through our app. It is a win-win for all parties. We can rise only when we work together. With this, we have been able to reduce cab expenses for passengers to half," he adds.
As of now, more than 50,000 people are using the RodBez app, says Dilkhush. He also claims to have already expanded cab services from Patna city to almost every village of the state in the first phase.
Employment to thousands
Now, he plans to connect cities with cities in the second phase, villages with villages in the third, and other states in the fourth phase.
Dilkhush says that in case his company fails to connect passengers with taxi drivers on time, the team ensures passengers get a cab at the company's expense.
Recalling one such incident, Ravi says, "One night when I landed at the Patna airport, I tried calling the cab driver multiple times. He was not answering, and it was 2 in the night, so I thought he might have slept. I had to rush home, so I Googled the founder of the app and pinged him."
"He responded within 15 minutes, and himself came in his car to drop me home. I was really touched by this gesture. I did not think that a company's CEO would come and drop me to a location 100 km away."
Dilkhush says catering to his users is important, even if he has to incur losses in the process. Last month his company earned sales of Rs 5 lakh, and he aims to earn Rs 12 lakh a month in the following six months.
With his startup, Dilkhush has provided employment to more than 3,500 taxi drivers across the state. Interestingly, the former rickshaw puller has hired graduates from IITs and IIMs to work with him. It is his vision of connecting every village in Bihar with a cab that attracted these graduates and professionals to support his startup, he says.
He believes that, like him, any youth can be an entrepreneur with the right determination and positive attitude. He points out that "In an area like Bihar, children from middle-class backgrounds are encouraged for a government job, while those from a lower-class are encouraged for an officer-worker-level job. I wish that with my example, these children are also encouraged to become entrepreneurs."
Edited by Divya Sethu