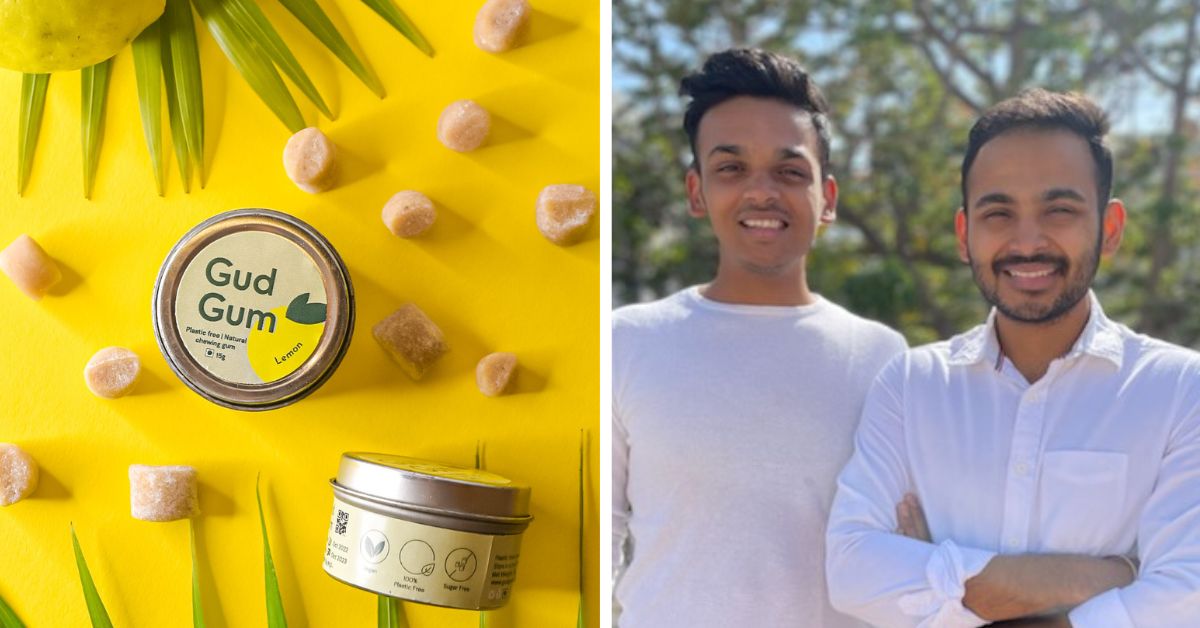 Mayank and Bhuvan, two Bengaluru-based brothers, launched their startup Gud Gum to provide a biodegradable and healthier alternative to regular chewing gum, which pollutes the earth with plastic.
While it's certainly not true that chewing gum takes seven years to digest, there's no denying that it can have an adverse effect on not just your health, but also the environment.
Regular chewing gum has a substance called PVA (polyvinyl acetate), which is used to make tyres and glue. The gums that we consume are plastic based, and PVA, in fact also damages public property.
A Research Gate report states, "Each year, chewing gum generates more than 105 tonnes of 'plastic' garbage. Thus, the discarded non-biodegradable residue of the gum produces plastic pollution." This waste is hard to collect or track and ends up living and polluting the earth for thousands of years.
As a step towards reducing gum waste, a Bengaluru startup has made a "plastic-free, fully biodegradable and all-natural ingredient" chewing gum. With over 5 lakh pieces of gum sold since its launch in 2022, Gud Gum, founded by Mayank B Nagori and his brother Bhuvan, also claims to have saved 700 kg of gum plastic from polluting the earth.
"While it might seem too small to be an issue, gums pollute the environment to a great extent. With our chewing gum, we are not only reducing that, but also educating our consumers about the ill effects of regular chewing gums," Mayank tells The Better India.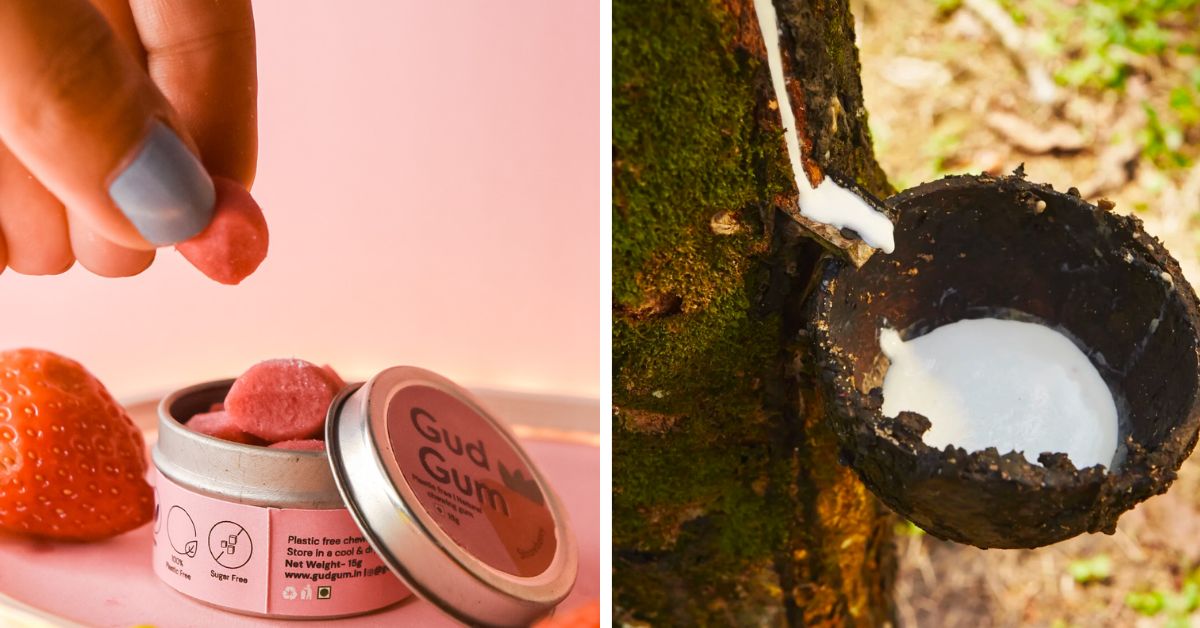 Here's something to chew on
The origins of Gud Gum can be traced back to Mayank and Bhuvan's childhood, one they say reinforced love and care for the environment.
"As children, we were taught to be as environmentally friendly as we can. We used very minimal plastic. We were taught to live in harmony with nature. We always took bottles with us to avoid using plastic bottles, never used those 'use-and-throw' crockeries, and carried our plates wherever we travelled," Mayank (28) says.
As for gum, he notes that he would chew it extensively during his exams.
"I had read that if you chew gum while studying, and chew the same flavour during exams, you are more likely to retain things more clearly, due to muscle memory. So I used to do that to score better marks. In 2010, when I was in Class 10 preparing for my boards, I came across an article that explained how plastic is primarily used in chewing gums," he says.
"It shook me and I decided to quit. It was years later that I decided to start research and make Gud Gums," he says, adding that it was while he was pursuing his Masters he came across a company that made biodegradable chewing gum in the US.
"This gave me the idea to do something similar. At that time, there were no such manufacturers in India," he notes.
Meanwhile, after completing his Master's degree, Mayank began working in the food sciences with a startup that made health drinks for women. "I gained a lot of exposure working with them, and then I freelanced as a consultant for many startups before starting my own business."
"It was during the [peak of the] pandemic that my brother and I decided to start brainstorming ideas on how we can make chewing gums biodegradable. We had time on our hands and it felt like the right time to start. Besides, starting my own business was always part of my long-term plan," he further adds.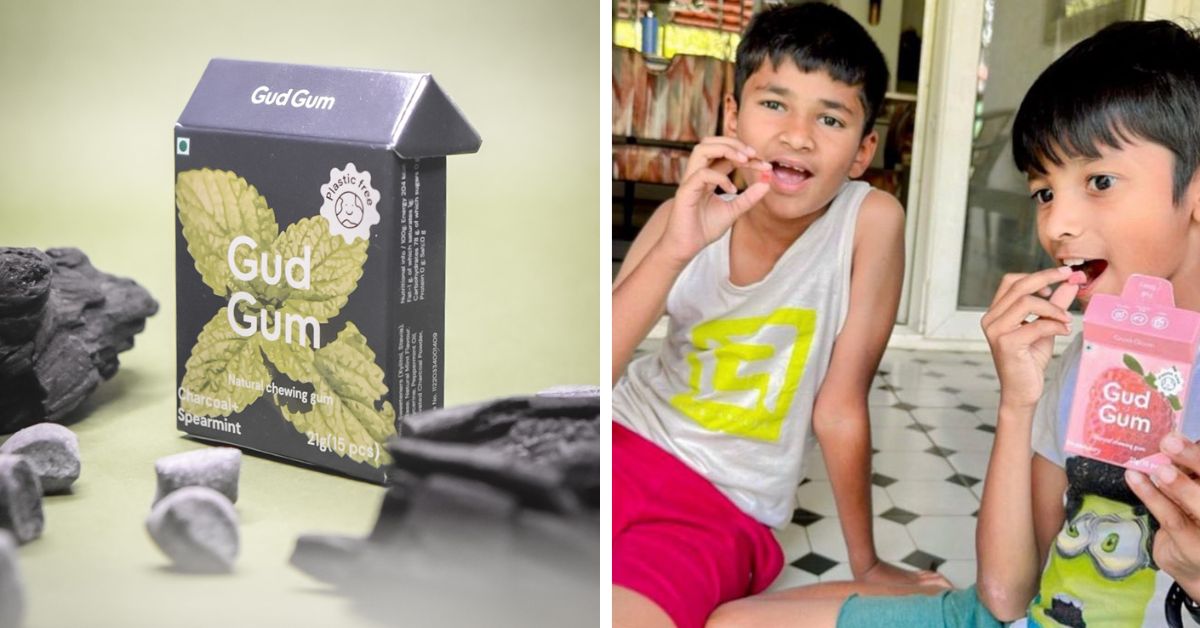 A small step towards healthy and nature-friendly living
While doing research on his product, Mayank conducted a survey on 300 Bengalureans to find out if they knew about the plastic content in chewing gums.
"My survey revealed that all of them have had chewing gums at least once in their life, but less than 10 percent of them knew about the plastic content in them. They were shocked to know that and were willing to trade it for a better option," he explains.
"I knew very well that it was the awareness that people needed, and biodegradable gums could become successful," he notes.
In 2022, the brothers launched Gud Gum.
Explaining how these gums are made, Mayank says, "Regular chewing gums are plastic based and do not degrade even after a thousand years. On the other hand, our chewing gums are made of a special base called chicory tree gum base, which we import from America. It is a plant-based sap which is biodegradable. When people spit it out, it disintegrates in a couple of months or weeks, depending on the type of bacteria present in the soil," he says.
He explains, "This way, the gums don't leave any waste behind. The best part is that we do not use any artificial colouring or flavour in the gums. We use stevia, a plant-based sweetener, fruit pulps, and natural fruit colours in the gums, making them healthy for both the environment and nature."
The startup was incubated by NSRCEL- IIMB the same year of launch. So far, says Mayank, they have sold over 5 lakh pieces, and their products are packed in paper and tin boxes to make their packaging more eco-friendly. Last month, Gud Gum earned a revenue of over Rs 6 lakh.
Hurdles and future plans
When told about the presence of plastic in gums and its eco-friendly alternative, people often greet it with warm reception. However, the only problem that comes is the comparatively higher prices and feel of the gum.
"We faced this problem that most people are used to having plastic-based gums. These gums have artificial sweeteners, which give a long-lasting sweetness and an extremely chewy and soft texture. It took us a while to explain and engage with people to explain why we cannot provide a long-lasting taste as we use natural ingredients, but by spreading awareness, we have been able to tap a consumer base," he says.
He continues, "The prices, too, are slightly higher, since we are importing our main ingredient. We are trying to grow in India but that is a work in progress. For our product, the cost is nearly Rs 6 for a piece as compared to Rs 1 for regular chewing gum. But, we want to focus on the quality of the product, and I am sure that the consumers will be and are willing to pay more for that."
As for the future, Mayank notes, "We are looking to educate as many people as possible, so that we can help them switch from plastic-based gums. Additionally, we want to make chewing gums with active ingredients — such as caffeinated gums, or sleep-inducing gums with melatonin in them. We want to induce minerals and vitamins for kids so as to create 'fun with function' gums."
"However small it might seem, chewing gums are a huge part of the plastic waste produced in the world. The biggest issue is that it is very difficult to actually collect chewing gum waste because of the way they are disposed of. We just wrap it on a piece of paper and throw it wherever we want. This problem is completely eliminated with biodegradable gums," he says.
Edited by Divya Sethu
Tell Us More
We bring stories straight from the heart of India, to inspire millions and create a wave of impact. Our positive movement is growing bigger everyday, and we would love for you to join it.
Please contribute whatever you can, every little penny helps our team in bringing you more stories that support dreams and spread hope.