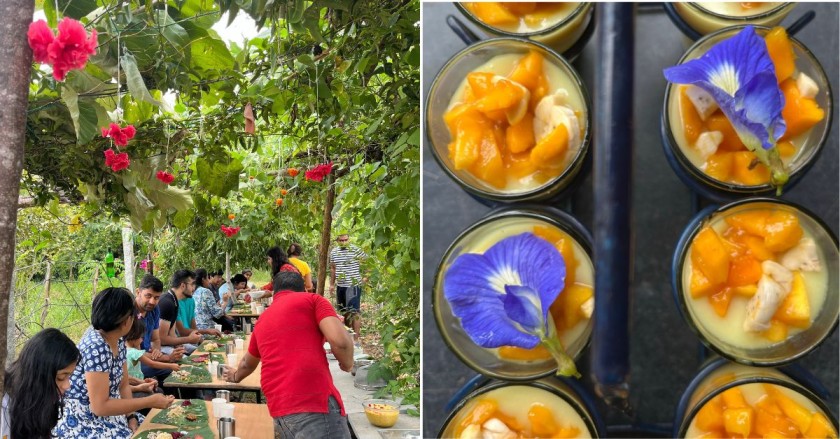 Christina and her mother Anitha Ajith started The Lilac Farm near Somashettyhalli in Bengaluru after a life-altering event forced them to rethink their lifestyle choices. Today, they promote veganism and healthy living through various activities at their farm stay.
In Bengaluru, a typical morning is characterised by a continuous cacophony of honking vehicles, the roar of passing motorcycles, the loud shouts of street vendors, and the distinct sound of construction activity in the distance.
Besides the constant headache and irritation, a major side effect of living in such conditions is that it can fill you up with the urge to leave everything and escape. And this feeling is what led a mother-daughter duo from Bengaluru to create just the right place for people looking to escape the city's hustle and bustle.
"We want to give people a unique and clean experience away from the city. We want to promote natural farming, veganism and healthy living," says Christina Ajith (23) to The Better India.
Called The Lilac Farm, the farm stay near Somashettyhalli in Bengaluru is a haven for animal and nature lovers. The guests at the farm do everything from farming to taking mud baths and eating wholesome vegan meals.
Christina, along with her mother Anitha Ajith (56), cultivates all their produce using natural farming on their 13-acre farm. They grow tomatoes, chillies, capsicum, green papaya and brinjals, fruits like bananas, gooseberries and mangoes, and flowers like butterfly peas, hibiscus and lilac.
However, what is today a vegan farm, was in fact a family-owned dairy farm for more than a decade.
Switch to a slow, mindful living
Hailing from a typical Malayali family, Christina was a hard-core non-vegetarian who loved bingeing on chicken and mutton curries and fish fingers.
However, in 2019, a life-altering incident happened, when she was diagnosed with an autoimmune disease called Lupus. The doctors advised her to quit eating animal products and live a more natural life.
Within two months, her family switched to veganism.
"My entire family and I were meat lovers, but when I was diagnosed with Lupus, we realised the effects of animal products on the body and environment. We decided to switch to veganism and introduce more people to natural living," says Christina.
In 2020, when the pandemic hit, Christina was prone to catching the virus due to her illness. So, the family decided to move to their farm.
"When we moved there, it was still a functioning dairy farm, and we were set on converting it into a vegan farm. We kept weaker and older cows who needed to be taken care of at the farm. The rest were sold to other dairy farm owners," she informs.
She continues, "The idea of the farm stay came to us when we started living on the farm. I loved cooking and my mother always had a passion for farming. So, we decided to combine our skills and that is how The Lilac Farm started."
For Anitha, The Lilac Farm was a perfect opportunity to live the natural life that she always wanted.
She says, "I was born in a family of farmers in Kerala. For most of my life before moving to Bengaluru, I have always eaten food grown on our farms. As a mother, I always wanted to give my children natural and healthy food. But it was not possible when we lived in the city. When we started The Lilac Farm, I found that this was the perfect opportunity for me to live the life I always wanted to."
Talking about the switch to veganism, Christina notes, "Initially, the switch was quite hard. We are mallus, and we love eating non-vegetarian food. But we slowly realised the environmental and moral aspects of turning vegan. Even though it started for health reasons, we soon realised that it is much more than that. On one hand, we called ourselves animal lovers, and on the other side, we had a dairy farm. So after a point, it became more of a choice than a health restriction."
Living in harmony with nature
About setting up the retreat, Christina says, "Initially, my mother wanted to make mud houses, but then we figured we should use the existing cow sheds and upcycle them into rooms. Every single thing that we have used in making those guest rooms — like windows, tiles and doors — is secondhand. The tiles are mismatched and of different shapes and sizes as they are all collected from junkyards and scrap dealers."
Currently, the Lilac Farm offers a variety of services and retreats.
"We do health retreats, yoga retreats, corporate outings and school outings too. We have hosted quite many schools where students are shown how food is actually grown. They learn that the food on their table is not from a supermarket but from a field. All these activities are done with the view of bringing people closer to nature," informs Anitha.
The farm also hosts sustainable and vegan birthday parties and is planning to expand to sustainable weddings soon. "The birthday parties that we host are zero plastic with naturally grown food. All the decorations are done with flowers and leaves that come from our farm," shares Christina.
The duo also make cocktail mixes and soft drinks. "We make a few types of flower drinks using hibiscus, butterfly pea flowers grown on the farm, without using any preservatives," she informs.
At the farm, the guests are greeted with herbal teas and fruit juices and are offered the experience of enjoying a mud pond, a star-gazing deck and healthy vegan meals.
Pranjul Bhadauria, who recently stayed at the farm, says, "If you want to escape your work life and take a break to get closer to mother earth, it is the perfect place. The ambience, the vegan food and the farms are a beautiful, heavenly place to be," she says.
As for the future, the mother-daughter team share, "We want to promote veganism to as many people as we can. Even today people take veganism as a foreign concept, not realising that in most Indian cuisine if we remove ghee, our food is vegan. Our dosas, idlis, and sambar are all vegan."
"Living in harmony with nature and not harming the environment while we live our lives is what we believe in. As a mother, I want to help other mothers and people learn the benefits of veganism and growing natural food," adds Anitha.
The duo has hosted nearly 1,000 people since opening their farm for guests in 2021. The cost of staying on the farm starts from Rs 2,000 for a double room including meals and goes up depending on the package.
Edited by Pranita Bhat