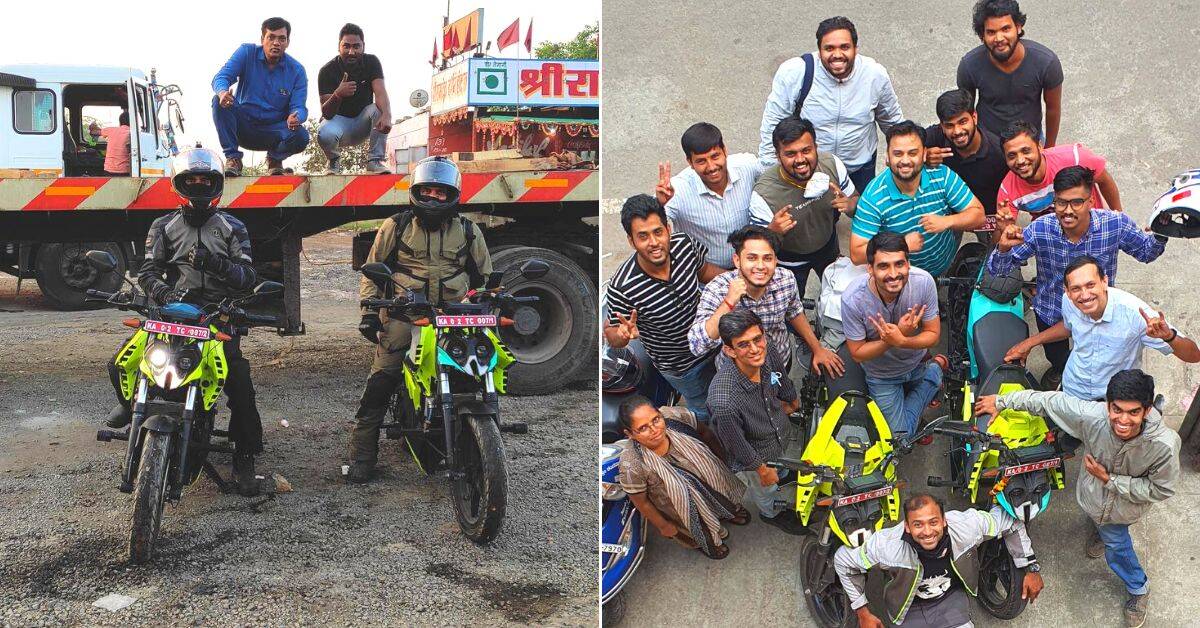 Last year, Orxa Energies, an electric vehicle and energy systems startup based out of Bengaluru, went on a ride called the Electric Bharatmala along with six other startups.
In late 2021, avid bikers Gautam Khot and John Kuruvilla presented a unique proposal to Dr Prajwal Sabnis and Ranjita Ravi — co-founders of Orxa Energies, a high-performance electric vehicle and energy systems startup based out of Bengaluru. 
Their idea was to embark on a record-breaking, 14,000-kilometre ride on the latest electric motorcycle developed by Orxa Energies called the Mantis.
After those initial discussions, Gautam and John — who are mentors at Brigade REAP, a Bengaluru-based startup accelerator — collaborated with the Orxa team to rope in six other startups to support their efforts, setting up a consortium called 'StartupnRev'. What followed was a 13,510 km-ride around the country across the span of 54 days, christened the 'Electric Bharatmala'.
Spread across 20 states and two union territories, the 'Electric Bharatmala' ride on two prototypes of the Mantis e-motorcycle began on 4 February 2022 from Bengaluru.
After their initial ride to Chennai (via Mangaluru and Kanyakumari), the 'StartupnRev' team made their way up the coast abutting the Bay of Bengal, grazed past the foothills of the Himalayas and through the immense heat of the Thar desert and the Rann of Kutch. From there, their ride took them along the Arabian Sea coast and through the Western Ghats before finally reaching Bengaluru on 29 March 2022.
During this nationwide road trip, they also took a significant detour through the lush and hilly terrain of the North East from Guwahati, Assam to Dimapur, Nagaland, and Imphal, Manipur.
Speaking to The Better India, Prajwal Sabnis, co-founder of Orxa Energies, says, "The Electric Bharatmala and the StartupnRev consortium are the brainchildren of Gautam Khot and John Kuruvilla. The idea for this ride was to promote entrepreneurship in Tier I and Tier II cities in India and take the concept of Made-In-India startups to students in colleges and universities of smaller towns, encouraging them to build in the country, for the country."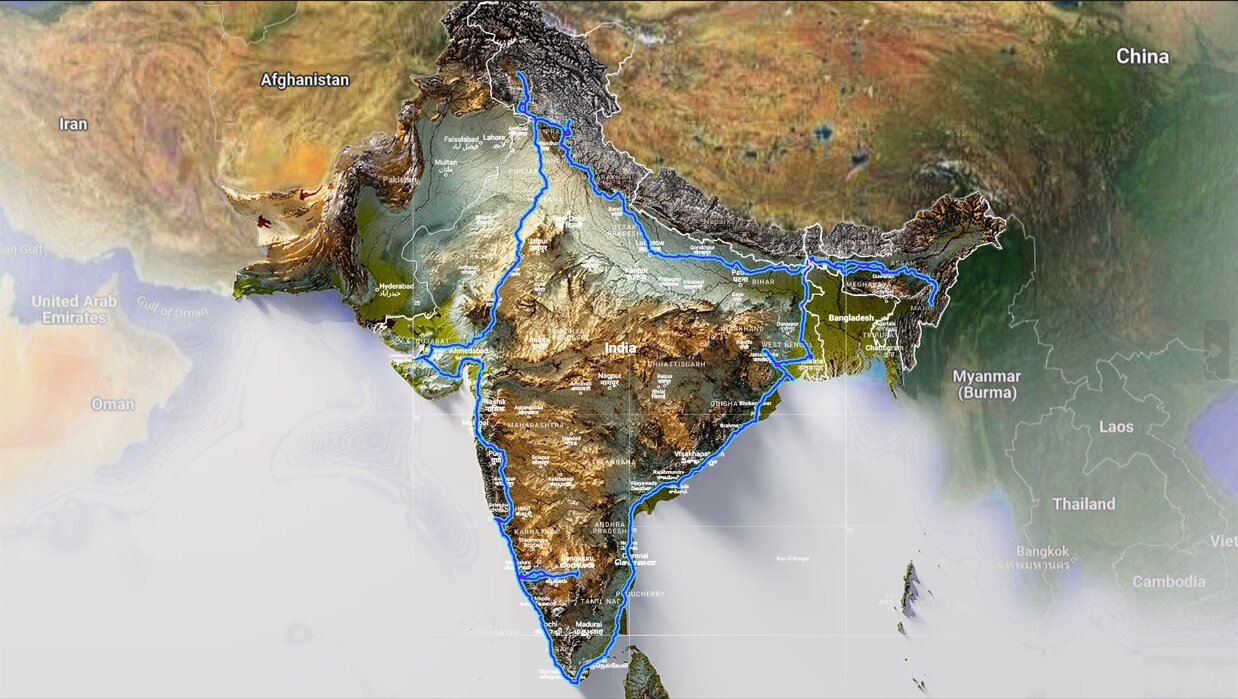 For electric mobility 
But once they got other startups on board the Electric Bharatmala, the vision for it expanded.
As Ranjita Ravi, co-founder of Orxa Energies, says, "The Electric Bharatmala was powered by seven startups that also came together to address roadblocks associated with the adoption of electric mobility in India. Gautam and John were the ideators, route planners, and coordinators. Orxa Energies supplied the electric vehicles and oversaw coordination of charging installations."
Bolt and Charzer, which are startups providing electric vehicle (EV) charging infrastructure solutions, provided the requisite charging infrastructure. SpareIt, an online garages network platform, was responsible for servicing the EVs with a dedicated service leader.
Pothole Raja, a social enterprise on a mission to fix roads in India, oversaw road safety concerns by repairing potholes along the entire journey. Highway Delite, which runs a travel app designed for Indian highway travellers/road trip, managed hotel accommodations and on-site charging stations for the team and Spiceroute Legal provided legal support.
Meanwhile, CEAT, the multinational tyre manufacturing company, was the official sponsor and facilitated the installation of the charging stations at CEAT Shoppes.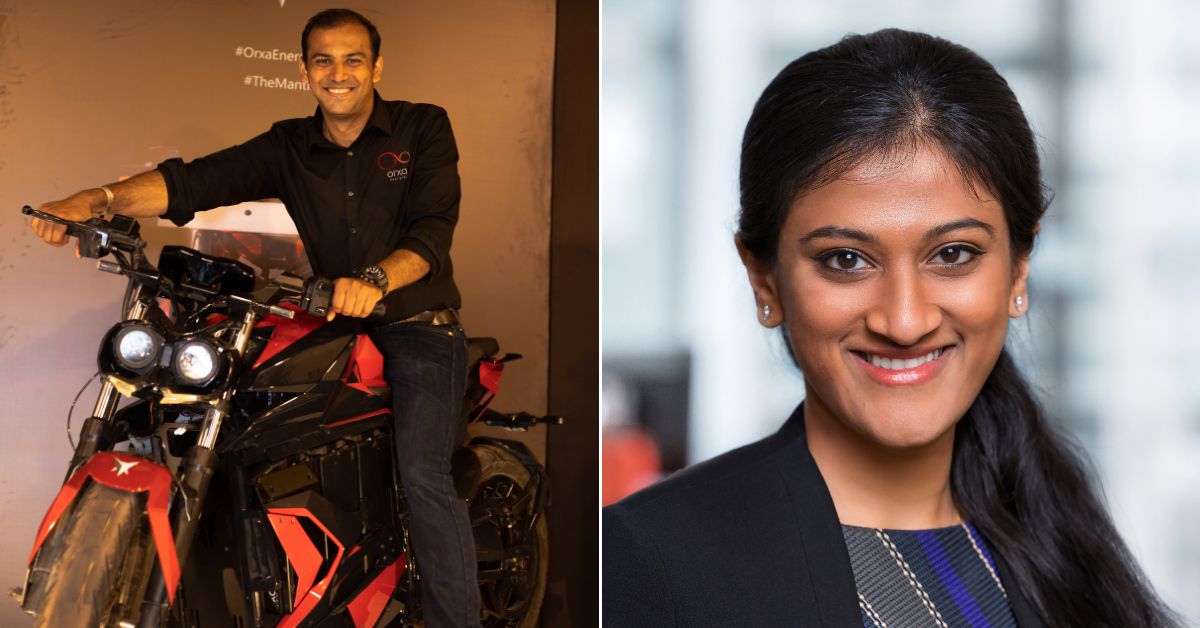 The experience of riding across India  
The ride started with Gautam and John on the Mantis 1 and 2 prototypes respectively.
"When we reached Chennai, the Bharatmala team decided that we had to radically change our approach to the ride. While Gautam continued to ride the Mantis 1, John switched to his Kawasaki Versys, and team members from Orxa hopped on the Mantis 2. Prajwal, along with Janmejay Mishra, Akhil Prabhu, and Akshay Tippannavar, who are senior mechanical engineers at Orxa, were on the Mantis 2 at different points of the ride," explains Ranjita.
"Thanks to the perseverance of Gautam, Mantis 1 is the bike that holds a distance record of 13,510 km by a single rider. Mantis 2 completed the distance as well — Janmejay rode around 7,000 km, Prajwal rode around 4,000 km and Akshay and Akhil split the rest," she adds.
Prajwal rode the first leg from Chennai to Kolkata, following which one his teammates and senior engineers stepped in for the stretch between Kolkata to Guwahati. He rode the second stretch from Guwahati to Imphal, Manipur, and back. The third stretch where he joined Gautam was during the ride from Pune to Bengaluru on the final leg of the Bharatmala.
"The ride was particularly interesting in Tier II cities because of the reaction and response of the people there. There was one particular instance when we were crossing the Chilika Lake in Odisha on a ferry. We had a very inquisitive boatman asking us about the electric bike. There were general questions about what would happen to the electric bike if there was water logging, whether it's safe to drive, how long does it take to charge, etc," he recalls.
During the Electric Bharatmala ride, the team had the opportunity to interact with thousands of students from different universities, sharing knowledge and success stories of various Indian startups that are creating innovative solutions in the EV tech and electric mobility space.
"In Puri, for example, the students were highly interested in the future of electric mobility in India, and the team was able to engage and educate them effectively," claims Prajwal.
For Janmejay, a senior mechanical engineer at Orxa, one of the best moments of the ride was from Nainital to Dehradun.
"We started descending from Nainital, from the height of 2000m above sea level, through lush green ghats so beautiful that it took some effort to focus on the road ahead. Since the bike is so quiet, the sounds of the jungle were clearly audible," recalls Janmejay.
Gautam, meanwhile, recalls, "This journey required a lot of mental and physical conditioning because you aren't just putting yourself through a very long ride, but also encountering different terrains, temperatures. There is the added complexity of changing batteries every 150 km which could happen in the middle of a highway under the glaring sun or the rain, etc. But we had prepared ourselves for all these conditions and eventualities as a team. I was able to complete this journey because we had figured out a proper support system."
 The most exciting experience for Gautam was crossing some of India's biggest rivers which he had only previously read about in his school textbooks including the Brahmaputra, Ganga, Yamuna, Godavari, Krishna, etc.  "For example, when you cross the Ganga for the first time just outside Haridwar or in the town of Farkka, looking at that expanse before me was a mind boggling experience. It gives me goosebumps even today when I think about it," he says.
Another memorable experience was the hospitality, kindness and compassion of strangers.
"In states like Gujarat, Odisha and regions like the North East, we encountered complete strangers who essentially told us 'You people are our guests, you won't pay for anything and we'll take care of you'. Such episodes reaffirm your faith in humanity," he recalls.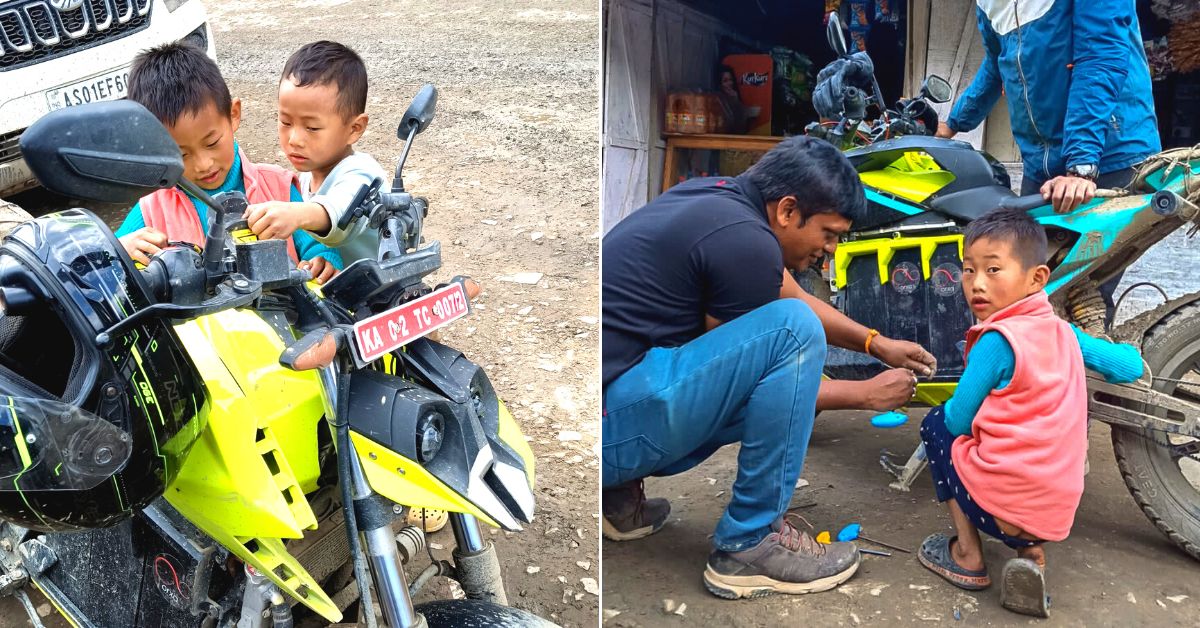 No Electric Bharatmala without prep
After John and Gautam proposed the idea of a record-breaking 14,000-kilometre ride on the Mantis motorcycles, Prajwal and Ranjita were excited but also somewhat apprehensive.
"We compiled a three-page long list of potential risks (with about two columns per page), after the first meeting with the team at their office. All possible dangers related to safety, technical, engineering, regulatory, and legal aspects, were thoroughly examined. Eventually, we decided to proceed with the challenge. At Orxa Energies, our main objective was to push the Mantis motorcycles to the limit, and through this ride, amass a significant amount of data from across India and under diverse extreme conditions," says Ranjita.
Gautam Khot, who rode for all 54 days, also spoke of the extensive preparations that went behind the Electric Bharatmala. "We spent a good four or five months planning this journey. The route map had to be very carefully designed for everyone to understand where we will be camping for the night, including types of accommodation like hotels, college dorms, and sponsors for this endeavour. These locations needed to have some sort of charging infrastructure available," he explains.
The Mantis
The Mantis is designed as an early-performance Street bike. It offers 200 km of real range, 9 kWh battery capacity, an in-house built DBW (Drive by Wire) system, and a liquid-cooled motor.
"Our engineering prowess is our strongest muscle, with 80% of the technology being built in-house and 100% of design and assembly done in India itself," says Ranjita.
"Through the Bharatmala, the Mantis prototypes performed as expected, and in certain respects, even exceeded our expectations. Over the course of the last year, we have been using this information to make necessary adjustments to the Mantis before we begin final production later this year. This was probably the most aggressive 'Beta testing' any EV has undergone in the Indian market. All the feedback from the ride is being incorporated into the final production version of the Mantis," says Prajwal.
 Challenges galore
Their primary challenge was to implement the plan while prioritising the rider's safety. They were also preparing for any potential risk they could identify. During the journey to Sangrur, one of the Mantis riders met with an accident, and the nearest support car was 15 kilometres behind. "The locals were helpful and helped take our rider to a clinic for an initial medical assessment, followed by a transfer to the closest hospital. Thanks to his protective riding gear, he did not sustain any severe injuries," recalls Ranjita.
The injured person was Akshay Tippannavar, one of Orxa's senior mechanical engineers. He had been riding with Gautam from Dehradun to Manali, Srinagar, Jammu and down to Punjab.
"Upon entering Sangrur in Punjab, he got a heat stroke. He crashed into a side railing, but luckily one of our other teammates Janmejay Mishra was present, and he took over proceedings while also sending Akshay home to recover. This was an important lesson for us about riders having all the requisite protection gear all the time," she recalls.
Meanwhile, when the team were in Manali, one of the support vehicle drivers suffered a heart attack. "Due to the quick thinking and support of all the members of the entire team, that person received immediate and correct medical attention. At the time, we were leaving for Jammu. Thankfully, he survived and his truck was taken over by another team member from PotHoleRaja who drove it all the way back to Bengaluru," explains Gautam, who was present there.
The team also faced extreme weather conditions, ranging from the scorching temperatures of 42 degrees Celsius in Rajasthan to freezing temperatures of -2 degree Celsius in Manali.
"We also navigated through the wettest terrain in Nagaland in late February with challenging off-road conditions due to heavy rain and poor pathways. Throughout the journey, we undertook several challenges, including endurance rides that lasted six days and covered around 450 kilometres each day. Rides over steep inclines from Sitapur to Nainital involved ascending from an altitude of 100 metres to over 2,000 metres in a single day," recalls Prajwal. 
"However, our toughest challenge was Goa. Two days before the end of the ride, we were unable to charge our bikes as the availability of load or electricity was almost non-existent. We only managed to charge our packs and complete the ride thanks to Professor Hegde of GEC Goa, who accommodated our charging requirements at his home," he adds.
Interestingly, there were only four repairs on both the Mantis prototypes together during the journey — a pulley change, motor sensor issue, headlight issue, and one tyre puncture.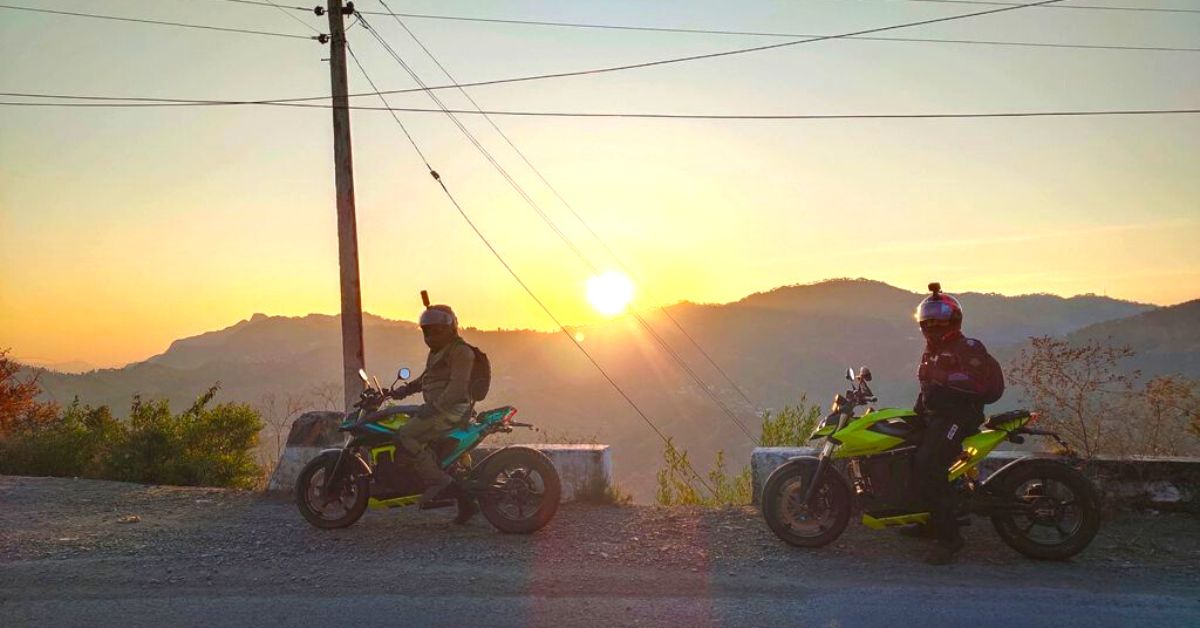 Startups setting up charging infrastructure
Barring all the challenges, Prajwal believes the implementation of the Electric Bharatmala initiative has been advantageous for the EV ecosystem. "Sixty eight new Bolt charging points have been established in 17 smaller cities such as Forbesganj, Sangrur, Sitapur, and Vapi. These charging points are now accessible to the public and help to facilitate the spread of electric vehicles to smaller cities and towns. Additionally, EV charging stations have been installed in the Northeast region in places like Darjeeling, Dimapur, Cherrapunji, Cooch Behar, and Guwahati. This expansion of infrastructure contributes to the government's objective of a large-scale shift to electric mobility in the near future," he says.
"The charging points were installed by Bolt and Highway Delite at CEAT shops and hotels identified by Highway Delite. They were 3.3kw /16A points, which are good for two and three-wheeler electric vehicles. These act as smart devices that connect via a dedicated app. The first charging point was set up at Jamshedpur and last at Gujarat. This was to cover the sections in the ride otherwise not covered by hotel associations or other," he adds.
The locations for installing charging points were usually hotel parking areas or Ceat Shoppes, which now act as an additional income source for the Ceat dealers or hotel owners. "In some places, they would directly connect our portable chargers to the plug points at the hotels. This required prior discussions with the hotels as we needed to charge 48 packs," says Prajwal.
 As Gautam recalls, "The Charzer and Bolt team joined us a week or two into the ride, and they set up charging stations along the locations we were travelling to. Typically, before we arrived at our accommodation for the evening, the charging units were set up for us. There were also places, particularly the smaller towns, where we really struggled because of some communication issues. Thankfully, the portable charging systems that we were carrying with ourselves helped us. We used our hardware to charge our batteries." 
At the start of this journey, the team had ventured out with 11 portable chargers, but it turned out that because of the quality of power (voltage and current fluctuations) in different parts of the country, they ended up losing a lot of them. "By the end of the ride, we ended up shipping out like 30 chargers all around the country. That was an eye opener," adds Prajwal.
However, the real task was to finalise the locations, convince hosts, procure the BOLT devices, and coordinate with local engineers and electricians to install the units across these points. Language and communication barriers in most of these locations added to the above.
"In addition, the team did perform a recce on each site to check feasibility or look for alternate solutions. We also had to consider the possibility of the rider changing their plans and routes to accommodate climatic and road conditions during the ride. The team would be up for hours together to put all logistics in place. Today, each time a rider charges his vehicle at one of these points, the team feels proud of themselves," claims Prajwal.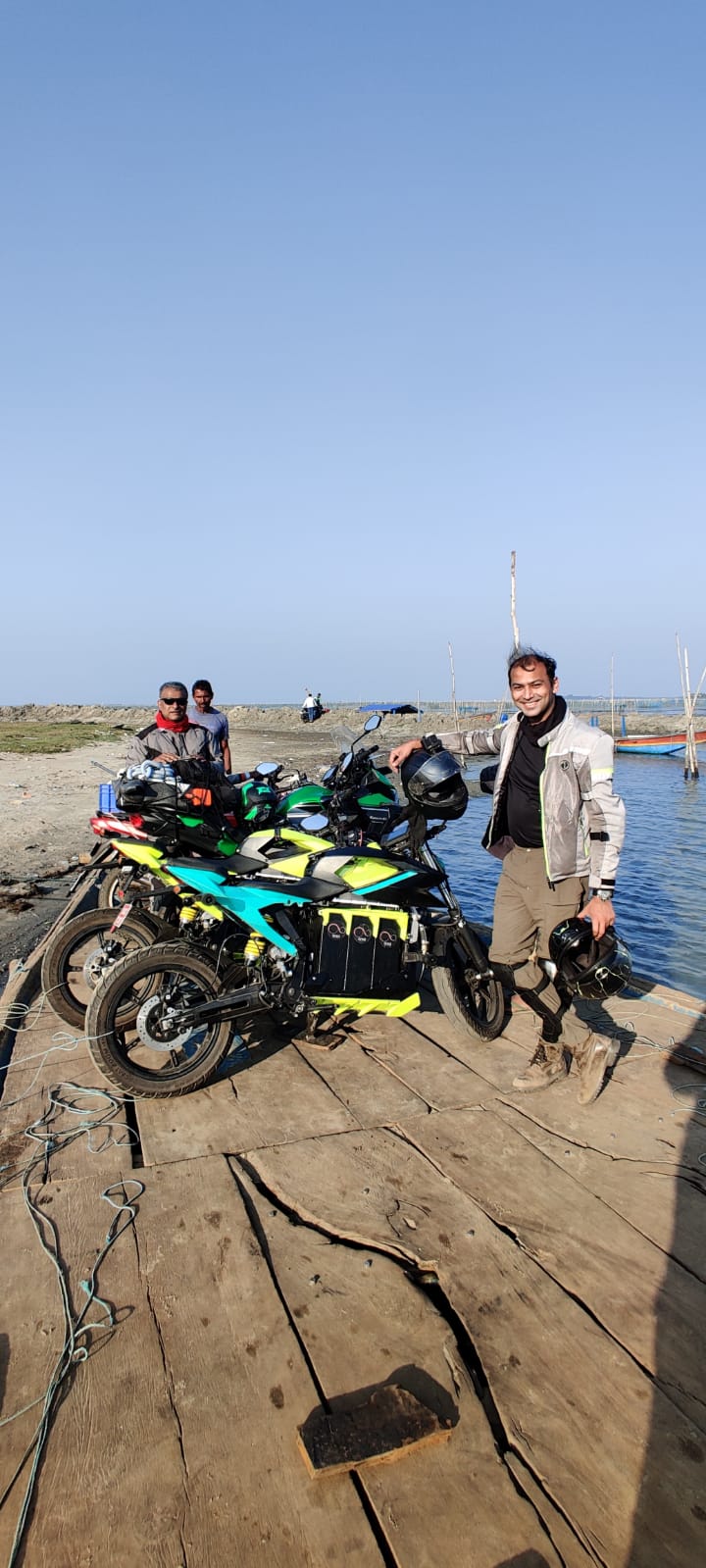 Summary and looking ahead
Over the course of 54 days, the bikes covered a distance of 13,510 km. On average, the team rode around 300-350 km per day, maintaining an average speed of approximately 70 – 75 kmph.
"This ride demonstrated the Mantis's range, which was found to be over 150 km per charge on highways with an average speed of 70-75 kmph, and over 200 km per charge in the city. Meanwhile, the 68 charging points that were set up are still active, though some are less utilised than others. We have also noticed that some hotels have very good utilisation," claims Prajwal.
Meanwhile, Ranjita notes, "We are in the midst of the certification process right now. By Diwali this year, we are expected to start production. During the Bharatmala, we've done about 27,000 km of testing with our prototypes, figuring out what things we need to improve. Once we complete the road-worthiness certification, we will be launching the e-bike."
(Edited by Divya Sethu; Images courtesy Orxa Energies)                   
Tell Us More
We bring stories straight from the heart of India, to inspire millions and create a wave of impact. Our positive movement is growing bigger everyday, and we would love for you to join it.
Please contribute whatever you can, every little penny helps our team in bringing you more stories that support dreams and spread hope.