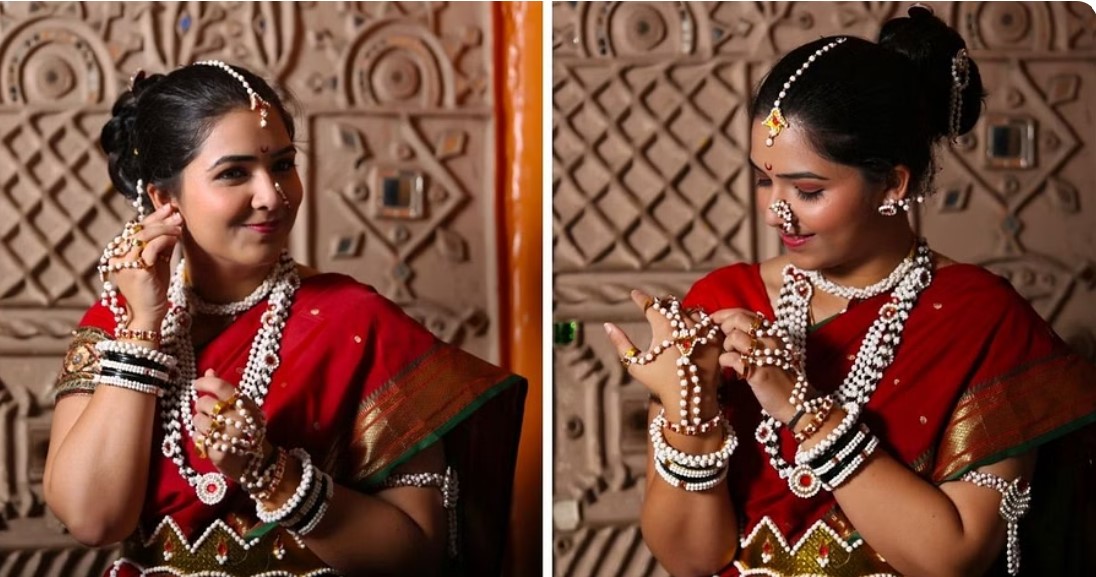 Maharashtrian newlyweds welcome their first Makar Sankranti together by wearing 'halwa dagine', or jewellery made out of sugar. Watch this video to learn more about this sweet tradition.
In Maharashtra, newlyweds are often seen flaunting white jewellery on black traditional clothes on their first Makar Sankranti festival together. While these jewellery pieces look like they're made out of tiny pearls, a closer look will reveal that these are in fact, edible sweets!
Called 'halwa dagine' or 'halwyache dagine', it is a type of Indian jewellery made of sugar, sago, and sesame seeds. In Marathi, halwa means sweet and dagine means jewellery. The tradition of wearing "sweet jewellery" is believed to usher in a year of sweetness and happiness.
The delicate art of dagine-making has been passed down from generation to generation in Maharashtra.
"The halwa has to be threaded through two cotton threads. It is very difficult and intricate work. There is a specific technique that we use and I teach those who are interested, too," says Anjali Atul Padhye, a Virar-based jeweller who learnt this technique while watching her mother make them, growing up.
If you're wondering if these pieces of jewellery can be repurposed into dessert after wearing them, Sonia Patankar of 'Khauwale Patankar', says "No!"
Married to Ramesh, who currently runs the commercial establishment that's been making halwa dagine for over three decades, she says, "You can eat these beads before making dagine but not after. They are stuck on pieces of paper and decorated with kundan (gold), colourful beads and other embellishments. So you can't eat it then."
Watch this video to learn more about this traditional art:
Edited by Divya Sethu