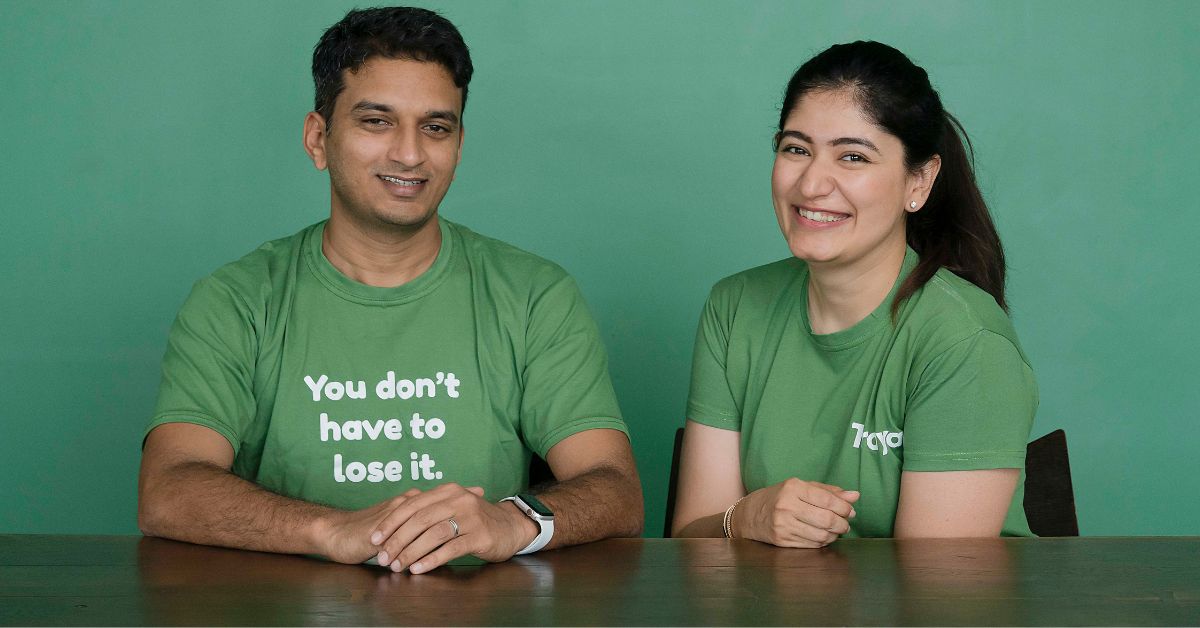 Saloni Anand started Traya to help people grappling with hair loss by changing shampoos and searching for quick fixes. The venture offers a five-month long programme and currently has over 2.5 lakh customers.
"Our venture is the outcome of a personal health struggle," Saloni Anand, the founder of Traya — a holistic hair care platform, reveals in conversation with The Better India.
The startup combines the benefits of Ayurveda, dermatology and nutrition into a holistic plan that people can avail of online to grapple with hair problems. To date, Traya has helped over 2.5 lakh Indians with their hall fall concerns, the number they are intent on increasing in the coming years.
The brains behind the venture, 33-year-old Saloni Anand reminisces about how it all began at home.
The computer science engineer from Mumbai was exposed to the world of health concerns that the generations of today have to deal with while she worked in the healthcare and marketing sector. She was no stranger to these problems. But it was after getting married in 2017 that Saloni witnessed this first-hand when her husband Altaf began having a lot of health issues.
"He was dealing with thyroid problems, his lifestyle was haywire, and on top of it all, he was balding at an alarming rate. We assumed stress was causing the issues and so thought a sabbatical would be a great idea," Saloni shares adding that in retrospect this didn't help.
Altaf, being from a biochemical background, was invested in what solutions would help curb the root of the hair fall problem. The couple made their way in 2018 through a series of hospitals and clinics both in India as well as Korea, attempting to come up with a solution that would suffice.
But nothing helped.
"This was when I realised we're going across the world trying to find a solution. But let's stop for a second and see what Ayurveda and home science have to offer," notes Saloni. The couple, coming from a family of allopathy doctors, had never resorted to Ayurvedic practices. They decided now was the time to test if this science did work, and they found solace and sound advice in Dr Shailendra Chaubey's words.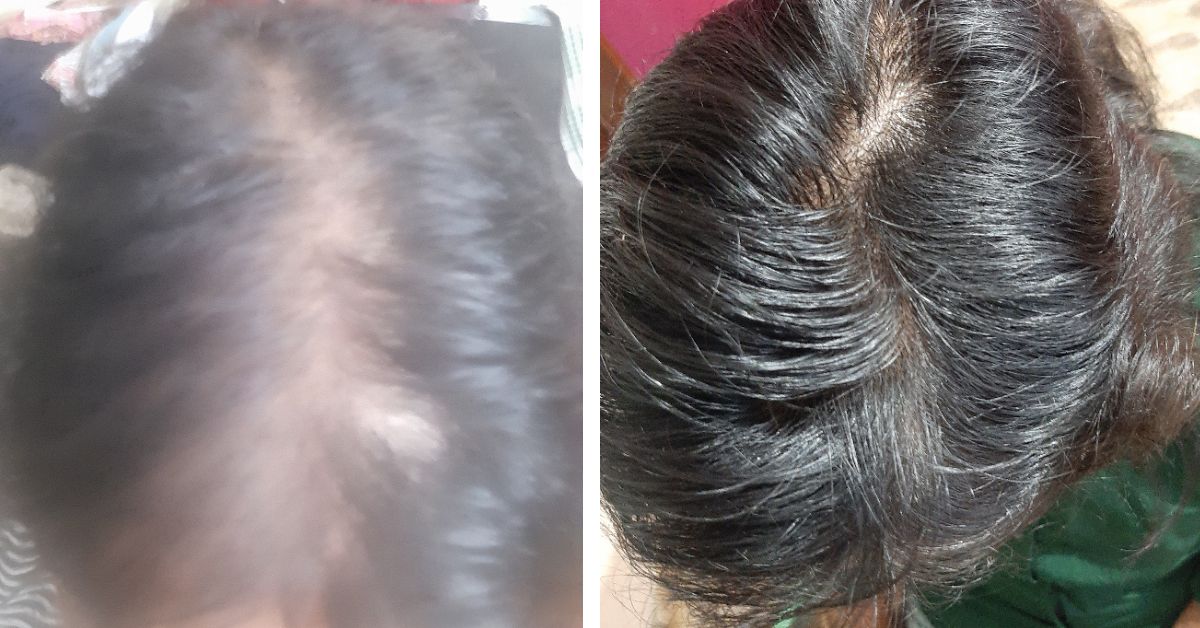 The Ayurvedic doctor came with 11 years of experience to his credit and told the couple a simple truth. Saloni shares these learnings.
"What he said contradicted a lot of the hair fall treatments in the market and commercial solutions. He told us hair loss is not external but a result of something that is happening within the body. Instead of switching shampoos and other hair products, thinking they will provide a quick fix, focus on alleviating stress, fixing gut issues and thyroid — parameters that are usually responsible for balding."
The duo began working with Dr Shailendra on a holistic plan that aimed at tackling Altaf's hair fall problem and was astounded by the results they saw after five months.
Altaf not only felt better health-wise, but his hair had grown to a considerable extent. The couple was content with these results and went back to their respective jobs. But something had shifted within them.
'We wanted to add to the solution'
At parties, at functions, in the office and everywhere, people would notice Altaf's drastic hair growth and ask him what helped. He'd go on to explain to them that it was no simple fix but instead a steady plan targeted at holistic health. He jokingly recollects that most of his friends and colleagues were either actively seeking potential spouses or preparing themselves to look their best for the wedding season.
"Hair matters a lot at these times, and unfortunately, hair fall is one of the most common problems. My friends would tell me about how their self-image would go down each time they uploaded a picture of themselves, simply because they'd lost a lot of hair."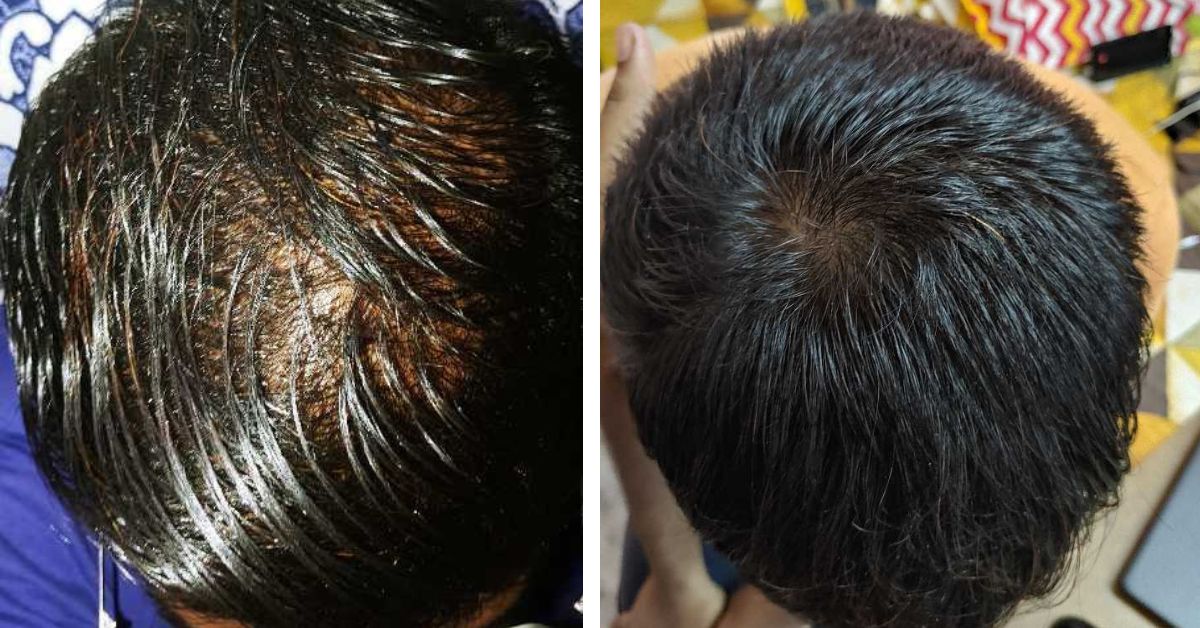 With the rising number of queries he was getting and with Saloni being at a crossroads where she was looking to switch jobs, the couple thought it was the perfect time to take the dive. So they started a venture of their own, focused on hair fall solutions.
"We realised that what we were most passionate about was helping people with their hair problems the way we had been helped. These days, a lot of young Indians face several issues with their health. We'd managed to bring good health into our lives, and now wanted to do the same for others," shares Saloni, adding that she soon quit her job.
And the couple launched Traya in December 2020.
The journey began with exploring the Ayurveda market, understanding hair problems at the roots, and looking at it from an angle like any other disease. The couple onboarded three doctors, one Dr Shailendra, an Ayurvedic practitioner, the other a nutritionist and a dermatologist.
While the dermatologist and nutritionist would guide the customers with product and lifestyle-based solutions, Saloni says Ayurveda is much more complex than this. "The formulations don't come ready, and so we went to multiple Ayurvedic doctors and labs across India coming up with customised solutions," she shares.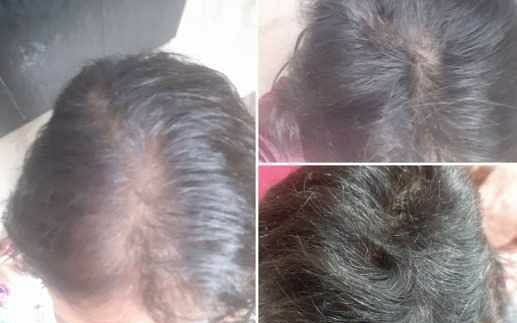 Deep diving to the roots of the problem
A simple start was what the duo were aiming for. With 55 friends ready to try their solution, the couple got Traya going. They got the cohort of 55 to have consultations with the doctor trio and got them started on a five-month plan.
"Once the group of 55 were set with their routine and supplements, we just sat back waiting to see the results. And five months later we heard back," says Saloni.
Out of the 55 people, 35 of them had unrealistic before-after pictures to share, fortifying the belief that the couple had in their products and solutions. Traya was ready to go full throttle into the market.
"Those five months were the most fruitful. We were in constant touch with the group of people who were trying our products and the customised plan. And we would call them frequently just to check in and see if everything was going well, or if they should stop something in their diet, etc. So when we saw the results, it felt personal. We then put these before-after pictures on a deck, and this became our USP to launch the brand formally in the market," adds Saloni.
She adds that the journey to getting help with your hair loss is now simple.
"Traya is an online solution, wherein the customer looking for help with hair problems visits the website and takes the 'hair test', which comprises a series of questions designed to understand the degree of hair loss, which stage the hair fall is at, etc. The customer is also required to add pictures of their scalp and additional information depending on what the nutritionist and dermatologist will need."
Once this is complete, the platform comes up with a recommendation plan and even an assessment of how long it will take to see results. Customers can then check out and buy the Traya one-month plan, following which the trio of doctors will receive the assessment and the products prescribed. They will approve it, prescribe the dosages of medicines, and speak to the customers for any further concerns.
The entire package of solutions along with instructions is packed into a box and shipped to the customer.
Mohd Yaseen, a banking professional says his experience with Traya products has been wonderful. "I had no idea about why hair loss happens or how it can be solved. But Traya helped me understand the deeper root causes. I was once of the opinion that once I lost my hair, there was no going back. Everyone would tell me it was because of genetics. But I'm glad that I found a platform that thought differently."
He adds that before approaching Traya, he had tried every solution in the book, including every shampoo and oil. "But the hair loss only continued. So, I'm happy I found a solution."
But Saloni adds that this isn't all.
"The real magic of Traya is that a hair coach is assigned to every customer, who is constantly in touch with them to know about how their journey is going. They check if they have any complaints, feedback, etc and just get a general sense of how the treatment is going."
She adds that hair fall solutions are not an instant gratification quick fix, but instead something that requires hand-holding. The only way to get people to use the product for the five-month duration is to keep a constant check on their progress.
"The journey begins once people use the product," notes Saloni.
Edited by Pranita Bhat
We bring stories straight from the heart of India, to inspire millions and create a wave of impact. Our positive movement is growing bigger everyday, and we would love for you to join it.
Please contribute whatever you can, every little penny helps our team in bringing you more stories that support dreams and spread hope.
Tell Us More