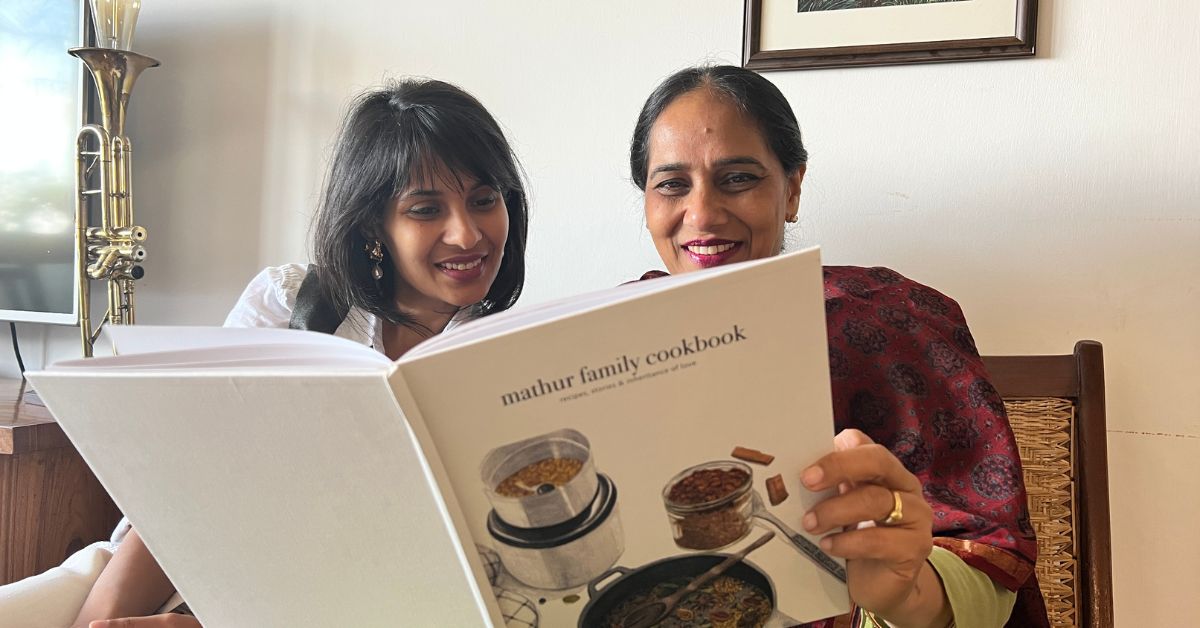 After her mother passed away, Delhi resident Shruti Taneja started Nivaala, a platform that enables people to record and document family recipes passed down generations.
Ask Delhi-based Shruti Taneja about her fondest childhood memories, and pat comes the reply. "Aam panna (a drink prepared with unripe mangoes) in the summer, and my mother's homemade curries. Her recipes were always special."
Food was an integral part of Shruti's childhood and so, when the marketing professional lost her mother a few years back, alongside the grief she was dealing with, there was also the bolt from the blue — that her mother's recipes lay forgotten in time.
This got Shruti thinking about how food often holds a deep sense of connection in Indian homes, and how it is more than one of the three basic needs of life, a piece of legacy itself.
Her mother's passing, she says, brought with it the realisation that in being fed her comfort food every day, she had never really learned how to cook. "A part of me was left thinking that, the way watches and saris are often passed on from one generation to the next, recipes should also be inherited, as they, too, are priceless," Shruti shares in conversation with The Better India.
This was the thought behind the inception of Nivaala in 2021. This is a platform that enables people to record and document recipes to last years. As part of Nivaala, Shruti has conceptualised a range of projects, one of them being the most recent one 'Relish'.
"I wanted to help families create a compilation of recipes into a journal, ensuring that their treasure trove of recipes could be preserved. Relish is an inheritance of love helping families gather, preserve and archive treasured recipes," she shares.
In her quest, Shruti was joined by Chinmayee Manjunath, a seasoned journalist and publisher, with whom the former had bonded over the loss of loved ones, and how food remains a connection to those who are no longer with us.
The duo says a common love for documenting recipes led them to this initiative, as every family deserves to create a beautifully designed and well-edited heirloom to pass from one generation to the next.
"It is not the privilege of a few, but a right that everyone should have," Shruti emphasises.
A chance to 'relish' the story behind every dish
The duo recall the warm welcome the idea of Relish received on its inception in February 2023. They add that this response was also because of the blunt message the COVID pandemic has conveyed — that no one is immortal.
"We don't have forever. And why should an entire culinary repertoire be lost in time when someone passes away?" thought Shruti.
She adds that the magic of Relish goes beyond simply preserving recipes. It is also a nostalgic safe keep that generations of the family might revisit decades later to get an understanding of the culture their grandparents or aunts were brought up in.
As for how a family can get their personalised recipe book curated, edited and published by Nivaala, Shruti says the process takes eight weeks.
"Anyone wishing to document their family's recipes can send us the shortlisted list of recipes they want in the final book. We request they include details such as the dish's name, the story behind it, the ingredients, the method, etc, along with photographs for each recipe, or even family pictures. Using this material, the first draft of the book is created, and sent to the client for approval, followed by two more rounds of editing and final publishing." The project retails for Rs 40,000 for five copies.
Three cookbooks have been published under Relish, but hundreds of orders have been placed already, says Shruti. And each is unique. Take, for instance, the cookbook published for the Mathur family.
"The family was from Uttar Pradesh and wanted to publish this cookbook for their mother's birthday, as she was passionate about cooking and food. Most of the recipes had been passed down from two to three generations. These include the bhardwan tinda (apple gourds in a gravy made with onions and tomatoes), shalgam chana (a lentil curry made with turnips) and the pachmail (a daal made with chickpeas)."
Where food tells a story
While Relish is one pillar on which the Nivaala magic stands, there are several other initiatives that the platform undertakes, all aimed at giving food its rightful due, and letting it stay through the pages of time.
One such project is the recipe journal arm of the platform. The difference between this and Relish, says Shruti, is that these are empty books that one can fill with their own recipes.
She adds that the reason these journals are a step ahead of commercial ones is because they are fine-tuned to suit the Indian audience.
"In contrast to westernised versions that have the standard sections to fill — of whether your dish is a snack or main, with typical icons — ours have heirloom indicators. So people aren't filling the usual sections, but rather the ones that will hold meaning to them when the journal is passed to the next generation. For example, to which generation the recipe belongs, which family member came up with it, an associated memory, the ingredients, and the method. It's a simple process and adds to the emotional quotient that food has in Indian homes."
Shruti shares that they have sold over 500 of these recipe journals to date, but the love goes beyond numbers.
"I love when people find the same happiness as I did in this concept. I remember a girl who loved our recipe journals so much that she bought one for her mom, one for her aunt and another for a third relative. We joked about how she loved the journal so much she kept reordering it, and she said she'd gotten all of these people to fill their recipes in it and she now had a collection of 120 recipes. It was the sweetest thing!"
A platter of culinary projects
Alongside, Shruti has extended the magic of documenting to regional food as well, through collaborations with chefs across India as well as local farms. These collaborations preceded Relish, and took place in 2022, wherein Shruti says she "discovered the untapped potential that regional food had".
Each of these collaborations holds a special place in her heart.
"We partnered with local farms across India, picked one ingredient, and sent it to chefs around the country asking them to come up with a dish of their choice using that hero ingredient. They would then prepare the dish, send us the recipe with pictures and stories of the dish, and we'd compile these into a magazine," she adds.
One of the earliest projects Nivaala hosted was The Legume Project in February 2022. Rajma, the bean of choice, was sent to chefs in various cities across India, and Nivaala published a magazine that was replete with a variety of rajma recipes, ranging from rajma mooncakes by Chef Prateek Bhaktiani to rajma sundal by Chef Keertida Phadke. With the project amassing so much love, Nivaala went on to do The Jackfruit Project, The Mushroom Project, and A Kitchen of One's Own, building on the same concept.
While Relish is a fairly new concept, the love it has received has been overwhelming to witness, says Shruti, who had no formal background in this field. The 35-year-old's enthusiasm is evident as she talks about exploring the deeper meaning of food and relating it with stories, and how this subject has always been dear to her.
Nivaala, which to date has collaborated with 30 chefs, is an ode to how recipes in Indian homes are beyond food — they are stories woven with the right ingredients and the guardians of memory.
If you thought Nivaala's tryst with food is exciting, there's much more lined up for the year ahead. Shruti leads us in on another project Legacy Kitchen, which will be launched later this month wherein Nivaala, through partnerships with restaurants, will be curating recipes and hampers. She shares snippets of the project.
"For our first segment under Legacy Kitchen, we will be collaborating with a restaurant in Jaipur, wherein their head chef will be sharing her recipe of aam kasundi (a Bengali pickle). We will then be making this dish in a haveli that belongs to Shan Agarwal, the founder of Jaipur Modern Kitchen. The packaging for it will be made by a local potter and hand painted by artisans using the very same ingredients that go into the pickle."
The idea is that when a customer receives the package, they will have the pickle in a handmade box, the recipe for it, along with a one-minute film that details the cultural roots of the dish and its journey from the state where it was born, to their plate.
"The idea is to explore how one recipe can be a gateway to understanding so much about someone's culture."