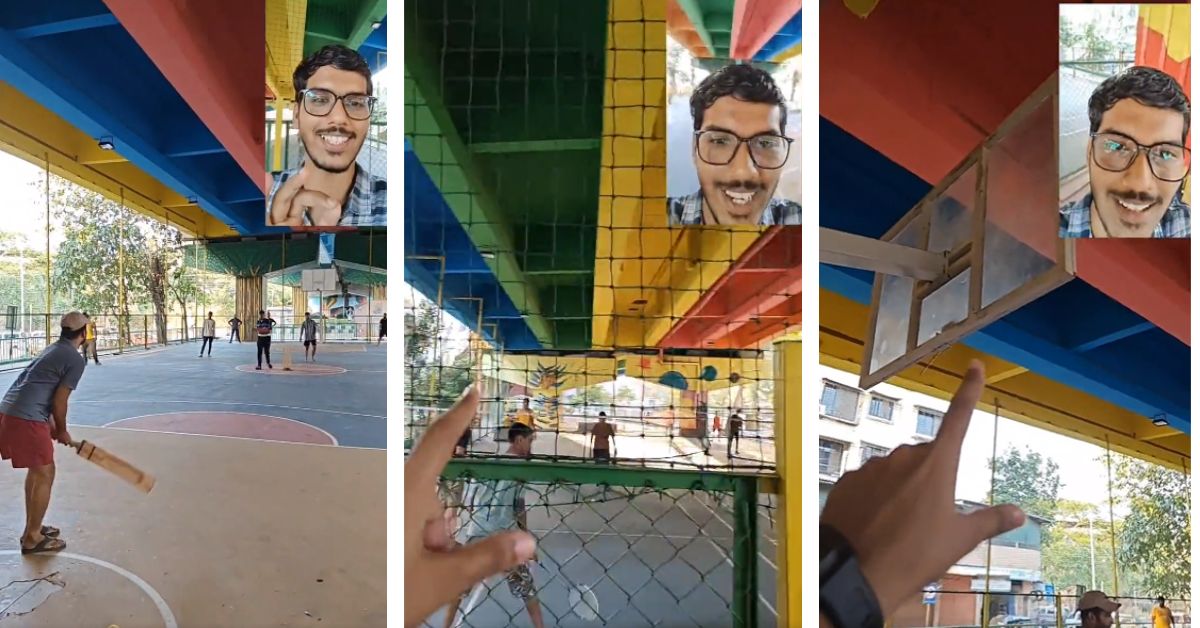 A project by the Navi Mumbai Municipal Corporation, a public sports complex constructed on the empty space under the flyover is being applauded by netizens after a video featuring it went viral.
Children running out of homes to play outdoors freely has now become a thing of the past in cities due to the lack of open spaces and rapid urbanisation. So when Dhananjay (@Dhananjay_Tech), a famous content creator, tweeted a video showing an innovative transformation of the space under a flyover into a play area, it broke the internet.
Dhananjay's video shows the public sports complex built beneath the Sector 15 Sanpada flyover in Navi Mumbai. The footage displays young people playing cricket on what appears to be a basketball court, with a badminton court visible on the other side. He explains how there's even netting in place to prevent the balls from bouncing onto the streets.
This innovative infrastructure is an initiative of the NMMC (Navi Mumbai Municipal Corporation) and in its first phase, they chose to convert the space below flyovers in Nerul and Sanpada.
"The space under most of the flyovers in Navi Mumbai is lying unused and taking advantage of the situation some people have encroached on them for parking vehicles and running small shops among others. Some homeless people are also staying under a few flyovers and neither we, nor the police department has any idea about their backgrounds. So to beautify the place, we have decided to develop sports infrastructure and open gyms under the flyovers," said Sanjay Desai, NMMC's city engineer to The Hindustan Times.
"Under the Swachh Survekshan, the Engineering Department of the NMMC decided to transform the place under flyover for public use by providing various sports facilities here," said an NMMC official to a local daily, Newsband.
He adds, "The 2745.27 sq m area under the flyover is now a sports complex. Suitable games have been selected according to the height of the flyover on the site. A basketball court and three badminton courts have been constructed in the zone where the height was not a constraint. Similarly, a box cricket zone with a pitch of 22 yards has been created. Also, a sizable skating rink facility has been provided. Apart from providing facilities for practising yoga, jogging tracks have been developed in the vicinity of these sports courts. Along with this, as a means of recreation for senior citizens and others, a sitting facility has been made available."
Dhananjay's video now has over 1.5 million views and his post has been retweeted by many influential people including Anand Mahindra, who said, "Transformational. Let's do this. In every city," in his tweet.
Many people, impressed by the project, have tagged their government officials demanding similar initiatives in their city. A Twitter user, @iNishant4 from Pune, wrote, "Indeed let's do it in every city…implement the same in #Pune city as well, wherever possible."
Hyderabad's Municipal Administration and IT Minister K T Rama Rao expressed interest in replicating similar public spaces in the city and tagged MA&UD Special Chief Secretary Arvind Kumar in a tweet, saying, "Let's get this done in a few places in Hyderabad. Looks like a nice idea."
Among all the enthusiasm around implementing this idea, there was also a mention of a similar functional project in Vijayawada called the F1H2O Park under the Kanaka Durga flyover, constructed by the Vijayawada Municipal Corporation.
Would you like such projects to be initiated in your cities too?
Watch the video to learn more:
Transformational. Let's do this. In every city. pic.twitter.com/4GJtKoNpfr— anand mahindra (@anandmahindra) March 28, 2023
(Edited by Divya Sethu)
Sources: