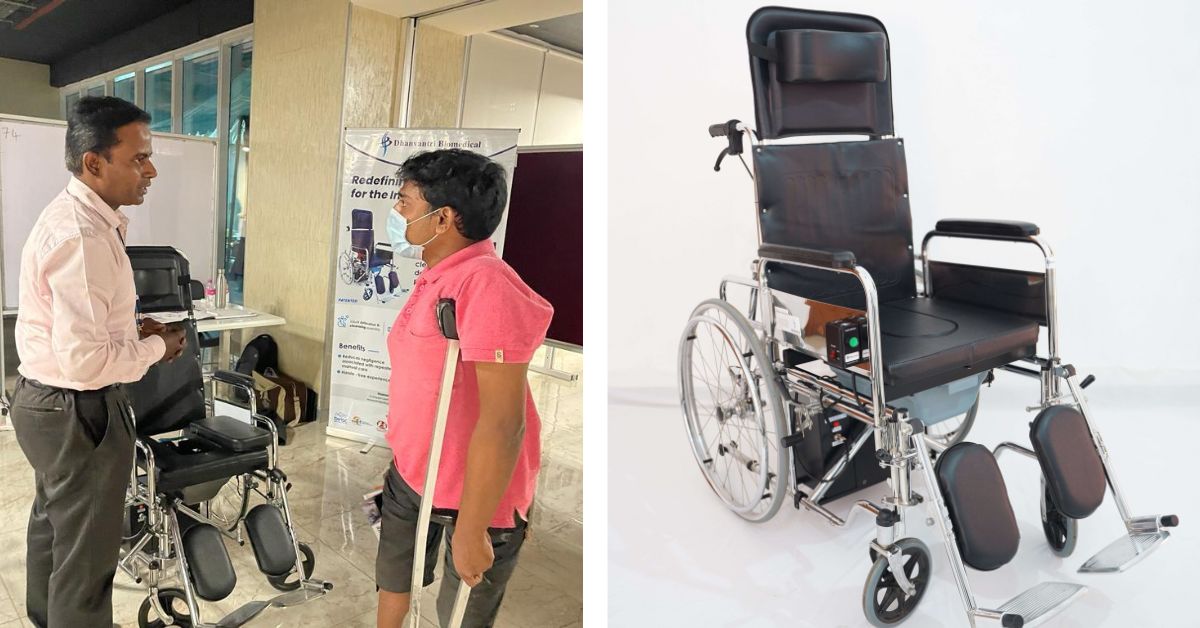 Coimbatore's Sruthi Babu innovated a smart wheelchair cum stretcher that comes with a self-cleaning commode and rechargeable battery to provide dignity to people with mobility issues.
While doing a fellowship in Odisha in medical innovation, an incident changed 27-year-old Sruthi Babu's life forever. She was visiting a hospital in Coimbatore as part of her fellowship and came across a paralysed man.
"He was with his daughters and wanted to use the toilet. After defecating, he needed someone to clean him and the two daughters looked at each other. The guilt and embarrassment in the father's eyes were saying everything. He murmured to himself, 'It is better to die than live like this,'" recalls Sruthi to The Better India.
That day, Sruthi decided to build something to ease some of the difficulties faced by people with immobility issues.
After working relentlessly for years, Sruthi launched Sahayatha — a smart wheelchair with an inbuilt commode, a battery indicator, and an armrest with a 180-degree recline.
Later on, this very wheelchair managed to impress the 'sharks' on Shark Tank Season 2 and won her a deal of Rs 1 crore at 10 percent equity.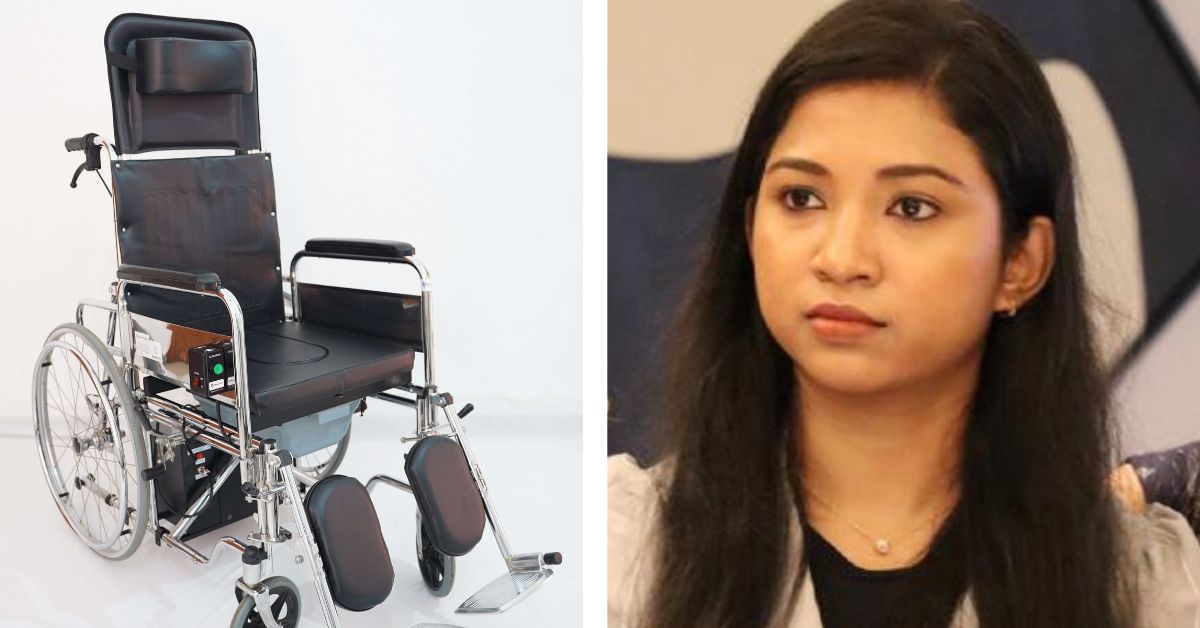 'My father was my greatest support'
After completing her graduation in biomedical instrumentation engineering, Sruthi was working as a medical coder in Coimbatore. Always a shy kid, leaving home and moving to a different city was never her plan.
"I had never left Coimbatore. I came across a fellowship program but it was in Odisha. Initially, I was unsure how to proceed as I have never been to any other state. It was more of a mental barrier, but my father was my biggest motivation to go out of my comfort zone," she says.
Always passionate about being an entrepreneur, the fellowship, which was a social innovation program, seemed like a perfect place to learn the ways of business.
"My father accompanied me to Bhubaneswar where I had to give an interview and I got in. Back then I just wanted to learn and make products of utility. I had no idea what was ahead for me," she shares.
"I did not know Hindi or Odiya and I had never been out of home, but my father convinced everyone in the family to let me go. Working as a fellow, I learnt a lot and the journey of Sahayatha began," she says.
In 2018, after the incident with the paralysed man, I started to conceptualise the idea of the smart wheelchair.
"I had seen the issue, and now I had to bring up a solution. I could clearly see there was a market for this kind of innovation but not enough knowledge about it. Under the guidance of my mentors from BIRAC and KIIT, I started to develop various ways of making the wheelchairs easier to use," she explains.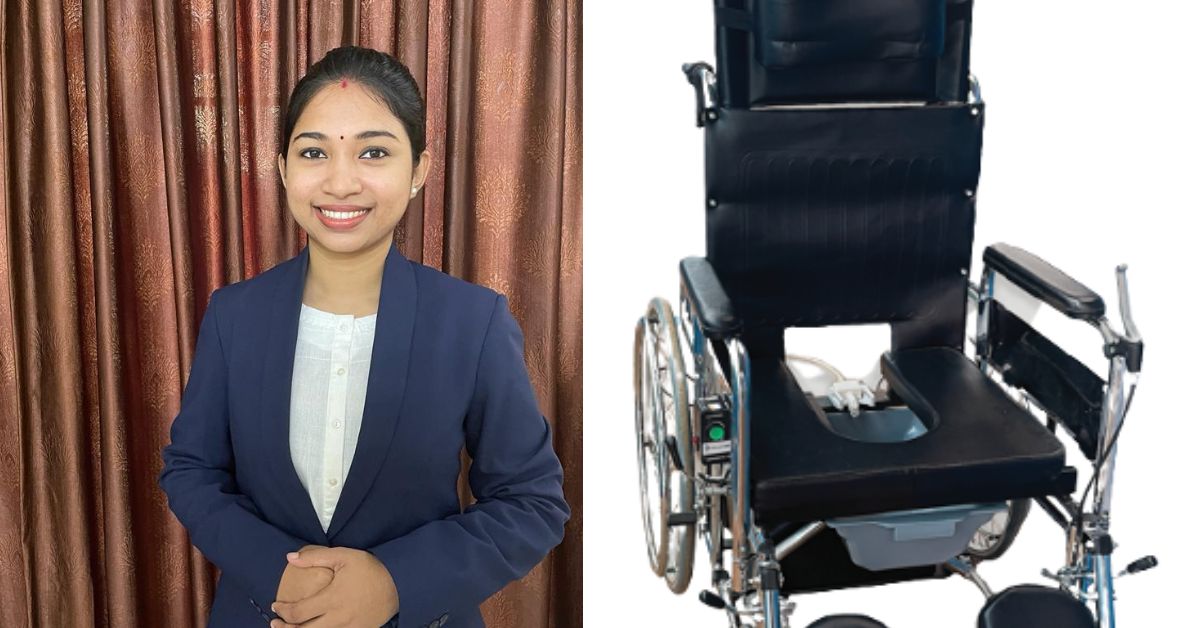 Enabling a dignified and independent life
Sruthi's father, K K Babu, had been a part of her journey ever since the conception of the idea.
"My father was a mechanical engineer and I knew where to turn for the mechanical and designing part of the product. We set up a small unit in Coimbatore, and he worked tirelessly with me to make this product happen," she recalls.
The duo went through 118 iterations before landing on the final product.
"In 2020, we were pretty confident of our design and decided to run some trials. But that's when the pandemic hit. We requested many hospitals to help us but the time was such that the staff was too busy treating the patients," she says.
"We noticed that many COVID patients were too weak to go to the washrooms, so we suggested the hospital put the chair near the patient. They agreed, and we went on with our pilot study which took nearly six months," she says.
With the product ready to be launched, Sruthi went to an expo in Chennai.
"While I attending the expo, dad left us. I lost all faith…he was my biggest supporter and motivation. He was with me throughout the process, and I did not know what to do without him," she shares.
"I collected myself and was able to launch the product," she adds.
Explaining the various benefits of the product, Sruthi says, "People usually think that a person with a mobility issue only needs a wheelchair. But that is not the case. They need help doing basic things like passing urine and motions. They need a caretaker, so what we provide with Sahayatha is a wheelchair which can become a stretcher with a self-cleaning toilet facility."
"The cleaning system uses an old Japanese technique called a bidet system. It is quite common but not in wheelchairs. It has an inbuilt water storage system, and the faecal matter is collected in a cup-shaped container, which can be easily removed from the back of the chair without disturbing the patient. The chair is also multifunctional and can be made into a stretcher too, so a person with limited mobility can easily transfer themself to the bed," she adds.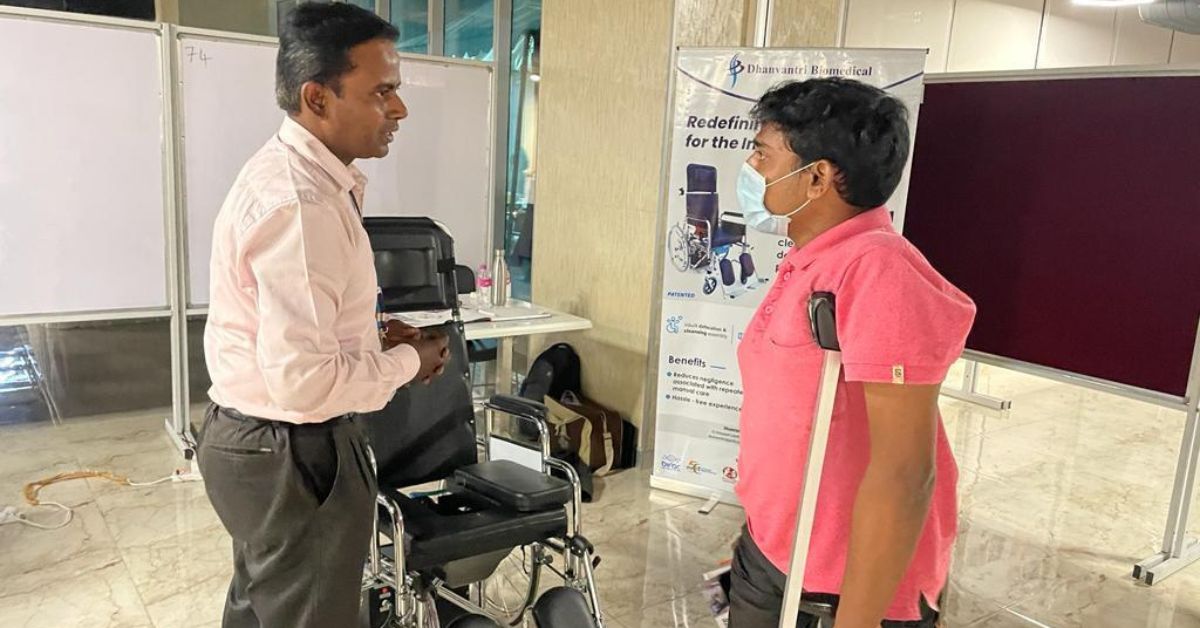 The cleaning system works on a battery which is chargeable. Once charged the battery can work for up to 30 days.
There are two variations of the product — S100 and S200. The S200 model comes with the facility of being converted into a stretcher. The S100 is priced at Rs 29,900 and the S200 at Rs 39,900.
'Shark Tank was a miracle'
The product took the 'sharks' by surprise with the level of innovation and the aspiration behind it.
"Before going to the Shark Tank, we were not able to sell the product. While we knew there was a market for it, people were not aware of our existence. We were really small back then with limited finished products. Most of the hospitals wanted to try samples, but we did not have the bandwidth to give them that," she says.
"But after Shark Tank, people know us. We have had hundreds of enquiries and many orders too," she says, adding, "It was my husband who first told me to go to the show."
Sruthi's application got selected and she decided to take Hindi tuition to learn the language.
"Since most of the pitch happens in Hindi, I decided to take classes to prepare myself. When the day finally came, it was like a dream. Even when I was standing behind those [Shark Tank] doors, I was thinking, 'Is this really happening?'," she says.
Sruthi further informs, "We have sold over 30 chairs since the episode aired."
Geetanjali Mohandas, the first purchaser of Sahayatha, shares her experience of using the chair. "My 93-year-old mother has been partially bedridden since 2018. She has been under medication and a nurse's support. I am a working woman, and it was becoming really hard for me to take care of her. When I heard about the wheelchair, it was a big relief. I think it is an amazing product not only for the design but also for the change it brings in users."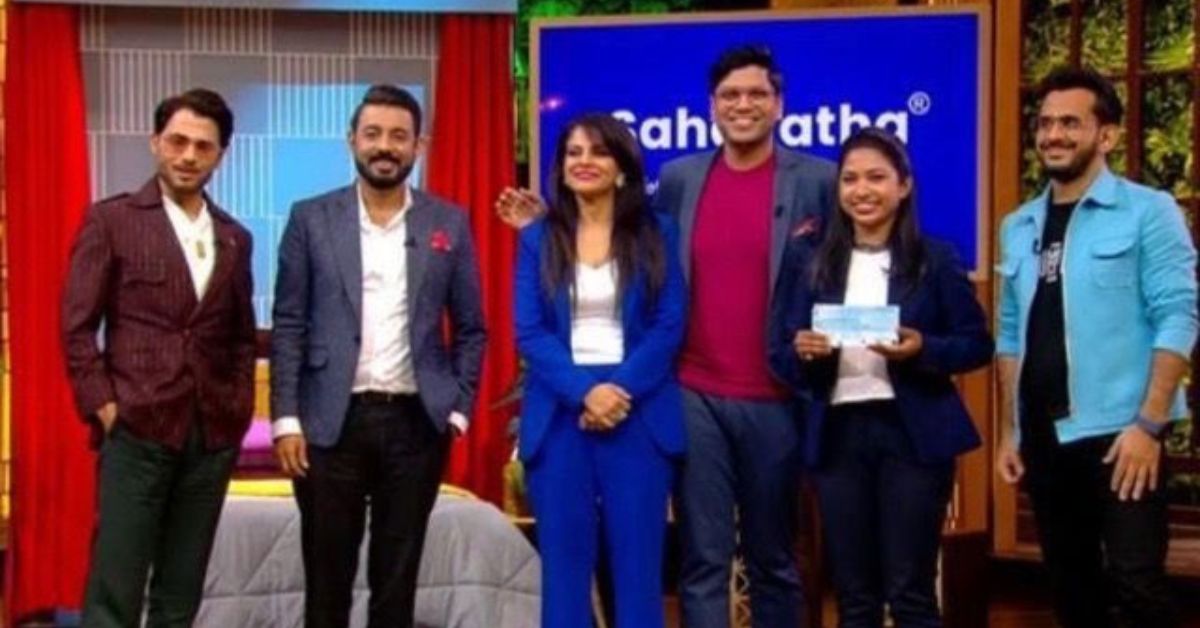 She continues, "My mother was happy that she is not a burden on anyone now and she can clean herself. The product brought back the lost self-respect and dignity."
Narrating a similar story, Sruthi says, "Another customer of mine spoke to me and told me that he can eat anything he wants now. I was astonished to hear that and asked why he said it. He replied, 'Since now I can relieve myself whenever I want, I eat whenever I want to'. Just the shame and guilt of asking someone's help to clean himself was not letting the old man eat. It is such feedback that kept motivating me to go on this path even when sales were not good."
As for the future, Sruthi wants to increase production and spread more awareness about her product and its uses. The chairs are available to buy on the official website and on e-commerce platforms like Amazon and Flipkart.
Edited by Pranita Bhat
We bring stories straight from the heart of India, to inspire millions and create a wave of impact. Our positive movement is growing bigger everyday, and we would love for you to join it.
Please contribute whatever you can, every little penny helps our team in bringing you more stories that support dreams and spread hope.
Tell Us More