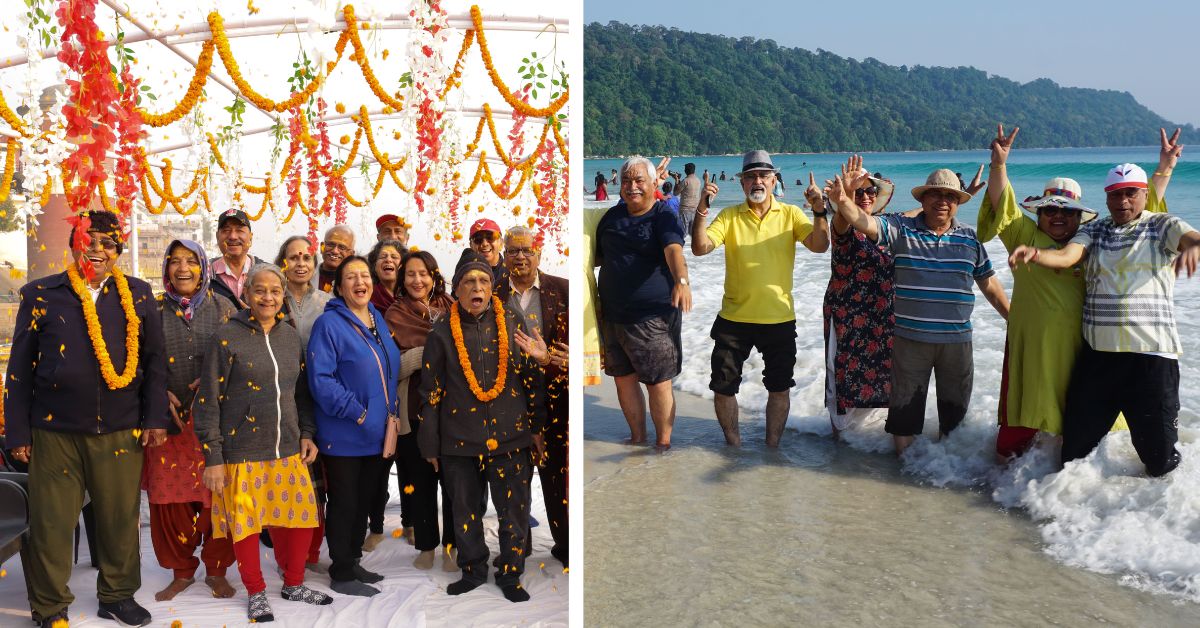 With a strong vision to promote positive ageing, Haryana duo M P Deepu and Rahul Gupta founded SeniorWorld, a startup that has helped thousands of senior citizens travel the world and redefine ageing.
After retirement, Paramjeet Kharal set out on a pilgrimage, albeit of a different kind.
This pilgrimage included river rafting in Bhutan, bungee jumping in Thailand, learning how mummies were made in Egypt, watching picturesque sunsets, travelling on the steepest train lines in the stunning Blue Mountains and riding in hot air balloons in Australia.
Now 70, Paramjeet has visited at least 27 countries since retirement.
"These are novel and thrilling experiences for me. I try to do adventurous things on most of my trips, because I do not know if I would be able to come back to that country. I love exploring and seeing the cultures of new countries, understanding their histories, tasting their food and unique tea, and experiencing the things I had only studied about in books," the retired government school teacher tells The Better India.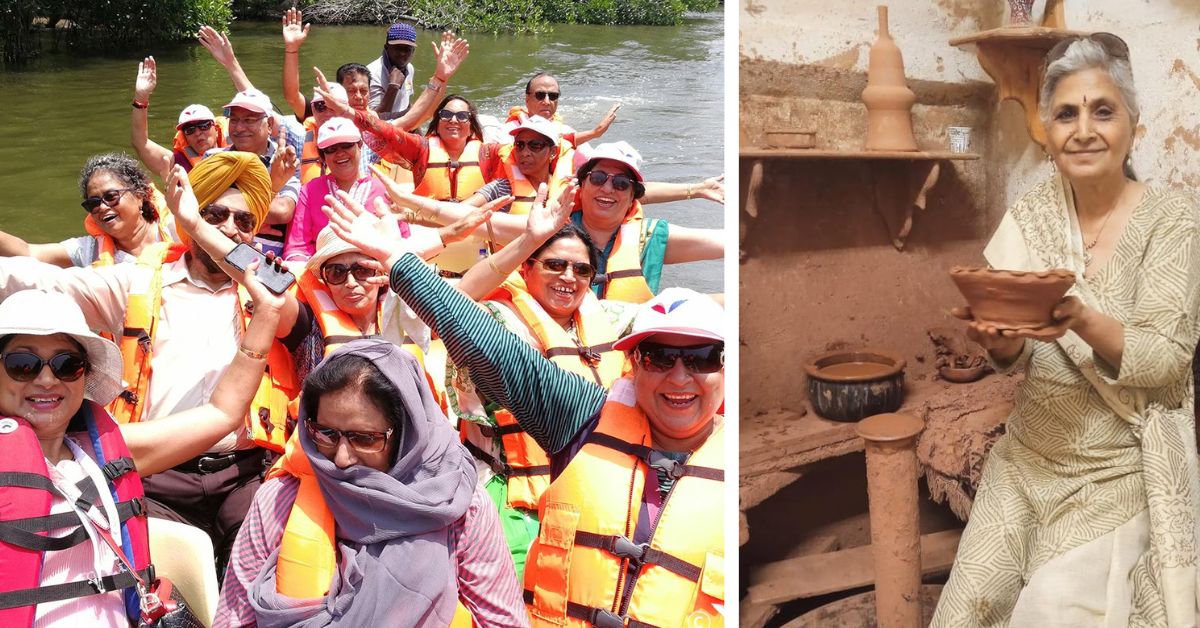 "We play in the snow and on beaches, we become kids on these trips. I have also met so many unknown people, who became my roommates, and later, my lifelong friends. We have made such sweet memories," adds Paramjeet, who documents the details of her trip — like the countries she visited, the time differences, currency, and cultures — in her journal.
Back in India, the Amritsar-born woman lives with her husband in Gurugram. She explores countries alone on her savings. "I am not dependent on anyone. I am spending whatever I saved. For whom should I leave my money behind?" she asks.
Paramjeet is among the 5,000 senior citizens associated with SeniorWorld, a senior wellness company that organises customised tours for older people, including cancer patients, parents living in old age homes, and persons with disabilities.
The company is the brainchild of Haryana residents M P Deepu and Rahul Gupta, who started SeniorWorld in 2015 with a strong vision of promoting positive ageing.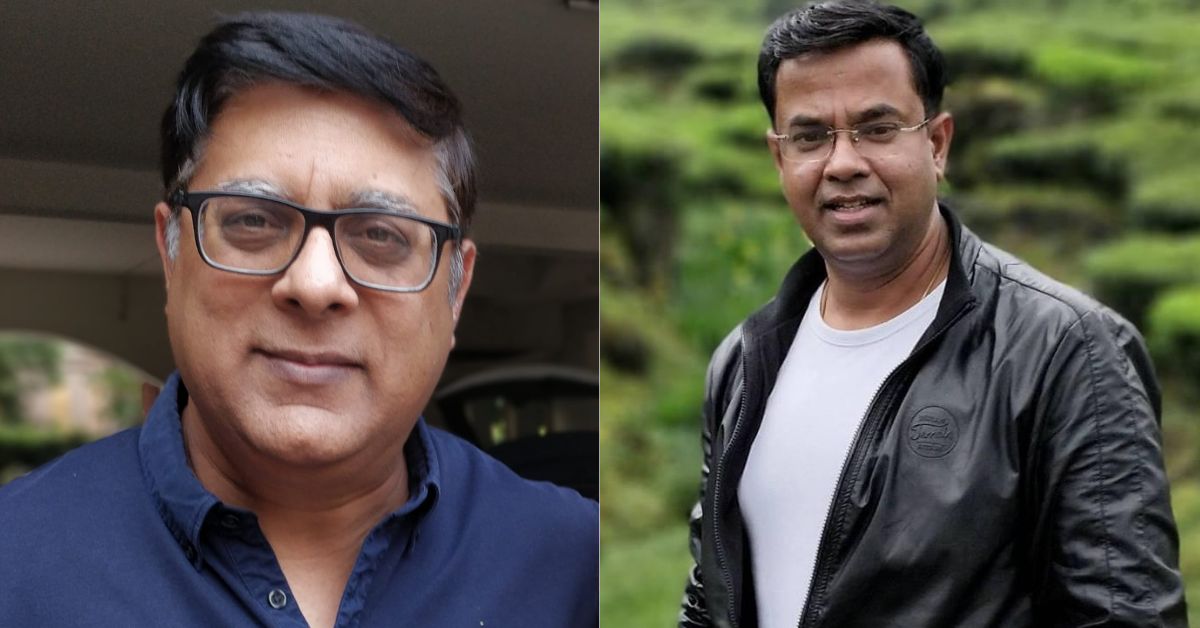 For a forgotten demographic
After working for 18 years in the Telecom industry, Deepu realised the gap in products and services catered to the senior citizens. "The country's elderly population is expected to double by 2050, implying that every 1 in 5 Indians will likely be a senior citizen. And yet, it is a forgotten demographic. Most companies design primarily for the youth and the silver economy is an ignored segment," the 50-year-old tells The Better India.
"We always faced an issue while buying products and services for our own family members, and we really wanted to change that. So we launched our own company with a vision to provide travel experience to older people, treating them exactly like we would our parents," he adds.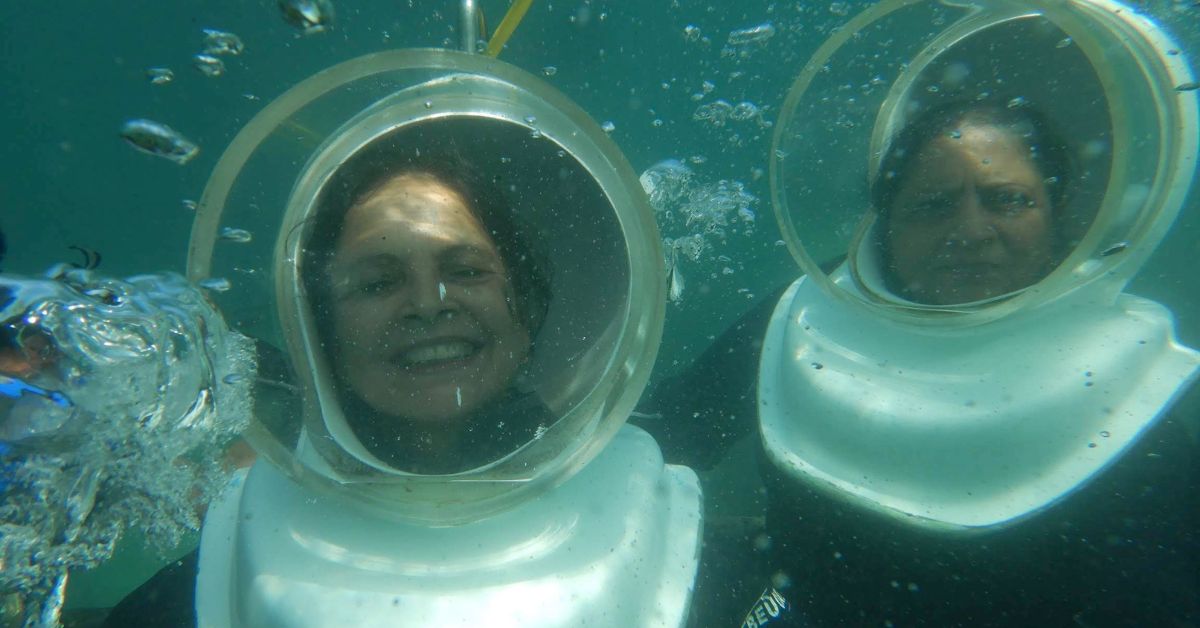 With this principle, his team takes care of the special needs of the elderly during travel and helps them explore places of their choice with other like-minded travellers.
"Travel is something that is very close to the elderly. These are those people who have retired, done their duties, but did not get opportunities to travel as much as they wanted. Now that they have time and money, they do not have the ability to travel on their own. And unfortunately, as families are becoming nuclear, their children do not stay with them and lack time for their parents," says Deepu.
The company's SilverWings Holidays customises assisted travel service for travellers aged between 55 to 95 years. With a paced out itinerary, curated sightseeing points, comfortable seating in vehicles, and tour managers to assist them, the platform hopes to redefine lifestyles by making older people more independent, engaged, and active.
"These members travel, participate in adventure sports, break stereotypes, learn new things like art, singing, dancing, technology and a lot more. Being in this sector has been socially impacting and that's what keeps us going," he says.
Why should young people have all the fun?
Recalling one such adventurous trip, Deepu says, "When we were in the Northeast, an uncle aged 87 years said he wanted to do ziplining, which was 200 feet above on a hill. And when he did it, 10 more people, including six women, were motivated and did the fun activity."
"They tell me that had they been with their children or grandchildren and expressed the desire, they would have either been laughed at, or forbidden from participating in the activity. Here, they enjoy their freedom," he adds.
He says that the travels are organised keeping the health and safety of senior citizens in mind. For instance, hotels are located near hospitals for medical emergencies. "We also keep updating their children by posting updates and pictures with them during their parents' holiday. It is extremely high touch work," he adds.
So far, they have taken senior groups to over 20 countries across the world, including the United States, the United Kingdom, Sri Lanka, Bhutan, Vietnam, Thailand, Singapore, Kenya, Dubai, Australia, and several parts of India including the Northeast, Rajasthan, Kerala, and Leh Ladakh.
"They are breaking stereotypes that these places are for youth, and not for senior citizens. They engage in scuba diving, they swim with dolphins. Our feedback is full of blessings. We get 70 percent repeat customers," he adds.
Meanwhile, Paramjeet, who visits at least two new countries every year, is setting off to a new 9-day expedition to Japan, which turns into a pink-hued paradise with cherry blossoms every spring.
Edited by Divya Sethu