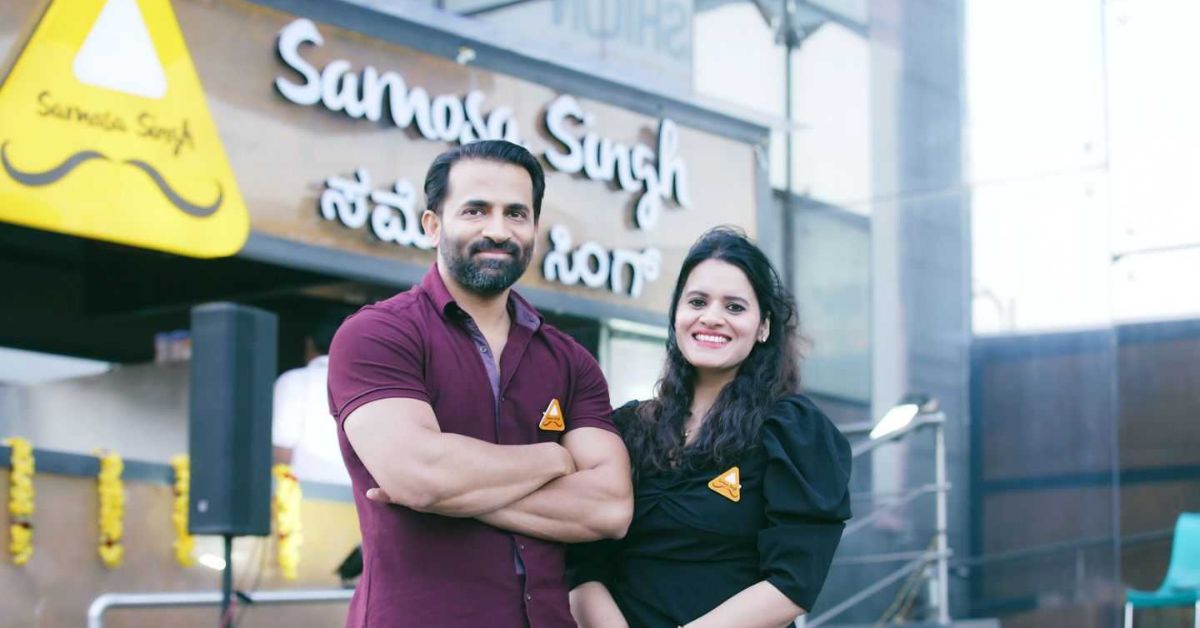 Nidhi and Shikhar Singh quit their jobs in the biotechnology field when they decided to probe why samosas get soggy. They solved this problem with what is now a successful venture called 'Samosa Singh'.
When Nidhi Singh and Shikhar Veer Singh took the call to quit their jobs as scientific researchers to test entrepreneurial waters, everyone warned them against it. "It isn't wise to leave a well-settled, lucrative life to chase a dream," was a common comment they heard.
But the Bengaluru couple had never been the kind to limit themselves to their comfort zone. Nidhi, who was with a healthcare company for a decade, and Shikhar, who worked in biotechnology, were always keen on solving intriguing problems and bridging gaps that existed in the world through their respective research.
Their career paths would shift after a trip to the local food court, where they observed keenly the popularity of a beloved Indian snack — the samosa. The duo got talking about how, despite the popularity of the snack, there was a lack of organised players in the market. Nidhi says that when it comes to samosas, most sellers are local shops. Unlike pizzas and burgers, there weren't many big brands in 2015 that were into selling the snack.
They weren't ready to leave the conversation at that and wanted to come up with a solution.
In a conversation with The Better India, they speak of how this conversation led to what is today Samosa Singh.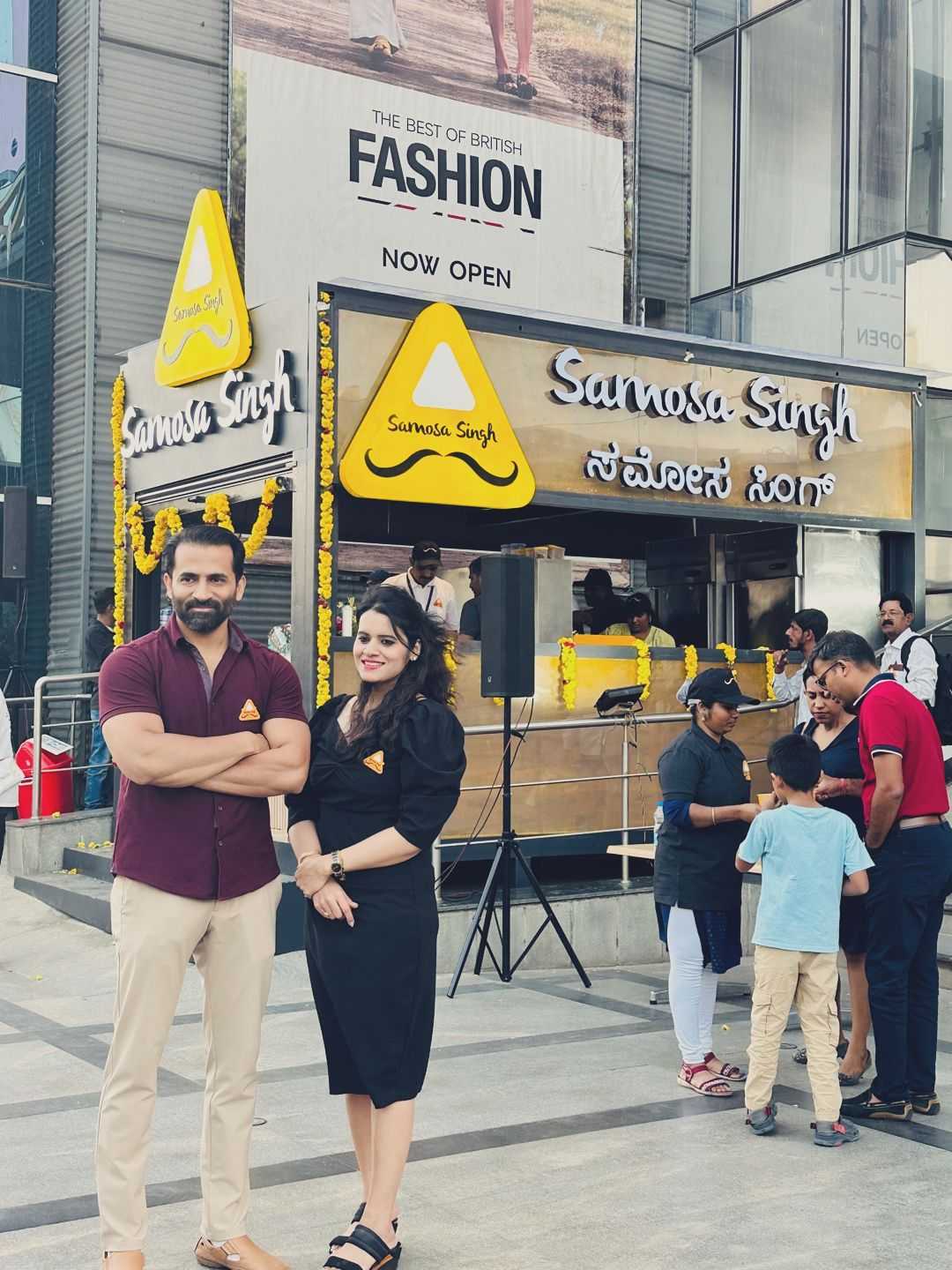 "We shared a passion to address this gap and start a venture of our own. Shikhar — who was of the mind that one should take the deep dive and start instead of having a backup option — quit his job in 2015. I quit a year later. He would often say that a backup option makes you too comfortable," reminisces Nidhi about the beginning of the venture.
In 2016, the couple were set to launch a brand that would, in time, "set out to reclaim the rightful place of samosa in the story of Indian snacks". The brand, they say, is a blend of innovation, aspiration and legacy. Because after all, the snack has been the country's pride for centuries now.
Crunching numbers and recipes
When Nidhi and Shikhar set out to build Samosa Singh, they thought that considering the snack they were building a brand on, it would be fairly simple. But they were wrong. Sold at every local shop and crossroad, they would have to ideate and come up with a unique selling point. How would they stand out in a market brimming with samosa sellers?
But they soon found a way around this daunting question.
"Think of your favourite pizza brand or favourite burger outlet. Do you love it because it sells the best pizza or burger in the world? No. You love it and order from it because no matter the day, season or time, or city, the taste is consistent. So we, too, decided we could build a brand that prided itself on consistency, instead of aiming to conquer the market," Nidhi explains.
While off to this enthusiastic start, the couple soon hit a speedbump when they began realising that "a samosa can never be perfect". "There exist scores of recipes. Everyone has their own version of a samosa that they love. To add to this, there are so many different varieties — the samosas of Hyderabad and the samosas of Punjab are different. We needed to perfect our samosas according to the location while retaining consistency," Nidhi explains.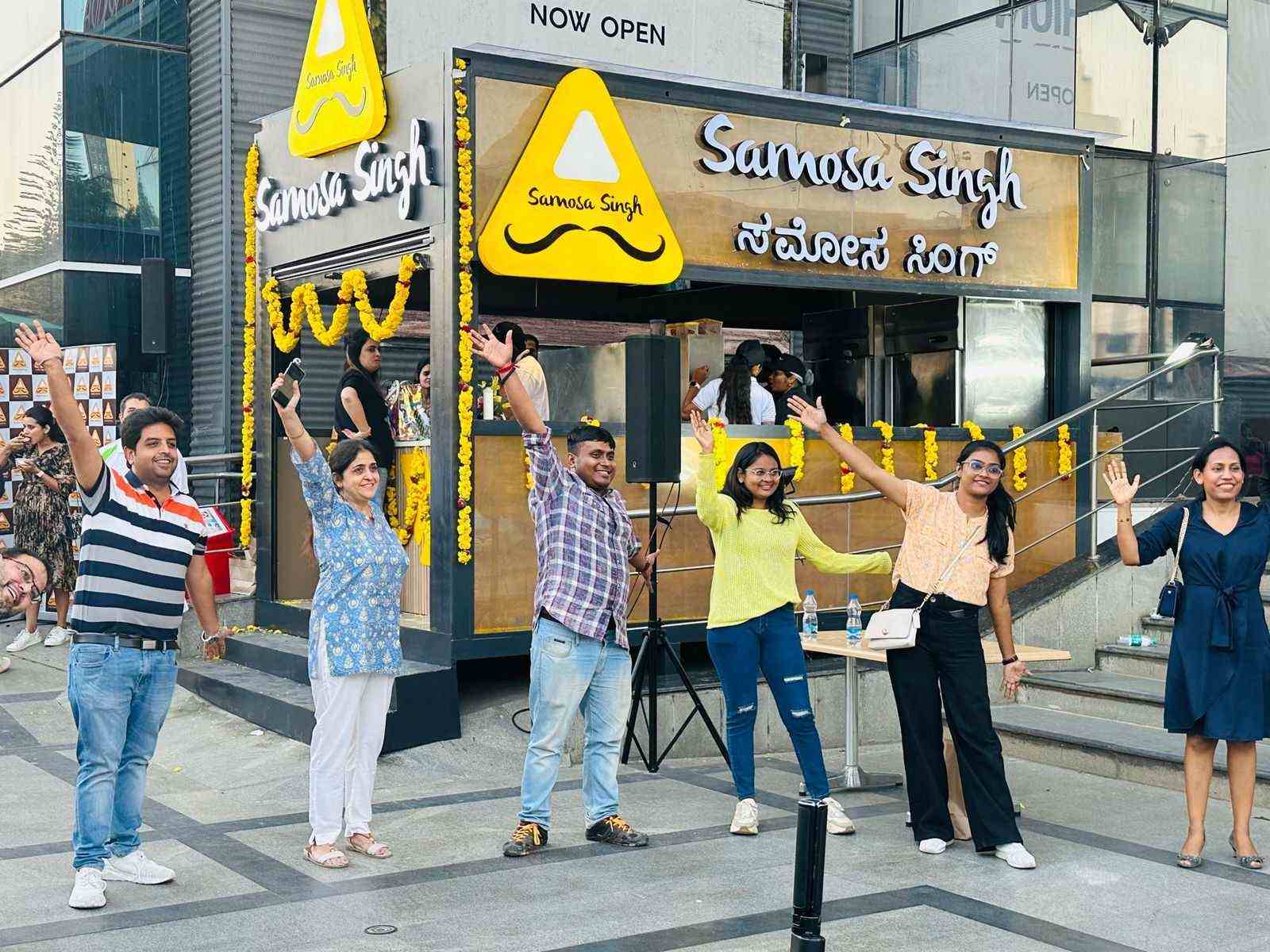 In the quest of setting up Samosa Singh on these pillars, the duo decided that if they were going to be a one-stop solution for the snack, they needed to address the ever-prevalent problem — soggy samosas.
There's science in the dough
How often has it happened that you ordered or picked up samosas from your local store to enjoy with chai, but the short trip home meant opening a bag of soggy samosas?
Having experienced the same, the duo thought of using their biotechnology expertise to understand how samosas are made "at a scientific level", and solve the problem once and for all.
"One solution was, of course, frying the samosas only once the order was placed so that they would remain fresh. But another technique we came up with was using special rollers. The dough has gluten bonds within the structure, and so these rollers put pressure on certain parts of the dough, causing the gluten bonds to break. This is our secret."
"Today, we pride ourselves on the crispiness of our samosas, even with delivery times," Nidhi says adding that they remain crispy and fresh for six hours.
With a batch of crispy samosas that are affordable as well, no one could say no to Samosa Singh. The brand soon found clientele in households across India, large corporates, cafes and restaurants, and even Air India.
And at the forefront was a Bengaluru couple proving naysayers wrong.
"We'd hear a lot that our previous experience would come to no good. But making food is, after all, a science. In science we autoclave products. In the kitchen, we pressure cook them. It's all related. We believed in our brand and passion, and it worked," Nidhi exclaims.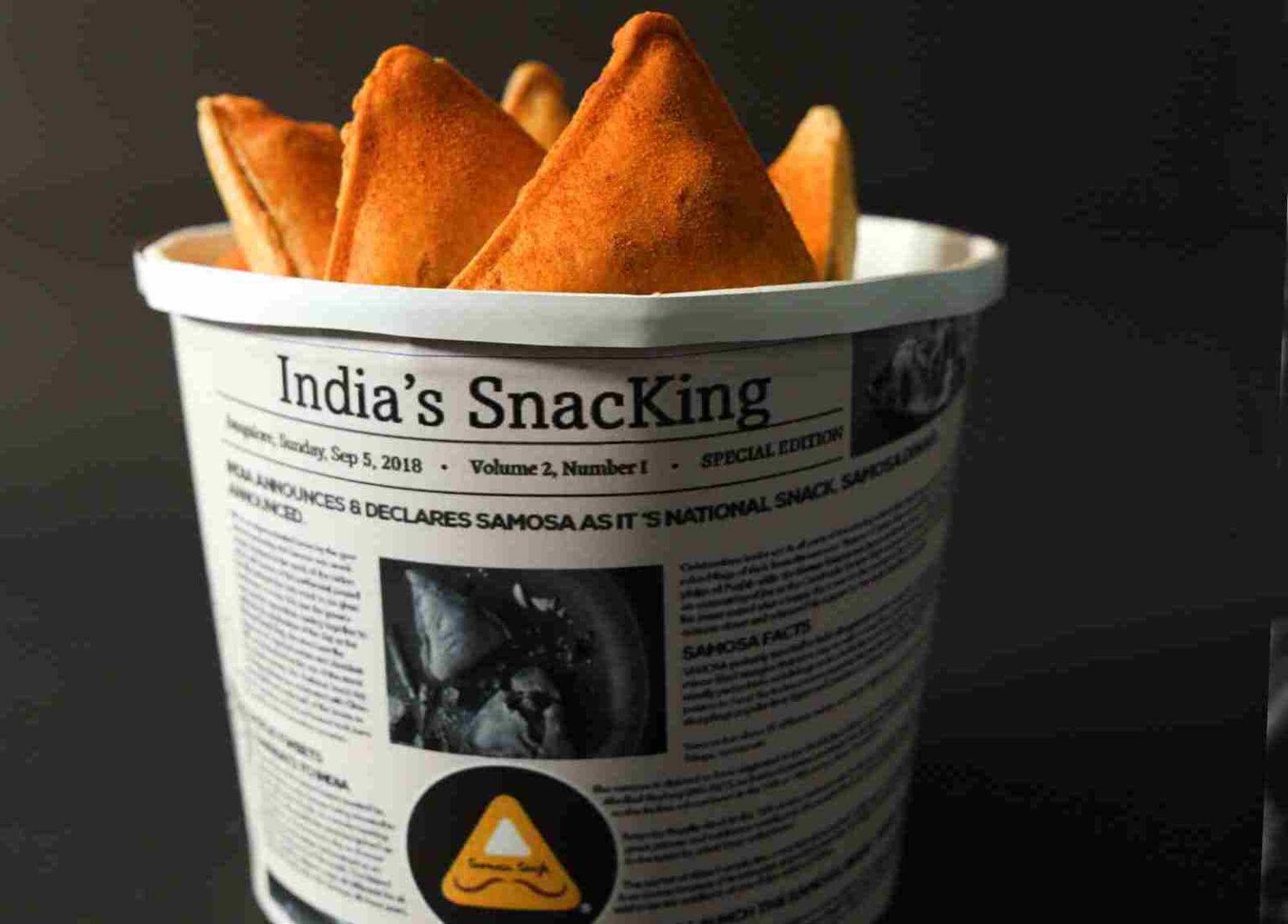 From one outlet to a multi-city status
Though they may be business partners who oversee different aspects of the venture today, Nidhi and Shikhar say they were just a couple with a dream a long time ago.
"But I think what set us apart was that we never procrastinated. We would come up with a plan, and then execute it quickly. That has helped immensely. In the early days, Shikhar would deliver orders and I would manage things on the ground. We did not have staff, and started with one outlet in Bengaluru," she notes.
This start happened in a 300 sq-ft kitchen with one cook, whose most important task was to ensure the samosas absorb less oil. Nidhi notes that while they could have resorted to baked samosas that were not as greasy, the market seemed to want fried ones instead, and so, their attempt was to keep these less oilier than usual.
To strike a balance between these two was tough, but they saw it through. Through the years that followed, Nidhi and Shikhar hired more staff members and chefs, and built the brand into the empire it is today.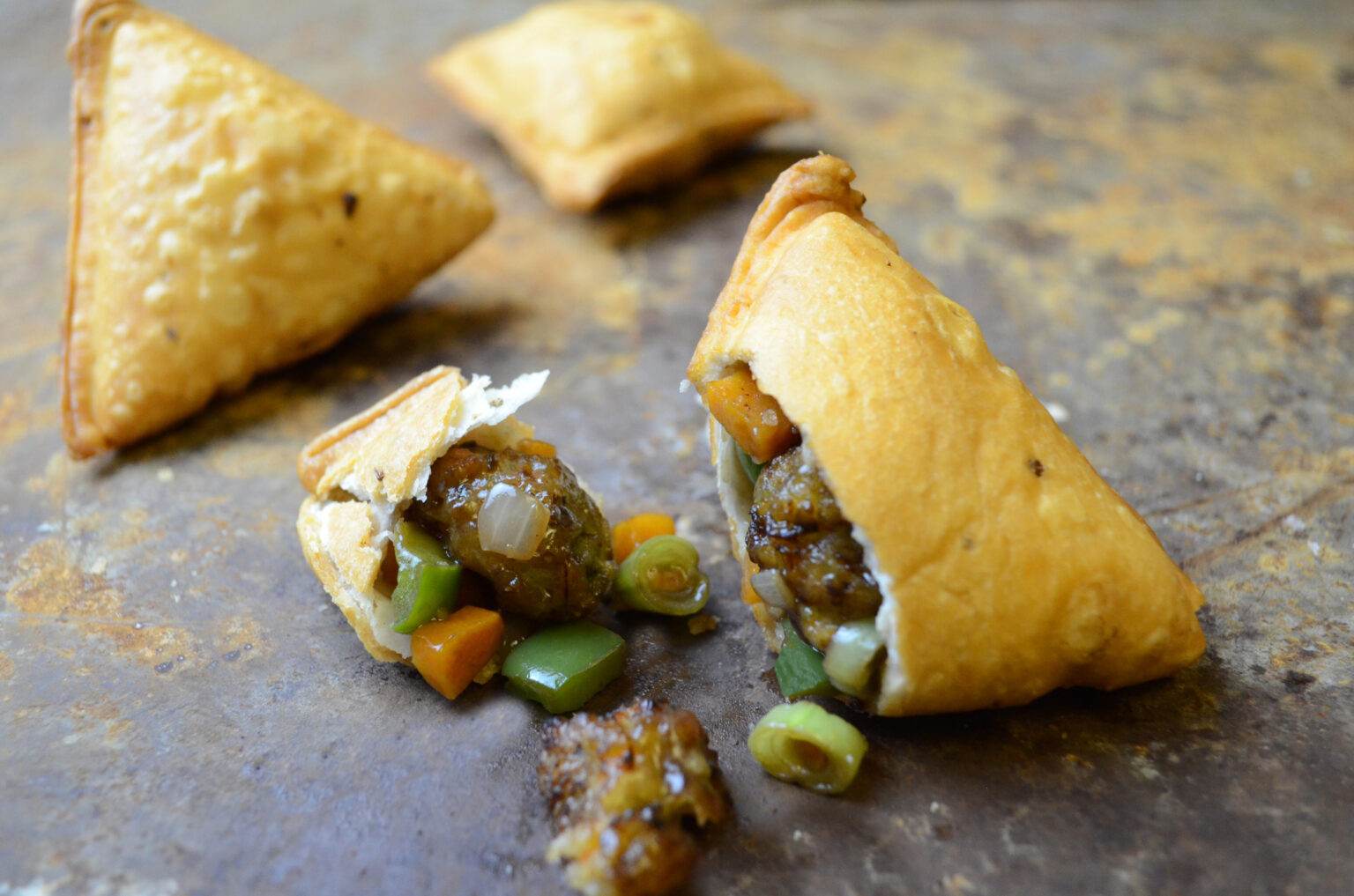 With a presence in eight cities including Bengaluru, Hyderabad, Visakhapatnam, Mysuru, Chennai among others, the brand sees cumulative sales of 50,000 samosas every day from all outlets, amidst other items like chaat, kachoris, etc.
Whether it's an aaloo masala samosa, a veggie spice samosa, a Manchurian samosa or even cheese chilli samosa, they have it all. Reviews say their snacks are "awesome", "most amazing recipes", "genuine and authentic" and "crispy for so long!".
Ask Nidhi and Shikhar the feeling of having scaled their 'baby' into the booming business it is, and they say, it all started with a dream. You just have to believe. 
Edited by Divya Sethu
Tell Us More
We bring stories straight from the heart of India, to inspire millions and create a wave of impact. Our positive movement is growing bigger everyday, and we would love for you to join it.
Please contribute whatever you can, every little penny helps our team in bringing you more stories that support dreams and spread hope.