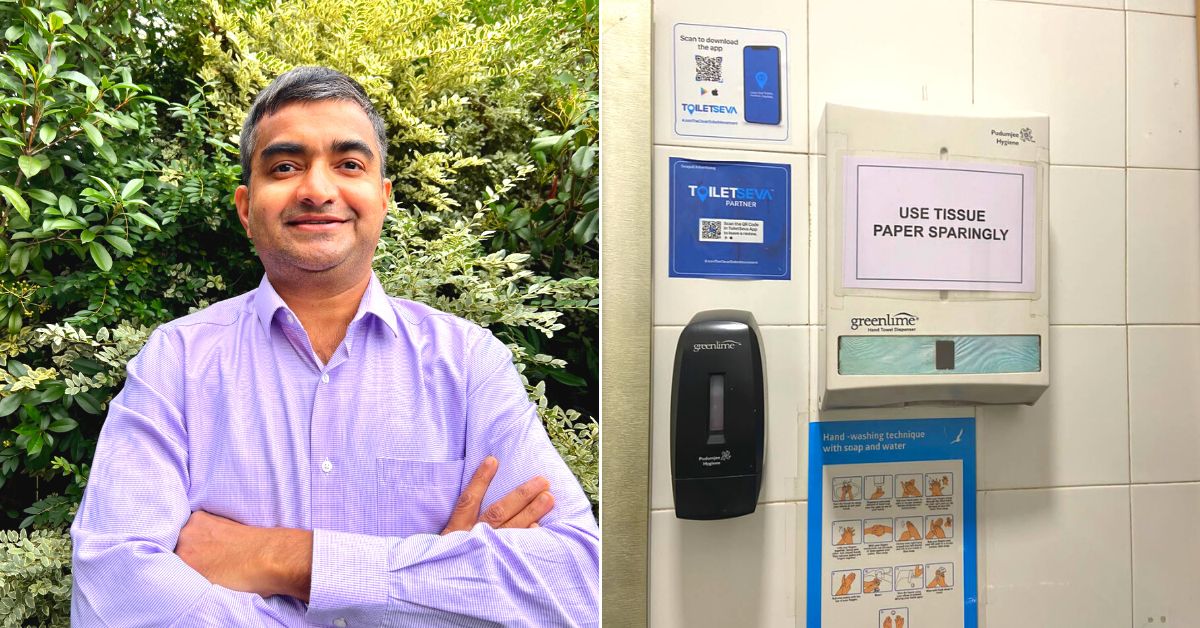 Developed by Amol Bhinge, a US-based engineer, the ToiletSeva app is a one-stop platform that lists government-run and privately owned toilets, allowing users quick access to clean, hygienic, and safe toilets in the vicinity.
Born and raised in Pune, Amol Bhinge has been living in the United States for the past 22 years. He currently works for a global multinational company as an engineer, designing electronic chips, in Austin, Texas. But being an American citizen now never deterred his desire to visit his family back in India every six months, particularly during important festivals.
Five years ago, while on a similar visit to Pune for Diwali, he had taken his wife and other family members out for jewellery shopping at a famous store on Laxmi Road, located in the heart of the city.
What happened during this time left a deep imprint on him.
"Jewellery shopping takes a couple of hours. In the midst of buying jewellery, we were served multiple cups of tea and coffee. Naturally, there came a time when I had to visit the washroom. What I found was a really dirty, smelly, unhygienic and unsafe washroom with a slippery floor. It was impossible to relieve myself there. This was completely at odds with the clean store with fancy air conditioning," recalls Amol while speaking to The Better India.
So, he went to the manager and politely asked him to get the washroom cleaned. The manager told him to wait for 30 minutes, but even after the stipulated time, there was no progress despite constant reminders. Naturally, he was upset and asked the manager why they had left the store's washroom so filthy. The manager's response was that only Amol had this problem and no one else had complained about it.
"What shocked me was the manager's apathetic attitude towards the filthy state of the washroom on the store's premises where customers spend lots of money buying their jewellery. I left there angry. Eventually, I found another jewellery shop nearby which had a cleaner washroom and relieved myself there," he recalls.
Instead of narrating this incident time and again to others, Amol wondered if he could find a solution. Even though he lived in the US, his heart was keen on finding a solution to accessing clean and hygienic washrooms for Indians living in India.
ToiletSeva app
"I thought, 'Can I develop a platform where users can find a list of all public toilets and washroom facilities of privately owned commercial establishments in a given area, submit comments, rate these facilities, and give them a choice to visit the best-rated one from a washroom experience point of view?' I wasn't advocating that privately owned commercial establishments must open up their washrooms to the general public, but at least maintain one for their customers," he says.
So, in June 2022, Amol launched the ToiletSeva app, a one-stop platform for government-run and privately owned toilets. The objective of the app is to allow users to quickly access clean, hygienic, and safe toilets in their vicinity. It displays features and facilities at each toilet and encourages them to voice their opinion about it with customer feedback and interaction.
"Currently available in Hindi, English and Marathi, you can find the app on iOS and Google Play Store. All you need to do is to install it on your phone and with a few taps on the screen, you can be a pro-ToiletSeva User. Through this app, you can also become a ToiletSeva Host and list the access to your clean and safe toilet on the ToiletSeva App to let people access it," he notes.
Amol began working on this app in 2019 alongside his friend (wishing to remain anonymous) who also works in Austin. Due to the pandemic and the fact that Amol and his friend have their own day jobs, it took them more than three years to launch this app. Since its launch, ToiletSeva has listed more than 1,28,546 washrooms across 129 different locations in India.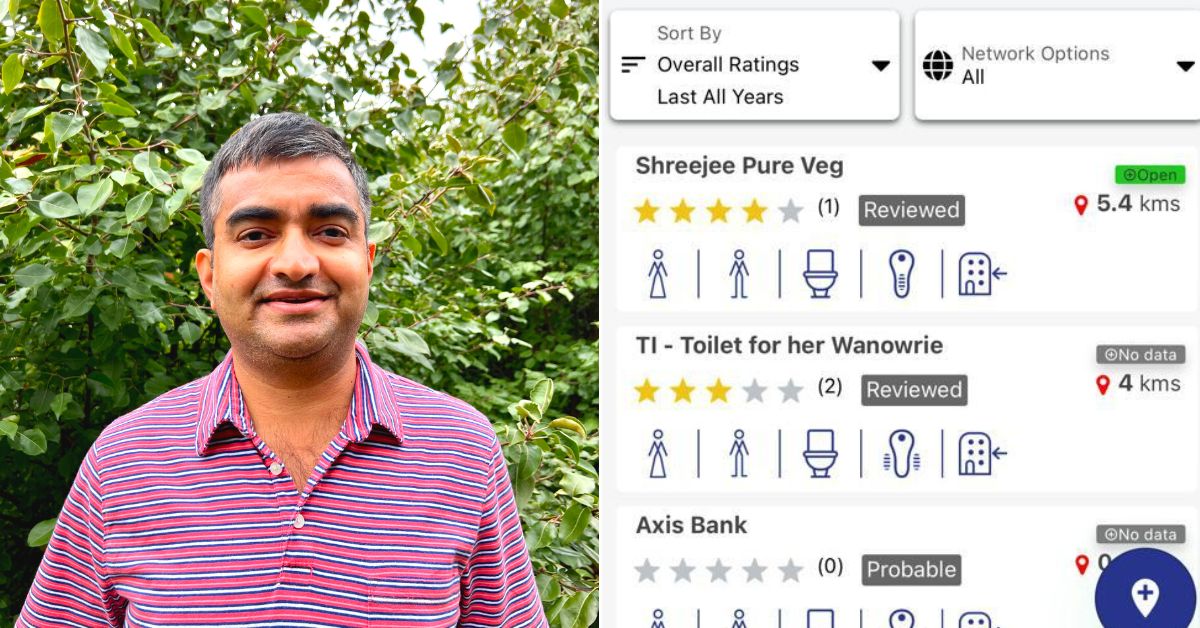 Gathering data for toilets in different cities
Initially, the plan was to create a platform, and then people would add the toilets they visited into their database. However, Amol and his friend realised that this was not going to work in the beginning. They had to furnish their own data to get users on board.
Besides public toilets, what Amol and his friend had to understand is, 'What are some of the commercial establishments in India which probably have washrooms?'
"In terms of commercial establishments, you have petrol pumps, coffee shop chains, fast food chains, shopping malls, multiplexes, banks and others. After hiring a data collection firm, we requested them to collect data for public toilets and washrooms in commercial establishments in Pune, Mumbai, and a few other major cities and uploaded that onto the app to get started. Upon launching the app, we provided a list of 108 probable washrooms," he recalls.
"Initially, we had marked them all as 'probable'. We weren't sure whether these facilities were fully operational, and that's why we tagged them as 'probable'. But whenever people visit these washrooms and review them, we change their status on the app with additional information about the amenities available there — like functional locks, wash basins, liquid soap, lights, sanitary napkins, diaper-changing tables and much more," he adds.
Following this, ToiletSeva added a feature which allowed users to add washrooms to their database. On the app, they have a feature called 'Add New Toilet', where users will add a toilet they visited in a local restaurant, cafe, etc.
"It's taking a little time to furnish this database, but that's okay. We are relying on people to contribute to it," he says, adding, "Data will get better as long as people contribute to it. That's how it's going to work out. As the app matures, we will pursue other avenues to strengthen our database. Right now, our approach is to depend on people."
He says that there is also an option called 'Report Issue' on the app to report any discrepancies regarding the available amenities listed on the app for a washroom.
The goal is to scale up this app and make improvements. "The app is currently available in English, Hindi and Marathi as well. As time goes by, we will add other languages," says Amol.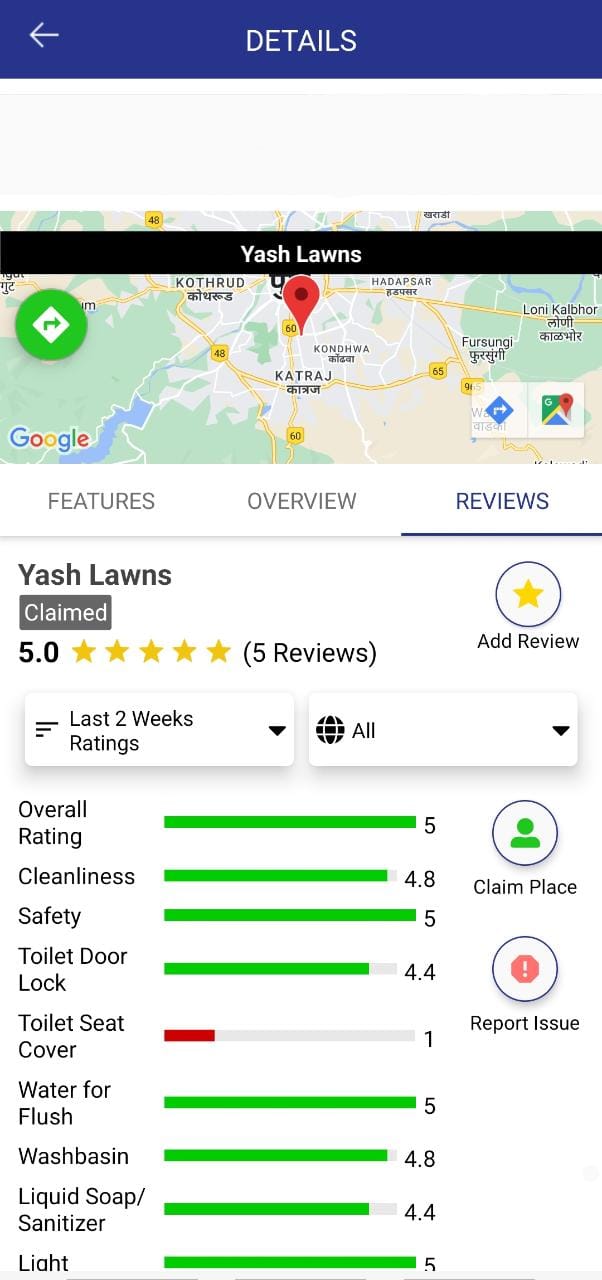 Different from other toilet-finding apps
Amol has met people who told him that Google can give them the information that his app provides about the nearest toilet available. However, he argues that the manner in which Google disseminates information and reviews whether it's about electronic equipment, doctors, shops or restroom facilities is the same. He believes that there are some challenges associated with the format they use to put up such information and rate toilets.
Challenge 1: "Suppose a particular toilet facility is rated 4.8 out of 5 on Google. The problem is that if the toilet was rated a year back, that rating has no relevance today because as a user, I want to understand the status of the toilet today. Google offers an overall rating, but this rating system is sufficient for electronic equipment, but not a toilet," argues Amol.
Solution: Although the ToiletSeva app has an overall rating feature, they also have ratings for the last two weeks, three months, six months and the past year.
"With this feature, you can at least understand which way the toilet is trending. Going by our research, I believe none of these toilet apps in India has this feature," he says.
Challenge 2: "Another key challenge is the authenticity of these Google reviews. Some of these reviews are paid for, fake or written by those known to the business or people who have a vendetta against them. In other words, there is a growing lack of trust in these reviews," he shares.
Solution: "To address fake reviews, we have come up with a system whereby you can see the reviews and ratings given by your Level 1 network which includes your phone contacts. These are real people that you can possibly trust. These are not bots or dummies. You will see the ratings given for toilets on our app by people in your phone contact list, but you won't know who specifically has given that rating. Their identity is kept anonymous," he claims.
Challenge 3: Google reviews don't tell you what amenities are available.
Solution: "The pandemic heightened our collective sense of hygiene. Take the example of liquid soap, which everyone now considers important. I believe it's an integral part of any washroom. As a user, I would like to know if a particular washroom has a bottle of liquid soap, a wash basin, a mirror, a dustbin, etc. Is it a western-style toilet or an Indian-style one? How many urinals or toilets does a given facility have? These features need to be mentioned," he notes.
"We want to list down each and every aspect of a hygienic toilet. Besides amenities, we list down the location. For example, users are able to search for a jewellery shop on Laxmi Road with a western toilet which has a liquid shop, etc. I can find unique locations which match my search criteria. After my visit to a jewellery shop, I want to eat out at a cafe in the same area, and again zero in one which has decent toilet facilities," he adds.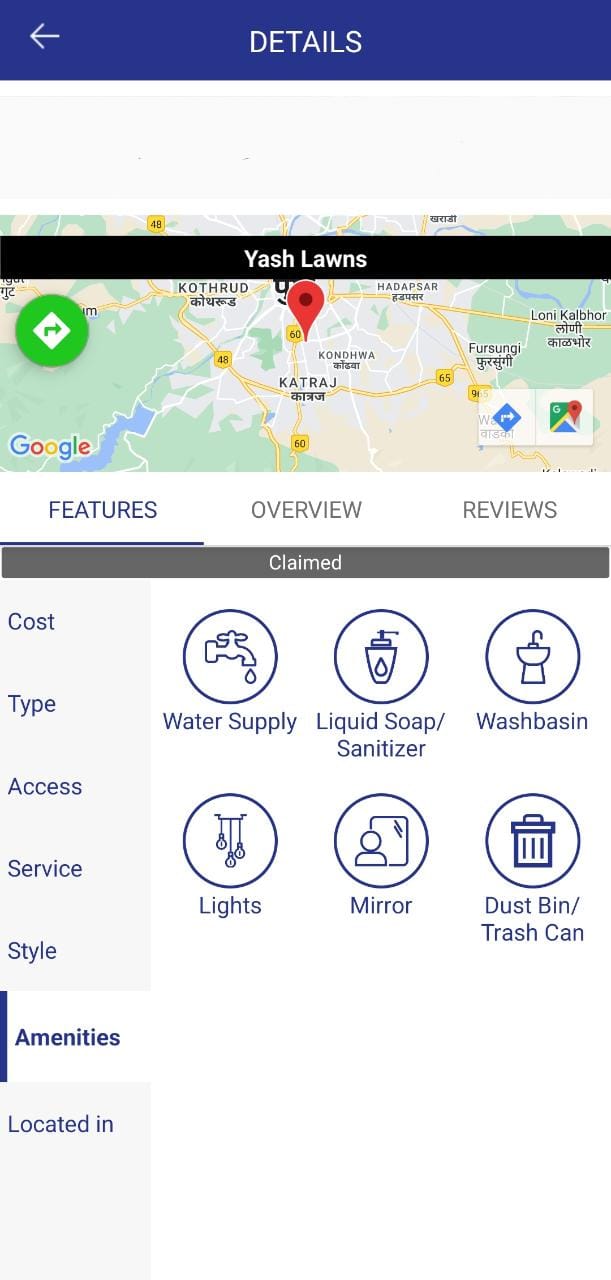 Challenge 4: There are some apps engaged in the certification of toilets. They're subscription-based services. They will certify only a limited number of toilets, spread across a few cities.
Solution: "Our goal has always been to scale for all of India. We want the app to be free for users," he says.
Another interesting feature that ToiletSeva is developing is QR codes for public toilets.
"On our app, our aim is to ensure that every public toilet location has a QR code. People can just scan that QR code and rate them. In a project we are currently working on with the Pune Municipal Corporation, we found that they had built toilets but had no IDs for them. They have no mechanism to collect feedback for the toilets built. By virtue of our app, we create a QR code for every public toilet which means every toilet has a unique ID," he says.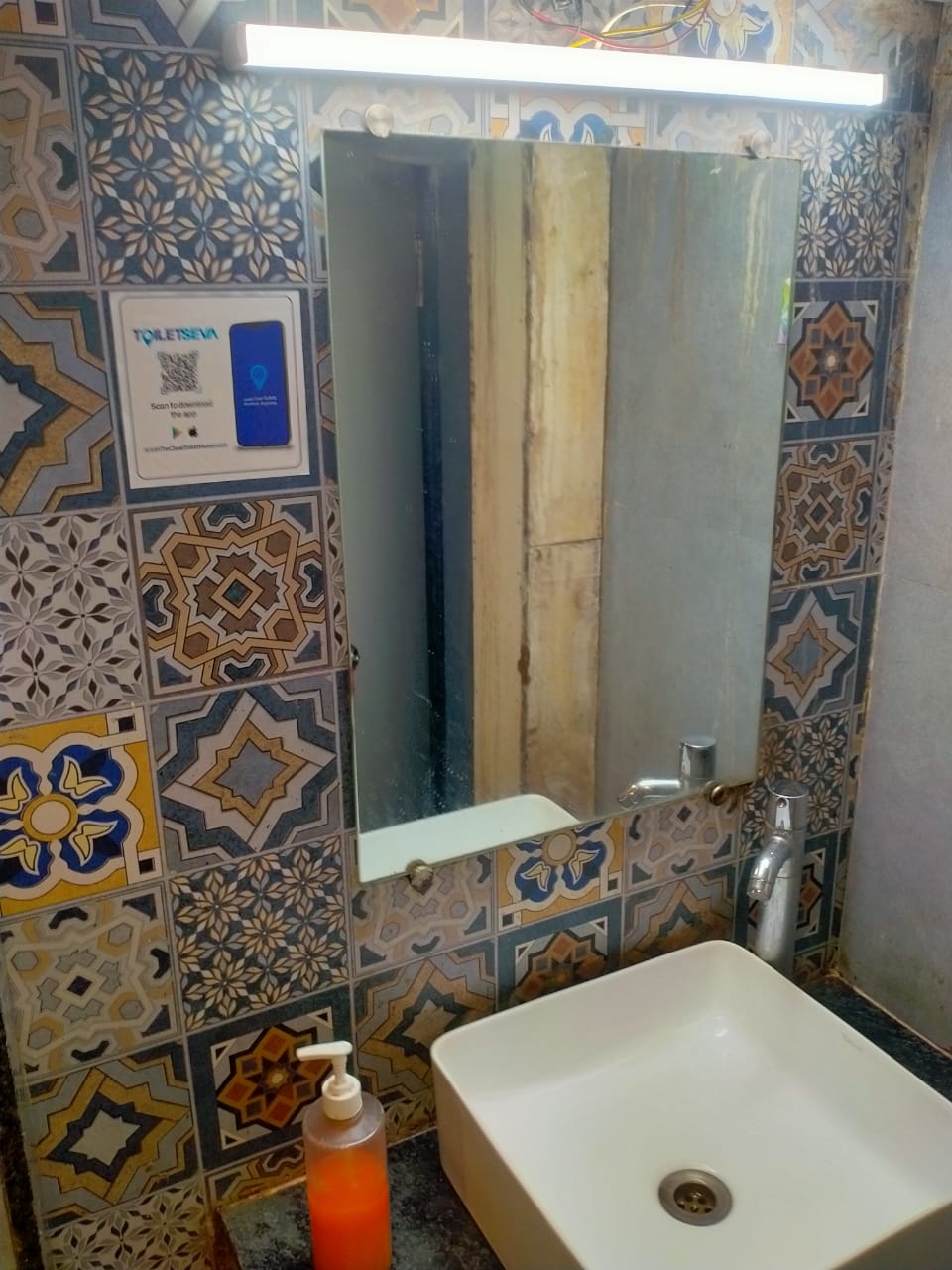 Looking ahead
So far, Amol hasn't received any funding for the app. He and his friend have invested their personal savings into it. However, they are looking for funding and sponsorship.
"In the future, we would appreciate funding or sponsorship for the app, especially from businesses that believe that they have clean washrooms. We can promote these businesses not just for the sake of money but also convey a message to the larger community that there are commercial establishments willing to acknowledge the cleanliness of their washrooms," he says.
For readers, meanwhile, his message is, "After downloading the app, if you visit a toilet (public or in a commercial establishment) and don't see a rating, please contribute by reviewing and rating the facility. As more people contribute, our database will improve," he adds.
(Edited by Pranita Bhat; Images courtesy Amol Bhinge)
We bring stories straight from the heart of India, to inspire millions and create a wave of impact. Our positive movement is growing bigger everyday, and we would love for you to join it.
Please contribute whatever you can, every little penny helps our team in bringing you more stories that support dreams and spread hope.
Tell Us More