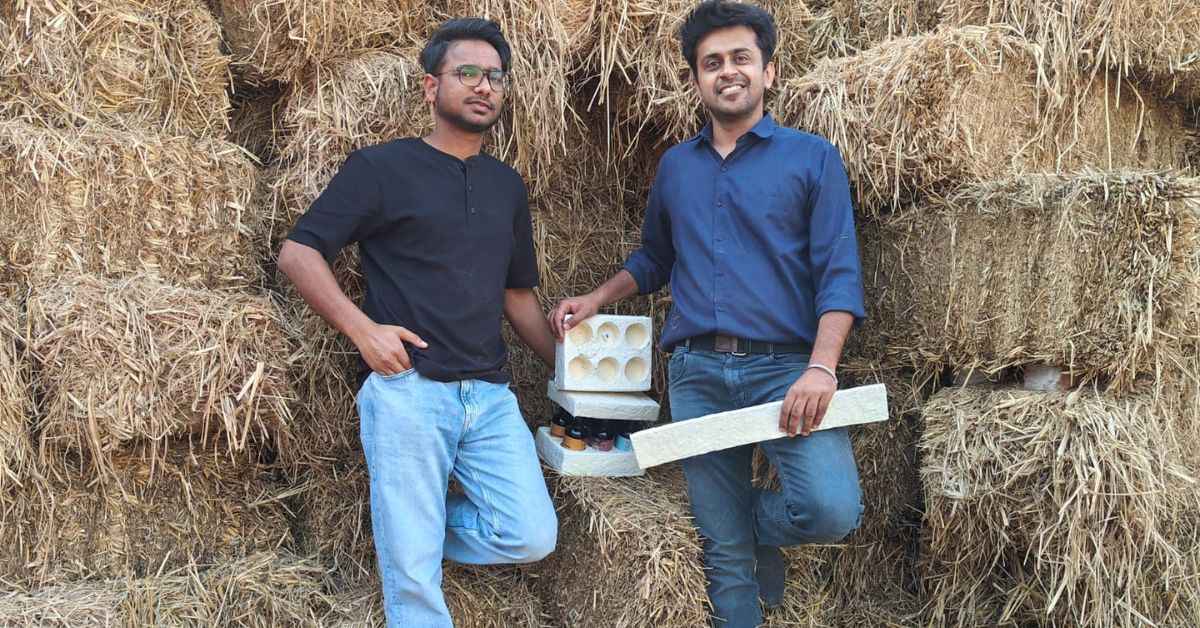 Delhi engineer Arpit Dhupar has built a biodegradable alternative to thermocol using stubble waste generated in the farms of Haryana and Punjab. Here's how his innovation is killing two birds with one stone.
Birthday party decor, school projects, scaffolding around the home, and, most often, packaging material — thermocol has become an inevitable part of our lives, but comes with a heavy price.
Its shock absorbance properties, lightweight texture, and versatility have rendered it a popular item for many needs and uses. However, these advantages, say studies, are no consolation for the devastating impact that thermocol has on the planet.
The expanded form of polystyrene has been a popular choice for decades now, and falls under the category of polymers. But while there is rampant knowledge of plastic as a notorious pollutant, fewer alarm bells have been raised when it comes to thermocol. This leads to it being sold in large quantities and used frequently, often finding its way to landfills and the sea after discarding.
Letting it decompose is considered a safer route compared to incineration. Studies indicate that the burning of thermocol releases toxic gases such as carbon monoxide and about 90 different hazardous chemicals. If you come in contact with these vapours, it can potentially affect your eyes and nervous system.
The question remains as to why thermocol is still used so rampantly, despite being a health and environmental hazard.
Arpit Dhupar, a 30-year-old engineer from Delhi, is attempting to change this reality with a new biodegradable material that he has innovated as part of his venture Dharaksha Ecosystems.
Launched in 2019, the Faridabad-based initiative produces biodegradable packaging material out of crop stubble waste. This addresses two issues — pollution hazards in Northern India resulting from the burning of stubble, and increasing amounts of dumped thermocol in landfills.
The "exhilarating" journey began when Dhupar's nephew made a drawing that was a little different than usual.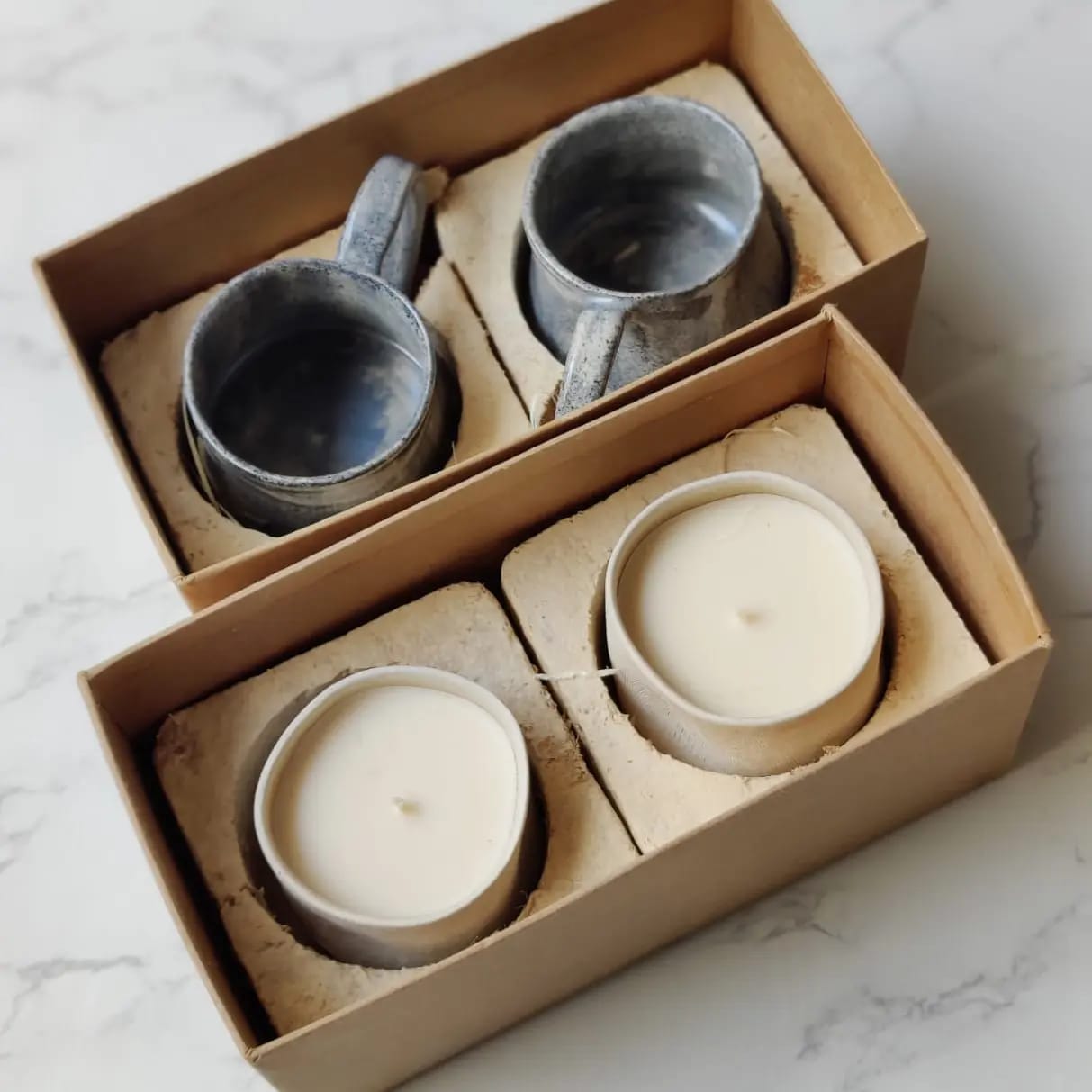 'He painted the sky grey.'
Describing the innocent moment, Dhupar says the scenery his nephew drew had all the typical elements — the sun, the mountains, the sea, the birds and the sky. But he was a little taken aback when the boy coloured the sky grey — like the Capital's sky every year after stubble burning— as opposed to blue.
"We shouldn't live in a world where we have to explain to kids that the sky should be painted blue. It should be a given," he thought. At the time, Dhupar was heading a startup that worked on creating usable material from the smoke emitted by diesel engines.
His nephew's painting gave him some food for thought, and Dhupar couldn't shake off the excitement of building a venture that could make the skies blue again.
The year 2019, he recounts, set the building blocks for what would one day be Dharaksha. During a sabbatical from work, Dhupar travelled through the remote villages of Punjab and Haryana to understand why stubble burning was such an evil.
Through interactions with the locals, he arrived at the conclusion that farmers want the stubble cleared off as quickly as possible from their lands, as it serves no purpose to them. Owing to high moisture content, the stubble cannot be used as fuel.
Dhupar came up with the idea of having baler machines compress and stack the stubble and keep it aside so that it would not be a nuisance to the farmers. He then began work on setting up the Dharaksha manufacturing unit, where the stacks of stubble would be brought in for processing. He was joined by Anand Bodh, a colleague and friend.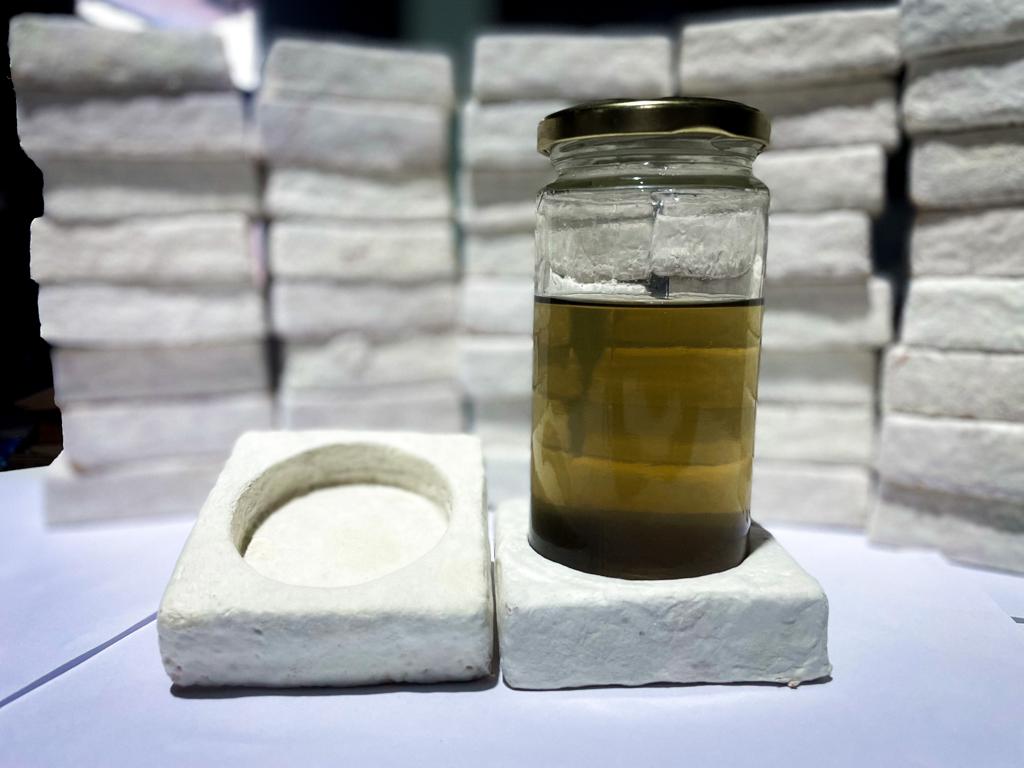 Cushioning a sustainable idea
When Dharaksha was launched, Arpit had a goal to solve the stubble-burning crisis in North India, for which he came up with the idea of using mushrooms to degrade the stubble. But, soon, this idea led him to conceive a biodegradable material resembling thermocol.
Explaining how the dots connected, Dhupar says that when mushrooms are harvested, they leave compost behind — a mix of metabolites that do not degrade easily. "I did not want to create another problem while attempting to solve one," he notes.
However, as the mushrooms were allowed to grow on the stubble waste, Dhupar began realising the mycelium (fruiting body of the mushroom) grew on the waste in such a way that it rendered strength to the structure.
"This wasn't a waste material, but could be a usable one. Through bio fabrication, we could use the stubble waste to create a material similar to thermocol, but one that was biodegradable."
Dhupar spent the next several months getting a clear understanding of what the market needed, and how they could pitch their product to industries. It also allowed him ample time to understand the impact of replacing thermocol.
"Thermocol is worse than plastic, and it's shocking how little conversation there is around this material," says Dhupar.
There is also the fact that while thermocol is 100% recyclable, the process to do so is expensive. Moreover, noted the Clean India Journal, waste pickers sell their waste to kabadiwalas by weight, not volume. And since thermocol is 95% air, "it does not make economic sense for them to bother collecting a bulky, but lightweight substance."
'It was a play of many crucial factors.'
Elaborating on their process, he says that once the stubble is brought to the factory, it is sterilised, after which they add the mushroom culture. "The mycelium grows, forming a sort of interlocked structure that holds the material in place. This makes it strong, so no resin needs to be added. The mix is then put into the oven, where the mushrooms are neutralised."
The resulting material has numerous properties, making it an excellent packaging material.
For starters, it is flame-proof and can hence tolerate laser engravings. It can also tolerate high moisture conditions and is anti-static — a quality that is crucial while transporting PVCs. Dhupar adds that its superior cushioning capabilities mean they can reduce the overall box size.
Each piece of the material produced, says Dhupar, "prevents 250 tonnes of thermocol from going into landfills". The startup has procured over 250 tonnes of paddy stubble from 100 acres of farmland in Punjab and Haryana, wherein the farmers are paid a rate of Rs 2,500 per acre, he adds.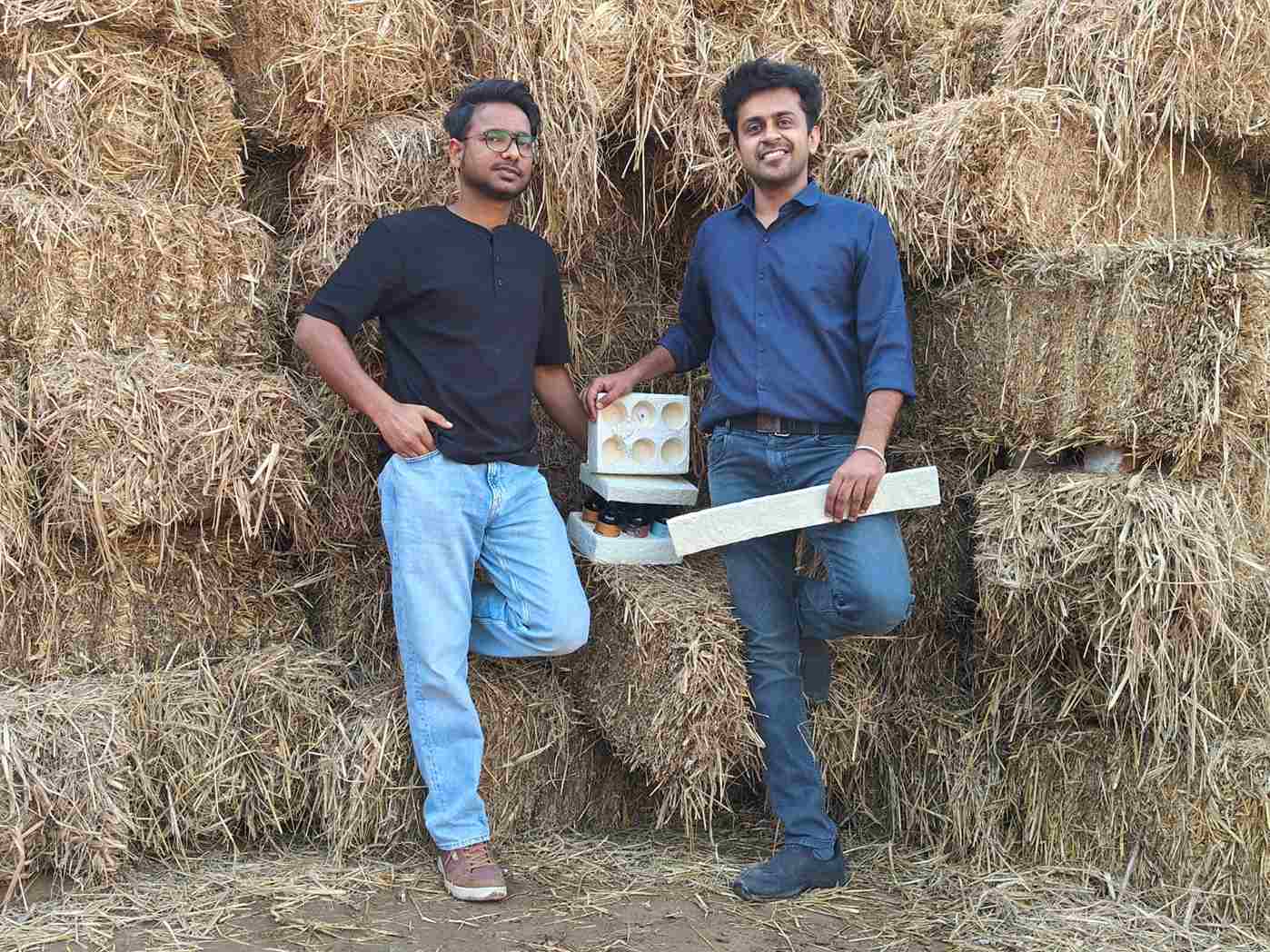 But even while the wheels of innovation are constantly turning, Dhupar says a challenge is matching up to speed with the production rates of thermocol.
"This material takes seven days to grow. It is like metabolism. However much we increase the amount of raw material we are feeding the fungi, there won't be a sudden growth spurt," he notes.
Regardless, the startup has managed to clock a turnover of Rs 25 lakh in the last year, and sees an order of around 20 tonnes per month, their main clients being glass industries.
Among them, The Gourmet Jars is thrilled to have made the switch from thermocol to biodegradable packaging for their products.
Apeksha, a member of the team, says, "Packaging in eco-friendly materials is tough, as the products need to be shipped and with courier services, there is need for adequate protection. However, the great part about the material is that it is strong and good for the environment. This way, we save 7,619 litres of air per jar from being polluted."
Dhupar, meanwhile, is satisfied.
"I started the venture with the aim of making the skies blue. I feel satisfied that we are making a difference," he says.
Edited by Divya Sethu
We bring stories straight from the heart of India, to inspire millions and create a wave of impact. Our positive movement is growing bigger everyday, and we would love for you to join it.
Please contribute whatever you can, every little penny helps our team in bringing you more stories that support dreams and spread hope.