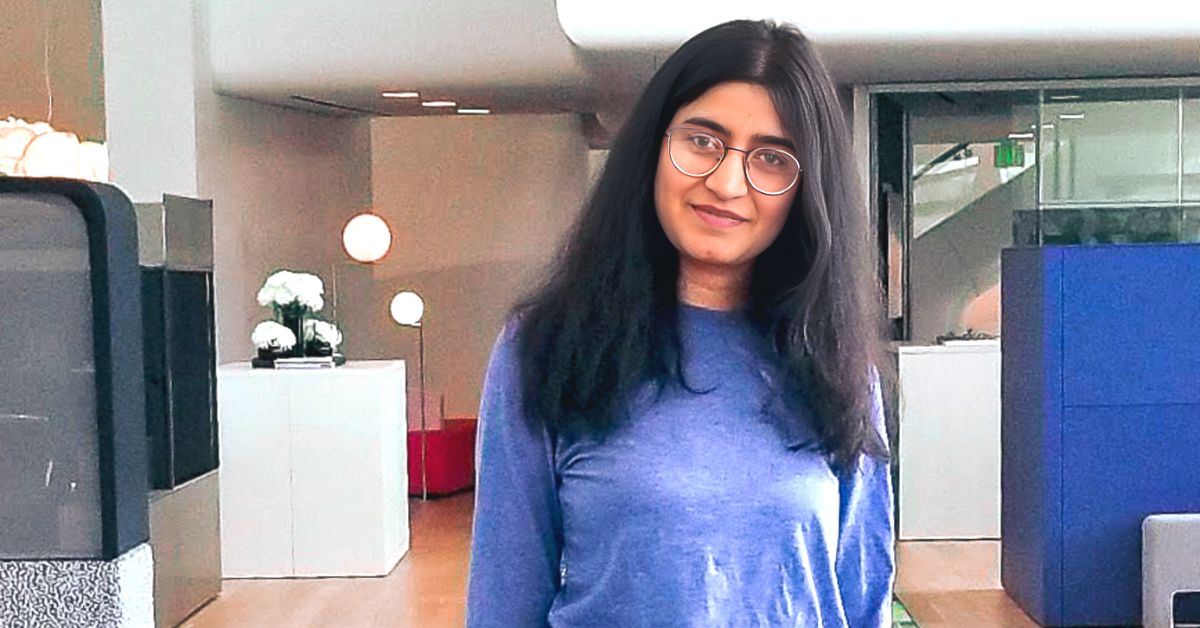 Designer and researcher Shreya Thakkar was encouraged to find smart solutions for the elderly after watching her grandparents age. She innovated the Wander On Assist smart cane, which has GPS tracking, BP monitoring, and more.
Shreya Thakkar, a 28-year-old industrial designer and researcher, vividly remembers growing up at home with her grandparents in Vadodara and observing first hand the effects of ageing on their health and the environment around them.
"Watching my mother serve as their caretaker taught me the importance of compassion and empathy in the care of the elderly," she recalls.
What followed was a journey that took her to Bengaluru, Auroville and eventually Los Angeles, United States, where she pursued a master's degree in industrial and furniture design at the prestigious ArtCenter College of Design, while volunteering at senior living facilities.
"At senior living facilities in Los Angeles, I was able to hear their stories and truly experience their lives, further solidifying my passion for assistive technology and the potential it has to improve the quality of life for our ageing population," she adds.
According to the World Health Organization (WHO), "In 2020, the number of people aged 60 years and older outnumbered children younger than 5 years. Between 2015 and 2050, the proportion of the world's population over 60 years will nearly double from 12% to 22%."
Breakthroughs in medicine, nutrition, biotechnology, and other fields are helping people enjoy life for a longer period of time. The key is to understand how older people will spend their lives. Focusing on well-being, mental and physical health, recreation, and leisure time.
Shreya's research calls into question our assumptions and perspectives on personal mobility. As the market for products focused on older people grows, she closely interacts with users to understand their behaviours, sentiments, and the impacts of ageing.
"When older adults were asked about their dreams, a majority of them mentioned independence and the joy of meandering. I studied their everyday lives, listened to their stories, observed them in their natural habitat, and experienced their lives with them. Seniors are keen on the quality of life, autonomy, and self-reliance," elaborates Shreya.
"Finding balance between independence and ageing in a world of rapidly-evolving technology and mindsets is challenging. We must overcome the myth that ageing equates to feebleness and passivity, an idea perpetuated by the ageing-related products and stereotypes," she adds. 
Shreya's extensive research and passion has led her to develop the interactive Wander On smart cane (Walker On Assist 01) and walker (Walker On Assist 02) for seniors that combine SOS alarms with GPS tracking, built-in blood pressure monitoring, and even a seat.
Understanding ageing 
Volunteering at elder centres and assisted living facilities in Los Angeles and Grand Rapids, Michigan, albeit for a few months, allowed Sherya to immerse herself in a setting where the ageing process is more pronounced, and observe people's behaviour in a context that is difficult to comprehend. It was a deeply enriching experience that enabled her to better understand the complexities of ageing, including the physical, emotional, and social aspects that come with it.
"Through my time spent observing and interacting with seniors in these settings, I gained valuable insights into their daily routines, preferences, and the challenges they face on a regular basis. I learned how important it is to take the time to listen to their stories, their experiences, and concerns, in order to provide the best possible care and support," explains Shreya.
"A very valuable aspect of my experience was studying the behaviour of middle-aged seniors who had just moved into a senior community. The transition from independent living to a more communal setting can be difficult. It was fascinating to observe how people adapt to their new environment, form new relationships, and find meaning and purpose in their lives," she adds.
The experience taught her to take the time to understand each individual's unique situation, needs, and preferences. As she delved deeper into her research on "Engaging in Ageing", she realised that the market for products catering to the actively ageing population was stagnant.
"Through my research, I identified key areas in elderly life where there was a need for improvement, such as morning routines, internal mobility, and kitchen assistance. This led me to conceptualise and design the first smart cane and walker," recalls Shreya.
"My intention was to create a mobility assistance device that would help elderly adults actively age in place by making products more engaging and appealing. I wanted to encourage them to feel cheerful and make healthy and enjoyable life decisions. With this in mind, I developed the 'Wander On' cane and walker, which was specifically designed for ageing baby boomers and others who may lack the self-assurance necessary for independent mobility," she adds.
The 'Wander On' was envisioned to be a 'helping hand' by providing seniors with a sense of security, enabling them to get aid right away if they need it and also providing physical support.
"It strengthens the independence equilibrium that one always strives to preserve. Overall, I created a product that improves the quality of life for the ageing population and helps them actively age in place with dignity, independence, and grace," claims Shreya.

Wander On Assist- Smart Cane
The Wander On Assist 01 is a "reimagined cane" that is "ideal for those seeking partial walking assistance". With an adjustable height, a built-in pedometer, and a shock-absorbing ergonomic design, it promotes freedom and independence, according to Shreya.
"It also tracks blood pressure, temperature, and pulse, and allows users to share this health data with their contacts. When pressed, the SOS button sends an emergency signal to the support centre and nominated contact, detailing the current health stats and location. The navigation light offers invaluable assistance at night. And during unforeseen events, including power outages, the location of the cane can always be found on the Wander On app. If the cane is lost nearby, the vibration setting can help locate it too," she explains.
The built-in pedometer tracks steps and a sensor monitors blood pressure, temperature, and pulse. Users could easily share this data with their contacts for added safety and support.
The Wander On smart cane is more than just a mobility aid. It's a high-tech, all-in-one service and healthcare device. In 2019, Shreya embarked on a mission to "revolutionise mobility assistance for the elderly" and others facing mobility challenges.
"My journey began with extensive research and analysis, diving deep into the intricacies of cane design. As I delved into the nitty-gritty of handles, grips, and functionality, I realised that designing the perfect cane was no easy feat. Brining my vision to life through prototyping. It was a nerve-wracking process. Every time my design failed, I gained invaluable insights that allowed me to tweak and improve. Maintaining an open feedback loop with stakeholders proved instrumental in obtaining validation and understanding the pain points of the project," she says.

Wander On Assist- Smart Walker
Shreya wanted to reimagine the traditional walker and create a device that would not only provide assistance, but also promote activity, independence, and ownership of one's health.
"So I set out to design the Wander On Assist 02 walker for seniors — a game-changing mobility device that would incorporate smart home connectivity, a navigation system, and hand gesture detection. I envisioned an elegantly ergonomic walker with wheels and seats that would not only assist with mobility, but also open doors, carry groceries, and even guide users home with GPS technology if they found themselves in unfamiliar surroundings," explains Shreya.
"Users can sit or stand using one device; so they can choose when to be mobile. Additional features mean that at the end of the day, users can even check their health details and step count — information they can then share with contacts for safety," she adds.
And to make it even more user-friendly, she incorporated a simple hand gesture that would call the walker toward the user, so they wouldn't have to struggle to retrieve it.
"But I also wanted to prioritise health and safety. So I added features that allow users to check their health details and step count, which they can then share with contacts for added safety. With the Wander On Assist 02, I aimed to usher in a new age of product development that meets the needs of millions of people in a thoughtful and imaginative way," she notes.

On the verge of commercialisation
Shreya currently works as a design strategist for a renowned Houston-based architecture company, Planning Design Research. In her role, she has been conducting research on patients' and visitors' experiences in healthcare facilities.
"We are currently in the process of prototyping the products and are planning to commence production soon. To better understand the ergonomics and product-market fit, we have enlisted the help of some seniors who are using the prototype. This will enable us to refine the design further before making it widely available. This is only the beginning of what we hope will be a continuing effort to improve the well-being of seniors in India and around the globe," she says.
Compared to existing walkers and canes, she believes that the Wander On device offers "superior monitoring and communication services" that have typically been provided by medical professionals or caregivers. "Our goal is to enhance the user's sense of independence, allowing them to continue their normal routines, including healthy social activity," she adds.
Looking ahead, she aims to continue her work on designing better solutions for seniors, addressing societal problems and designing sustainable urban systems.
"It's my goal to help older people achieve greater levels of autonomy, independence, mobility, and connection through my work. This is only the beginning of what we hope will be a continuing effort to improve the well-being of seniors," notes Shreya.
(Edited by Divya Sethu; Images courtesy Shreya Thakkar)
We bring stories straight from the heart of India, to inspire millions and create a wave of impact. Our positive movement is growing bigger everyday, and we would love for you to join it.
Please contribute whatever you can, every little penny helps our team in bringing you more stories that support dreams and spread hope.