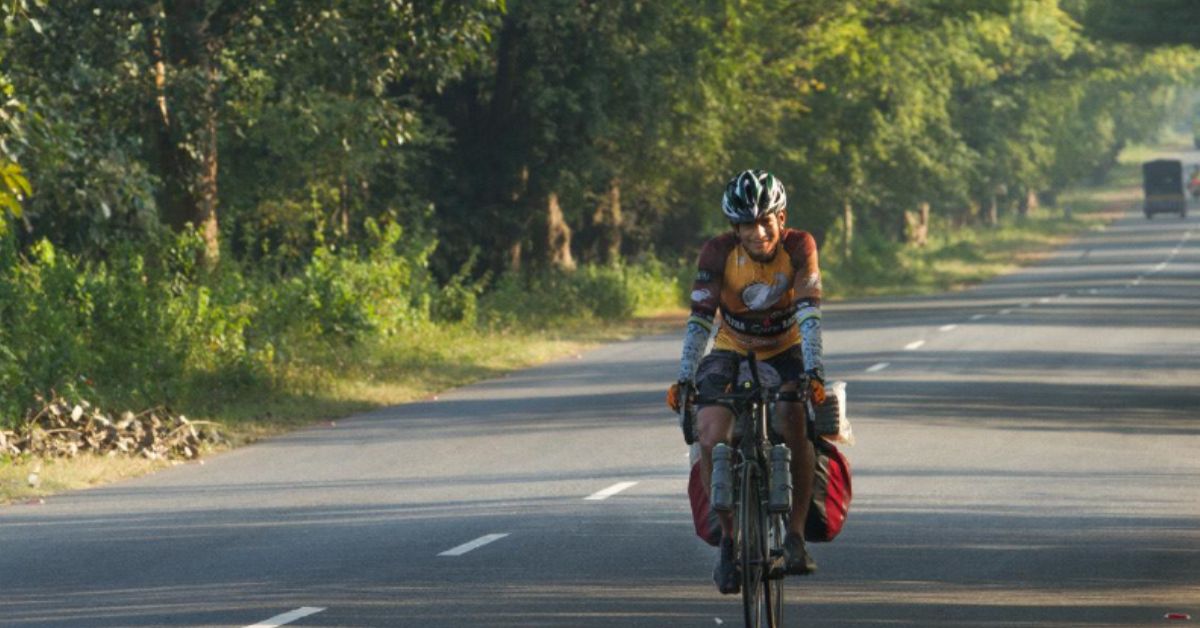 Meet cyclist Chanchal Kunwar Singh, who completed an all-India solo cycle expedition to spread the urgent message of the impending dangers of climate change.
This article has been sponsored by Wingify Earth
Chanchal "Chan" Kunwar Singh has ridden 20, 397 km across India on a bicycle for a powerful cause — to generate public awareness on climate change and its consequences for the coming generation. 
His journey started on 28 August 2022 and ended on 23 February this year — taking a total of 5 months and 26 days to complete. He also travelled across the country in a single pair of cycling apparel and casual clothes to practice minimalism, he says.
Chan's journey began when he went to the Lady Leg base camp enroute the summit of Friendship Peak (5,290m) in Solang Valley near Manali. It was the first of four mountains he hoped to climb on that expedition, alongside his partner Shivam Pandey. However, by nightfall, they were faced with incessant rains.
A terrifying experience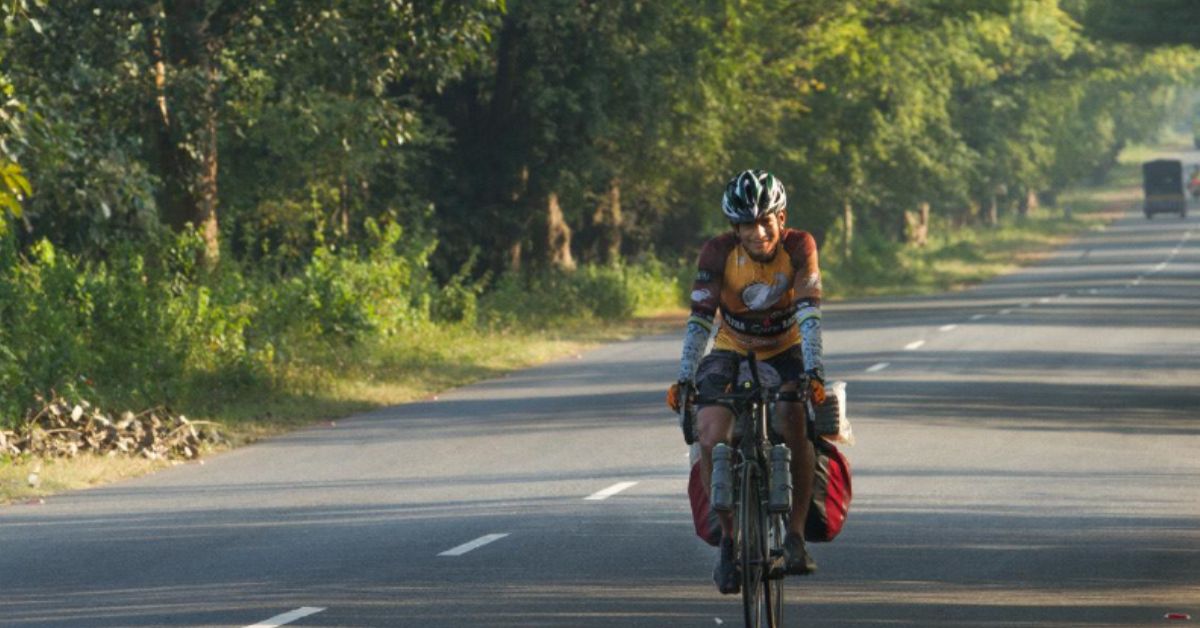 The 39-year-old recalls, "The downpour lasted for the next two days and the team had to eventually call off the expedition. Since we'd hired equipment from a third party, the tents were soaked after two days, and we had no choice but to come down."
"It was a terrifying experience for me — I was born in Kausani in Uttarakhand and had never witnessed rain like that before. The experience of understanding the shifting weather patterns first-hand propelled me to create awareness about climate change."
Chan decided to cycle across India to spread the urgent message. Though he had previously participated in ultra marathons such as the La Ultra – The High (111km) and Run the Rann (101km), distance cycling wasn't something he had considered.
"I am not that passionate about cycling, but I wanted to explore the limits of my endurance, and this was the perfect opportunity to do so. Moreover, I want to practise what I preach, which is to cycle more and use pollution-causing vehicles less."
For the journey, Chan used a cycle made by assembling used parts discarded by other cyclists. "I have been traveling to the Himalayas since 2019. On 28 August last year, I started my solo all-India cycling journey from Rishikesh, with the purpose of spreading awareness towards climate change and global warming. The plan was to cover 20,000 km in six months and visit all states and union territories. I went up Northwest towards Himachal Pradesh, Ladakh, and Jammu & Kashmir, and came down to Kanyakumari. Then I went to West Bengal, from where I cycled across all the states of Northeast and then to Uttar Pradesh. I have only not visited Andaman and Nicobar."
He also notes that he has not paid for a single drop of water since he started his journey.
"I drank water from natural resources or from loose water available anywhere. I believe that we should get drinking water in our taps just like in Western countries. I haven't fallen sick during this entire journey, and neither did I take any kind of medicine."
The three goals
Speaking about how he goes around spreading his urgent message, he says, "I try to connect with students in schools, colleges and media. My major aim is to interact with the youth during my tour and talk about the impact that climate change will have on their lives in the next 40 years."
"If we do not act now, future generations will suffer due to increased global warming. We all are talking about clean energy, it's time that we start talking about clean air."
Through his journey, Chan wants to spread three messages that he believes will help in bringing balance on this planet. The first is to plant more trees and create jungles using the Miyazaki technique, which is known as the most effective way to build dense forests. He says he is also appealing to the government to bring a law wherein we plant and save a tree after every child born in this country.
"I always try to have a positive dialogue with government officials of the states I visit to include these techniques and adopt more environment-friendly practices. A few have been quite responsive as well," he added.
His second message is that he wants people to adopt a minimalist lifestyle and understand the difference between needs and wants, as well as practice the 'reduce, reuse and recycle' model.
And thirdly, he wants to appeal to everyone to adopt cycling culture.
"I have travelled across all states on a cycle. So if someone can travel everyday for around six months this way — and that too on the most dangerous roads of the country — [my hope is that] it motivates someone to pick a cycle over other means of commute."
'Climate change is real'
Reiterating his belief that the coming generations are faced with grievous consequences of climate change, he says, "It's why I have always interacted with school and college students to make them aware of how climate change will impact the environment, health, food, economy, and other sectors in the coming time. I tell them about what actions they can take to reduce greenhouse gas emissions, transition to clean energy sources, and how sustainable practices can help mitigate some of these impacts and create a better future for generations to come."
"Traveling across states, I have experienced that while people are aware of the severe effects of climate change, they often don't want to participate in bringing that change."
But he has also observed many who are already doing their bit. "One Ajit Singh Shekhawat from Sikkar, Rajasthan, has planted more than 46,000 trees and created three oxygen parks. The Sadhbhavana Trust in Gujarat has planted more than 11 lakh trees all over the state. Like them, many individuals are doing what they can at their end. But in front of the extent of the population, we are a small number. It's time everyone starts acting on their end. Climate change is real."
Written by Taruka Srivastav; Edited by Divya Sethu
We bring stories straight from the heart of India, to inspire millions and create a wave of impact. Our positive movement is growing bigger everyday, and we would love for you to join it.
Please contribute whatever you can, every little penny helps our team in bringing you more stories that support dreams and spread hope.