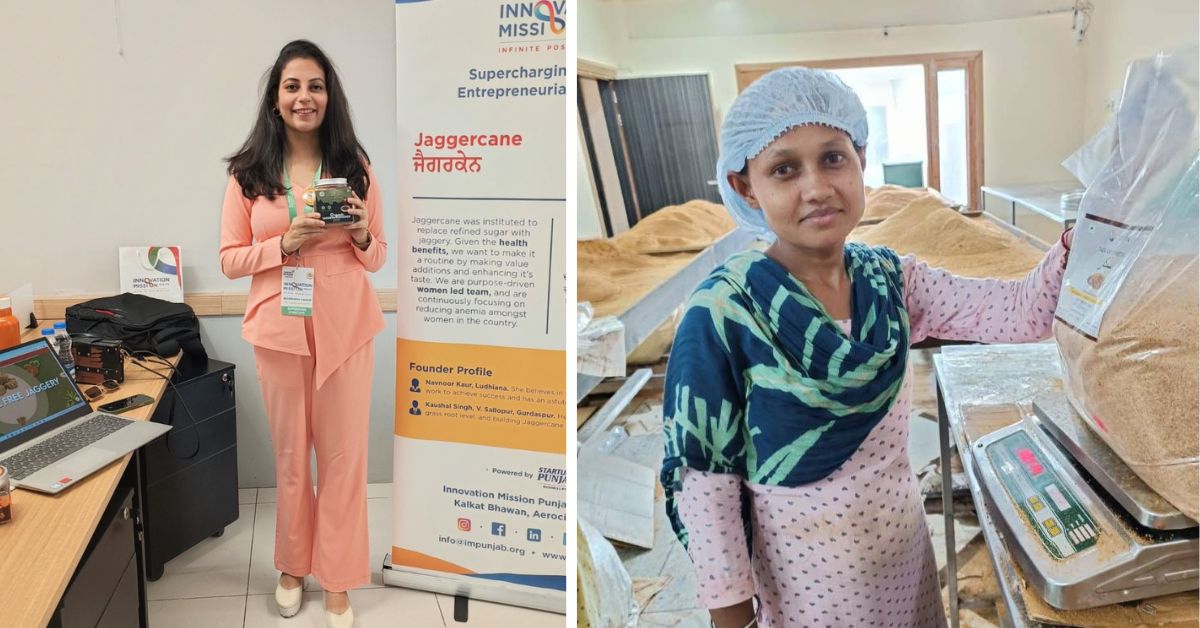 Navnoor Kaur from Ludhiana joined hands with Kaushal Singh to build 'Jagger Cane', a venture that aims to encourage people to replace refined sugar with healthier jaggery by highlighting its benefits, sharing recipes, increasing shelf life and more.
Navnoor Kaur, a 27-year-old from Ludhiana recalls her family making a shift from refined sugar to jaggery in 2018. But this, she says, wasn't the easiest.
"The jaggery market in India has been the same for around 50 years now. Jaggery is sold loose and there were no proper innovations or brands in the space," she informs.
While Navnoor intended to step up and create innovation, she was occupied with pursuing her MBA in marketing from IIM Ghaziabad. But she held the cause close to her heart with the goal that one day, she would revisit the dream.
"Post completing my MBA in 2019, I worked in the corporate sector as a sales professional whilst also devoting time to a side hustle that I had in the F&B space," she says.
All the while, the idea to create a brand out of jaggery was on her mind.
"I often noticed how milk would tend to get sour when we added jaggery to it. While we were making a switch from sugar to jaggery for a healthier alternative, it wasn't working out too well. I also knew of so many who wanted to make the switch to jaggery but were hesitant to do so because of its taste," says Navnoor.
"I wanted to create a brand that would enable people to make the transition seamlessly, whilst also collaborating with the farmers of Punjab and helping them earn more," she adds.
So while still working full-time in 2019, she delved deeper and started research and groundwork that would eventually lead her to launch Jagger Cane in 2021.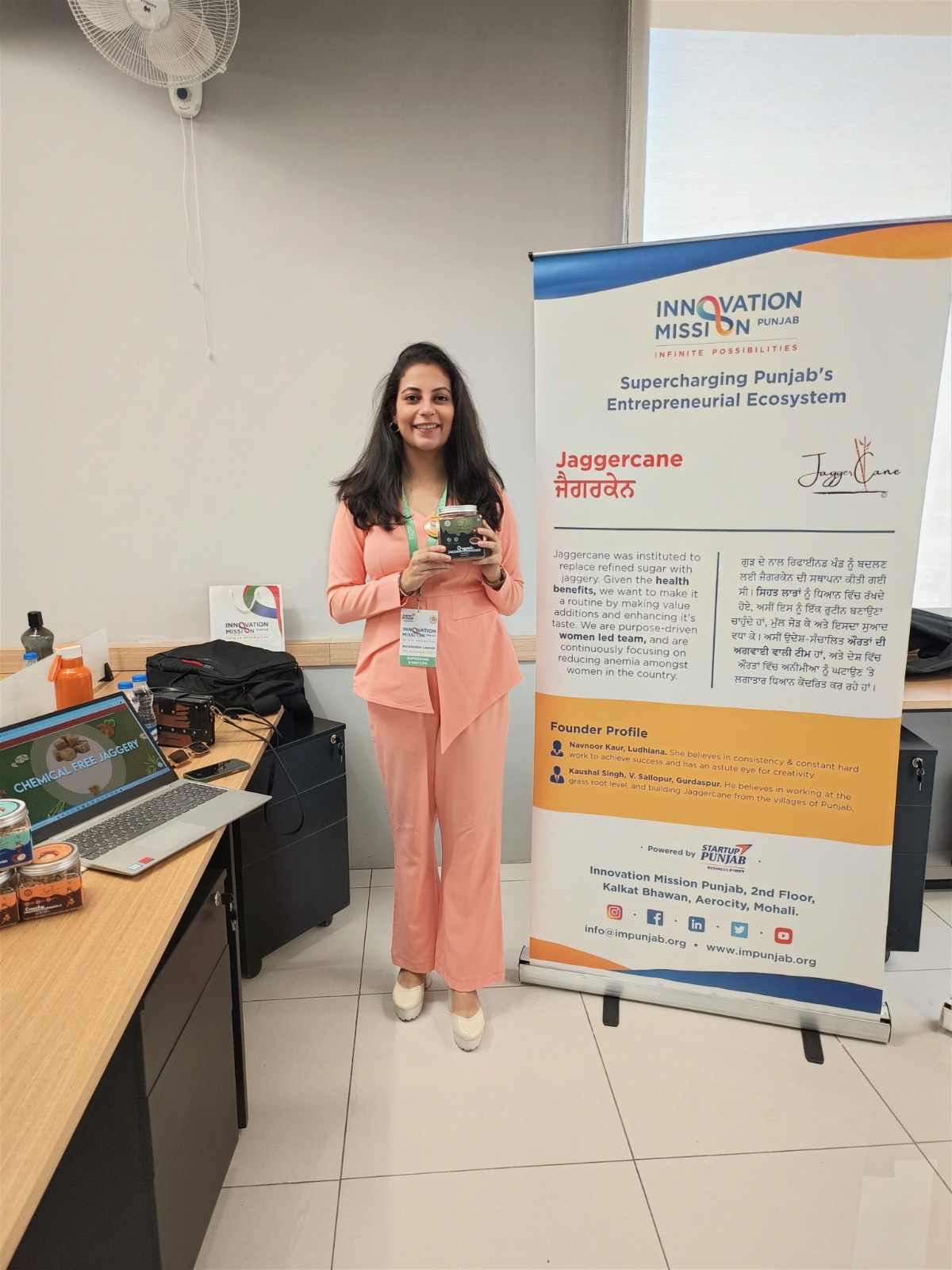 Starting out in the home kitchen
The primitive days of starting the brand were filled with experimentation in the home kitchen.
"I would try my hand at creating recipes on which we would position the brand. I managed to create 15, of which we shortlisted four. These included jaggery as a milk enhancer, mouth freshener, and even as an addition to paranthas or curd," reveals Navnoor.
However, she was well aware that her kitchen couldn't be where she built the business and that she needed a proper facility to scale. But the challenge she encountered here was that most of these plants were "roadside" and thus targets of dust and pollution, putting them low on the hygiene scale.
During this frantic search for a manufacturing facility, she had a chance encounter with Kaushal Singh, an MBA in Agriculture, who had his own established manufacturing space that he was running since 2016.
Interestingly, Singh had also once shared a passion for building a jaggery brand but had given up on the idea due to low market demand and poor outcomes. Instead, his facility now catered to refined sugar manufacturing.
"I recall the first time I visited the facility. It was hygienic and that was the main draw," notes Navnoor.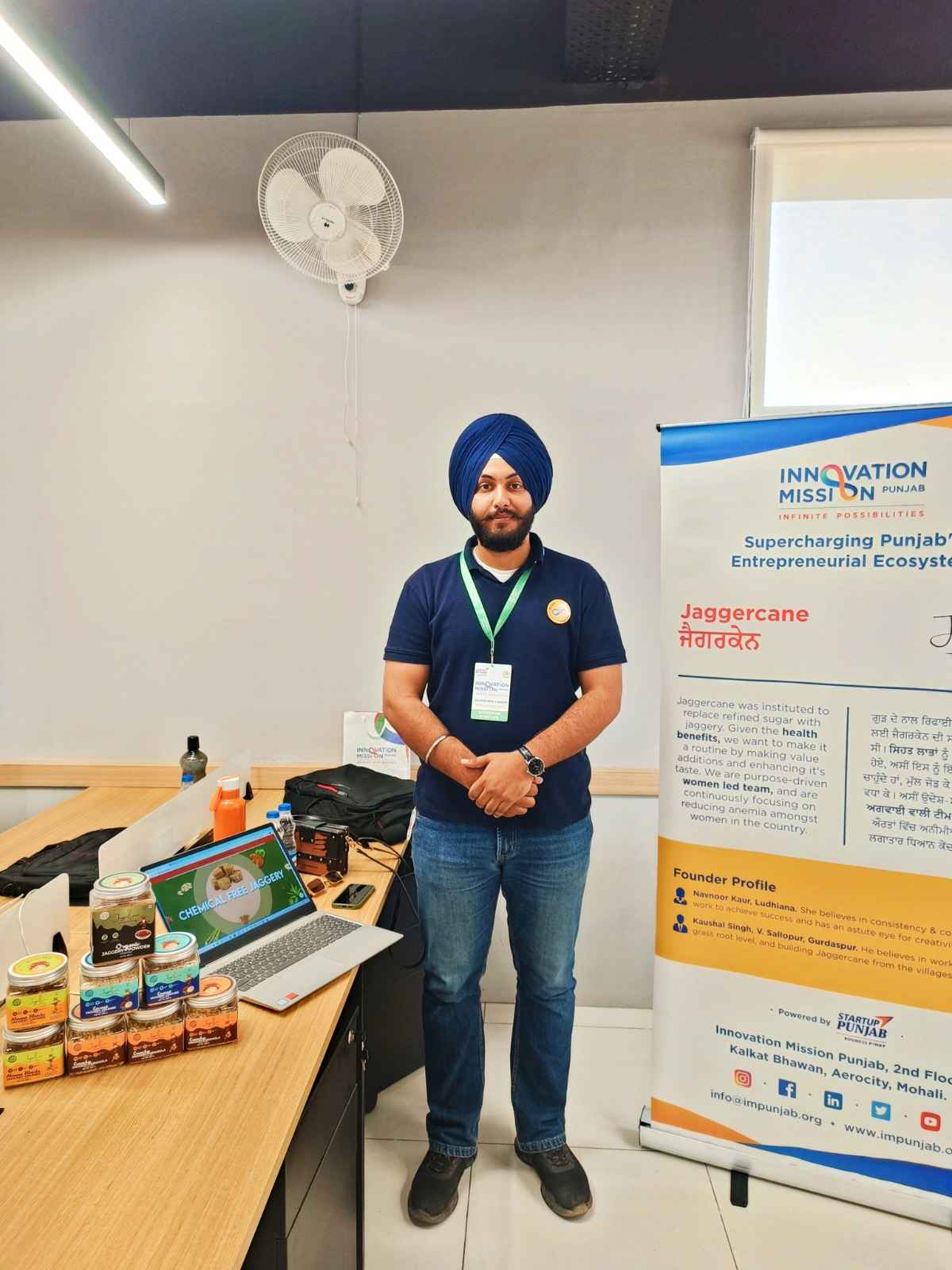 The duo bonded over the idea and decided to spearhead Jagger Cane and change people's mindsets about jaggery "from the 'sad packaged good' sitting in the back of departmental stores to a trendy item catching the customer's eyes and then capturing their hearts".
They would in time position the brand to sell products using jaggery as a base and enhance its benefits by adding healthy value additions such as nuts and seeds.
While Navnoor brought to the table tangible ideas and plans to scale the business through marketing, Singh had years of expertise and learnings in the industry.
A sweet start to a venture
They began working on the brand with two aims — one: to come up with good products and two: to get the pulse of the market for their products.
"We decided to let people taste our products before they decided to buy them. 2020 was all about gauging the market's opinions and views. We set up sampling stalls in Ludhiana to get feedback and improve on it. We were thrilled when our products began getting a lot of love," Navnoor quips.
"The sample hit ratio was great. People were buying our products after testing them and a popular hit was the coconut jaggery crumb," she highlights.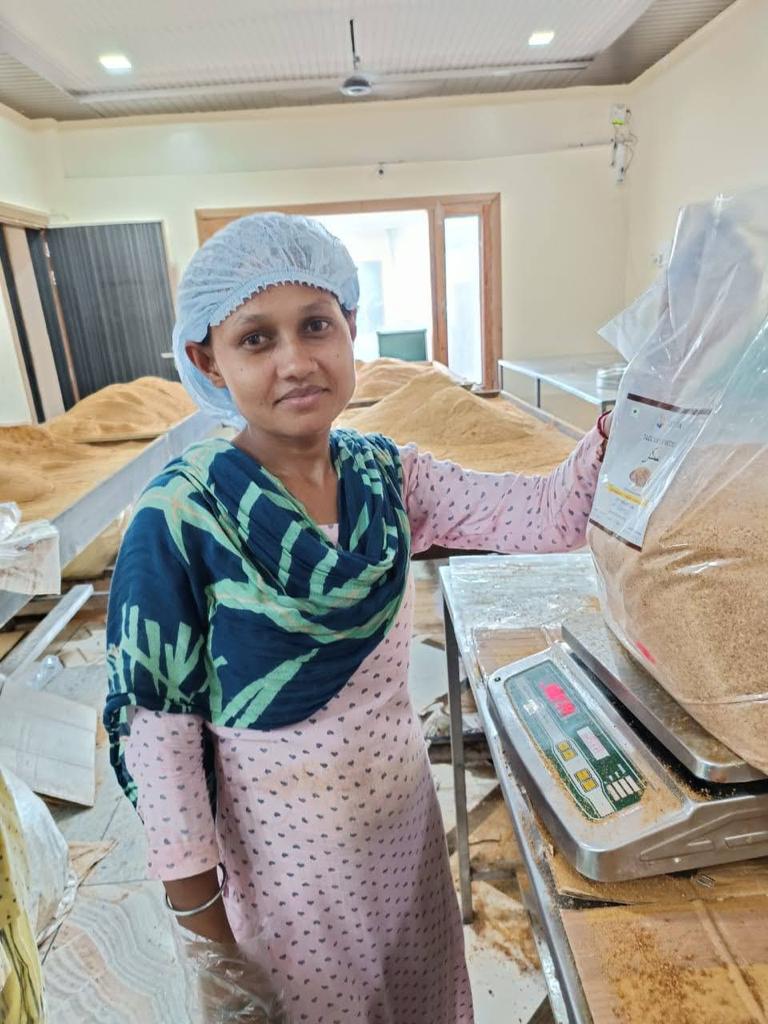 In 2021, she quit her job as a sales professional and Jagger Cane was formally launched. While the brand gained impetus through 2022 with an annual turnover of Rs 2 crore to date, Navnoor calls the journey they have had "innovative in every sense of the word."
'It is not rocket science, but a lot of ideation'
They say that the first impression people have of the business is that it is yet another jaggery startup like the ones already in the market. However, contrary to that, they have ensured the venture is foolproof.
"Through our research period, we understood that the main concern people have when it comes to jaggery is that it tends to go bad easily. This is because of its quality of soaking up moisture quickly. We intended to solve this problem as we were looking to start exporting the product too. We started by working on the roots of the problem, starting with the biochemistry of sugar," she says.
The duo adds that the Punjab Agricultural University helped them with determining pH levels and soil testing.
"The benchmarks have always been clear in the books. The pH must be around 5.7 to 6.2. But farmers were not well informed about things like the parameters, when to harvest, and soil quality. Through our improvisation, we were able to fix problems with the pH levels, rendering the product fresh for a more extended period of time," she adds.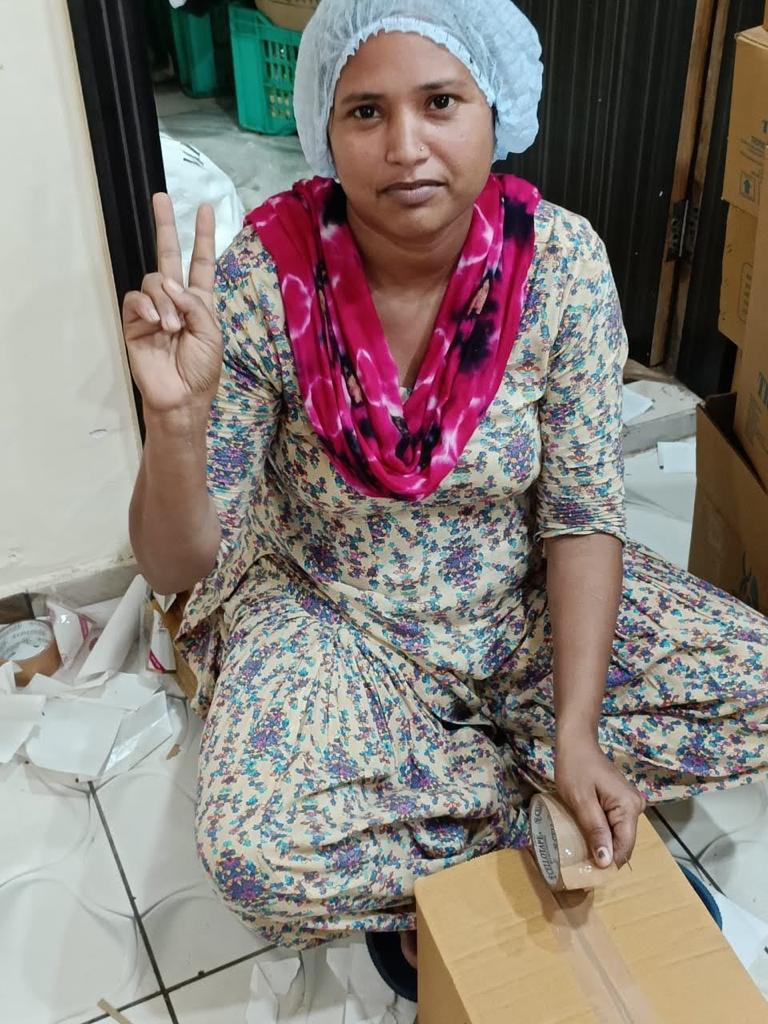 Today, Jagger Cane prides itself on being a one-stop solution for people's jaggery needs and works with a network of 22 farmers in Ludhiana to source the sugar. With an extensive farming network, the brand crushes "200 acres of sugarcane in a year and has 110 acres of contract farming".
They further explain that they work closely with the farmers to guide them in matters of growing the seed, which months to focus on, how the quality of the crop must be when harvested, etc.
"We ensure that we give them 10 percent more than the MSP as farmers are reluctant to grow the crop for jaggery since in India, sugarcane is grown majorly for the refined sugar industry," explains Navnoor.
Through this short period of scaling up, they have now managed to scale Jagger Cane into the empire it is with 1,000 kg of jaggery being sold every month. And to date, she claims 1,90,000 kg has been exported to places like UAE, Canada, Singapore and Australia.
Meanwhile, the all-women packaging facility at Ludhiana employs eight women from rural areas around the city, while the manufacturing plant stands at Sallahpur.
Edited by Pranita Bhat
We bring stories straight from the heart of India, to inspire millions and create a wave of impact. Our positive movement is growing bigger everyday, and we would love for you to join it.
Please contribute whatever you can, every little penny helps our team in bringing you more stories that support dreams and spread hope.