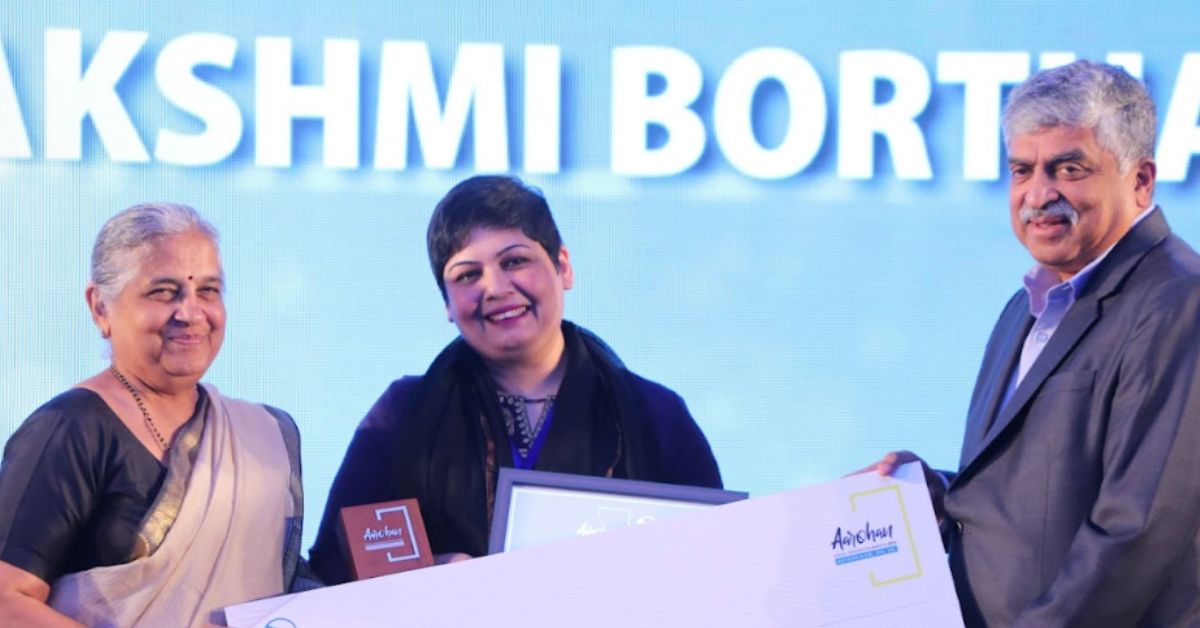 After her son was diagnosed with epilepsy, Rajlakshmi Borthakur began ideating and came up with a glove-like device capable of predicting epileptic attacks called 'T Jay'. Her innovation was awarded by Infosys' Aarohan Awards.
This article has been sponsored by Infosys Foundation.
"Winning the Aarohan Social Innovation Award felt like 'coming home'," says Rajlakshmi (Raji) Borthakur, the founder and CEO of TerraBlueXT, a Bengaluru-based AI MedTech company that aims to transform healthcare with cutting-edge technology. Her award-winning innovation 'TJay', an early epilepsy-attack detection device, is all set to help countless people with epilepsy.
Adversity drives change
The journey of TJay started when Raji's son, Tejas, was born in 2011, and the young mother knew something was amiss. "Tejas would have jerks, and he would sweat in his sleep. But the doctors refused to believe there was anything seriously wrong. So his epileptic attacks remained undiagnosed until one day, following a severe attack, Tejas slipped into a coma. Finally, the doctors paid attention," she says, adding that "they were still insistent that his condition wasn't serious".
Thus, the desperate mother set out to find a solution which could inform her of Tejas' impending seizures in advance. From being a self-proclaimed nerdy but worrying mother with no knowledge of the clinical background of epilepsy and entrepreneurship, to becoming a successful MedTech entrepreneur, her adventure was full of ups and downs.
Raji recounts how trying it can be to "start from scratch".
"In one of my early days in dealing with Tejas' seizures, out of frustration, I opened Google and actually typed out, 'What is epilepsy?'. The internet defined it as an abnormal electrical activity in the brain. I was intrigued, because it occurred to me that if Photoplethysmography (PPG) sensors can measure abnormal activity in the heart by simply being attached to a person's fingers, surely the brain too must be sending electrical signals somewhere in the body, right? And, perhaps we can tap into that information using some common mechanisms, like some sort of sensors?"
Building upon this epiphany, Raji spent the next few months creating a prototype for the design simply "to prove a point that technology like TJay is possible". At the time, she says she had no plans of commercialising the venture but was only keen on proving that technology could perhaps 'see' complex things in our neurophysiology, which a human eye could miss.
TJay and its potential
Raji's innovation, for which she has been granted a patent, is a sign of hope to many who struggle with epileptic attacks. As she explains, the device helps predict incoming attacks up to eight hours in advance by measuring the autonomic nervous system, using a combination of sensors and Artificial Intelligence (AI).
It is an AI-powered smart wearable that detects electrical signals emerging from the brain to the extremities such as the palms of the hand. The device, when worn on the hand, measures a combination of biomedical signals including electrodermal activity (EDA), heart rate variability (HRV), temperature and respiratory function, and derives intelligence that monitors and diagnoses seizures.
Sharing her vision for TJay, Raji says, "There are about 65 million people living with epilepsy in the world, and we see 'TJay' being accessible to many, if not all. We're anticipating its impact to benefit numerous undiagnosed epilepsy cases. We believe that the utility of 'TJay' will extend beyond epilepsy, and one day it will be instrumental in other severe conditions such as dementia, Parkinson's, autism etc."
Today at TerraBlue, another journey awaits Raji with her new innovation 'Xaant' — an AI-powered mental health screening device that automatically identifies anxiety and depression in minutes.
'Infosys shaped me into what I am'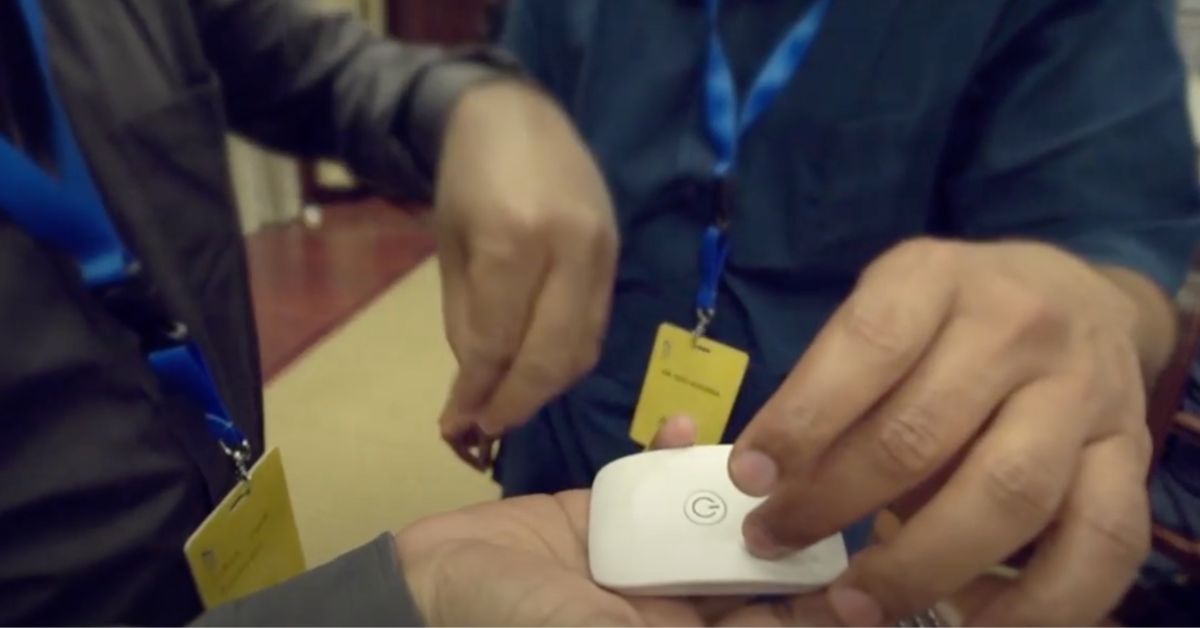 It was in 2019 that Raji received an email prompting her to apply for the Aarohan Awards. "Infosys has been my family for quite some time. It was the place where I was given the freedom I needed to experiment and brainstorm out-of-the-box solutions. While at Infosys, I became aware of the power of emerging technologies like the Internet Of Things (IoT) and Artificial Intelligence, and this knowledge contributed to my innovations. Eventually, winning the Aarohan Award felt like I had done my learning well."
She adds that the Aarohan Awards came at just the right time. "We had spent over a million dollars (USD) developing TJay through a combination of funding and bootstrapping. But there was a time in 2019 when the funding was tight, and we were facing a period of financial drought. The prize money that we received from being winners at the Aarohan Awards came as a relief."
Raji's work on TJay was selected as one of the top three innovations for the Innovate for Digital India Challenge in 2016 hosted by Government of India and Intel. She was also one of the twelve women who received the Women Transforming India Awards in 2017. In 2019, she was recognised as a Women Power Trailblazer by Forbes India in. Her work has been recognised by Niti Ayog, Indian Express, the United Nations, and the 8th Global Entrepreneurs Summit 2017 among many others.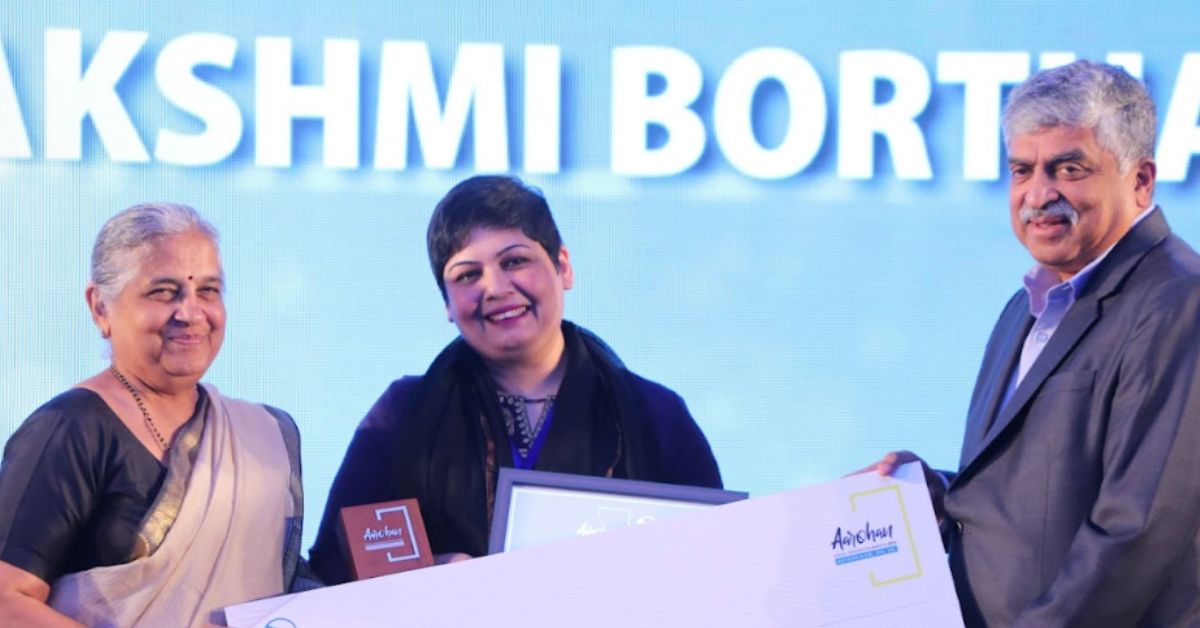 Looking back at the journey, Raji is in awe. "I was a complete rookie in the field of neuroscience, and convincing the doctors that I had a solution was challenging. The only thing that I had by my side was the conviction that technology for the prediction of epilepsy is possible," notes Raji. She further adds that "out of all the odds she had to face, the most challenging was fighting the mindset of people that a person from a non-medical background can create something medically relevant."
The struggles were validated as the entrepreneur stood on the stage in front of philanthropist Sudha Murthy of the Infosys Foundation, receiving praise and acclamation for an innovation that started out as a mother's quest to help her son. Remembering the moment, Raji says, "That moment felt like I had finally passed an important test, and here I was, being acknowledged by my gurus."
Edited by Pranita Bhat
We bring stories straight from the heart of India, to inspire millions and create a wave of impact. Our positive movement is growing bigger everyday, and we would love for you to join it.
Please contribute whatever you can, every little penny helps our team in bringing you more stories that support dreams and spread hope.