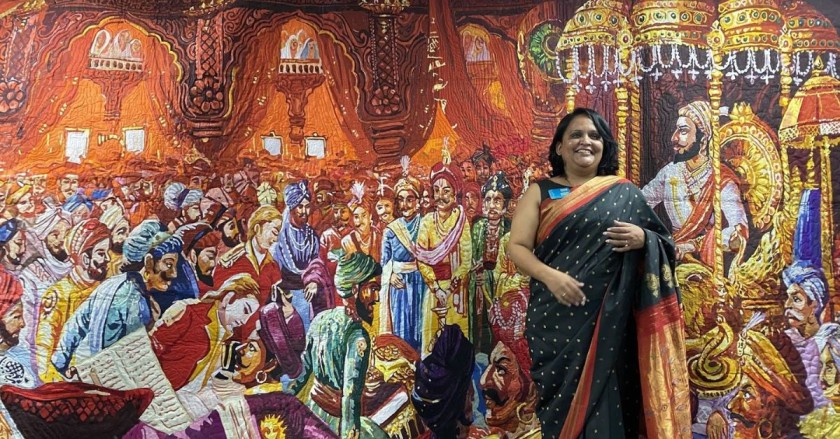 Shruti Dandekar from Maharashtra narrates how quitting her decade-long career in architecture eventually led her towards a new passion — quilting. Today, her work of art is displayed on international platforms.
In 2009, after having her baby boy, Shruti Dandekar (44) had a decision to make.
Though the answer to the choice between her job and family seemed easy, the making of the decision was not, she says. "I could see my son needed more of my attention. While I wanted to pursue my career, my son was my priority at that time. So I decided to quit my almost decade-long career as an architect and raise my family instead," she recalls to The Better India.
However, back then, Shruti was unaware that this decision would change her life so much that she would never even look back at her architect's drawing board again.
"I would worry about my career quite a lot at the time and decided to make designs with used clothes to keep myself occupied," she recalls.
Shruti would soon find her calling making quilts, and is a renowned designer whose work has been displayed at the world's largest quilting convention — Quilt Con held in the United States. In 2019, she made India proud with her quilt depicting Shivaji Maharaja's coronation — a 20-foot-long portrait that was displayed in the Indian Quilt Ceremony and America's Quilt Convention in 2019 and 2020.
We sat down with Shruti to know how she found her new passion.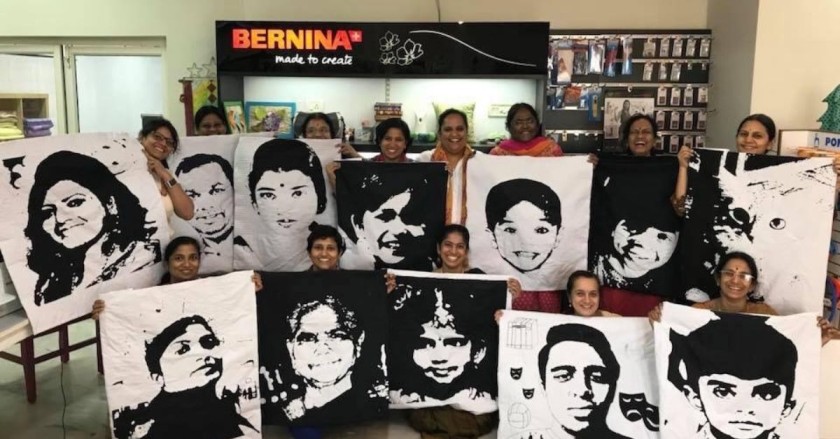 The pieces of a puzzle
Hailing from Satara, Maharashtra, Shruti got married in 2005 and moved to Sangli.
"I was establishing my name in the industry. Initially, I worked with an architect company in Satara, but then I started my own practice. I had worked on projects like housing societies, bungalows and schools. Even after moving to Sangli, I kept my practice going, and I was working with an architect Utsav Muley till 2009."
In 2009, after the birth of her son, Shruti decided to take a sabbatical.
"When I took the break, I was left with a lot of time on my hands. I started off by upcycling old clothes and making them into something useful, like handkerchiefs or home decor items. I did not know how to stitch, so the domestic worker in our house would help me do that. I was only the designer, she was doing the magic on those pieces of clothes," she says.
"Whenever I would say that this might be a good career option, my family and even the domestic worker would say that I cannot do this full time because I don't know how to stitch. So I started learning just to prove them wrong," she laughs, adding that she decided to make use of her grandmother's sewing kit, which she had inherited as a child.
"It was an old-fashioned black machine that was quite difficult to use, but I was adamant to learn the art of sewing. In search of tutorials, I came across a blog by Elizabeth Hartman. She is a quilter, and there were a lot of tutorials on her blog," he says.
"I was intrigued, and it looked so doable. So I decided to try it out. Initially, I used upcycled pieces of clothes. As I learnt more and more, my interest kept growing. In 2012, I bought my first sewing machine — a Bernette Burnina, which cost me Rs 80,000 at that time," she adds.
After purchasing the machine, there was no looking back. She threw herself into quilting and refining her work.
"I started to learn various techniques of quilting. Towards the end of 2012, I made a 3D portrait quilt of my husband's late great-grandfather. It had 3,500 pieces of clothes and various shades of grey. It was a combination of different fabrics such as wool, cotton etc, as they were all upcycled pieces," she says.
It took Shruti three and a half months and numerous hours to complete the quilt all by herself.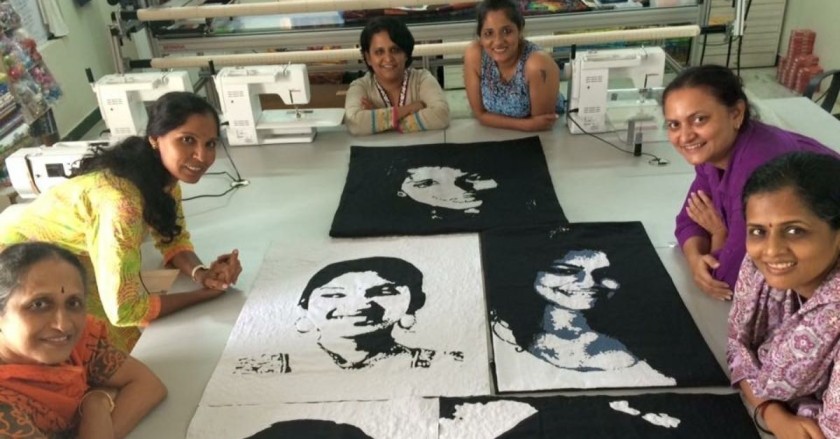 "When I gave it to my husband and his side of the family, I immediately knew that I love making portrait quilts. The family's reaction was enough to validate all my hard work. But it did take me quite some time, and I decided to find a shorter and easier way to make portrait quilts," she says.
After various hits and trials, she developed a faster and easier way of making portraits.
"I have tried eight different ways of making portraits on quilts to see which one is the fastest. Gradually I came up with my own technique of quilting called 'about pace'. In this technique, we reverse engineer the fabric. We take six to seven coloured fabrics, stitch them together and then cut out the excess part to make the desired portrait. I made a portrait of Steve Jobs with this technique and it only took me seven days," she informs.
By 2014, Shruti knew internally that this was her calling and that she did not want to go back to architecture again.
"I had decided to quit architecture and pursue quilting on a full-time basis. I knew it was a big decision to make, but I had found my calling. When I just started quilting, my mother would scold me and say 'You have done so much hard work in college on your academics, for what?'"
"I was not sure how my family would have reacted but they were very supportive. They could see I enjoyed doing this and they showed full support for my decision," she adds.
Taking traditional quilting abroad
In 2015, Shruti went to the US for the Modern Quilt Guild — Quiltcon, where her work was hugely appreciated.
"Every year, they choose only 20 quilts from across the world to be displayed in the Quiltcon and my quilt was chosen. It showed a woman carrying a bale on her head, which I named "Asra Aali". The exhibit also grounded me, because there were many whose work was far superior to mine. Since most people around me did not even know how to make portraits on quilts, I felt like my work was amazing. After returning from the Quiltcon, I worked on refining my skills," Shruti informs.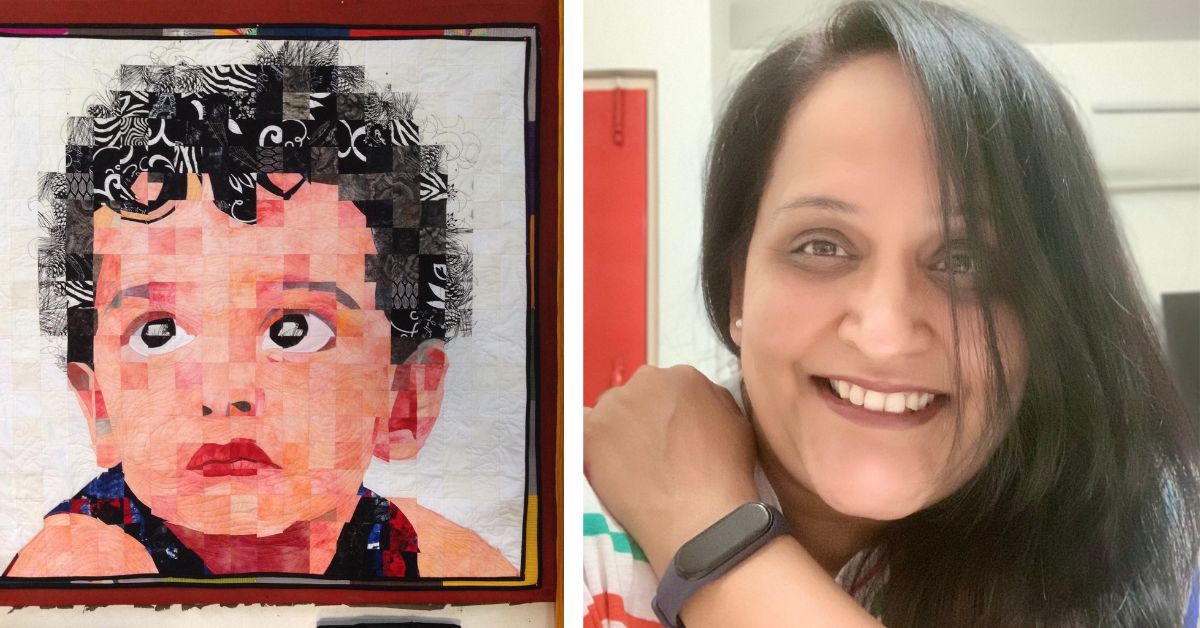 Talking about the various quilts that she has made so far, she says, "I have made many quilts but the closest to my heart will always be my son Aadi's portrait quilt which is called — My Heart's Happiness: Aadi's Picture Quilt. It was done using a different technique called 'Material Matrix' in which a portrait is made up of different squares which are either printed or dyed," she says.
One of the most remarkable quilts that got her worldwide recognition was the 'Grand Coronation Ceremony of Shrimant Chhatrapati Shivaji Maharaj'.
"It is a huge quilt of 19 by 8 feet and has over 25,000 pieces with 287 colours in it. As grand as Shivaji's coronation ceremony was, so is the quilt. It took me eight months to complete that piece and I got to push all my limits in making it."
She adds, "The quilt was displayed at India's first Quilt Festival, which happened in Chennai in 2019. It was then displayed at a quilt festival in Houston. It also was on display at the Chicago Quilt Festival in 2020," she says.
Yet another transition
"Whenever stress became too much to handle, I would immediately rely on my art to help me. I moved to Pune with my son in April 2022 as he wanted to pursue engineering. The move proved to be very taxing to me. I am an introverted person who loves to have people around me, but all of a sudden it was just me and my son," she recalls.
During this transition phase, she was reminded of the transition that happened several years ago, with the birth of her son.
"During that transition, quilting helped me, and during this transition, quilting came to my rescue again. I realised that it had meditative qualities that can ease stress and anxiety," she says.
Shruti started a YouTube channel by the name Stitch Meditations in 2022.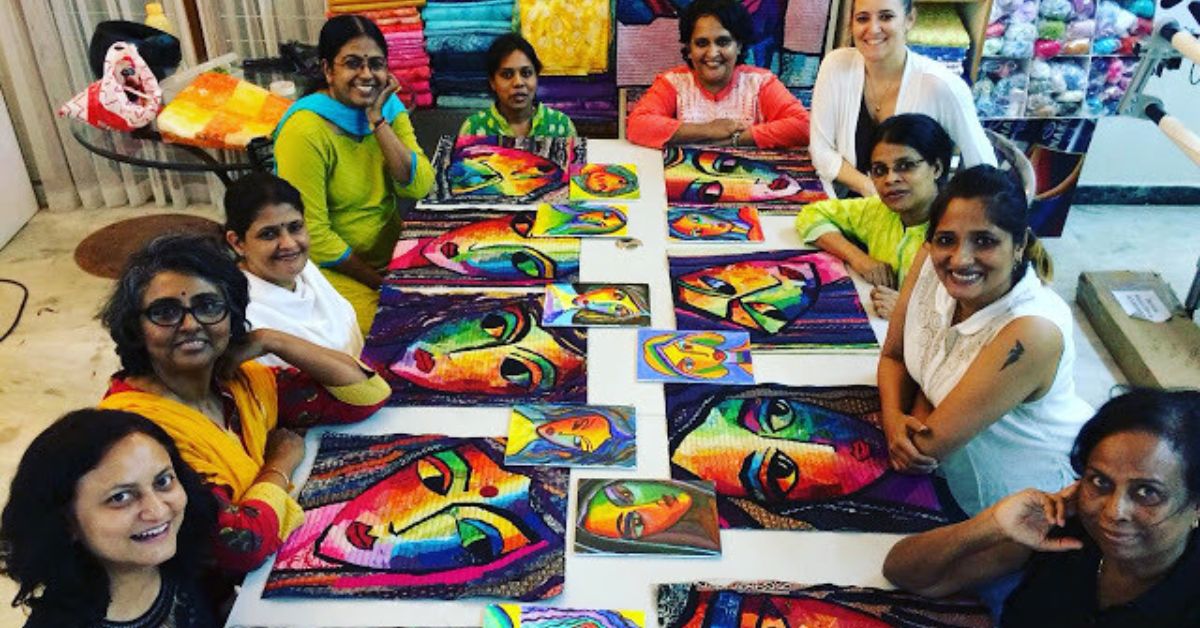 "Every Tuesday, I sit in front of a camera and go live to help people use quilting as a means of meditation. I simply teach basic quilting practices for some time so that they can also benefit from it. On Mondays, I put up a video relating to stitch meditation and quilting," she says.
"I also do corporate workshops for companies. I believe that art has the power of healing. I am not specifically talking about quilting but one can use any form, say embroidering, stitching, etc, to release stress," she says, adding that she only makes quilts on order and is currently working on some smaller projects.
Shruti has become a household name in the quilting industry. In 2017, she has invited several talks on traditional quilting. She also teaches quilting to enthusiasts through offline workshops. She has taught over 200 students so far, hosting workshops in cities like Chennai, Bangalore, Mumbai, Pune, and even in Savannah and Nashville in the US.
You can visit Shruti's Instagram, Facebook and YouTube to place orders and other updates.
Edited by Divya Sethu
We bring stories straight from the heart of India, to inspire millions and create a wave of impact. Our positive movement is growing bigger everyday, and we would love for you to join it.
Please contribute whatever you can, every little penny helps our team in bringing you more stories that support dreams and spread hope.