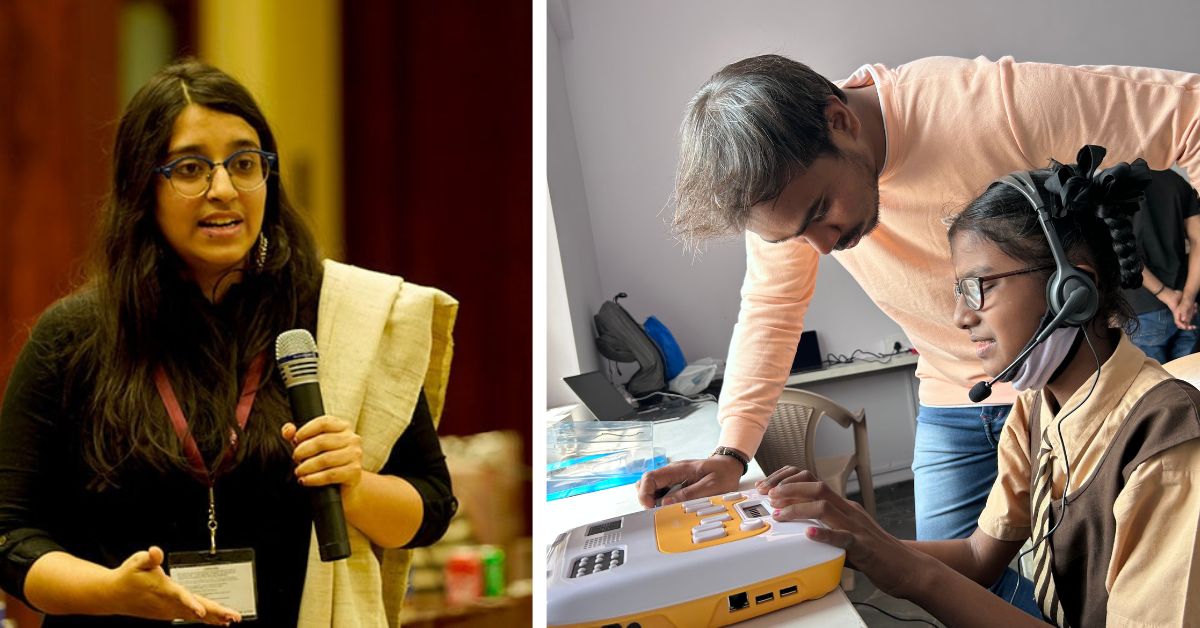 Meet the team behind Annie, a self-learning AI braille device for children with visual impairments developed by Thinkerbell Labs, which won Rs 10 lakh at the Infosys Foundation's Aarohan Social Innovation Awards.
This article has been sponsored by Infosys Foundation.
"Children who are visually impaired have a different way of interacting with the world," explains Sanskriti Dawle, co-founder and CEO of ed-tech platform Thinkerbell Labs.
Founded with her engineering batchmates Aman Srivastava, Dilip Ramesh, and Saif Shaikh in 2016, Thinkerbell Labs aims to use the team's engineering knowledge to "bridge the gap in braille literacy that exists in India". For this, they came up with a simple yet astounding innovation — Annie, named after Anne Sullivan, who was Hellen Keller's teacher.
Today, this self-learning device has managed to transform the lives of many children living with visual impairments in India, a feat that Sanskriti says was unimaginable when they started out. She says when they set out, they wanted to solve the problem of the lack of individualised attention these children received in school. 
If you have a similar innovation that can transform lives, we can help you scale up. Apply for the Aarohan Social Innovation Awards, 2023 and win upto Rs 50 Lakh.
Apply now
Unable to view the above button? Click here
"We learnt that if there are six students in a class with one teacher for an hour, each student sits idle for about 50 minutes, as they learn only when the teacher personally attends to them. As braille is a tactile language, a child only learns when the teacher holds their hand," she notes, adding that this lack served as their motivation to find a solution.
Annie: Your personal tutor on the go
Sanskriti says it is a challenge in itself to develop a device for children with visual impairment, because differentiation on the basis of colours cannot be done.
"Instead, there are tactile differences that the device needs to have, so that when it is handheld, the child can tell the feature apart. Annie has a braille display, keyboard, and a digital braille slate that comes with audio-guided lessons in regional languages such as Malayalam, Gujarati, Kannada, Hindi, Marathi, etc, as well as English," she notes, adding that this versatility renders it a comfortable aid to learn.
"The best part is that children learn as they progress and there is no training required prior to using the device. It is very much like a video game, where the first few modules are focused on helping you find your way," says Sanskriti.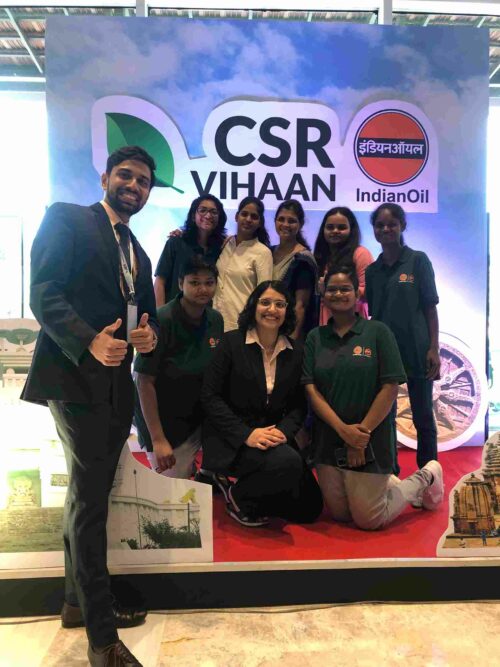 Annie also stands out for the fact that its integrated voice is more human than the standard robotic voices that come along with AI devices. "This makes it relatable to the kids, because if we had employed a robotic voice, they would tune it out. It does not capture their attention."
"Annie is one of the few devices that helps kids grasp grade-2 braille — which, like shorthand, uses special signs to represent groups of letters and words and is more complex than grade-1 braille."
If you have a similar innovation that can transform lives, we can help you scale up. Apply for the Aarohan Social Innovation Awards, 2023 and win upto Rs 50 Lakh.
Apply now
Unable to view the above button? Click here
The device explains concepts or words from scratch, without assuming that the child has prior knowledge in those areas. This way, no child is left behind.
Helios, the accompanying ecosystem, enables teachers to track the progress of students. Moreover, children can unlock different levels as they progress, while also letting donors and funders get a real-time view into their learning outcomes.
But even as the friends were developing Annie and finalising the features, they knew that to achieve a considerable impact, they needed something more. Their hopes were answered in the form of the funding received through the Infosys Foundation's Aarohan Social Innovations Awards in 2019.
'It took our startup to heights.'
Recounting the experience, Sanskriti says ironically they found out about the awards through a WhatsApp group of people working in the disability tech space.
"We decided to apply for the awards via a form, and in the coming weeks, I remember making our way to the Infosys campus with five of my teammates. It was exciting to present to a jury that had the likes of Sudha Murty and more than anything, it was inspirational to get her feedback on our idea and innovation and the impact we envisaged," says Sanskriti, adding that the regional media attention they received post the awards helped them scale.
Meanwhile, the funding of Rs 10 lakh was directed towards localising the content of Annie and increasing the number of educational institutes and states where it was deployed. Today, Annie is available in 16 states and the number is being scaled.
"This is where the uniqueness of the awards came into play. What sets it apart from other awards is that they fund ideas and solutions financially, which is the single most impactful thing that a startup needs."
Noting this, Sanskriti encourages people who have the opportunity to apply for the awards to do so this year.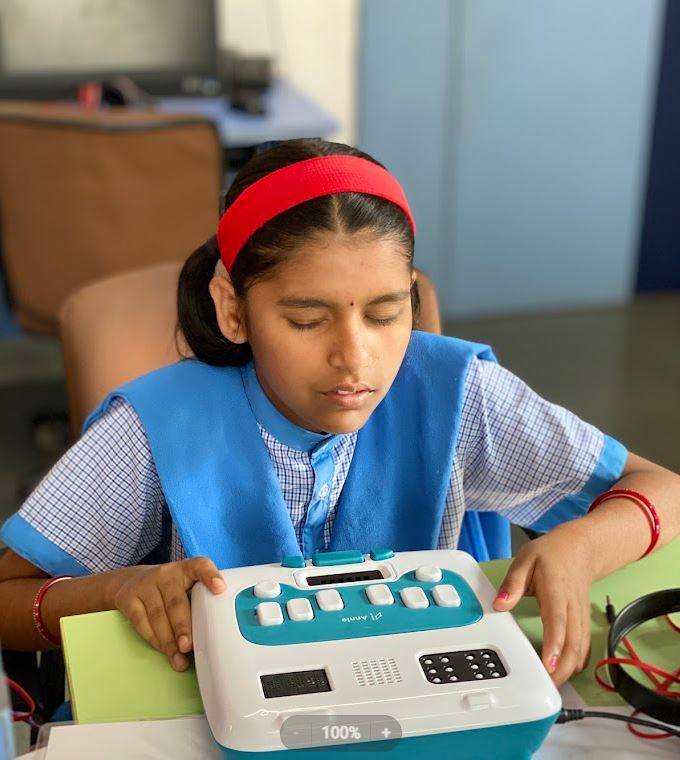 "For one, the application process forces you to articulate a lot of things about your business. It is thought-provoking, and during this time, you get the chance to network with other impact-based companies and get insights on navigating through challenges. It's good not to have to walk the journey alone."
The innovation even made it to the sets of Shark Tank India in 2022, where Sanskriti says "it was phenomenal in getting mass media attention to a very niche issue and did wonders for the business".
Today, there are "more than 70 Annie smart classes in the country and the device is available in nine languages", while the group is also aiming for an international launch in the United States.
"Getting the tech right is just the first part," says Sanskriti. "Ensuring it reaches every child is the goal."
If you have a similar innovation that can transform lives, we can help you scale up. Apply for the Aarohan Social Innovation Awards, 2023 and win upto Rs 50 Lakh.
Apply now
Unable to view the above button? Click here
We bring stories straight from the heart of India, to inspire millions and create a wave of impact. Our positive movement is growing bigger everyday, and we would love for you to join it.
Please contribute whatever you can, every little penny helps our team in bringing you more stories that support dreams and spread hope.
Tell Us More