Ardra Nair, a 29-year-old from Kerala, started Greenamor Ventures which manufactures plastic-like biopolymer using coir waste. This green packaging is biodegradable and compostable.
As the world moves towards sustainability, numerous upcoming ventures are priding themselves on producing everyday items using waste.
This is supported by recent data by NITI Aayog, which estimated that from the years 2019 to 2021, India's score in its sustainable development goals (SDGs) rose from 60 to 66 as the country amped up efforts for clean water initiatives and energy efficiency.
In fact, Kerala was recorded as receiving the highest score in the index with Himachal Pradesh, Tamil Nadu, Andhra Pradesh and Goa in tow.
To add to the green wagon of sustainable initiatives in Kerala is Greenamor Ventures — a sustainable venture founded by 29-year-old Ardra Nair in 2021. It focuses on eco-packaging while solving the issue of global waste management by upcycling locally available coir.
The dream took shape when Ardra was pursuing her master's in Engineering in Kerala.
Reliving the journey, she says this unconventional engineering program encouraged them to think out of the box. "I remember a project wherein we created biofuels from water hyacinth. This was the start of my journey to creating value from waste."
It was during this period that Ardra was selected for the prestigious BIRAC social innovation fellowship, and she decided to create a project that would in the coming years change the face of how waste was perceived.
"I was intrigued by the amounts of coir waste generated in industries across Kerala. In Alappuzha alone, there are around 15 mat manufacturing industries which large amounts of coir as the byproduct. The coir fibres range from 1 to 2 mm in size and eventually pollute the landfills. My first thought was 'why not design a project wherein these fibres could be used to create something of value?' But then, the question was 'what?'," says Ardra.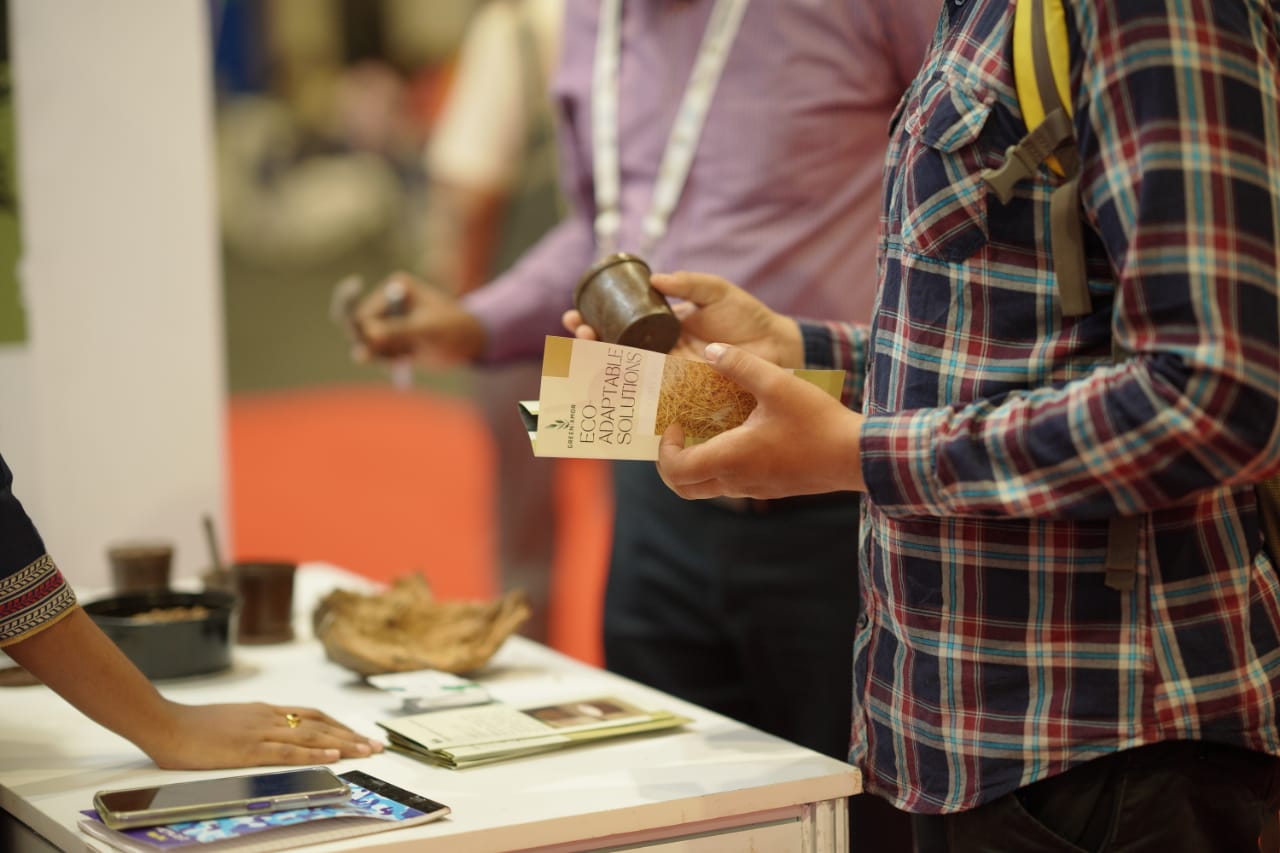 Waste to eco packaging: a sustainable journey
Plagued with the dilemma of what could the coir waste be used to create, Ardra decided to think from a personal perspective. This introspection took her back to her college days when she'd been living in a girls' hostel.
"There used to be a dump yard outside the hostel that was perpetually filled with cosmetic packaging. No matter how many many times the waste was cleared off, it would rebuild through the days. This was no surprise as the building's inhabitants were all young girls," she notes.
But as Ardra would later figure out, it wasn't just a girls' hostel that had this problem. Cosmetic packaging was a common pollutant these days.
"I discovered this during a trip to Ladakh and Kashmir. It was tough to ignore the disposed of packaging in the pristine water bodies. It dawned on me that just like the coir waste, this too would end up in landfills, so it got me thinking that maybe I could tie both the problems together to come up with a solution that would benefit more people."
This propelled Ardra in the direction of coming up with eco-packaging for cosmetic products, which in the following months also went on to include food and pharmaceutical containers.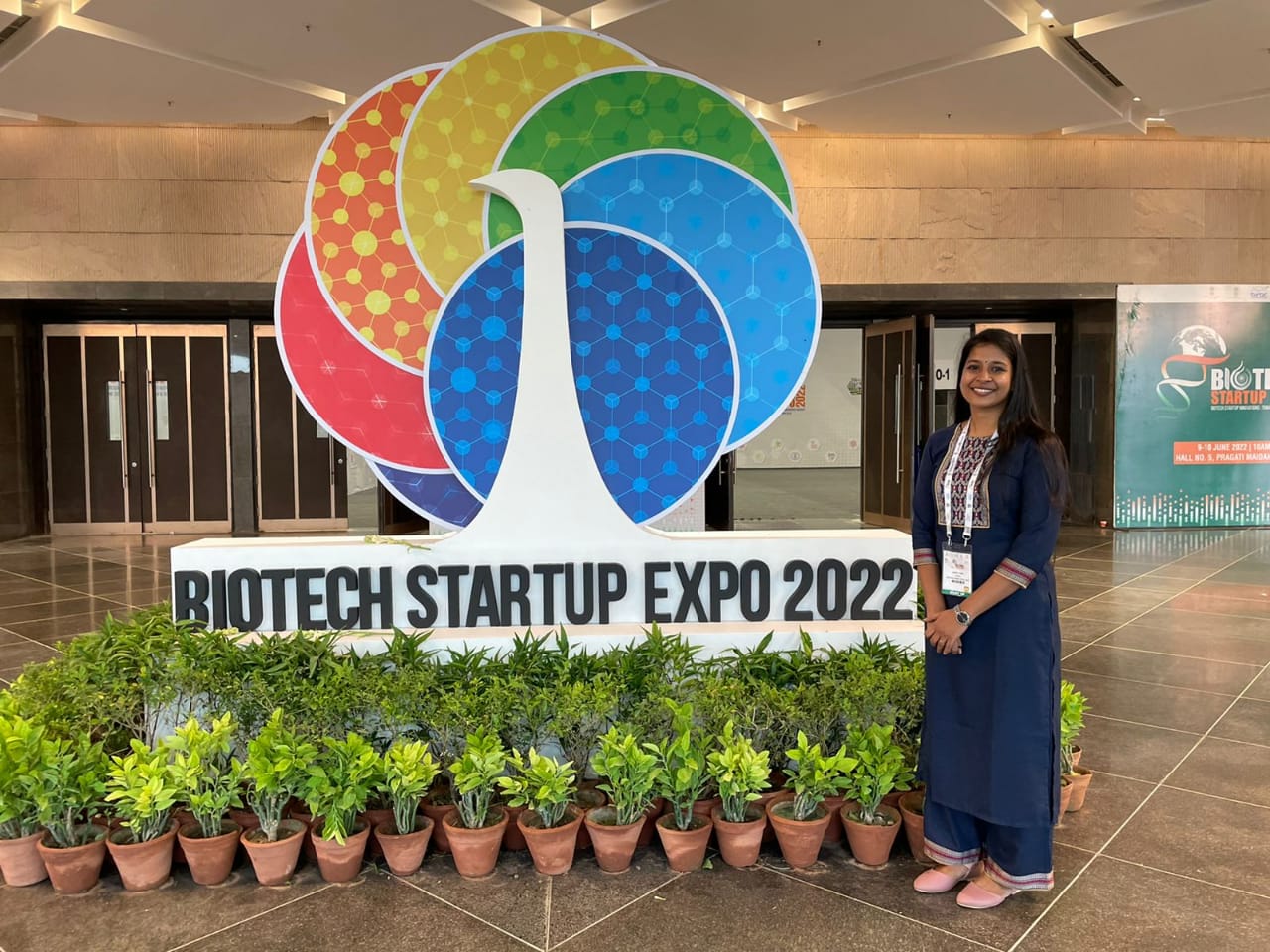 In November 2021, she started Greenamor Ventures, a startup that would pride itself on converting waste into sustainable packaging, thus reducing the burden on natural sources.
Turning coir into containers
Coming up with the packaging was a journey of one and a half years, one that Aradra describes as "challenging and unique, but also exciting".
The result of the research and development during this time was a "sustainable material that was a combination of coir and biopolymer. The latter replaced plastic as it mimicked the properties, while also being biodegradable and compostable as it was made from plant waste".
However, she notes that coming up with the polymer was not an overnight task. "The plant waste contains coir fibres and the composition of it is vital. If the length of the fibre is too much or too dense, it will clog the machine that processes it."
At Greenamor Ventures, the first step is sourcing the waste.
"We reach out to the industries in Alleppey for this. We then grind the coir to the required size and compound it using a machine to produce granules. These granules are then moulded to form the skeleton of the packaging. This first part of the process takes place in Kochi."
Ardra adds that the moulds are then made into 50-gram cosmetic packaging in various colours such as blue, black, green etc. The injection moulding happens in Thrissur.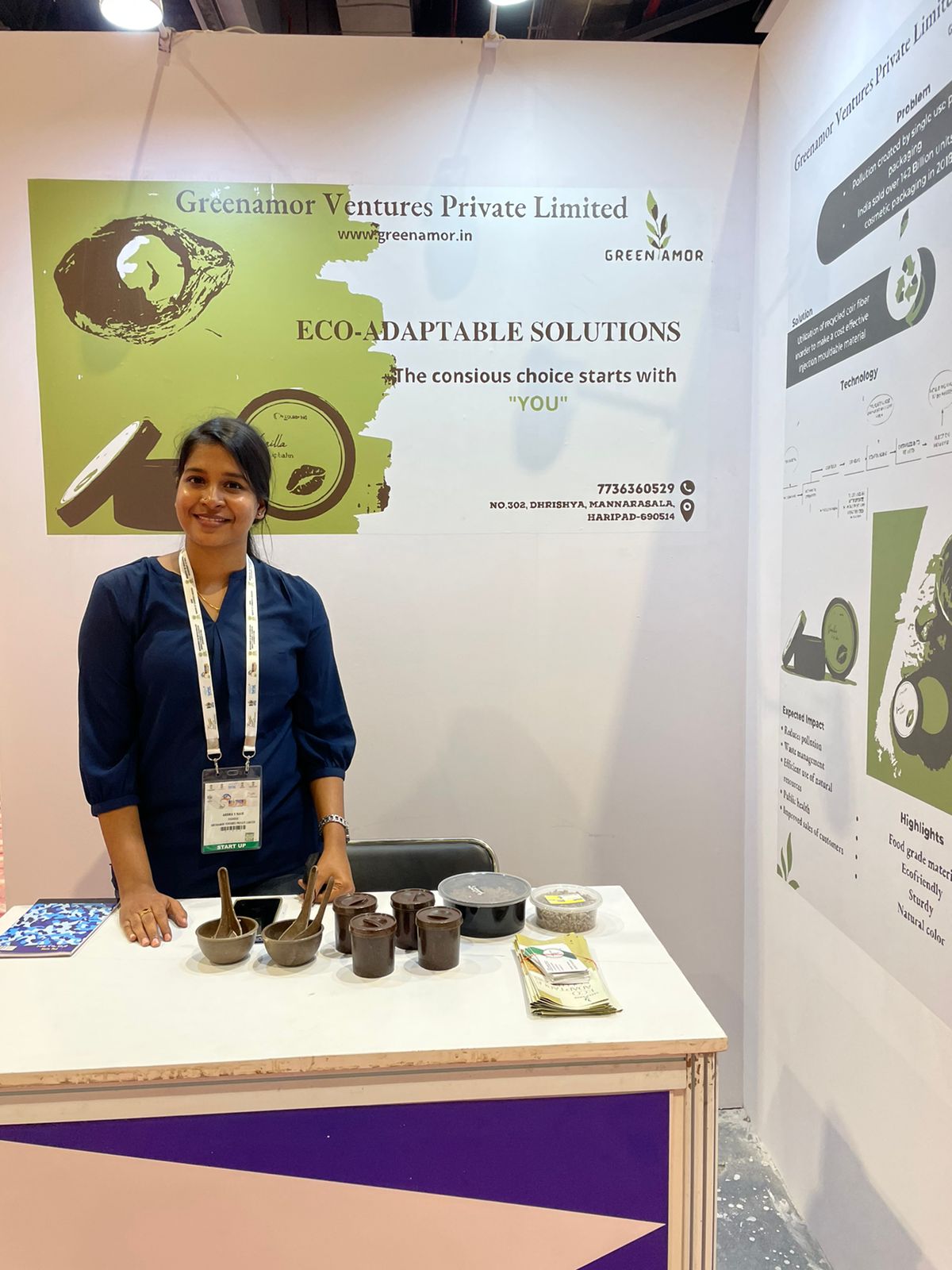 Then comes the part of diversifying the containers into cosmetic packaging, food or pharmaceutical ones. "Each of these categories has its own pre-requirements," says Ardra.
"For the ones that will be cosmetic containers, we check the chemical reactivity that they will have with the products inside them. We do this through alkali and alkaline tests. Whereas, when it comes to food and pharmaceutical containers, we lay more focus on certifications — if the material is food grade and check the temperature the packaging can withstand."
As noted earlier, the packaging is a mix of two items — one being the plant waste and the other the biopolymer.
Ardra and her team source the latter from industries within India. She adds that this too is a unique approach that they decided to take, as many other industries import biopolymers as this is not a very big industry in India.
Creating waves of impact
Through the work they are doing, Greenamor Ventures is certainly making a dent in the waste situation in India. Coir waste when disposed of in landfills takes a long time to decompose owing to high lignin content.
Studies suggest that this slow rate of decomposition is because of the low nitrogen content as well as the complexity of bonds and linkages in the chemical structure. This over time causes leaching of the lignin which goes into water bodies, posing a threat to marine ecosystems.
Greenamor Ventures aims to change this reality.
Ardra notes, "While we aim to start market sales this August 2023, the product is in the process of validation. We are planning to distribute three lakh containers in India by mid-2024. With these many products replacing the plastic container, we can reduce 4.35 metric tons of carbon dioxide emissions."
But even so, changing the mindset of people remains a task at hand.
"I remember; during the process, when we would approach facilities around India that were established in their plastic manufacturing business and ask them if we could use the machines for injection moulding of the coir waste, they would be sceptical. They feel it is a threat to allow sustainable packaging to be made in the same facility, as it puts their venture at stake," shares Ardra.
But she also goes on to say that sustainability finds a way even in the unlikeliest of places.
"The BIRAC fellowship was a 19 lakh funding that included a stipend and that gave the venture the impetus it needed. I was also selected for funding of Rs 20 lakh through the Startup India seed fund. All of this has helped us sustain," she adds.
Edited by Pranita Bhat
We bring stories straight from the heart of India, to inspire millions and create a wave of impact. Our positive movement is growing bigger everyday, and we would love for you to join it.
Please contribute whatever you can, every little penny helps our team in bringing you more stories that support dreams and spread hope.