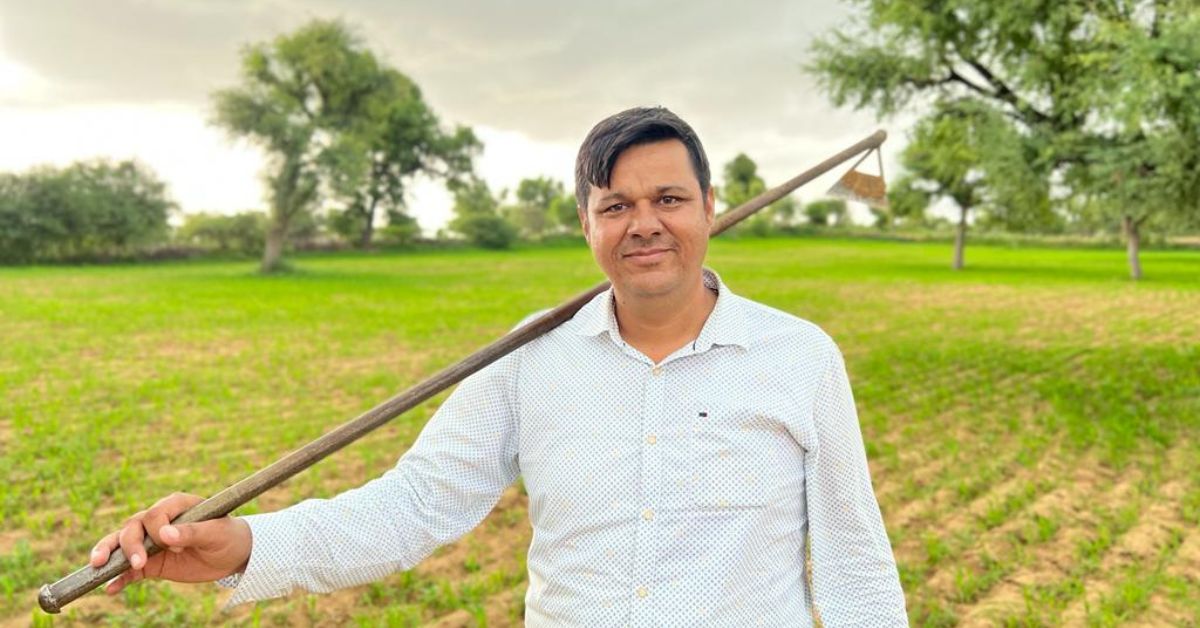 Mocked for his decision to leave traditional farming and take up medicinal farming instead, Rajasthan-based Rakesh Chowdhary today runs Vinayak Herbal, an organic business that helps him earn crores every year.
"You've lost your mind", "It would be a failure", and "You'll lose all your money" — these were the words thrown at Rakesh Chowdhary (40) when he told his friends and family that he wants to do medicinal farming instead of traditional farming.
Hailing from a farming family from Rajpura village in the Nagaur district of Rajasthan, agriculture for a living is all he has known his entire life. So even leaving his village to pursue BSc from Jaipur did not deter his decision to join his family profession.
"If you leave home and get educated, most people expect you to get a job and not do farming. I find this problem with youth, who would prefer a Rs 7,000 job instead of taking up agriculture. However, for me, it was always clear that I'll end up on the farm," Rakesh tells The Better India. 
Today, Rakesh earns Rs 10 crore annually by planting herbal and medicinal plants with his company Vinayak Herbal. He has farms all over the country in states including Uttar Pradesh, Haryana, Himachal Pradesh, Punjab, and Gujarat, engaging over 50,000 farmers to do organic medicinal farming.
The roadblocks to success
Talking about the inspiration behind planting herbal plants, he says, "In 2003, I was helping my father on farms while looking at different farming businesses. This is when I found out about the State Medicinal Plant Board's scheme of contractual farming."
He continues, "In the scheme, the government was offering subsidies to farmers who would do contractual farming of medicinal plants. Contractual farming is an agreement between farmers and processing and/or marketing firms for the production and supply of agricultural products. But at the time, no one in my area, including my family, was ready to take the leap and try something other than traditional farming."
For Rakesh, it seemed like no one could see the potential of an opportunity like this. "I thought to myself, 'Why not?'. The officers that I met in the medicinal plant department guided me towards highly profitable medicinal plants," he says.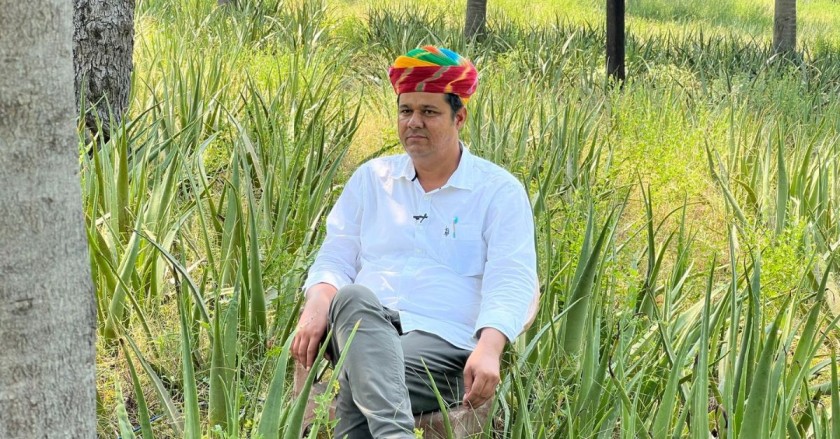 While Rakesh's success story might seem like a stroke of luck, the path leading to it was riddled with hurdles. Firstly, he suffered from a lack of resources and money to invest in his enterprise.
"For a small farmer like me, there are no loans, as we have nothing to mortgage. My wife took a loan by mortgaging her jewellery. We also had some cattle that we sold to procure the necessary funds to sow my first crop," he says.
In 2004, he used a portion of his family farms and sowed his first crop — mulethi (liquorice) and flame lily.
"It was a disaster. Rajasthan is dry, hot in the summers and extremely cold in winter. I did not look deep enough into the climate of the place and the requirements of the plant. I lost a lot of money. I was beyond consolation at that point," he recalls.
Although he was knee-deep in losses, Rakesh never thought of giving up. For his second crop, he put his only tractor at stake and borrowed money from a private individual.
"All the taunts that people made seemed to be coming true. But not even for a second did I think of giving up. I knew this had potential. I planted aloe vera the second time, and it worked wonderfully. All I needed to do was to research more and understand the soil of the area for a successful crop," he says.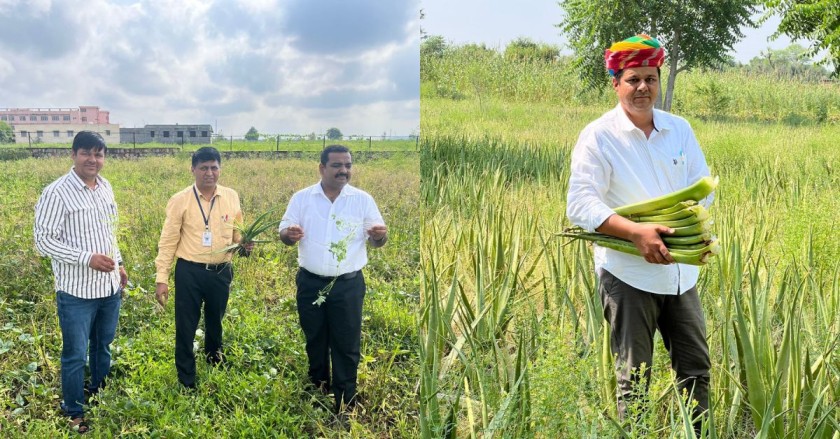 All these hurdles aside, what burdened him the most was the lack of faith from his family.
"I was very young, and all I was seeking was faith and support. I was an unsuccessful farmer with debt in his hands and a family to look after. My greatest motivation was the adversity I was in. I had to make it work; it was like I had no other choice. I made a checklist to consider before sowing a crop — look at the climate of the place, plant supreme quality crops, and market demand of the sowed crop. 
By 2005, Rakesh had cracked the code of farming. He says, "I knew all about my soil, the crop and the climate required, etc. What was ahead was to procure customers — the third thing on my checklist. In 2006, I found my first customer for aloe vera, and they bought it for Rs 1.5 per kg."
Making farming profitable
"Although I had a lot of faith in my work, with so many hurdles, I was starting to feel discouraged. When I got my first order, it felt like a ray of hope. Knowing the ins and outs of farming, I knew this was the right time for me to reach out to more and more farmers across the country," he says.
He continues, "Reaching out to farmers became a task for me as I had never been out of Rajasthan, and I was a little nervous too. It was an internal struggle that I had, but I kept pushing myself. I reached out to farmers, spoke to them about the benefits of medicinal farming and collaborated with them. Today I have farms across the country in several states that grow crops that suit the climate and soil." 
It took him nearly a decade to establish himself. In 2017, he launched his firm, Vinayak Herbal, with which he was able to connect with thousands of farmers across the country. 
"To build a network was hard. Nobody knew me, but today, many do. We grow over 120 varieties of medicinal plants and ship them to pharma companies and dealers across the country," he says.
These include aloe vera, ashwagandha (withania somnifera), chamomile, stevia, chia, akarkara (anacyclus pyrethrum), methi (fenugreek), and saunf (fennel).  
Rakesh strongly feels that there is a need for more and more young people to take up farming.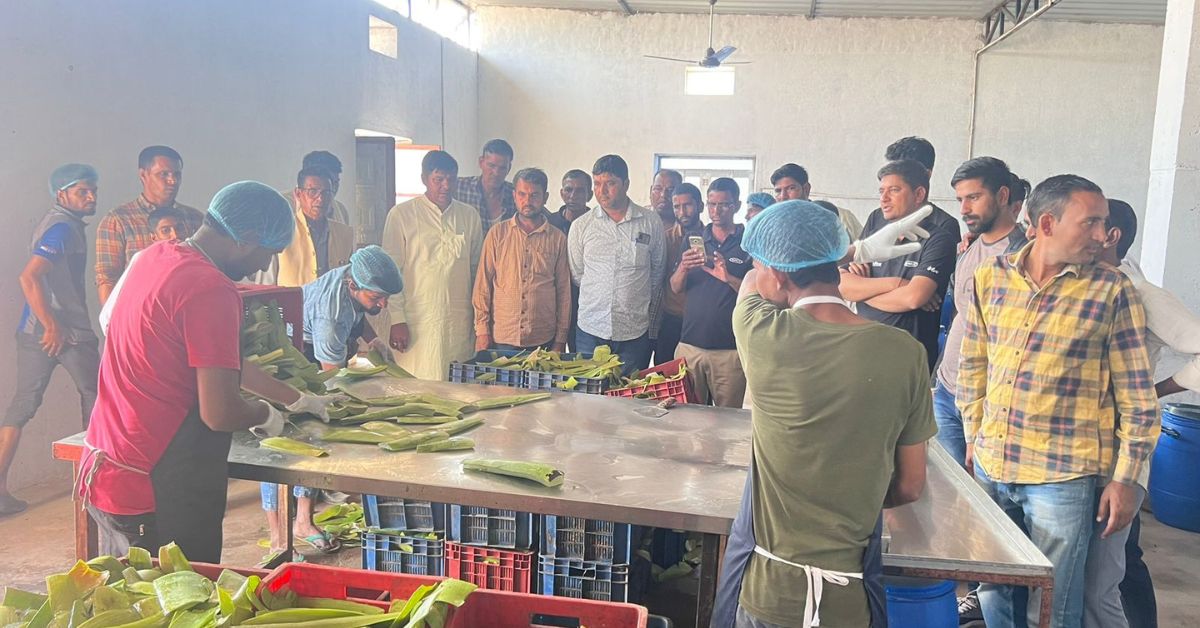 "It is noticeable that the newest generation of children from farming families leave the profession. The farmers work hard and send their children to colleges and universities so that they find jobs and never return to farming. Only 30 percent of the children actually turn towards agriculture. Mostly they opt for farming because they could not find a job or could not get an education," he says.
"The problem lies in how unorganised the sector is. Once known as an agricultural country, India's farmers have suffered losses over and over again. With proper planning, market orientation and fair prices, the scenario can be changed. It is becoming the need of the hour. Otherwise soon, there will be farms but no farmer to farm on it."
Rakesh has taken it upon himself to induce more and more young people into the agriculture sector by proving how profitable it can be. "With the right set of people, knowledge and the will to struggle through hard times, anyone can become a successful farmer," he says.
Edited by Divya Sethu; All images courtesy: Rakesh Chowdhary
We bring stories straight from the heart of India, to inspire millions and create a wave of impact. Our positive movement is growing bigger everyday, and we would love for you to join it.
Please contribute whatever you can, every little penny helps our team in bringing you more stories that support dreams and spread hope.